A Torche aux marrons is a dessert based on chestnut cream and meringue and is put together to look a little like Mont Blanc from which it sometime takes its name.
---
There are different variations and some have more meringue on the bottom and then lots of piped chestnut mixture over the top.
We made an additional meringue peak and added some whipped cream and chocolate to the top to look like a snowy mountain top!
---
Ingredients
serves 6
For the meringues
3 egg whites
1 cup (200g) caster sugar
For the chestnut mousse
1 gelatine leaf (gold strength)
155ml whipping cream
100g chestnut cream
100g chestnut purée
For the chantilly cream
1 cup (250ml) whippping cream
25g pure icing sugar
1/2 vanilla bean
For decoration
50g grated milk or dark chocolate
---
Method
To make the meringue
Preheat the oven to 100℃.
Whisk the egg whites until firm and then continue whisking as you gradually add the caster sugar until firm peaks form and mixture is glossy.
Line a baking tray with on-stick paper. Use a piping bag with a small plain nozzle and pipe a spiral till a circle of about 8cm is formed. Make 6 circles and then create 6 small peaks for the top of the dessert.
Bake for at least 2 hours but check regularly as different ovens vary. Make sure the meringue doesn't colour and if necessary make the oven a little open with a dishcloth or wooden spoon to enable the steam to escape. Meringues need to be cooked slowly at a low temperature.
If necessary you can make these in advance as they keep for about 4 weeks in an airtight container.
To make the chantilly cream
Split the vanilla bean and take out the seeds. Discard the pod (or use for another dessert).
Whisk the cream and vanilla seeds into soft peaks form then whisk a little further adding the sieved icing sugar.Continue till firm peaks form (but do not over-whisk as you don't want butter!). Cover and chill in the fridge till later.
To make the chestnut cream
Soak the gelatine leaf in very cold water (add ice if a hot summer's day) for at least 15 minutes. Wring out the water from the gelatine and then dissolve it in a teaspoon (5ml) of warm cream (heat just slightly in the microwave for example but make sure you don't overheat). Add the remaining 150ml cream and whisk until soft peaks are formed.
In a separate bowl whisk the chestnut cream and puree together at high speed until smooth and then fold through the cream mixture until just combined.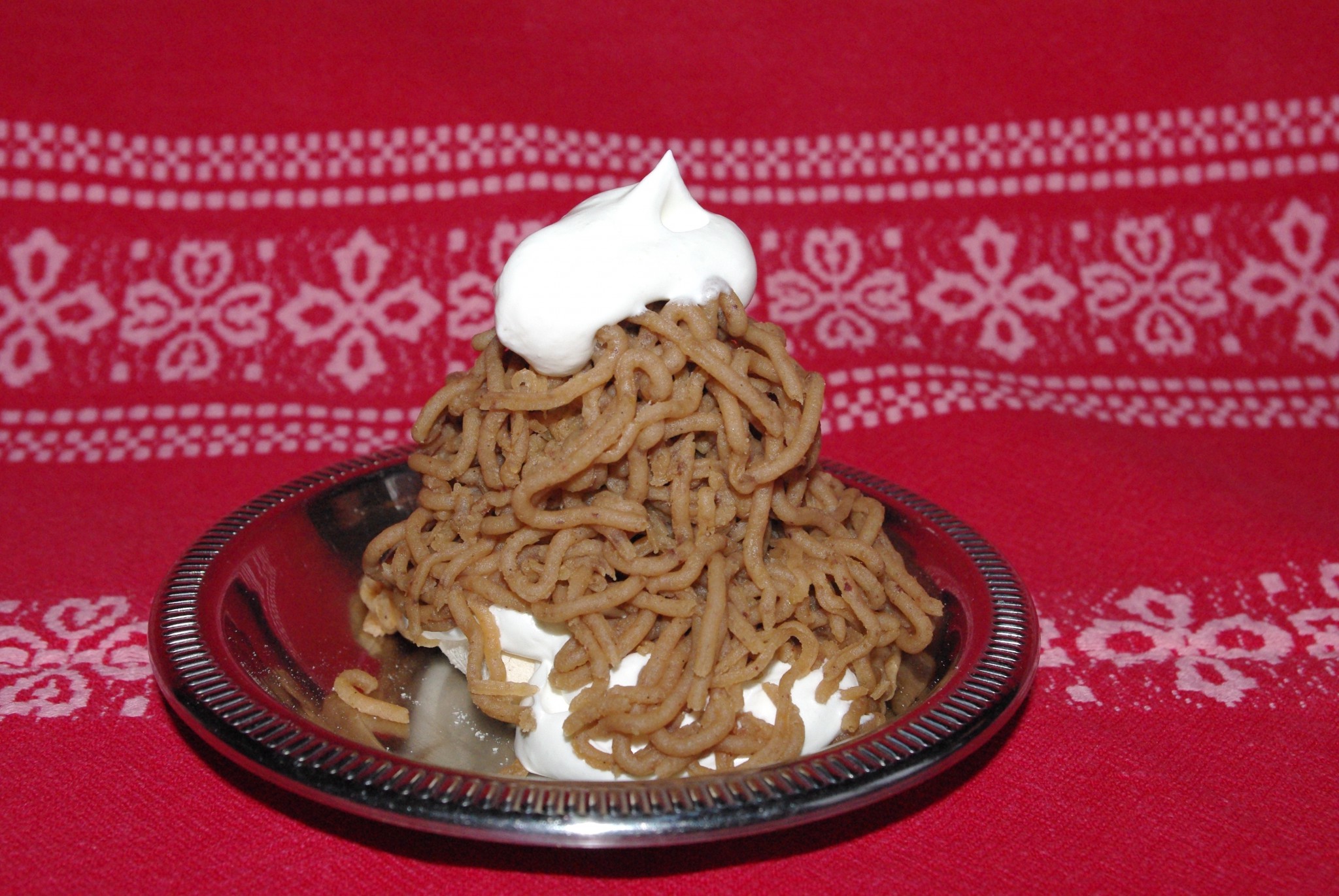 Assembly
Put the meringue base on a plate and pipe a small amount of the creme chantilly in the middle to form a little dome and then using a small nozzle pipe the chestnut mixture all around from the base up to form a mountain! On the top add the small meringue peak, finish with a little more creme chantilly and some grated chocolate et voilà!
If you can get your hands on crème de châtaigne (chestnut licqueur) you can serve a little glass with this dessert and even add a little to the chestnut mixture at the end before piping to add a little extra "je ne sais quoi"!
---