This year the Christmas holidays take place from Saturday 19 December 2015 to Sunday 3 January 2016 included. Christmas is a joyful time when children (and grown-ups alike!) marvel at the lights, Christmas markets and trees, without forgetting Nativity Scenes and an encounter with Santa. Here are our 10 favourite things to see in Paris at Christmas with kids.
---
Paris at Christmas on the Champs-Élysées
The prestigious avenue decked with lights and enchantment to celebrate Christmas and the New Year. The event remains an unforgettable experience with a festive atmosphere.
Find out more about Christmas on the Champs-Élysées.
---
Christmas window displays of the Grands Magasins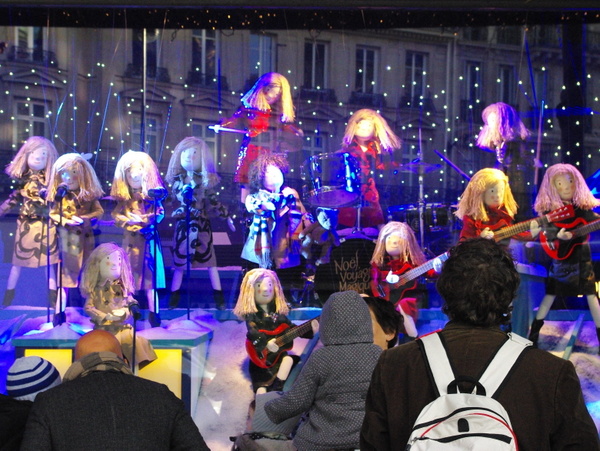 All the great department stores (Grands-Magasins) of Paris have wonderful window displays especially decorated for Christmas: Galeries Lafayette Haussmann, Bon Marché Rive Gauche and Bazar de l'Hôtel de Ville. One of our favourite are the windows of Printemps Haussmann. Don't forget to climb to the panoramic terrace on top of the Printemps store to enjoy one of the best views of the roofs of Paris…
---
Christmas tree of Galeries Lafayette
It is tradition: a giant tree always sits under the beautiful Art Nouveau dome from November to January. The 2015 Christmas tree is a metallic structure with gold and silver stars and meteorites. Four times a day at 12pm, 3pm, 4.30pm and 6pm the Christmas tree is the centrepiece of an indoor light show.
---
Christmas tree and Nativity Scene of Notre-Dame
Another beautiful tree is to be admired on the Place Jean-Paul II in front of the Gothic façade of Notre-Dame cathedral. Inside the sanctuary, a large Nativity Scene usually fascinates young and old alike.
However, following the great fire of April 2019 all Christmas events in Notre-Dame won't be taking place for several years – until the restoration works are completed.
---
Christmas Fun Fair inside the Grand Palais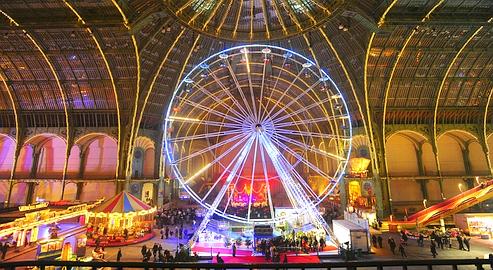 In 2015 the Grand-Palais welcomes the festive event "Jours de Fêtes au Grand-Palais". The stunning nave is transformed into a magical fun fair with a ferris wheel and 50 exciting rides. Open from 21 December 2015 to 5 January 2016
---
Paris Ice-skating rinks
During the Holiday Season, a number of open-air ice-skating rinks are found at several locations in Paris: Place de l'Hôtel de Ville, Champ-de-Mars/Trocadéro, Champs-Élysées, first floor of the Eiffel Tower. Inside the iconic Parisian Charlety Stadium is a ski resort for the 3-16 year olds during a week during the Christmas school holidays.
---
Merry-go-rounds in Paris
More than 20 merry-go-rounds are being set up in 18 arrondissements of Paris. Some of the sites: Place de la République (3rd, 10th, 11th arrts), Place de l'Hôtel de Ville (4th arrt), Square Saint Médard (5th arrt), Place Saint-Sulpice (6th arrt), Place Joffre (7th arrt), Place de la Concorde (8th arrt), Place d'Italie (13th arrt), Esplanade Gare Montparnasse (15th arrt), Place du Trocadéro (16th arrt), Square Louise Michel (18th arrt)…
For a complete list, check out the 2015 merry-go-rounds of Paris.
---
Christmas market at the foot of the Eiffel Tower
A visit to the Eiffel Tower at Christmas time has become one of the highlights of the festive season when discovering Paris. From Christmas markets to ice-skating rinks, the area of Trocadéro-Eiffel Tower-Champ-de-Mars is a very popular place to be for residents and tourists alike.
Find out more about Christmas at the Eiffel Tower.
---
Encounter Santa in Paris!
Santa (known as le Père Noël in France) can be seen in many places in Paris during the time of Advent: 5th level of Galeries Lafayette, Printemps Haussmann, Bercy Village (21 Dec), Christmas market of Champs-Élysées, in the métro… the kids will surely have a few unexpected meetings with him while strolling across Paris.
Do you have other great ideas on how to spend Christmas at Paris with kids? Let us know by commenting below!
---