Although almost unknown in the English-speaking world, Louis de Funès (31 July 1914 – 27 January 1983) is still the most popular French comedian nearly 40 years after his death. His acting style included a wide range of facial expressions that made children – and grown-ups – laugh, hence the nickname: "the man with forty faces per minute".
Louis de Funès, France's most famous comedian
Louis de Funès (pronounce something like "lois de fines"!) was famous for its high energy performance in hundreds of theatrical plays and movies.
He became France's leading comic actor in the 1960s and for nearly 20 years he topped the country's box office several times. Indeed, along with Fernandel, Bourvil and Jean Gabin, Louis de Funès is one of the French actors who have attracted the largest number of cinema-goers.
He also starred in many movies directed by Gérard Oury who loved putting Paris and France in perspective.
Biography of the French comic actor
Louis de Funès, whose real name was Louis de Funès de Galarza, was born in 1914 in Courbevoie near Paris into a family of Spanish origin.
His father, a lawyer by training, became a diamond dealer after his arrival in France.
As for his mother, of bourgeois origin, she was known to have a very short-tempered character. So much that Louis de Funès later revealed he used to portray in his comedy characters.
After working in all sorts of jobs, he enrolled for a while at the Cours Simon in 1942. To earn a living, he became a bar pianist.
Becoming a French icon
From 1945 onwards, Louis de Funès played a series of small roles in the cinema. This culminated in the successful film Ah! les belles bacchantes and then La Traversée de Paris opposite Jean Gabin and Bourvil in 1956.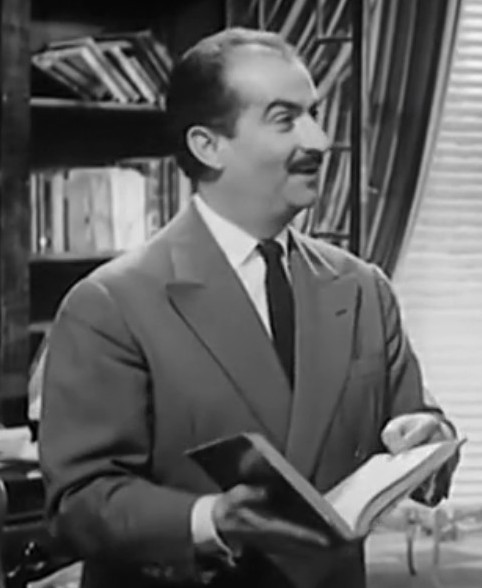 However, it was in the theatre that he made a name for himself with the play Oscar. The play later became a film by Édouard Molinaro in 1967.
The turning point in his cinema career came in 1963 with the movie Pouic-Pouic, in which he played an angry and authoritarian character. This was to become his trademark.
More successful movies followed: the Gendarmes de Saint-Tropez and Fantômas series, as well as Le Corniaud (1965) and La Grande Vadrouille (1966). These two movies, both directed by Gérard Oury, were huge popular successes.
Then in 1971, the same director also made La Folie des grandeurs and Les Aventures de Rabbi Jacob in 1973.
Between theatre plays and movies
In parallel to his film career, Louis de Funès continued to perform on stage, staging several hundred performances of Oscar and La valse des toréadors.
From 1975 onwards, a heart attack made his health fragile. He became less frequent on the screen, although he starred in popular movies such as L'Aile ou la cuisse (1976), La Zizanie (1978) and two years later L'Avare.
In 1980, Louis de Funès received an honorary César for his entire career.
He died following a new heart attack in 1983 in Nantes.
A worldwide success except in the English-speaking world
In March 2015, a national poll ranked Louis de Funès as the favourite actor of the French with 24.8%.
In addition to France, the films of Louis de Funès were very successful in various European countries, including Russia during the USSR. The reason is quite simple: the USSR was denied access to Hollywood films, and therefore open to foreign – especially French and Italian – cinema since the 1960s.
Therefore, his popularity in the English-speaking world was limited, with the exception of the success of Rabbi Jacob, nominated for a Golden Globe in 1975.
1. La Grande Vadrouille
English title:

Don't Look Now… We're Being Shot At!

Audience:

17,272,987

Director:

Gérard Oury

Year:

1966

Other actors:

Bourvil, Terry-Thomas
2. Le Corniaud
English title:

The Sucker

Audience:

11,740,438

Director:

Gérard Oury

Year:

1965

Other actors:

Bourvil
3. Les Aventures de Rabbi Jacob
English title:

The Mad Adventures of Rabbi Jacob

Audience:

7,295,811

Director:

Gérard Oury

Year:

1973

Other actors:

Claude Giraud, Henry Guybet, Miou-Miou, Claude Piéplu, Suzy Delair
4. L'Aile ou la Cuisse
English title:

The Wing or the Thigh

Audience:

5,842,400

Director:

Claude Zidi

Year:

1976

Other actors:

Coluche, Julien Guiomar
5. Le Gendarme (series)
(

1964

) Le Gendarme de Saint-Tropez
(

1965

) Le Gendarme à New York
(

1968

) Le gendarme se marie
(

1970

) Le Gendarme en balade
(

1979

) Le Gendarme et les Extra-terrestres
(

1982

) Le Gendarme et les Gendarmettes
Total audience:

35,492,887

Director:

Jean Girault

Other actors:

Michel Galabru, Claude de Gensac, Guy Grosso, Michel Modo, Jean Lefebvre, Geneviève Grad
6. La Folie des Grandeurs
English title:

Delusions of Grandeur

Audience:

5,563,160

Director:

Gérard Oury

Year:

1971

Other actors:

Yves Montand, Alice Sapritch
7. Le Grand Restaurant
English titles:

The Big Restaurant, What's Cooking in Paris

Audience:

3,878,520

Director:

Jacques Besnard

Year:

1966

Other actors:

Bernard Blier
8. Oscar
Audience:

6,122,041

Director:

Édouard Molinaro

Year:

1967

Other actors:

Claude Rich, Claude Gensac
9. Le Petit Baigneur
English title:

The Little Bather

Audience:

5,542,796

Director:

Robert Dhéry

Year:

1968

Other actors:

Robert Dhéry, Andréa Parisy, Colette Brosset, Michel Galabru, Jacques Legras
10. Hibernatus
Audience:

3,366,973

Director:

Édouard Molinaro

Year:

1969

Other actors:

Claude Gensac, Bernard Alane, Olivier de Funès