Today we are featuring a young artist who lives in Aquitaine. A graphic designer and photographer, Thierry Dulau made himself available for this interview.
---
French Moments: Bonjour Thierry. Which region are you from?
Thierry: I'm from Aquitaine. I was born in Mont-de-Marsan in the Landes but for the moment I live in Agen in the département of Lot-et-Garonne.
FM: When did your passion for photography really start?
Thierry: As a freelance graphic designer I was working with photos all day long which led to the desire to use my own shots. With a passion for images in general, I very easily shifted my focus to photography.
FM: Which themes do you prefer photographing?
Thierry: Landscapes, villages, castles, medieval towns… France has a very rich heritage and you only have to wait towards the end of day for these incredible sites to reveal themselves in a new light. You will notice that I often take photos at the Blue Hour. When there is lightening it often gives a magical feel.
FM: Do you have a specific photo of which you are particularly proud?
Thierry: My photo of the village of Beynac-et-Cazenac in the Dordogne is my best shot and my fondest memory. This village, listed among the "most beautiful villages of France" is nestled in the rock and dominated by its medieval castle overlooking the Dordogne valley. This place is really amazing and magic took place at the Blue Hour.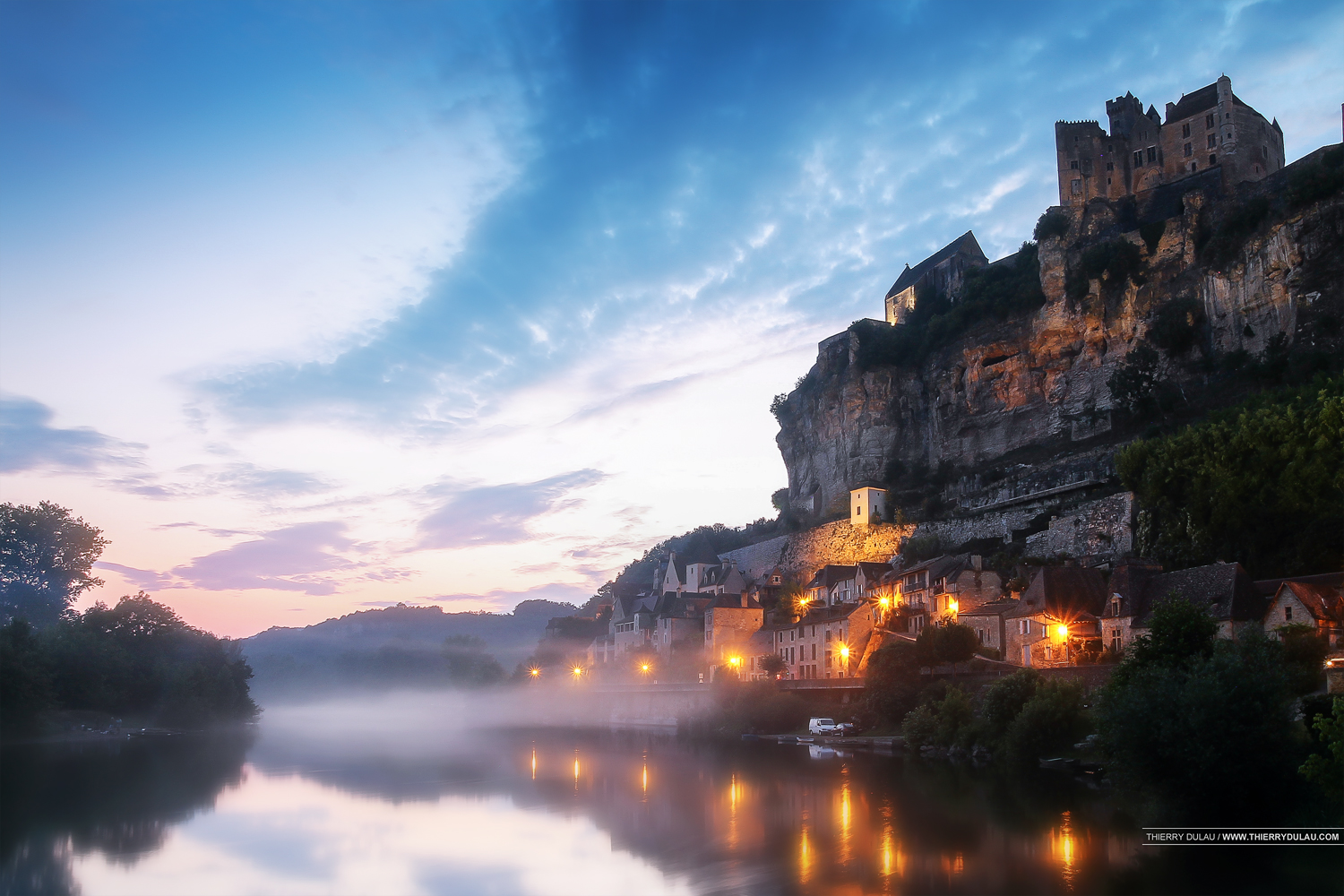 FM: If you had to take photos of another region of France, which one would you choose?
Thierry: Aquitaine has a rich medieval heritage, which I find rather pleasing, however for obvious reasons, as a photographer, I would love to discover the whole of France and its other gems. I think about Brittany and its wild coast, Alsace and its castles, Auvergne and its volcanoes, Provence with its perched villages… it's impossible to choose a particular region as France has so many beautiful sites.
FM: Do you have some advice to give to those who wish to take up photography?
Thierry: To know how to appreciate what surrounds us and to enjoy enhancing it. As for landscapes and tourist sites, one needs to absorb the spirit of the place, to discover it in all of its facets, to observe, analyse and try to shoot the best possible image.
FM: Thierry, thank you for your time and we look forward to your upcoming photos which will no doubt fill us with wonder!
---
Here are a few beautiful photos from Thierry Dulau:
– the village of Monpazier (Dordogne):
– The harbour town of Saint-Jean-de-Luz in the Basque country:
– Terrasson-Lavilledieu and its old bridge spanning the Vézère River (Dordogne)
---