A few mountain passes in the Alps offer a breathtaking panorama and Col des Aravis in the province of Savoie is one of them. Climbing from the resort of La Clusaz, the arrival to the pass is greeted by an amazing view of Mont-Blanc clearly emerging from surrounding mountains.
---
Col des Aravis
The mountain pass of Col des Aravis marks the border between the départements of Savoie (73) and Haute-Savoie (74). The road pass links the resort of La Clusaz with the village of La Giettaz via the D 909. At an altitude of 1,486 m, Col des Aravis is the lowest passage way in the Aravis and is situated on the south-eastern corner of the mountain range.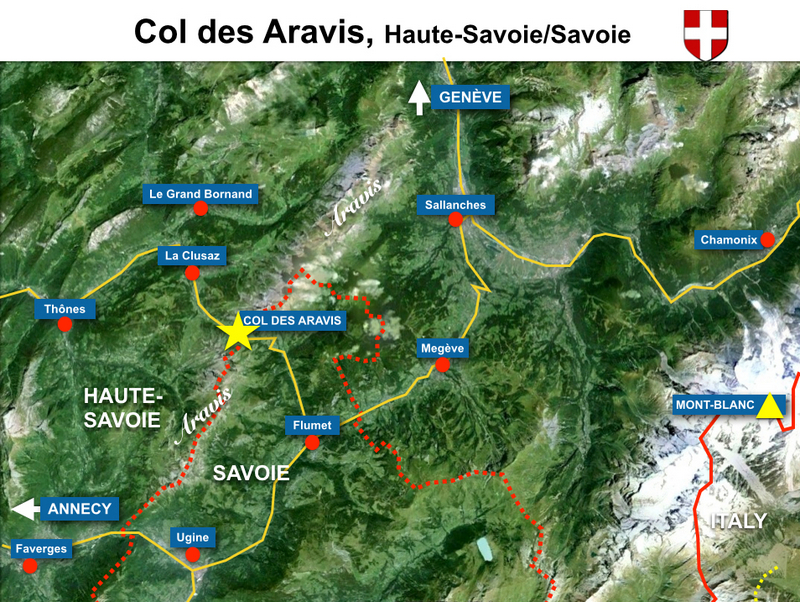 The pass is a very popular spot for tourists as it offers a splendid panorama over the snow-capped Mont-Blanc distant of 30 km.
To the left and right, the pass is surrounded by green pastures extending towards the mountain tops of the Aravis chain where it is frequent to see chamois in the distance.
There are many car spaces for a stop at the pass. A few restaurants and souvenir shops at the pass selling typical Savoyard items (bells, walking sticks, St. Bernard plushes. In summer walking tracks departs from the pass and reach other places with stunning views over the Mont-Blanc massif.
A chapel devoted to St. Anne was founded in 1624 by Pierre-François de Belletour, lord of Flumet, for the protection of the travellers passing by. An inscription on the façade reads: "Sainte Anne protégez les voyageurs" (St. Anne protect the travellers). Pilgrimages from surrounding villages came up here to pray for rain in dry years.
Like many chapels in the French Alps, the inside is decorated with care and maintained regularly.
Since 1911, the pass has been climbed 39 times in the Tour de France, most recently in 2010 when Frenchman Jérôme Pineau was first over. The 19 km long ascent to the pass starts from Thônes with an average percentage of 4.6% and 9% in the last few kilometers. From Les Étages (a locality part of La Clusaz), there are 6 hairpins leading to the pass. The pass is a second category climb.
---
English-French Vocabulary
(f) for féminin, (m) for masculin, (adj) for adjective and (v) for verbs
Alps = Alpes (f,p)
chapel = chapelle (f)
to climb = grimper (v)
hairpin = épingle à cheveux (f)
mountain = montagne (f)
panorama = panorama (m)
pass = col (m)
mountain range = chaîne de montagnes (f)
Savoy = Savoie (f)
---
Find out more about the province of Savoie and the French Alps.