France is known for its "French croissant". It is up there with the Eiffel Tower and beret as a French icon. From Sydney to New York and London, most people know that the croissant is a true French delicacy. And it is loved in all its forms: plain croissant, chocolate croissant ("pain au chocolat" in France), almond croissant, ham and cheese croissant and more… Let's find out more about where this indulgence of national obsession come from! And to finish with style, I'll give you some great tips for where to find the best French croissants in Paris!
---
Why the French croissant is not that French at all!
The idea of researching the croissant came to me in June 2011 when one of our French students asked me the meaning of the French verb "croître" (to grow). While explaining this word in French, I wrote on the board another word using the same root: "la croissance". Immediately, the man pointed out: "then it's like 'croissant'!".
One thing lead to another, we went a little bit further and came to talk about the moon crescent (le croissant de lune), of similar shape to our yummy croissants.
"But then, this is like the crescent that is displayed on some of the Arab flags?" asked the student. Oui bien sûr I replied- but then why?
By researching on the Internet (and in a good etymological dictionary), I came across a historical anecdote about our French croissant… And to be honest, it was kind of devastating for it told me that the croissant did not have its origins in France!
It's not a French croissant after all?!
There are in fact two legends about its creation.
First is the story reporting that the Turks invented the croissant during the siege of Istanbul in the 16th century.
A second legend – arguably more glamorous – came from Vienna in Austria. In order to celebrate the defeat of the Turkish army at the siege of the Austrian capital in 1683, the Viennese bakers came up with a brioche in the shape of a crescent (which was part of the enemies' flag) to take a bite out of them!
This explains why we still use in French the word "viennoiseries" (or Viennese pastries) to refer to all sorts of croissants, brioches, pains au chocolat, apple turnovers, butter pastries and other breakfast delicacies of the kind.
Many sources report that the first croissants to be sold in France were at 92, rue de Richelieu in Paris from 1837 to 1839. This is where Austrian bakers August Zang and Ernest Schwarzer opened a Viennese bakery.
And it's not an Austrian cliché!
You may ask why the croissant became so French. And why it is not an Austrian cliché?
The answer is quite simple. Towards the end of the 19th century, French bakers replaced the brioche dough with a puff pastry. By not changing the particular crescent shape of the croissant, this transformation inevitably altered its taste. The new croissant was a huge success and has remained until now a typical French indulgence.
Back then, the French bakers made the French croissant in different shapes and fillings:
the croissant au beurre (with butter – a lot of butter!),
the ordinary croissant nature (with margarine),
the croissant au chocolat (which is not found in Australia: it is a real croissant filled with chocolate and sometimes an icing-sugar coating),
the croissant aux amandes (almond croissant),
the rich croissant aux chocolat et amandes (almond and chocolate croissant),
the savery croissant jambon-fromage (ham and cheese croissant)

etc.
We hope this little study gave you an insight of the interesting story behind the French croissant. Next time you bite into one you might remember that it has French, Austrian and Turkish origins: quelle histoire!
---
Are you eating a real fresh croissant?
Visiting France is not a guarantee that you will be savouring a traditional fresh croissant!
In a study published in 2008 it was estimated that 30–40% of the croissants sold in French bakeries were baked from frozen dough. This number was expected in the following years to reach 50% at least.
Another pitfall: boulangeries which sell the best baguettes are not necessarily selling the best croissants either (as they have to focus on the quality of their bread at the expense of viennoiseries). Sacré bleu!
So how to recognise a good old-fresh French croissant?
Well I'm not really an expert in croissants to help you in that one. However there is a great article on FrenchGuyCooking.com which tells you what you should expect when tasting a quality croissant. Some of their tips include:
the croissant has an aroma of caramelised butter

the inside is puffed up whilst the outside is crispy and golden.

biting into a genuine pur-beurre croissant makes a mess
One day in May 2015 I was walking by Notre-Dame when I stumbled upon the Paris Festival of Bread. Under the marquee the best boulangers were at work, baking bread and croissants. Here you could tell that they were making the real stuff, have a look:
More photos of the event on my other article about "Fête du Pain 2015" in Paris.
---
Where to find the 10 best French croissants in Paris
This list was established by the Time Out Paris team on pure butter croissants (pur beurre). They assessed the croissants on criteria such as its appearance (browned and cooked through), its puff pastry and its taste. Find out more about the rank here.
Des gâteaux et du pain – 63 boulevard Pasteur, 15th arrondissement + 89 rue du Bac, 7th arrt.

Du pain et des idées – 34 rue Yves Toudic, 10th arrt.

Pichard – 88 rue Cambronne, 15th arrt.

Laurent Duchêne – 2 rue Wurz, 13th arrt + 238 rue de la Convention, 15th arrt.

Boulangerie Terroir d'Avenir – 1 rue du Nil, 2nd arrt.

Landemaine – 123 rue Monge, 5th arrt.

Gontran Cherrier – 22 rue Caulaincourt, 18th arrt.

Dominique Saibron – 77 avenue du Général Leclerc, 14th arrt.

Gérard Mulot – 76 rue de Seine, 6th arrt.

Cyril Lignac – 55 boulevard Pasteur, 15th arrt.
---
French croissant: English-French Vocabulary
(f) for féminin, (m) for masculin, (adj) for adjective and (v) for verbs
apple turnover = chausson aux pommes (f)

Austria = Autriche (f)

baker = boulanger (m), boulangère (f)

bakery = boulangerie (f)

brioche dough = pâte briochée (f)

chocolate croissant = pain au chocolat (m)

crescent = croissant (m)

to grow = croître (v)

moon = lune (f)

puff pastry = pâte feuilletée (f)

siege = siège (f)

Turkey = Turquie (f)

Vienna = Vienne

Viennese pastries = viennoiseries (f,p)
Where do you get your French croissants from? Please do comment below with your favourite boulangerie in Paris or provincial France!
---
Inspired? Pin it for later: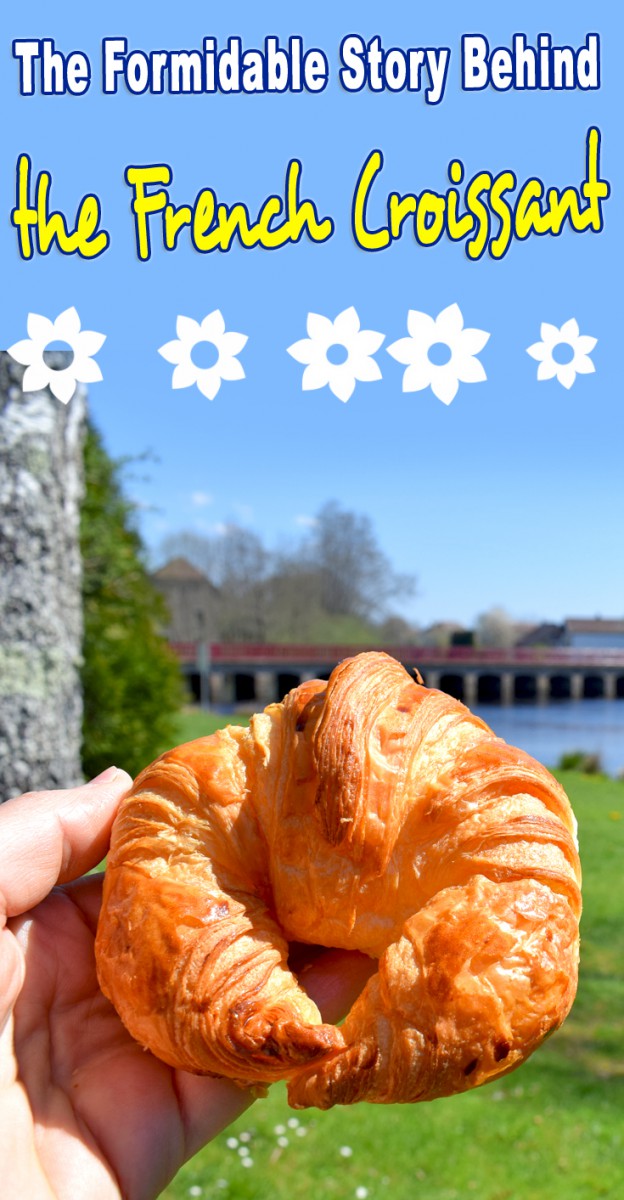 ---