Situated in the 17th arrondissement is the little known Swedish church of Paris. The sanctuary is recognisable by its red brick façade and steeple inspired by Swedish architecture. You can't miss the Swedish flag waving in the wind which indicates the church from far. If you are discovering the neighbourhood of Parc Monceau, have a little stroll along rue Médéric…
---
The Swedish church of Paris
The Swedish lutherans based in Paris founded the protestant parish in 1626. In October 1685, Louis XIV signed the Edict of Fontainebleau and declared Protestantism illegal in France. The Revocation of the Edict of Nantes fortunately did not have any effect on the Swedish church community which was granted the right to meet. The French king had many reasons to do so. Firstly, he was an ally of the Swedish king. Secondly, France needed copper for the rooftops of the Palace of Versailles… and guess where the copper came from? Sweden! Swedish workmen also knew how to work well with the metal.
From 1878 to 1911, the Lutheran church was situated on boulevard d'Ornano.
The present-day church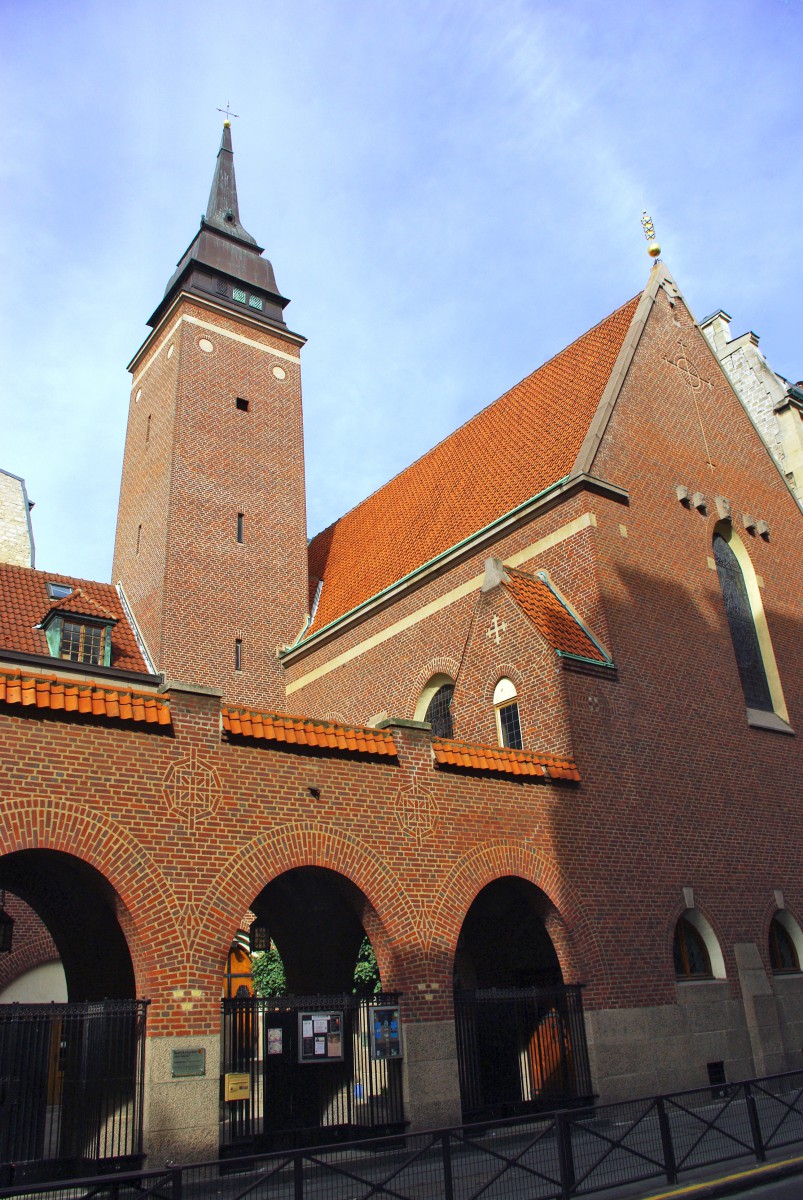 In 1911, a fundraising campaign helped raise funds in order to build the present-day church on rue Guyot. The street, created in 1850 by Duruflé was later renamed rue Médéric in tribute to a Resistant killed during the Second World War.
The church was built by Jean Naville and Henri Chauquet to the design of Swedish architect G.-A. Falk. The architectural style of the sanctuary is inspired by that of typical churches in Sweden.
The façade on rue Médéric consists of a three-arch portico that opens onto an inner courtyard. This community facility gathers a main building, a library and the church.
The red brick façades are dominated by the bell tower covered with patinated red copper. The tower is topped by a steeple.
---
How to get to the Swedish church of Paris?
The Swedish church of Paris (église suédoise de Paris or Svenska kyrkan i Paris) is situated at number 9, rue Médéric in the 17th arrondissement, not far from Parc Monceau. Check out google map for the exact location of the Swedish church of Paris.
Closest métro station: Courcelles (line 2).
Other sites of interest in the neighbourhood: the chic rue Fortuny with some beautiful mansions, the Henner Museum (43 avenue de Villiers), the Orthodox Church of Saint-Alexandre-Nevsky (12 rue Daru), and Parc Monceau.
More photos of the church:
Did you like what you read? If so, please share this article on Facebook, Twitter or Pinterest! 🙂
---