Valentine's Day ("La Saint-Valentin", in French), on February 14th, is a celebration of love for couples from many countries around the World. This is especially true in France! While many couples celebrate Valentine's Day every year, its origins remain unknown to most of us… Many tales, whether true or not, have told the origins of Valentine's Day for years. Here is the one that sounds the most likely.
---
Who are you St. Valentine?
The story begins during the third century. The Roman Empire had been at war for years. Its power is declining, especially its army. More and more young men were deserting. At the very least, young men were not as likely as previously, to sign up for the army.
According to Emperor Claude II, potential soldiers were more interested in women and in having families than in fighting for the Empire… In an effort to solve the problem, "Cruel Claude" simply decided purely and simply to forbid weddings throughout the Empire.
However, a priest called Valentine decided to defy the law. In secret, he continued to perform weddings. Valentine even encouraged young lovers to meet him, so they can be blessed with the marriage Sacrament. But Claude II eventually heard about these activities… and immediately decided to put Valentine in jail.
There, the priest befriended the blind daughter of his prison guard.
Valentine was eventually sentenced to death. According to the legend, right before his execution on 14th February 270 AD, he gave sight back to the blind girl. He also gave her a heart-shaped letter, which he signed: "From your Valentine".
When the Roman Empire collapsed at the end of the 5th century Valentine was declared a Saint by Pope Gelase I for his sacrifice in the defence of love.
---
A sweethearts' celebration
It was not until the Middle Ages that Valentine's Day became a day for the celebration of love. In fact, it was a political decision by the Church which wanted to respond to the pagan celebration of Lupercalia , which had been emerging over the years in Christian Europe…
The ancient celebration of Fertility Day
Honouring ancient Roman deities Luperculus (God of herds and shepherds) and Juno (Goddess of marriage), "Fertility Day" was celebrated every year from 13th February to 15th February.
This former Greek and Roman celebration became fashionable again after the collapse of the Roman Empire.
People organised rituals to celebrate love and to bless future parents. The most unusual was definitely Luperci's race, where half naked young men ran after young ladies holding pieces of pork skin. ?
The goal was to (gently!) hit the young ladies, so they would have peaceful and happy pregnancies…
Valentine's Day becomes a Christian tradition
The Church was fearful of losing its power in Europe and Lupercalia was not the only pagan celebration to come back into fashion after the collapse of the Roman Empire. The Pope decided to turn Lupercalia into a Christian celebration. It would take place on 14th February and would be called Valentine's Day, in order to honour the priest who sacrificed his life for blessing young couples.
---
Valentine's Day in France: just a commercial celebration?
1,500 years later, Valentine's Day is a very popular celebration in many countries, especially in France. On that day "lovebirds" swapped presents to show each other their mutual love.
According to a recent poll, 71% of French people celebrate Valentine's Day. They spend about fifty euros each on presents such as flowers, jewellery or a romantic dinner…
Storekeepers and big businesses knew there was business to make out of it. "Surfing on love's wave", they adorn their shop fronts with hearts, roses and Cupid's angels, just a few days before 14th February… Thereby taking advantage of the opportunity to lure people who don't know what to buy for their lover!
Valentine's Day has become an occasion for retailers to make the most of an old tradition. However, let's not accuse our favourite florists and jewellers! After all, they are also allowing many couples to celebrate such an important day for them!
---
The Romance of Paris
For the perfect Valentine's Day destination, head to… PARIS!
There's so much to see and do in the City of Love, from sightseeing to a cruise in the River Seine. I have listed my top 10 most romantic places to see on this article.
One of the best romantic thing you could plan while staying in Paris is to hit the city highlights in a classic '2CV' classic Car Tour of Paris. Click here for more details.
---
English-French Vocabulary: Valentine's Day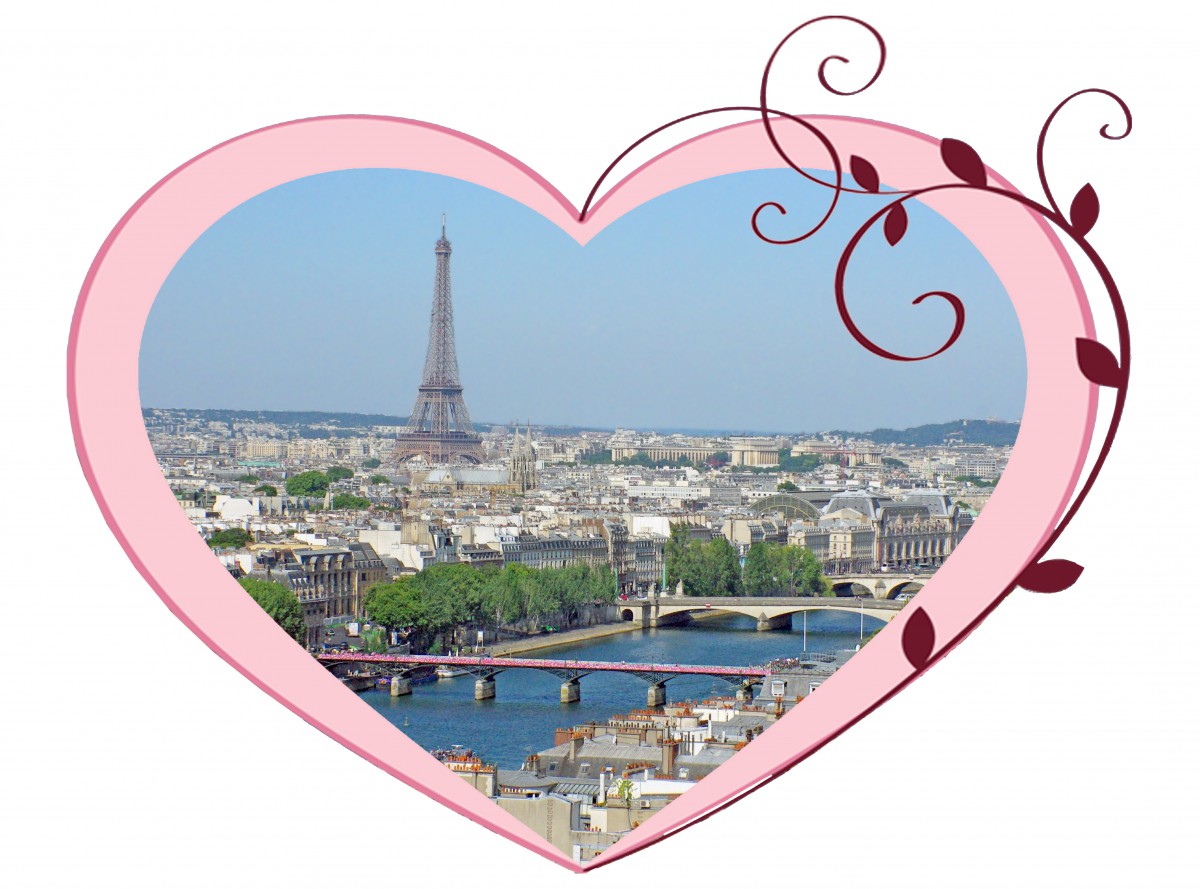 (f) for féminin, (m) for masculin, (adj) for adjective and (v) for verbs
celebration = célébration (f)

church = église (f)

couple = couple (m)

Cupid = Cupidon (m)

February = Février (m)

flower = fleur (f)

gift = cadeau (m)

heart = cœur (m)

love = amour (m)

lover = amoureux (m) / amoureuse (f)

Lupercalia = Lupercalia (f)

marriage = mariage (m)

party = fête (f)

Pope = Pape (m)

Roman = Romain (m) / Romaine (f)

Roman Empire = Empire romain (m)

Valentine = Valentin

Valentine's Day = Saint Valentin (f)

wedding = mariage (m)
---
Inspired? Pin it for later:
---
Some of the links above are affiliates so if you're planning a trip, using these links helps me keep things running. There's no extra cost to you. All you have to do is click the link and any booking you make is automatically tracked.
---