Rue des Thermopyles: what an odd name for a street. Situated in a part of Paris that is exempt from any major monuments and museums, the cat-friendly street will surprise you with its country look. Situated in the 14th arrondissement, rue des Thermopyles is an oasis of calm and greenery waiting to be discovered. The adjacent street of Cité Bauer has some interesting houses to admire…
[lwptoc]
The peaceful rue des Thermopyles
Lined with low-rise houses linked by leafy arches, the 280-metre long street is worth a stroll particularly in the spring when the abundance of wisteria blossoms cover part of the façades.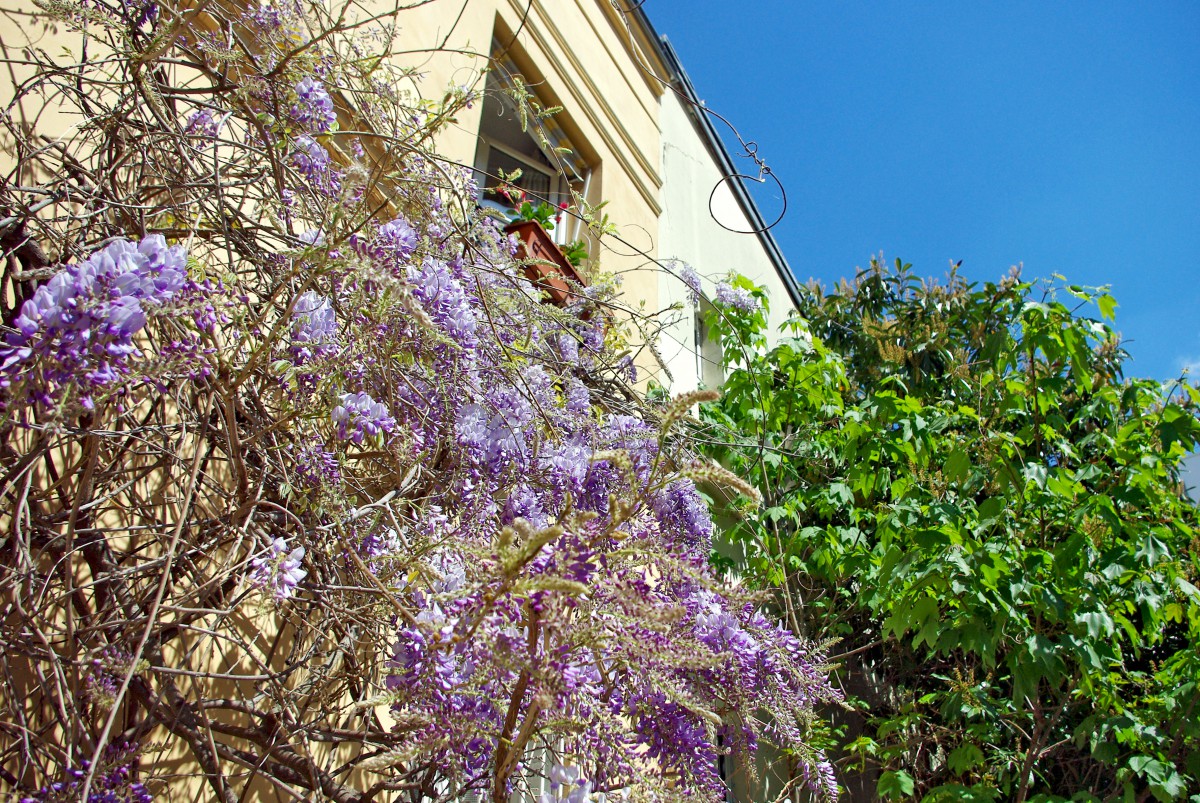 Coloured shutters, pot plants lining the street, flower boxes decorating the window sills… no tourists and no shops are found there!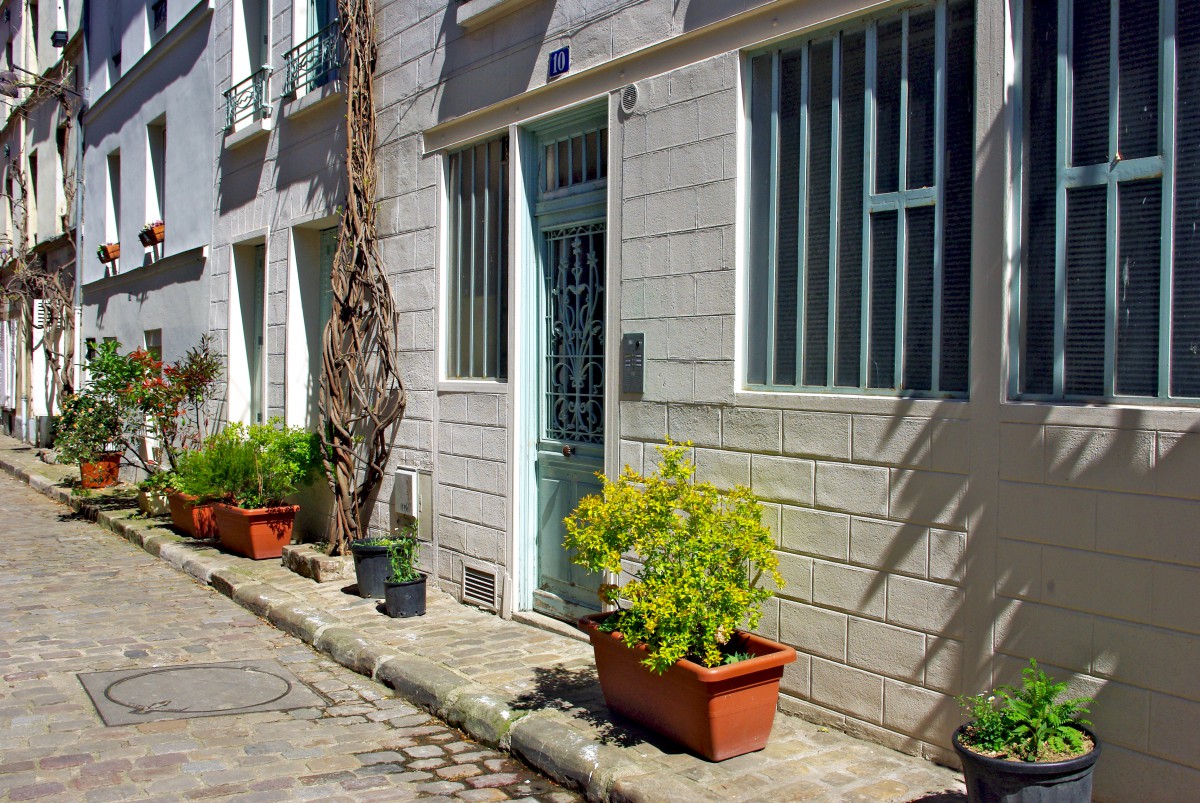 Rue des Thermopyles is one of the few streets that has kept its original stone pavement.
It was a private street closed by iron gates until 1959.
The street owes its name to the Battle of Thermopylae which was fought between an alliance of Greek city-states, led by King Leonidas of Sparta, and the Persian Empire of Xerxes I over the course of three days. The street refers to the narrow pass where the legendary battle was fought.
At the end of the street, a shared garden has been run for many years by a local association.
Explore the neighbourhood by walking by Square du Chanoine-Viollet and the cute streets of Cité Bauer and rue du Moulin.
---
Square du Chanoine-Viollet
Formerly known as Square Didot, this public park covers an area of 3,300 m2. Created in 1939 on the site of demolished buildings, it was renovated in 2004.
The park pays tribute to Abbey Viollet (1875-1956) who founded the Œuvres du Moulin Vert to provide support to the needy of the 14th arrondissement.
---
The surprising gate in Cité Bauer
The narrow street of Cité Bauer consists of charming little buildings.
One of them, at number 19, is rather unusual for the style of its gate.
It was the former home of a Hungarian artist, Alexandre Mezei. In 1959 he designed the odd-looking gate with intricate ironwork. Designed in a heart shape, it features flowers and tulips and the words: Sten Hozott which means welcome in the Magyar language.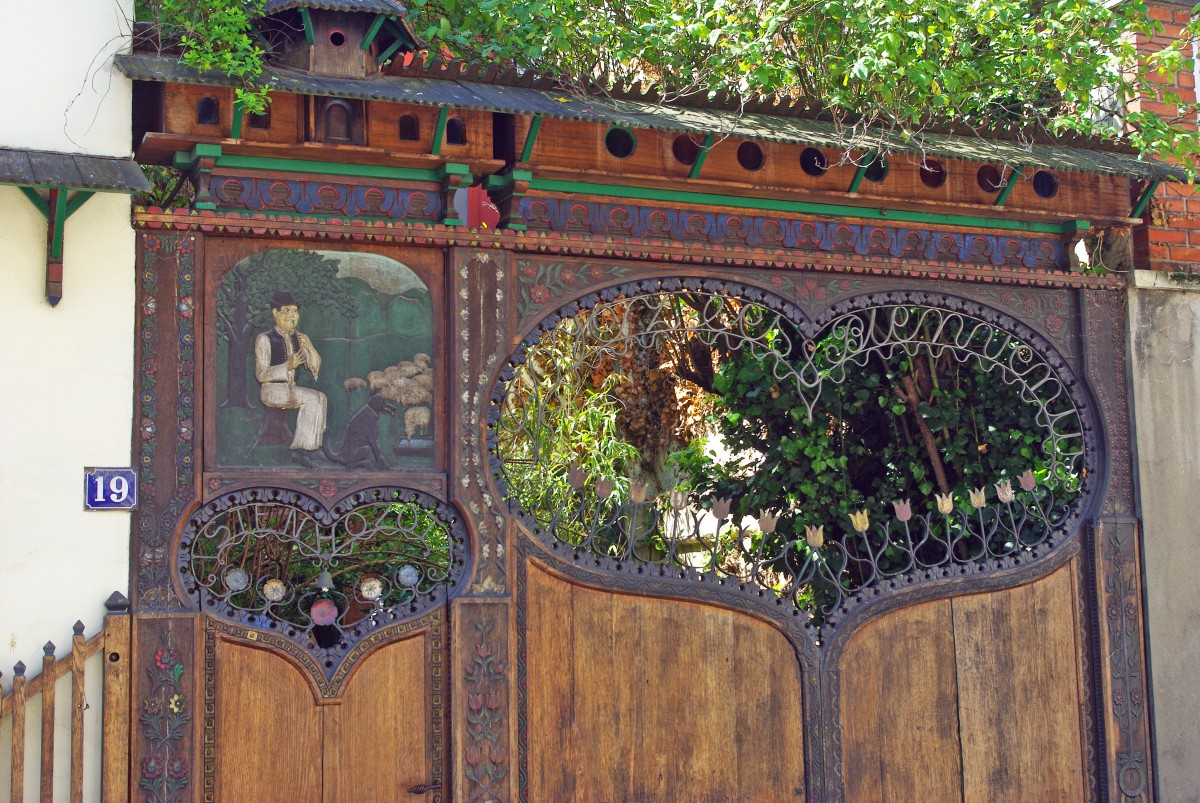 The gate is decorated with a painted panel that represents a seated shepherd playing the flute, with his dog by his side, and a flock of sheep grazing in the distance.
More photos of Cité Bauer :
---
Check out google map for the exact location of the rue des Thermopyles. Closest métro station: Pernety (line 13).
Do you know of other offbeat places in the Left Bank of Paris? Share them with us by commenting below! And who knows, I might be able to have a look myself!
---