Rue des Rosiers is situated in the Marais. The name of the street means "street of the rosebushes". Between rue Malher and rue Vieille du Temple, the 380 metre-long street is the main thoroughfare of the Jewish quarter. Welcome to "the Pletzl" (Yiddish for little place)!
---
The Jewish community in rue des Rosiers
The Jewish community in Paris settled in the Marais toward the end of the 12th century.
Between 1881 and 1914, some 20,000 Jews fleeing persecutions in Central Europe established themselves in the area.
The second wave of immigration took place in the 20th century with repatriated Jews from North Africa.
When walking along the street, many pieces of evidence reveal the Jewish presence: signs in Hebrew, falafel sandwich restaurants, kosher food stores, Jewish bookstores, synagogues…
However, since the 1970s many traditional boutiques have given way to small shops selling the latest fashions.
---
A medieval street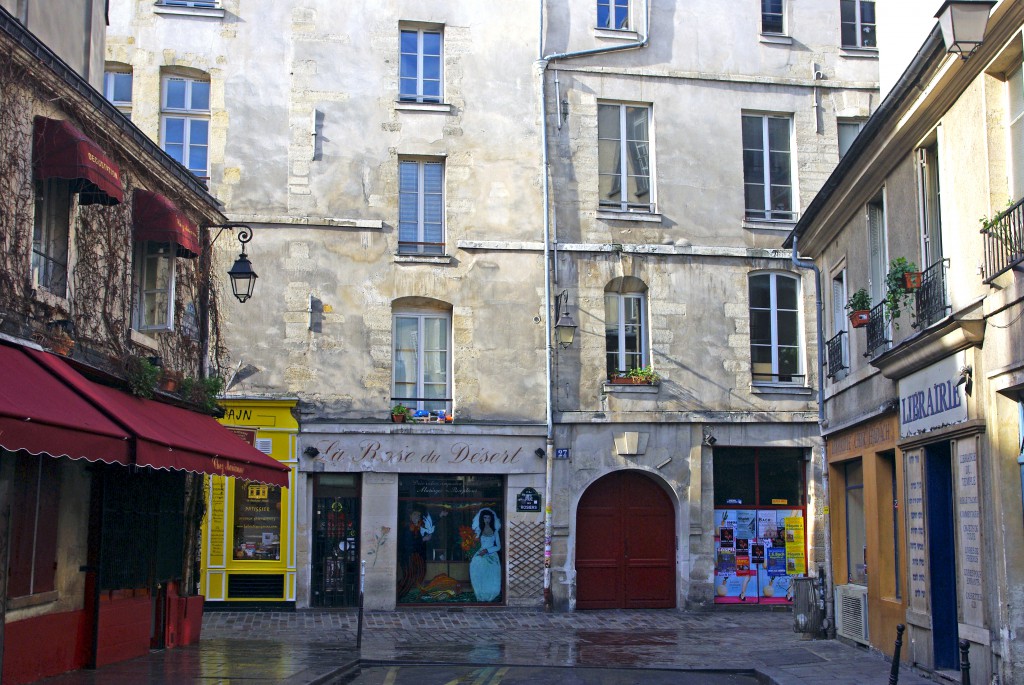 Rue des Rosiers is a very old street lined with old houses. This is particularly visible in the second part of the street near the rue Vieille-du-Temple.
This part of the Marais was left untouched by the urban development of Baron Haussmann. It is believed that the street was created in the 13th century along the wall of Philip-Augustus. Rosebushes would have grown on the wall, given the street's current name. The first written mention of rue des Rosiers dates back to circa 1230.
Part of the former medieval wall can still be seen in the garden of Jardin des Rosiers – Joseph Migneret. This public garden was opened in 2014 from the gardens of several hôtels particuliers (Coulanges, Barbes and Albret). The garden is accessible from number 10, rue des Rosiers.
---
How to get to the rue des Rosiers
Location of the street (link opens a google map): http://goo.gl/maps/1xNchvK5Uw52
Closest métro station: Saint-Paul (line 1).
Have you been to this street in Paris and tasted the delicious falafels? Share with us your Paris discoveries by commenting below! We'd love to hear from you!
---