The Roman forum in Paris – then known as Lutetia – was situated in the present-day Latin Quarter, more precisely in the vicinity of rue Soufflot and rue Saint-Jacques. Did you know that you could see part of it today? Follow me in the Boul'Mich in the 5th arrondissement of Paris and I'll tell you where exactly to go to see them…
---
The Roman forum in Paris
You thought that Paris only dates back to the Middle-Ages?
Not quite.
In fact, Paris was already there during the Roman era under the name of Lutetia.
Unlike major Roman sites in Lyon, Provence or Languedoc there isn't much left to see in Paris from that period. But if you look closely you'll find some astonishing remains of that past long gone.
The ancient Forum is one of them.
The Roman Forum in Paris was the economic and religious centre of Lutetia. The emblem of Roman supremacy in the town that totalled up to 10,000 inhabitants.
It comprised a basilica and a temple facing each other and connected by arcaded galleries that sheltered a number of shops. It was an impressive monument, 180 m long by 90 m wide.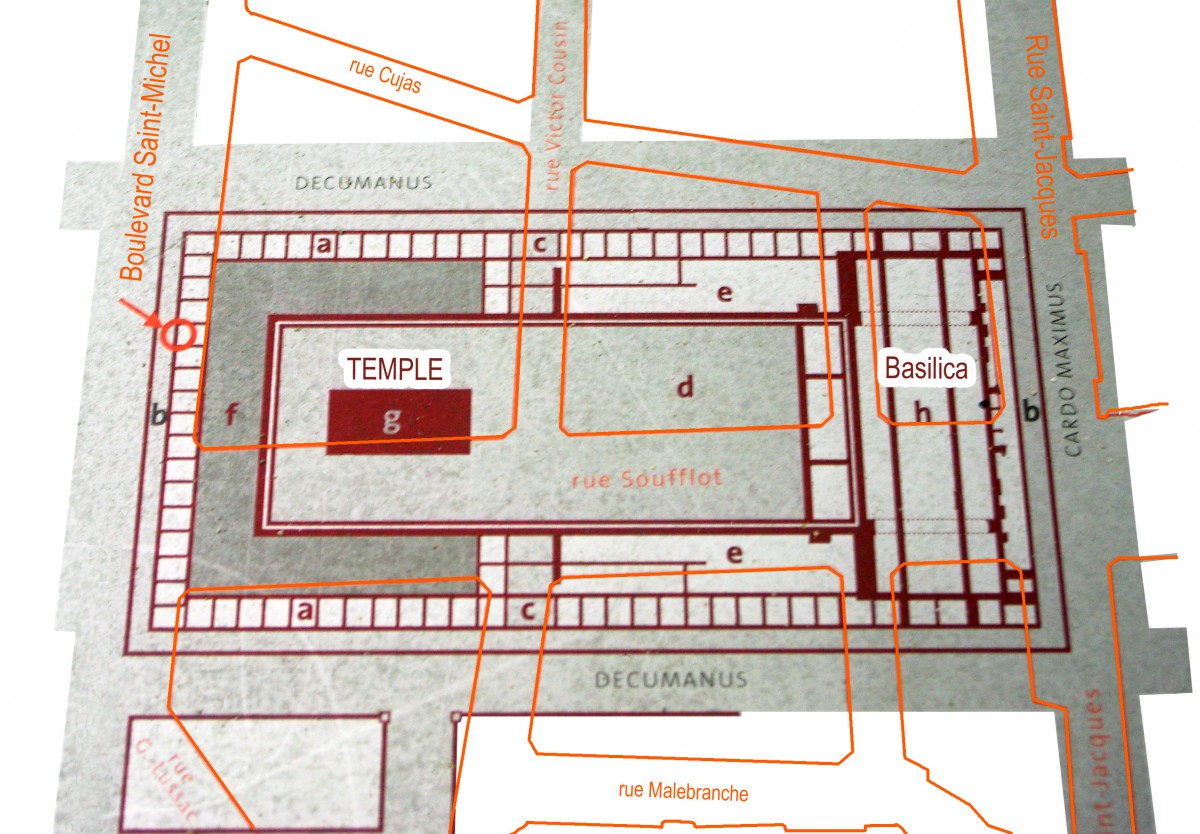 Check out what it looked like on this [French-speaking] video – at 00:55:
The rediscovery of the ancient forum was made by Théodore Vacquer (1824-1899) during the construction of rue Soufflot that started in 1847. He revealed the remains of the wall in 1853. It was the same archaeologist who excavated the Roman theatre (Arènes de Lutèce) in 1869.
---
From a banal carpark to Lutetia
Head to 61 Boulevard Saint-Michel in the 5th arrondissement.
Facing the building is a small staircase leading down to a public carpark. You wouldn't take it unless you knew you had a rendez-vous with Asterix and the Romans!
On the tiled-covered wall of the corridor you'll find the amazing 2,000 year-old Roman forum in Paris. Well, actually just a little piece of it. What you see behind the protective screen was part of the forum's external wall.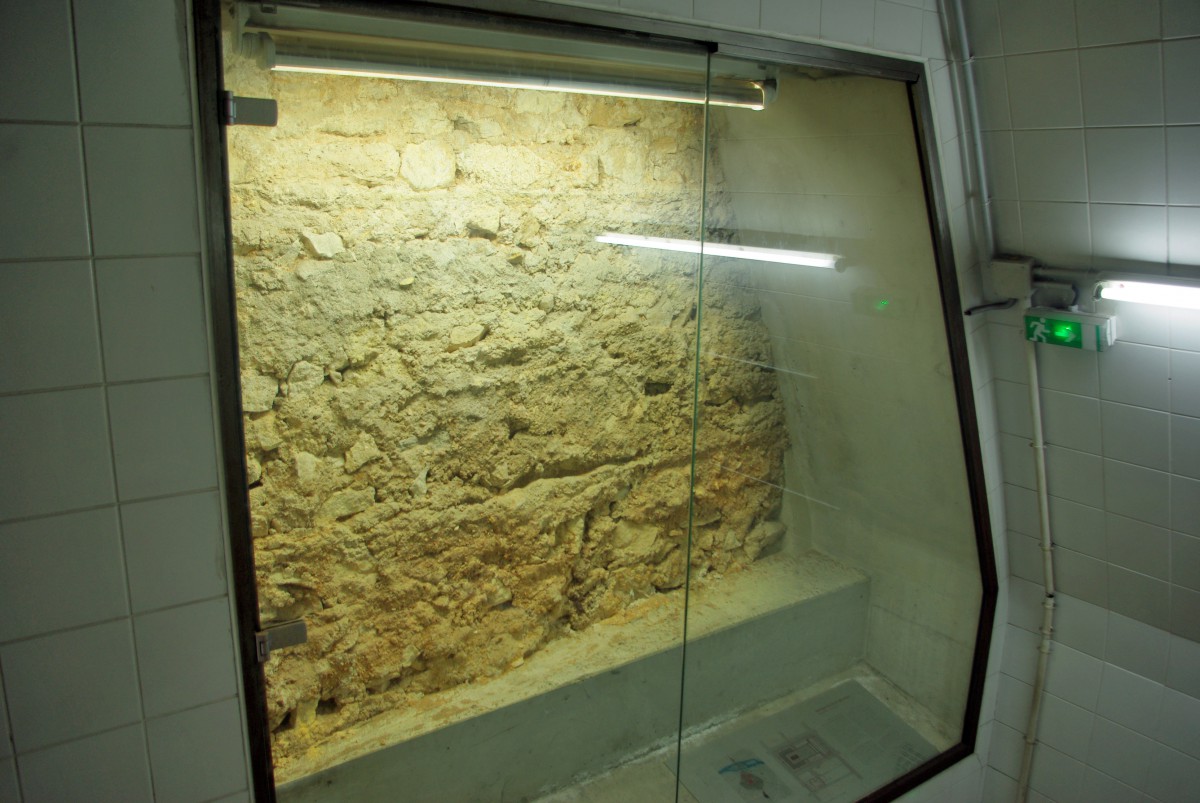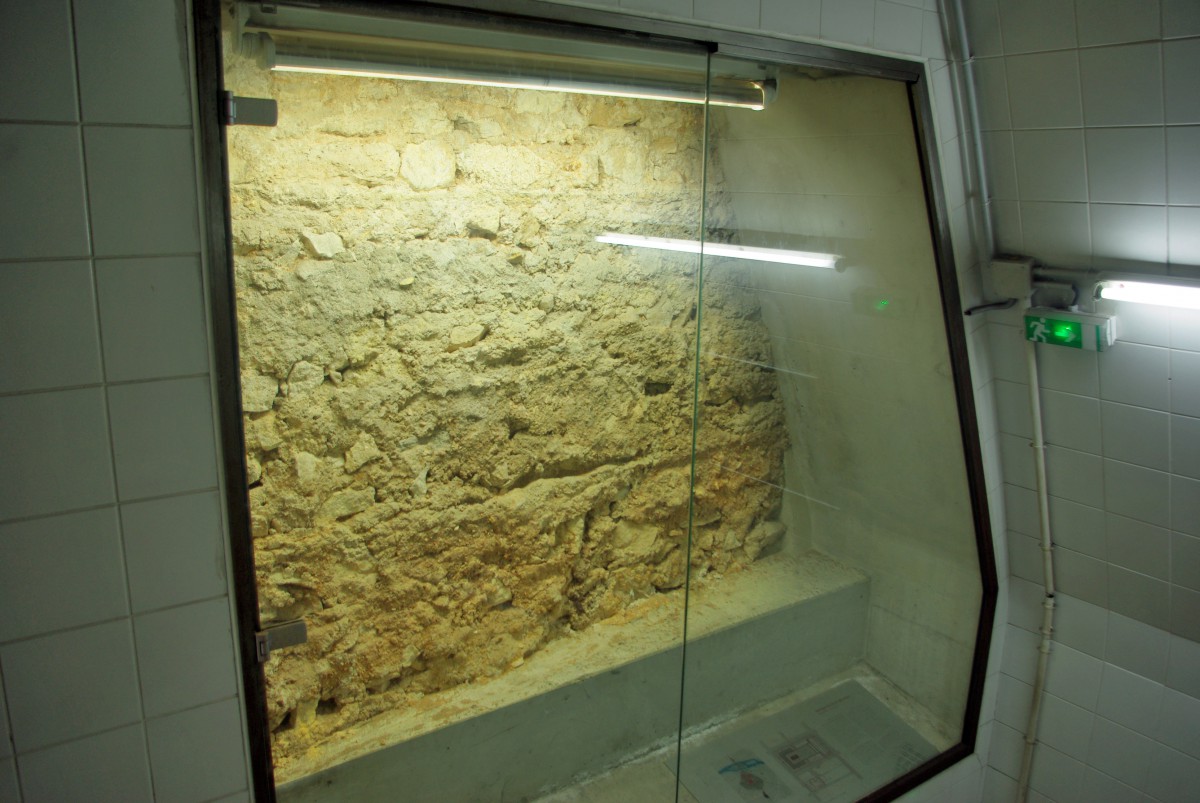 IMPORTANT NOTE ! Access to the carpark is restricted to its customers. However you'll be able to spot the wall just as I did through the glass door at the bottom of the stairs.
---
Where to find it the Roman Forum of Paris?
Closest métro stations: Cluny-La Sorbonne (line 10) or Luxembourg (RER B).
Read more about Lutetia (Paris during the Roman era) on Wikipedia.
---
Other remains of Roman Paris
There are quite a few remains of the Roman past of Paris. I've discovered and photographed most of them but still need to write about these Roman evidences. Here are three Gallo-Romain sites in Paris:
The Archealogical Crypt under the square of Notre-Dame (4th arrondissement).

The Lutetia Arena (5th arrondissement)

The baths at the Cluny museum (5th arrondissement)
Did you find what you read interesting? If so, please do share this article on Facebook or twitter!
Inspired? Pin it for later:
---