The oldest part of the Principality of Monaco is Le Rocher, a rocky promontory between Monaco's port and the Fontvieille district. The old town is the only part of the microstate to have been spared by developers. With a maze of narrow cobblestone streets bordered by Renaissance houses, the old district has a certain charm. The rocky outcrop gathers the political, judicial and religious institutions of Monaco: the Prince's Palace, the Town-Hall, the Government, the National Council (parliament), the tribunal, and the Cathedral. There are 975 inhabitants in the district called "Monégasques".
Situation Map of Le Rocher de Monaco
The Prince's Palace of Monaco
The Palais Princier is the official residence of the ruling Prince of Monaco: Prince Albert II (born 1958) and has been the home of the Grimaldi dynasty since the end of the 13th century.
Find out more about the Prince's Palace of Monaco.
Monaco Cathedral
The cathedral of Monaco (also known as Cathedral of Our Lady of the Immaculate Conception) is famous for containing the tombs of most of the Monaco princes, including Prince Rainier and Princess Grace. The sanctuary was built in Romanesque-Byzantine style between 1875 and 1903 on the site of a former parish church dedicated to St Nicholas.
Inside is the beautiful retable dedicated to St. Nicholas executed in 1500 by Louis Bréa, an artist from Nice.
Monaco Aquarium
The monumental white building of the Oceanographic Museum was edified in 1910 over the cliff face dominating the sea. It houses an excellent aquarium with eerie sharks, delicate leafy sea dragons, angler fish, star fish, turtles, jellyfish, crabs, lobsters, rays, eels, and all sorts of strange and colourful sea-creatures.
The institute was directed from 1957 to 1988 by famous underwater explorer Jacques-Yves Cousteau. Some of his films are projected in the conference hall of the aquarium. The building is also home to the Mediterranean Science Commission.
The rooftop terrace offers some fantastic views over Monaco and its surroundings.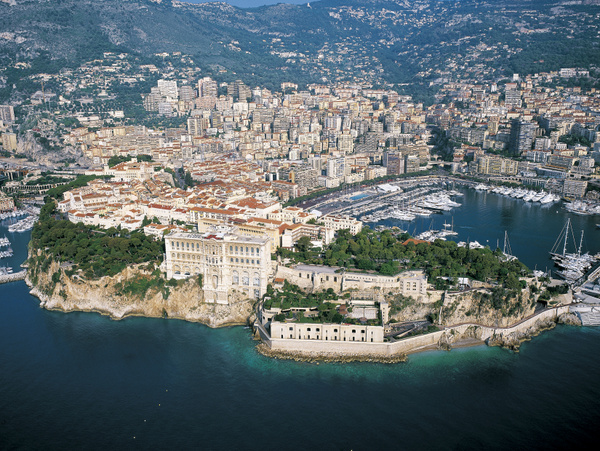 Palace of Justice
The Courthouse was built in 1924 by Prince Louis II out of sea tuff containing small pebbles and a few mollusc shells.
English-French Vocabulary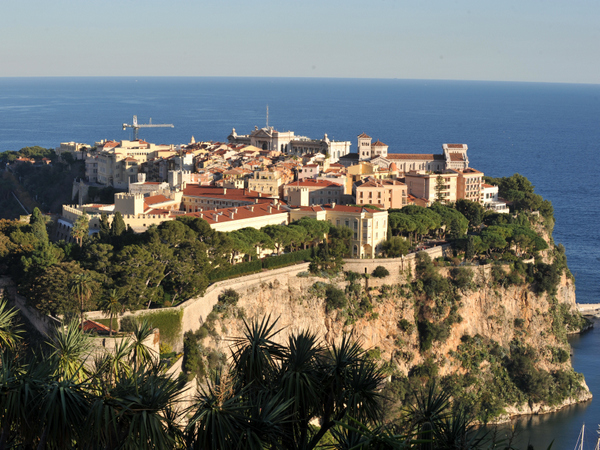 (f) for féminin, (m) for masculin, (adj) for adjective and (v) for verbs
Alps = Alpes (f,p)
aquarium = aquarium (m)
cathedral = cathédrale (f)
castle = château (m)
court house = palais de justice (m)
French Riviera = Côte d'Azur (f)
harbour = port (m)
marina = port de plaisance (m)
Maritime Alps = Alpes Maritimes (f,p)
Mediterranean Sea = Mer Méditerranée (f)
micro-state = micro-état (m)
museum = musée (m)
old town = vieille-ville (f)
palace = palais (m)
Prince = Prince (m)
Principality = Principauté (f)
port = port (m)
rock = rocher (m)
Featured image: Rocher de Monaco © Monaco Press Centre Photos