A joyous medieval atmosphere awaits all who come to Ribeauvillé! Open on two weekends during Advent, the Ribeauvillé Christmas market has become over the years a not-to-be-missed event in Alsace. In the waiting of Christmas, the historic wine town welcomes its visitors in a fairy-tale setting. Here, as in many villages of the Alsatian vineyard, the fine Renaissance half-timbered houses contribute to the magic of the place, particularly at nightfall.
---
Discover the Ribeauvillé Christmas Market
What makes the Ribeauvillé Christmas market so special? Simply because it is held under the theme of the Middle-Ages. As a matter of fact a large number of visitors is coming to Ribeauvillé to relive the era of the Middle-Ages. This market is very animated with jugglers, dancers and minstrels.
As for the traders' stalls, they are found along the main street (Grand'Rue). You'll find local produce such as gingerbread, sweets, Christmas cookies and mulled wine. Without forgetting boar on the skewer with traditional barley beer (cervoise)!
Other stalls offer Christmas decorations (Advent wreaths, hand-made cribs, candles) as well as gift ideas.
---
A Christmas stroll in the streets of Ribeauvillé
If you can't make it to the medieval Christmas market, don't be too disappointed… and come anyway to Ribeauvillé in December. You will discover the picturesque streets of the wine town beautifully and tastefully decorated. As for me I always prefer discovering these little places at nightfall. The streets all lit up for Christmas as ever so enchanting. Walk up the main street (Grand'Rue) from the Jardin de Ville to place de la République that lies beyond the Butchers' Tower (Tour des Bouchers). Make sure you take time to wonder at the glittering decorations of the façades and window-shops.
---
The Christmas Cellars
In the waiting of Christmas Ribeauvillé is living at the pace of its medieval Christmas market but also of a wide range of events such as concerts and exhibitions.
However there is one type of events that has caught my attention: the Christmas Cellars (Caves de Noël). As you know Ribeauvillé is surrounded by vineyards. It was only natural to invite the wine-growers to the celebrations! In the region of Ribeauvillé and Riquewihr, eleven of them open their cellars to visits. They take the time to share their passion on wine. The Christmas Cellars event includes a visit to the cellars, tastings of Alsace wines and local produce, 'aperitifs-concerts' and discovering workshops. Faced with the growing popularity of the Christmas Cellars, it is recommended to book at least 48 hrs in advance. Find out more.
---
Practical information about the Ribeauvillé Christmas Market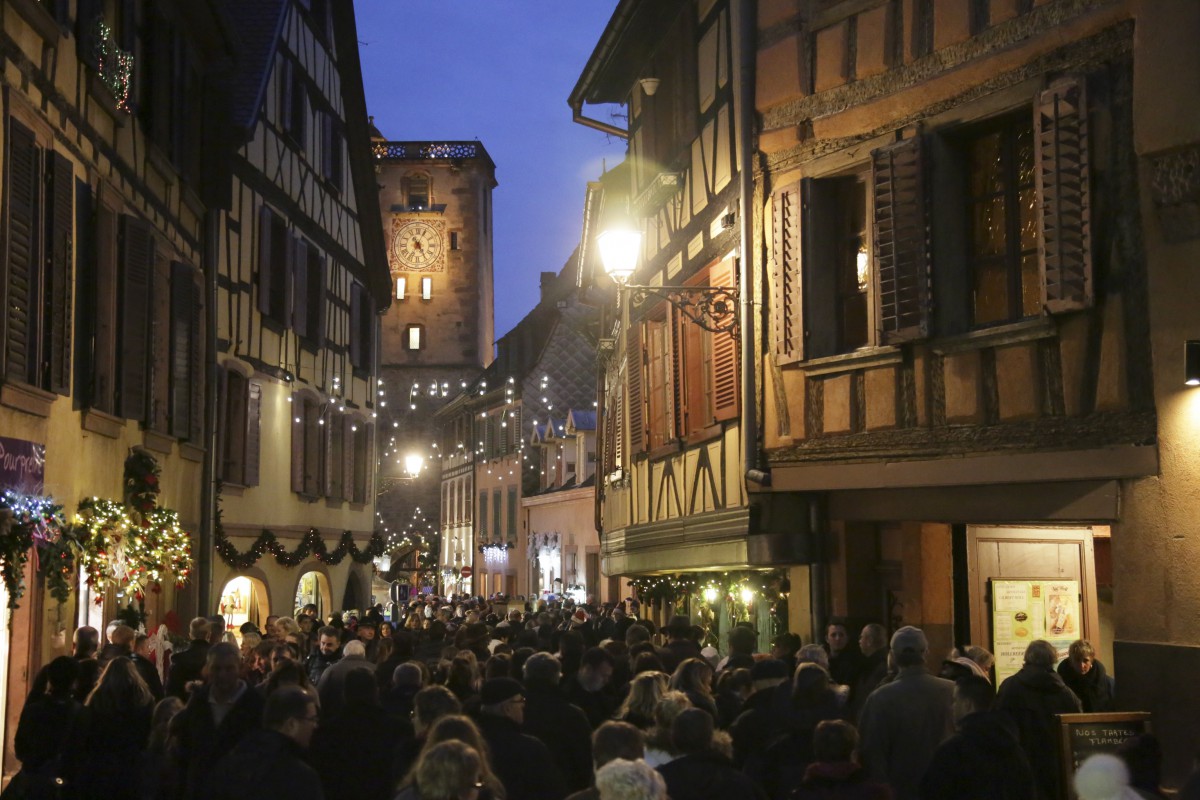 Each year the little town draws huge crowds of visitors who come to visit the medieval Christmas market which takes place on two weekends. In 2017 the market takes place on Saturdays and Sundays 2-3 and 9-10 December. It is open between 10am-7pm (Saturday) or 6pm (Sunday).
Coming by train
If you come from Strasbourg or Mulhouse, take the train! The travel aboard TER (regional trains) only lasts 30 min to Colmar.
From Paris, the TGV journey takes 2.30 hours. Out of the 15 return services between Paris-Est and Strasbourg, 3 are extended to Colmar.
A 'Christmas Shuttle' (la navette de Noël) links Colmar to Ribeauvillé with a stop calling at the Colmar Railway Station and at place Scheurer-Kestner. This is a great deal for those of you who want to visit the Christmas markets of Colmar, Kaysersberg, Riquewihr and Éguisheim without driving stress! More info on the shuttle.
Alternatively you can also book a taxi from the Colmar station to Ribeauvillé for a 17 km one-way ride.
Coming by car
Situated along the scenic Alsace Wine Route linking Marlenheim to Thann, Ribeauvillé is easily reached from Colmar (17km), Mulhouse (63km), Strasbourg (70 km), Basel (90km) and Nancy (130km). Paris is approximately 445km from Ribeauvillé.
To park you car with complete peace of mind, why not using the 'parking relais' (park & ride) in the outskirts of town? With a 5 euros fee the shuttle to the town centre runs every 20 minutes from 9.50am to 8.30pm More info about the parking relais.
Coming by air
The closest international airports are Strasbourg-Entzheim and the Basel-Mulhouse-Freiburg Euroairport, both at equal distance (70km).
---
English-French Vocabulary
(f) for féminin, (m) for masculin, (adj) for adjective and (v) for verbs
Advent = Avent (m)
boar on the skewer = sanglier à la broche (m)
cellar = cave (f)
chalet = châlet (m)
Christmas = Noël
Christmas Eve = veille de Noël (f) / réveillon (m)
Christmas lighting = illuminations de Noël (f,p)
Christmas market = marché de Noël (m)
Christmas Tree = sapin de Noël (m), arbre de Noël (m)
church = église (f)
gingerbread = pains d'épices (m,p)
half-timbered house = maison à colombages (f)
holiday season = période de Noël (f), temps des fêtes (m)
Middle-Ages = moyen âge (m)
nightfall = tombée de la nuit (f)
square = place (f)
street = rue (f)
vineyard = vignoble (m)
wine = vin (m)
wine-grower = vigneron (m)
---
French Moments would like to thank the Tourist Office of Ribeauvillé-Riquewihr for giving us the opportunity to share their photos on this page.
Did you like what you read? If so, please share this article on Facebook or Twitter!