The two bridges of Ponts de la Caille spanning the gorge of the Usses River on the route between Geneva and Annecy are a spectacular and popular local attraction.
---
Situation
Located 16 km north of Annecy on the D1201 road to Geneva, Switzerland, the two parallel bridges span the ravine formed by the Usses torrent 140 m below.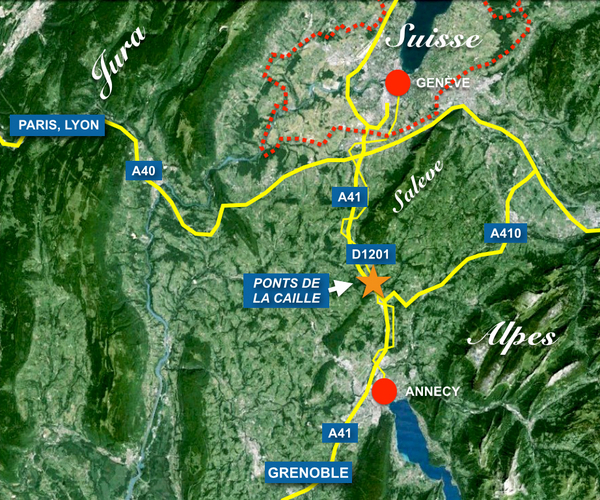 View of the Gorge of the Usses from the Pont de la Caille.
View of the Pont de la Caille and Mont-Blanc from the vicinity of Cercier, Haute-Savoie:
---
Description
Charles-Albert bridge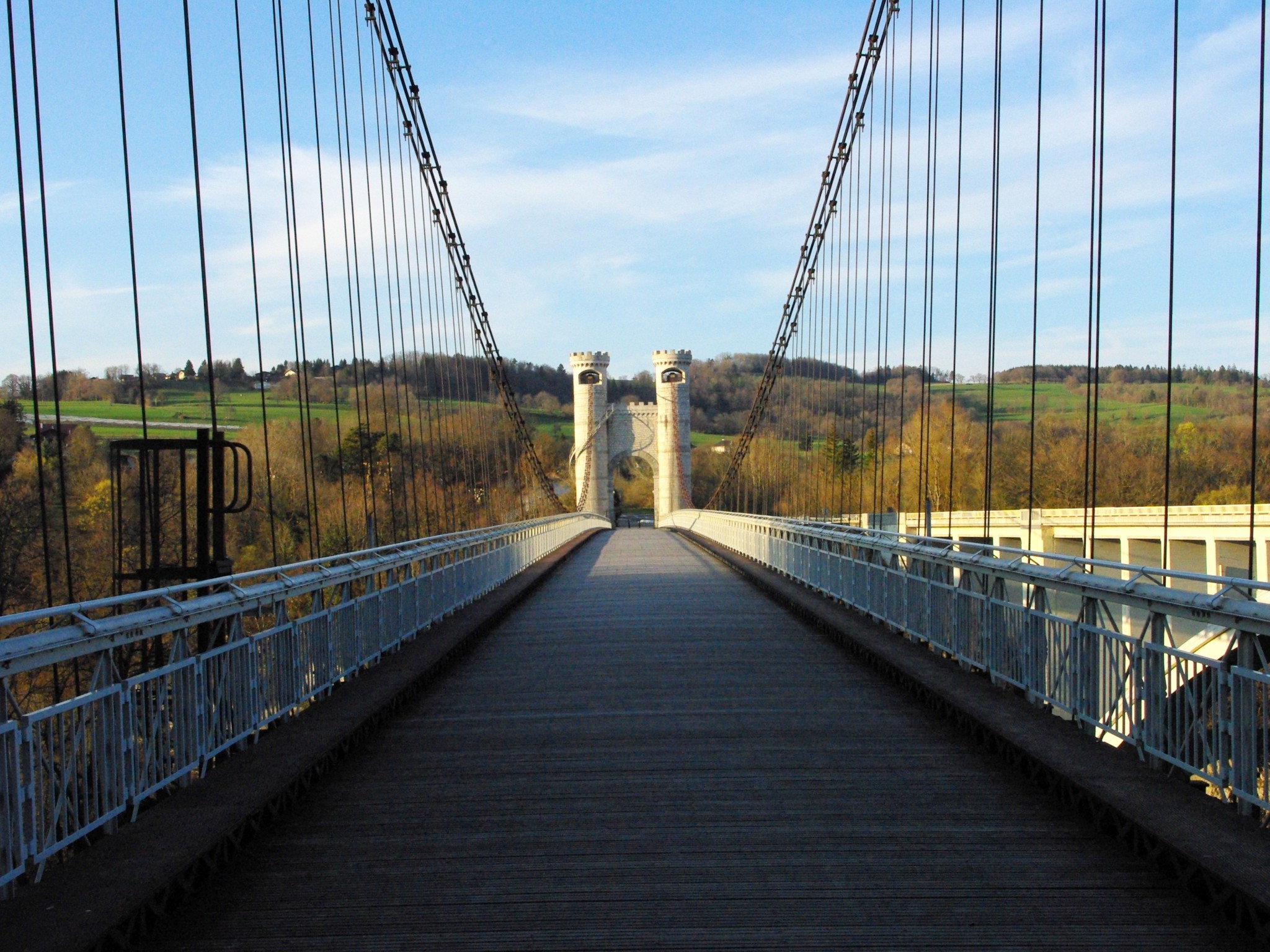 The first bridge, known as the Charles-Albert bridge, was commissioned by Charles Albert, King of Sardinia. It was built in Medieval Revival style and features two white crenellated towers at each end supported by two dozen cables. The bridge is 142 m high and 194 m in length.
Inaugurated on 11 July 1839 by the King, this impressive and daring example of mid-nineteenth-century engineering is one of the oldest suspension bridges still in use today and also one of the highest in France.
In 1939, the bridge was restricted to pedestrians and is open free of charge. Anyone suffering from vertigo should avoid walking across it.
Caquot bridge
Parallel to the Charles-Albert bridge but very different in style, the present bridge known as "Pont Caquot" or "Pont Neuf" was built in 1925, replacing the now disused Charles Albert bridge. With a single fine arch spanning 138m over the Usses River it was, at the time of its inauguration, one of the longest single concrete span bridges in Europe.
Traffic still uses the Caquot bridge on the road linking Annecy to Geneva.
The view from the bridges extends from the gorge of the Usses River on one side to the Alps on the other.
The A41 bridge
Opened in 2008 to cut the travel time between Geneva and Annecy, the new section of the A41 motorway is 360 m in length and 60 m high, passes close by the two bridges and spans the Usses River by the Usses Viaduct.
---
English-French Vocabulary
(f) for féminin, (m) for masculin, (adj) for adjective and (v) for verbs
Alps = Alpes (f,p)
arch = arc (m) / arche (f)
bridge = pont (m)
cable = cable (f)
concrete span bridge = pont suspendu en béton (m)
Geneva = Genève
gorge = gorge (f)
motorway = autoroute (f)
pedestrian = piéton (m)
ravine = ravin (m)
river = rivière (f)
road = route (f)
to span = traverser (v)
Sardinia = Sardaigne (f)
suspension bridge = pont suspendu (m)
Switzerland = Suisse (f)
torrent = torrent (m)
vertigo = vertige (m)
viaduct = viaduc (m)
---
Visit the Annecy Tourist Office website here.