Situated in the heart of Saint-Germain-des-Prés (6th arrondissement), the tiny Place de Furstemberg is one of Paris' most charming squares with its elegant lamp posts.
---
Who is the Place de Furstemberg named after?
Although the tiny Place de Furstemberg may be the smallest squares of Paris, its charm is undeniable.
Situated near the church of Saint-Germain-des-Prés, it owes its name to the famous Prince de Furstenberg, William Egon of Fürstenberg (1629 – 1704).
The German clergyman, who was once bishop of Metz and of Strasbourg, retired to Paris in 1697 where he was appointed abbot of St-Germain-des-Prés.
It was him who created the three streets of rue Cardinale, passage de la Petite-Boucherie and rue de Furstemberg on the forecourt of the abbatial palace. Rue de Furstemberg itself was opened on the site of the abbey's stables.
The count died at age 74 in Paris on the 10th of April 1704.
---
Not really a square!
In fact, Place de Furstemberg is not technically a square but a street (rue de Furstemberg or Furstenberg) where a small roundabout has been created for traffic.
Four paulownias have been planted in its centre.
The place has a certain romantic feel along with elegant Parisian-style lamp posts, particularly at night time when the five globes are lit up.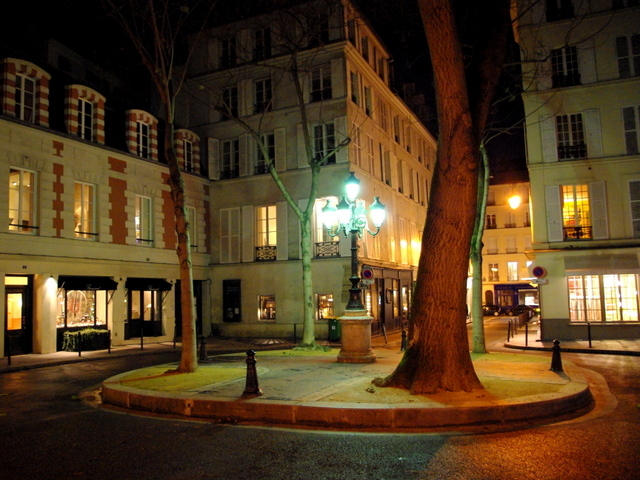 ---
Eugène Delacroix and Rue de Furstemberg
Painter Eugène Delacroix used to live there and his former dwelling today houses the Delacroix Museum.
The Musée National Eugène-Delacroix occupies the former flat and studio of the painter Eugène Delacroix.
It is quite a unique and captivating museum space in central Paris.
Since the museum was founded in 1932, its collections have brought together more than a thousand works. They include works by Delacroix – paintings, drawings, prints, manuscripts – as well as objects that belonged to him, and works created by artists who admired him.
---
Place de Furstemberg in movies
The street appears in several films:
Sans laisser d'adresse (1951), by Jean-Paul Le Chanois, with Bernard Blier and Danièle Delorme.
Gigi (1958), by Vincente Minelli, in which the actor Louis Jourdan makes a singing performance.
The Age of Innocence (1993), by Martin Scorsese. The street appears in the last scene of the film.
Read more about the neighbourhood of Saint-Germain-des-Prés.
---