Pissaladière is a sort of like a cheese-less pizza .. this is a typical lunchtime snack easily found in boulangeries in Provence. A pizza base is topped with soft caramely tasting onions, anchovies and black olives. Served traditionally with chilled rose this makes a refreshing change from cheese laden pizza!
---
Ingredients
Makes 6-8 slices
For the base

2 cups type 00 plain flour
1 teaspoon dried yeast
pinch of sugar
3/4 cup warm water
1/4 cup olive oil + a tablespoon to brush on top at end.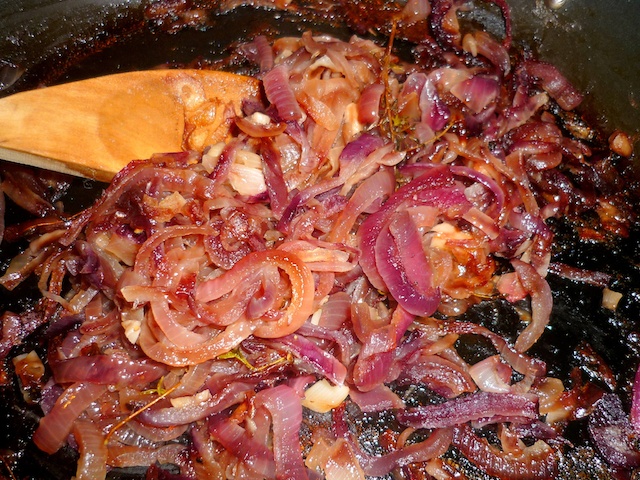 For the topping

1 1/2 kg brown onions, sliced very finely (you can also use red onions for a different flavour like we did … but brown is the usual type used)
30g butter
4 tablespoons olive oil
2 sprigs of thyme
12 anchovies
pitted black olives
sea salt and black cracked pepper
To serve: mixed salad with a vinaigrette
---
Method
Melt the butter and olive oil in a frying pan
Put the onion and garlic in a heavy based, large frying pan and when butter is melted, add the onions and thyme leaves and cook on a low heat for abot an hour, stirring from time to time. You want the onions to be soft and slightly caramalised, but not a brown colour. Note, if you are using red onions colour will be different but shouldn't completely darken.
Whilst the onions are cooking make the base. Put the flour and salt in a mixing bowl. In a small bowl but the warm water, sugar and yeast. Leave until it bubbles, then add the olive oil. Make a well in the flour mixture and add the liquid. Knead for several minutes until the dough is smooth and elastic and doesn't stick to the sides. Cover with cling wrap or a damp tea towel and leave to rise.
Once the onions are cooked, season and then leave to cool.
Check on the dough. Once it has doubled in size, knead lightly again on a floured surface. Then roll out into a big rectangle to fill a baking sheet (about 40cm by 30cm). Brush the top with a small amount of olive oil then spread the onions across the top. Slice the anchovies into thin strips and criss cross over the top of the onions to form a kind of lattice. Then add the olives in the spaces between.
Leave somewhere warm again to prove a little further for about 20-30 minutes.
Heat the oven to 220 C. If you want an extra crispy base, heat a baking sheet in the oven and transfer the pissaldiere onto it and return it to the oven. Cook for about 15-20 minutes and serve it warm with a green salad or on its own. A dry, chilled rose is the best wine to accompany this.
---