This is the recipe for traditional pink meringues, like those you find in French patisseries.
---
Originally meringues were a cake!
It seems that the meringue originated in 1720 from a German town called Mehringen, where a Swiss cook named Casparini, gave the town its name after the success of the cake.
The first meringues with cream to appear in France were at the Court of King Stanislas in Nancy, Lorraine. Later on, vacherins (cakes with a meringue base and ice-cream) were made in Versailles, and the legend says that Queen Marie-Antoinette was seen hitting the cream in her little cottage, dressed up as a peasant.
It is during the Napoleonic era that Carême had the idea of the large meringues that are found in most of France's patisseries.
Today there are 3 types of meringues: Swiss, French and Italian. Each combining the eggs and sugar in slightly different ways giving a slightly different end result.
---
Ingredients
Serves 6
4 egg whites
100g caster sugar
100g icing sugar, sieved
---
Method
Heat the oven to 80°C.
Whisk the egg whites till stiff with an electric whisk.
Once the egg whites are stiff, add the sugar in a continual stream, still whisking. Continue the whisk until smooth and shiny then whisk in 1 small teaspoon of rose water and a couple of drops of red food colouring to give them a baby pink colour.
Either use a spoon to put the mixture onto a baking tray lined with non-stick paper or if you prefer use a piping bag to create discs or nests.
Put them in the oven for about 2 hours, making sure they are well cooked. The meringue should be dry with a slightly squishy, crumbly centre. If your oven is fan assisted or very hot, put it lower than stated or put a wooden spoon in the door to allow them to cook correctly over a long length of time. If you make big ones as shown in our photos you will need to leave them longer.
Leave them to cool completely before storing them in an airtight container.They will keep for at least a week like this. If you like you can turn the oven off and leave them to cool overnight and cook a bit further in the oven.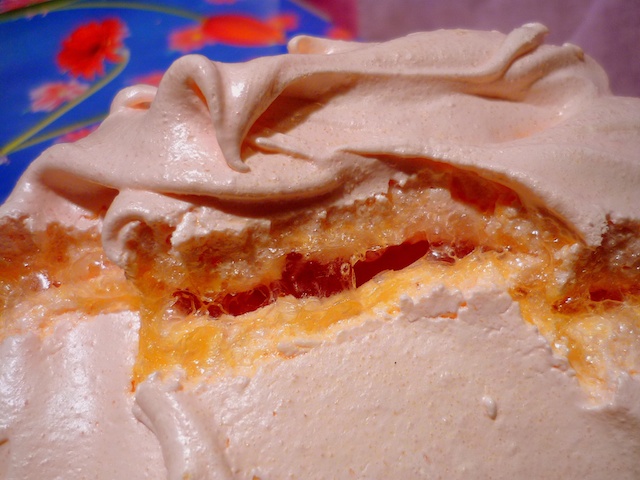 ---
Suggestions
When making meringue, keep the whisk going the whole time whilst adding the sugar and flavourings and until very smooth and shiny – this ensures the meringue is nice and shiny and full.
You can try other flavours for example, chocolate, slivered almonds or pistachios, hazelnuts, orange blossom water or green tea powder … + many more.
Sprinkle nuts (slivered almonds / pistachios / hazelnuts etc.) at the end on the top to give a decorative touch … or try rose petals !
Keep the meringues airtight once cooked and cooled.
Put them in the upper part of the oven – not the bottom.
---