The charming wine village of Niedermorschwihr, Alsace is situated not far from Turckheim and Colmar on the Alsace Wine Route. It is reputed for its vineyards as well as for the unique crooked spire of its parish church.
---
The beautiful village of Niedermorschwihr, Alsace
Between Turckheim and Katzenthal and at 6 km from Colmar, the village of Niedermorschwihr (pop. 540) was first mentioned in 1148 under the name of 'Morswilre'. In the 16th century the village was renamed 'Niedermorschwihr' to avoid confusion with 'Obermorschwihr' near Gueberswihr.
The village was destroyed during the Thirty Years War and became part of the Kingdom of France in 1648. In December 1944, 60% of the village's houses were destroyed during the fights of the Pocket of Colmar.
---
The crooked spire of the parish church
The most iconic monument of the village is the parish church, listed as a 'monument historique' in 1993. Devoted to St. Gall, the church was built in the 18th century except for its bell tower, the only one in Alsace with a crooked spire. Since 1993, the village has been twinned with Sérignac-sur-Garonne (Lot-et-Garonne) whose church also has a twister spire. Inside the church is a Silbermann organ from 1726.
---
The village centre
The narrow old streets of the village are bordered by a great number of beautiful stone and half-timbered houses from the Renaissance era and the 18th century.
Other photos we took while visiting the village:
The village is surrounded by the vineyards of Grand Cru Sommerberg.
---
Les Trois-Épis and the Galtz
The commune of Niedersmorschwihr extends on the foothills of the Vosges and shares the pleasant resort of Les Trois-Épis with Turckheim and Ammerschwihr. Perched at an altitude of 670 m on the Vosges, the hamlet of Les Trois-Épis is a climatic resort as well as a pilgrimage centre.
1,500m from the church stands the Galtz, a gigantic statue of Christ set on a promontory which overlooks Colmar, the Plain of Alsace and the Black Forest in Germany. It commemorates the dead soldiers of the First World War and the return of Alsace to France.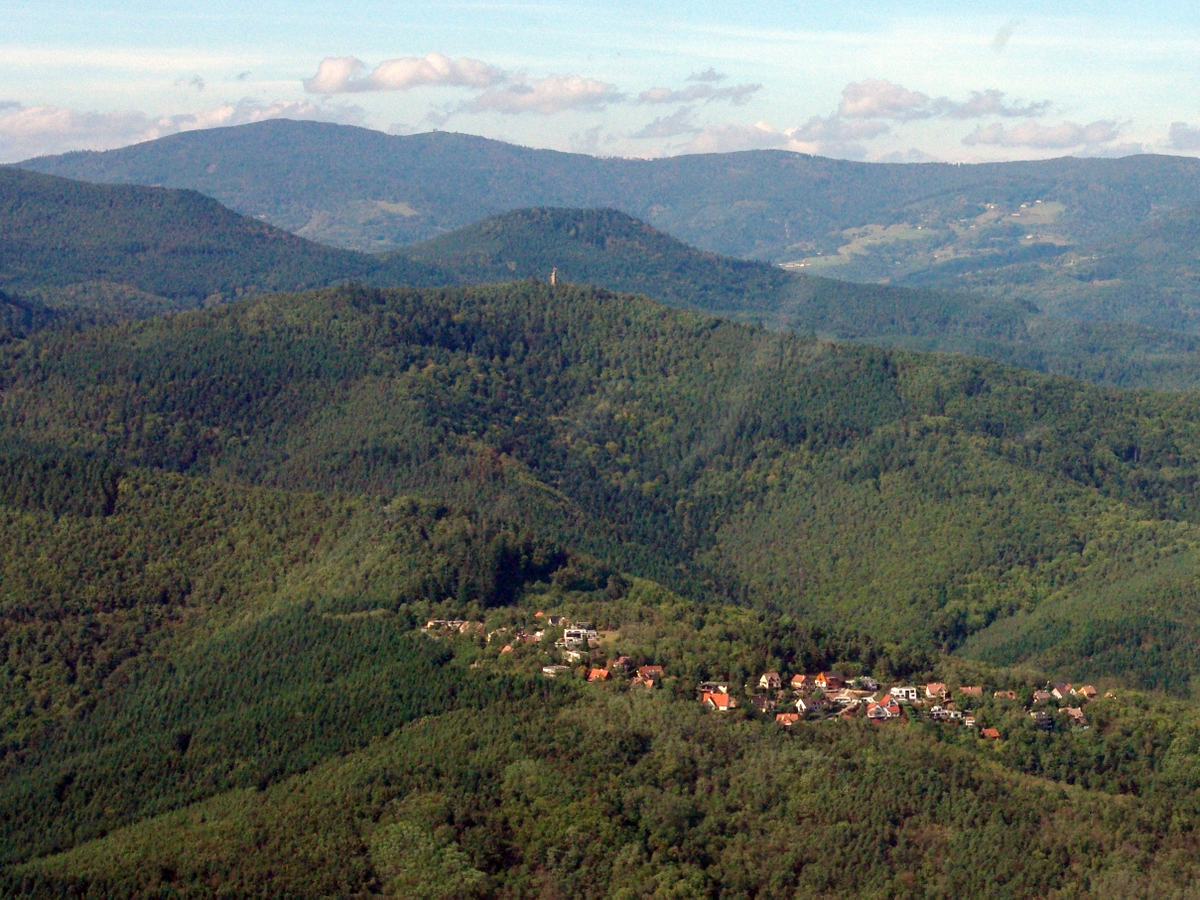 ---
If you happen to visit the village, enter the shop of Christine Ferber. She is known for making the best jams in the region!