Not far from the Buttes-Chaumont, on the fringes of Paris lies a quiet patch of countryside situated in the heavily modernised 19th arrondissement. The Mouzaïa district is to be found around rue de la Mouzaïa and is also known as "Quartier d'Amérique" (America District). You'll enjoy having a stroll on the cobblestoned lanes which are lined with terraced houses, all with their own garden… Yes, we are still in Paris!
[lwptoc]
The Mouzaïa district in Paris: a bit of history
The Algerian connexion
Mouzaïa? What an odd name for a Paris neighbourhood…
In fact, the rue de Mouzaïa was named after the Algerian mountain pass of Mouzaïa where the French army fought in 1839 during the French conquest of Algeria.
Today, Mouzaia is a town of 52,000 inhabitants about 59 km southwest of Algiers.
A quarry site
This was the former site of gypsum quarries which extracted stones that were used to build houses in central Paris.
In fact, the quarries encompassed a much larger area called Quartier d'Amérique (America District).
An urban legend said that the extracted plaster was shipped to America to build the White House… hence the name. But this is just a legend which is not true!
In the 1890s, affordable housing in the working-class district was built to house workers and their families.
In the 1960s and 1970s, most of the Quartier d'Amérique which consisted of terraced houses, factories and guinguettes gave way to ugly high-rises buildings. Fortunately, the Mouzaïa district was spared from destruction.
---
A description of the Mouzaïa district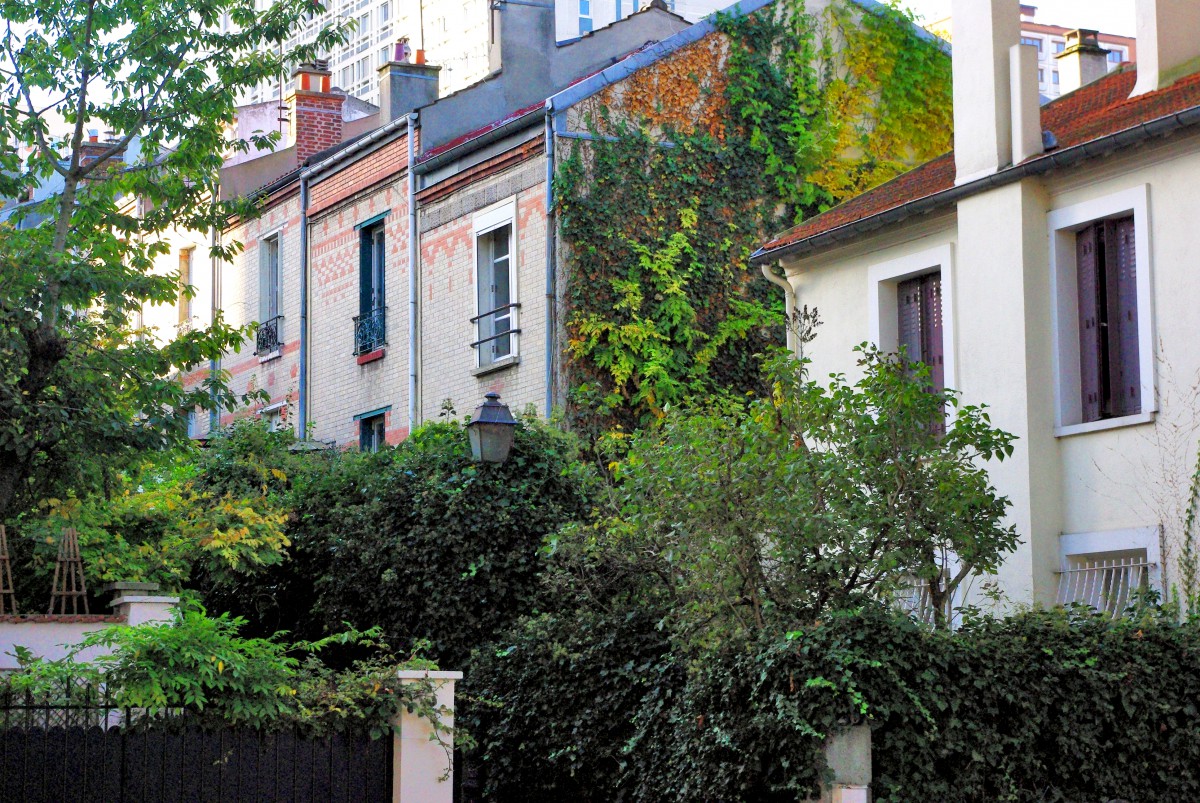 The picturesque Mouzaïa district consists of 250 terraced houses. They were built along small streets and cul-de-sacs on either side of rue de Mouzaïa, rue Miguel Hidalgo and rue du Général Brunet.
They form a maze of leafy and flowery lanes, a tranquil neighbourhood within the limits of Paris.
These pretty and colourful houses are made of brick but most of them have since been covered with plaster.
They were limited to two stories because of the unstable soil (an old gypsum quarry). Each terraced house usually has a small front garden which adds to the charm of the Mouzaïa district.
The Hameau du Danube
Adjoining the villas is the Danube Hamlet (Hameau du Danube), off rue du Général Brunet, whose 28 cottages were built much later, between 1923 and 1924 by Albenqueet Gonnot. The urban planner had them organised symmetrically around a Y-shaped lane. Today this private property is closed to the public… unless you are invited inside by a local, you won't have access to it.
Get lost!
Today these houses are much sought after by their owners who value quiet and green locations. I recommend you to go there and get lost in the picturesque district invaded by creeping ivy, wisteria vines, lilacs, honeysuckles and rosebushes.
The names of the lanes
Notice the names of the lanes which are an invitation to travel: Villa d'Alsace, Villa de Lorraine, Villa de Cronstadt, Villa du Danube. Other bears the name of French celebrities: Villa Rimbaud, Villa Paul Verlaine, Villa Claude Monet, Villa Sadi Carnot, Villa Félix Faure, Villa Emile Loubet…
However, the most interesting names are these three streets:
rue de la Liberté,
rue de l'Égalité,
and rue de la Fraternité
Which make France's national motto.
---
More photos
Here are more photos of the district taken on my last visit: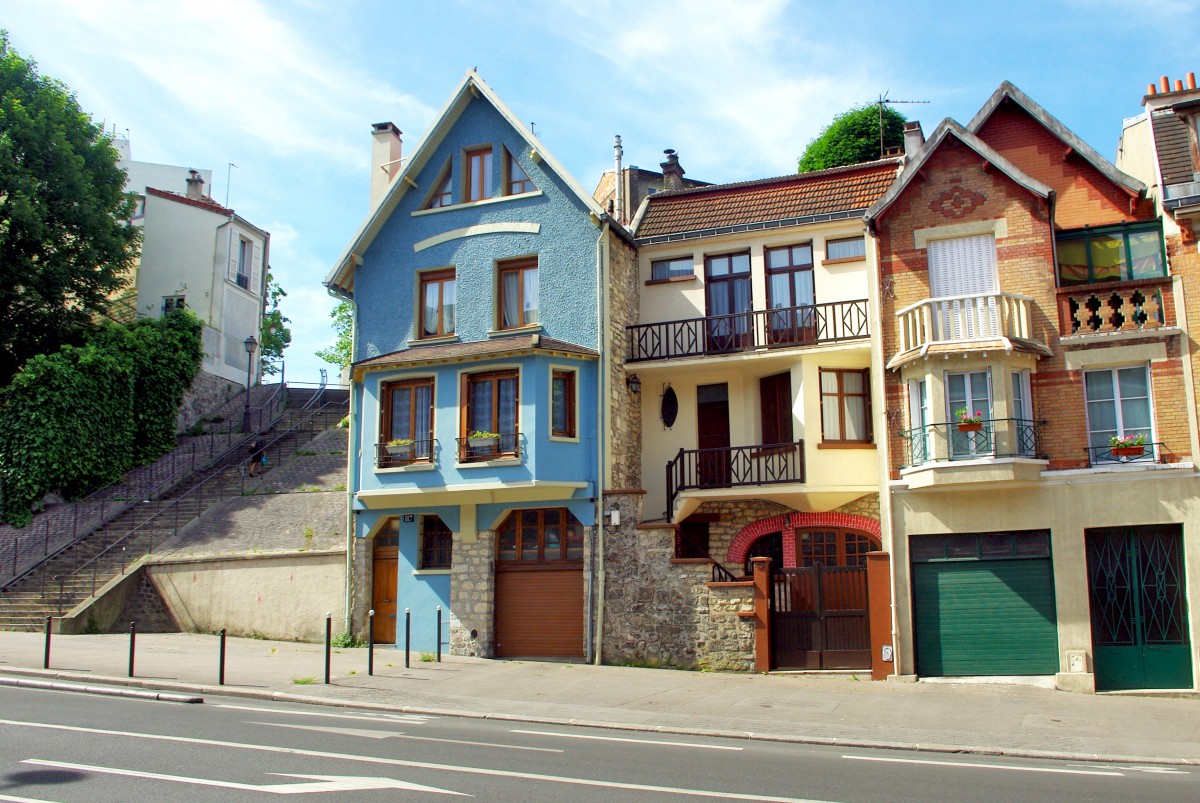 ---
The church of St. Francis of Assisi
Before you leave the Mouzaïa district, just one last thing to see: the church of St. Francis of Assisi (église Saint-François d'Assise).
The church is dedicated to Francis of Assisi to commemorate the 700th anniversary of the creation of the Saint's Order.
Built between 1914 and 1926 in brick, the Italian-Romanesque style edifice is reminiscent of churches in Umbria (particularly the bell tower).
---
How to get to the Mouzaïa district
The Quartier d'Amérique is situated in the 19th arrondissement of Paris.
Closest métro stations: Botzaris (line 7bis), Danube (line 7bis) or Pré Saint-Gervais (line 7bis)
Situation map on Google Map:
Did you like what you read? If so, please do share this article on Facebook, Twitter or Pinterest!
Pin it for later!
---