Monte-Carlo (sometimes called Monte-Carle in French) is arguably the most famous district of the Principality of Monaco due to the presence of the casino.
Monte-Carlo, history of a district
Since 1866, the district has been named after Prince Charles III of Monaco (1818-1889). Built on a steep hillside of the Maritime Alps, Monte-Carlo is bordered by Beausoleil in France.
Most of Monaco's luxurious shops are found along Boulevard des Moulins selling jewels, clothes, designer luggage and luxury cars.
Monte-Carlo Casino
Lying at the heart of Monte-Carlo is the prestigious Casino, a gambling and entertainment complex which current building by Charles Garnier opened in 1879. The French architect is famous for designing the Palais de l'Opéra in Paris that bears his name.
With gilded pillars and frescoed ceilings, the casino has been an important source of income for the Principality. One of its most famous clients is surely James Bond, often associated with the Casino in novels and movies.
The dress code is rigid and entrance is forbidden to children under 18 years old. ID is checked and the citizens of Monaco are forbidden to enter the casino's gaming rooms.
The Casino building is surrounded by manicured gardens. Its terrace offers a splendid view of the Mediterranean coastline from the promontory rock of Monaco to Bordighera in Italy.
Opera House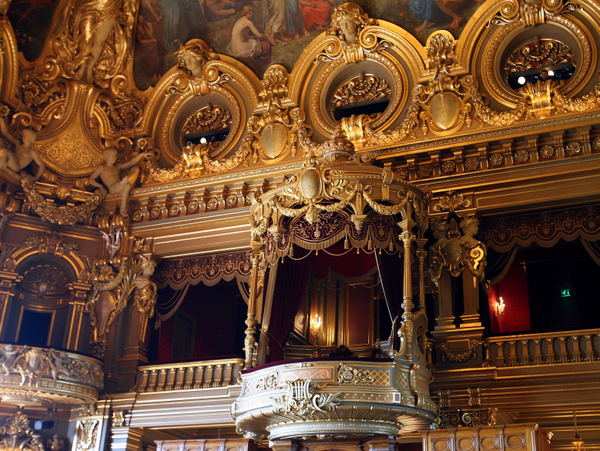 Adjacent is the Opera House also designed by Charles Garnier. The auditorium inaugurated in 1879 is decorated in Baroque style with red, gold and marble, Grecian statues, ceiling frescoes and a magnificent crystal chandelier: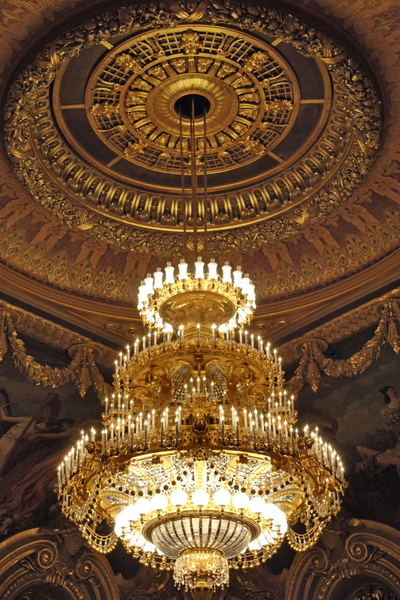 Hôtel de Paris
Bordering Place du Casino are cafés and luxurious hotels such as the prestigious Hôtel de Paris, established in 1864, where the elite meet.
English-French Vocabulary
(f) for féminin, (m) for masculin, (adj) for adjective and (v) for verbs
Alps = Alpes (f,p)
casino = casino (m)
French Riviera = Côte d'Azur (f)
harbour = port (m)
hotel = hôtel (m)
marina = port de plaisance (m)
Maritime Alps = Alpes Maritimes (f,p)
Mediterranean Sea = Mer Méditerranée (f)
micro-state = micro-état (m)
opera = opéra (m)
Principality = Principauté (f)
port = port (m)
Featured image: © Piponwa – licence [CC BY-SA 3.0] from Wikimedia Commons