There are so many beautiful places to visit in France, but Millau is one of the best lesser-known gems. It is a commune in the Aveyron département of the Occitanie region and it's home to some brilliant things that you need to discover. After a short trip to Millau, we've put together this guide to the best things to see in the city itself and nearby. So, pack your bags for this once in a lifetime French adventure.
[lwptoc]
Get Lost in the Historical Centre of Millau

Millau is a large city with plenty to offer for even the most cosmopolitan of travellers, but the most romantic area in the whole city is certainly the historical centre.
With churches and cathedrals aplenty, your eye is constantly being pulled this way and that by the next beautiful building.
Tiny arched alleyways that seem to be made for people far smaller than usual lead to miniature tucked-away squares, and you'll find cute crêperies and bijoux bakeries around every corner.
You could spend a whole day very happily wandering around the streets here, having a little nibble of something every hour or so.
If you're lucky enough to be visiting on a weekend then you'll find these squares bustling with life as the farmers market rolls into town.
Glistening fruit and vegetables, hand-foraged mushrooms, freshly baked bread and artisan cheeses are laid out haphazardly on overflowing market tables. It's a real joy to spend a morning choosing some delicious produce to cook for dinner.
---
The Monumental Millau Viaduct
It would be impossible to write a guide to Millau without mentioning the incredible viaduct that spans the width of the Tarn gorge.
Designed by Sir Norman Foster, this breathtaking bridge was completed in 2004 and appears to almost float over the deep valley created by the river below.
The Millau Viaduct, although named after the town, is actually a little journey from the city itself.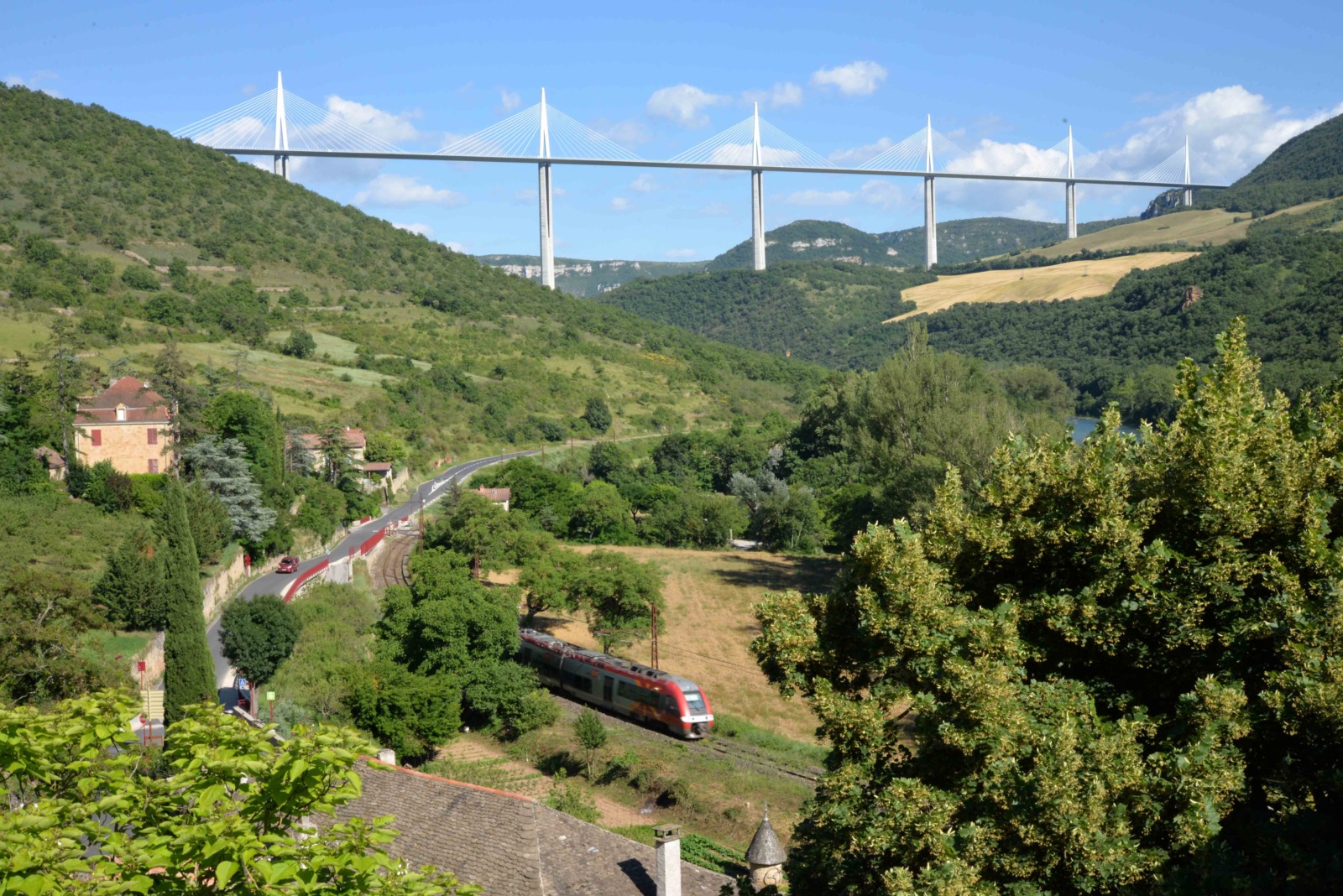 Take a walk around the mountains surrounding the Viaduct and you'll be amazed at the number of cyclists you see peddling up the steep hills. This spot is renowned for being one of the most challenging sections of the Tour de France, so it is widely used as a practice area for both budding athletes and those who will actually be competing in the Tour.
This year, Tadej Pogačar took the win, which is pretty incredible for a cyclist just 23 years old. Unsurprisingly he is favourite with most bookmakers to win again this year, meaning that his odds are very short. If you're looking for a good value bet on Pogačar then the best way is to find a bonus online. At the moment DraftKings sportsbook is offering free bets on cycling so you can at least find some value for Pogačar there.
Whilst you're unlikely to see him practising on the slopes around Millau, as he hails from Slovenia, it would be quite something to cheer him home to victory here.
---
A Pretty Village Called Peyre

Perched precariously on a hillside just a ten-minute drive from the centre of Millau is a stunning village called Peyre.
This village is an official member of the group of the most beautiful villages in France and, from the moment you clap your eyes on it, it's not hard to see why.
The houses are set back against the rock in steep terraces overlooking the Tarn gorge and now, of course, one of the most famous sites in the area, the Millau Viaduct.
Even if you've no interest in beautiful old buildings, the views of the viaduct from this village make the journey worth it on its own.
You'll find a couple of bistros in Peyre that offer traditional French fare in a picture-postcard setting. Stop and have lunch, or at the very least a drink, before going to visit the magnificent troglodytic church.
This building is incredibly ancient and built into the cliff face itself. Take a moment to appreciate the more modern stained glass windows and you'll genuinely find your breath taken away by the beauty of this wonderfully conserved historical monument.
---
Find out more…
Practical information
For practical information about your visit to Millau, check out the Tourist Board website.
Where to stay?
For places where to stay, find out more about all types of accommodations available in the area here or browse the map below:
Pin it for later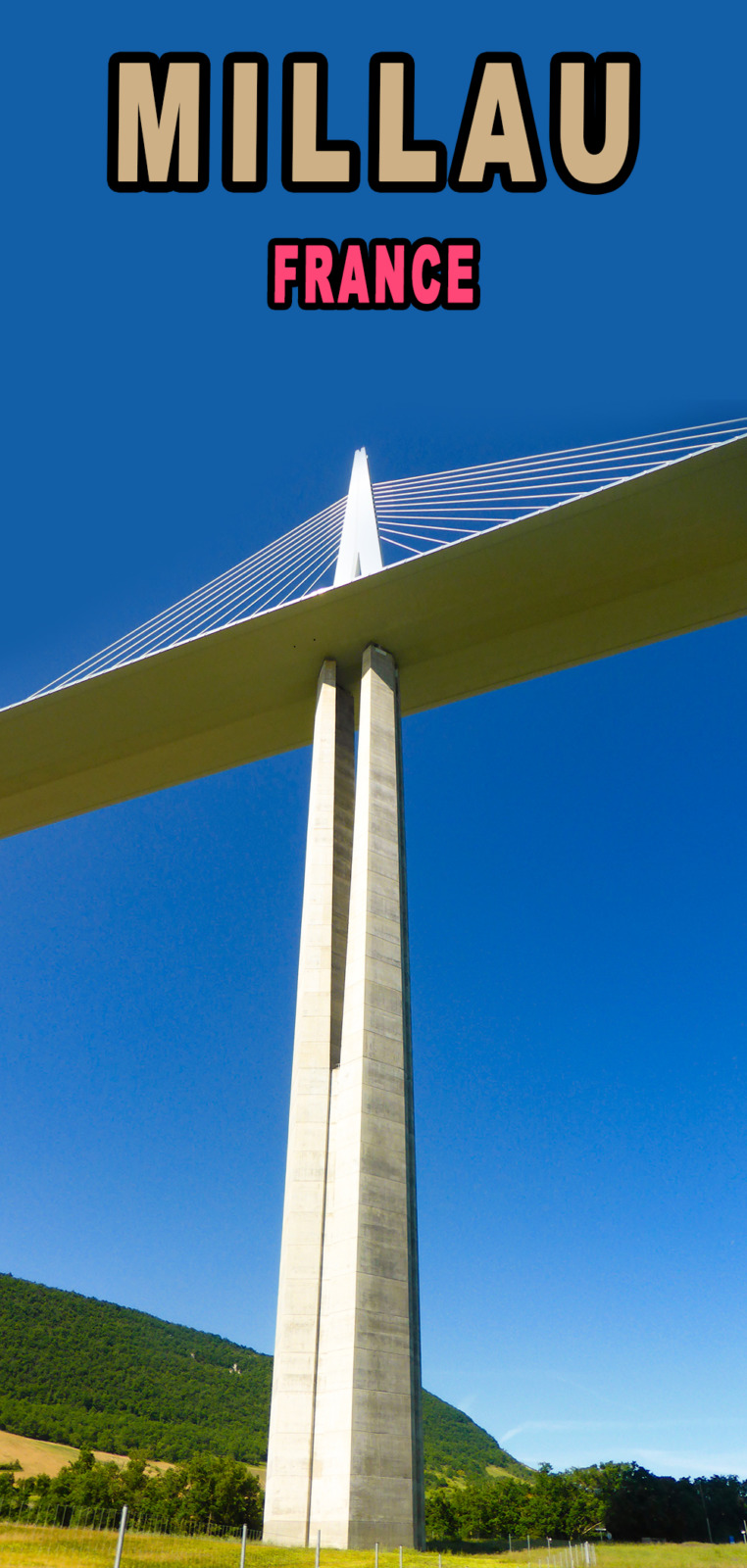 ---
Did you like what you read about Millau? If so, share it on Facebook or Twitter!
Disclaimer: This post includes a sponsored link but all opinions and text are our own.
---