Maroilles is a typical cheese from the Nord-Pas-de-Calais.
It is a cow's milk cheese with a soft pâte (uncooked and unpressed) and with a moist, brick red, washed rind.
The fat content is 45%.
---
Origins of Maroilles cheese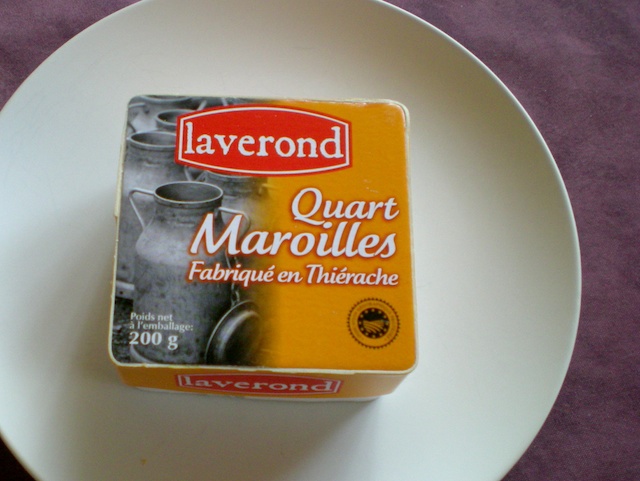 Maroilles derives from a cheese called "Craquegnon" made during the seventh century by the monks of the Maroilles Abbey. In 960, Enguerrand, the bishop of the north city of Cambrai, wanted the ripening process to last longer. Two years later, the name of Maroilles was given to this very tasty cheese. Maroilles received the 'appellation d'origine contrôlée' label in 1955.
---
Maroilles production area
This cheese is still being made in the little village of Maroilles. Over time its production has been broadened and nowadays, Maroilles is produced all over the Avesnois (the region around the city of Avesnes), in the French départements of Nord and Aisne.
---
The production of Maroilles
Maroilles is made with unprocessed milk. As soon as it is taken out of the mould and salted, the cheese is placed into a hâloir (ripening room) where it is covered in a slight blue mould. Then the cheese is brushed in order to remove the mould layer and put into a cellar. The ripening process takes at least five weeks in these conditions, although a ripening period of two to four months is more usual.
---
Selection and tasting of Maroilles
Mostly, this cheese measures 13cm square and 6cm high. It weighs 700g with a minimum of 360g dry matter.
Maroilles can also be found in three other sizes:
Sorbais: 12 cm square, 4cm high, weight 550g with a minimum of 270g dry matter.
Mignon: 11 cm square, 3cm high, weight 350g with a minimum of 180g dry matter.
Quart: 8 cm square, 3cm high, weight 180g with a minimum of 90g dry matter.
Maroilles can be cooked in a pie such as the famous "tarte au Maroilles", or in "goyère" which is a salted tart usually served as a starter. Sometimes, Maroilles can be spread on bread for breakfast as is the custom in the Nord-Pas-de-Calais region. It may be also eaten at the end of a meal.
Maroilles is best savoured with a Châteauneuf-du-Pape white wine.
If you are keen on strong cheese you can taste the Vieux-Lille, it's a Maroilles but with a longer ripening period.
---