The Maison de Nicolas Flamel (Nicolas Flamel House) is the oldest stone house of Paris, dating back to the 15th century. On a walk between Place des Vosges to Les Halles, I happen to pass by it… I had my camera with me to get a few pics and as soon as I was back home, I did some research about the place that I'm happy to share with you!
---
The Maison de Nicolas Flamel, Paris' oldest house?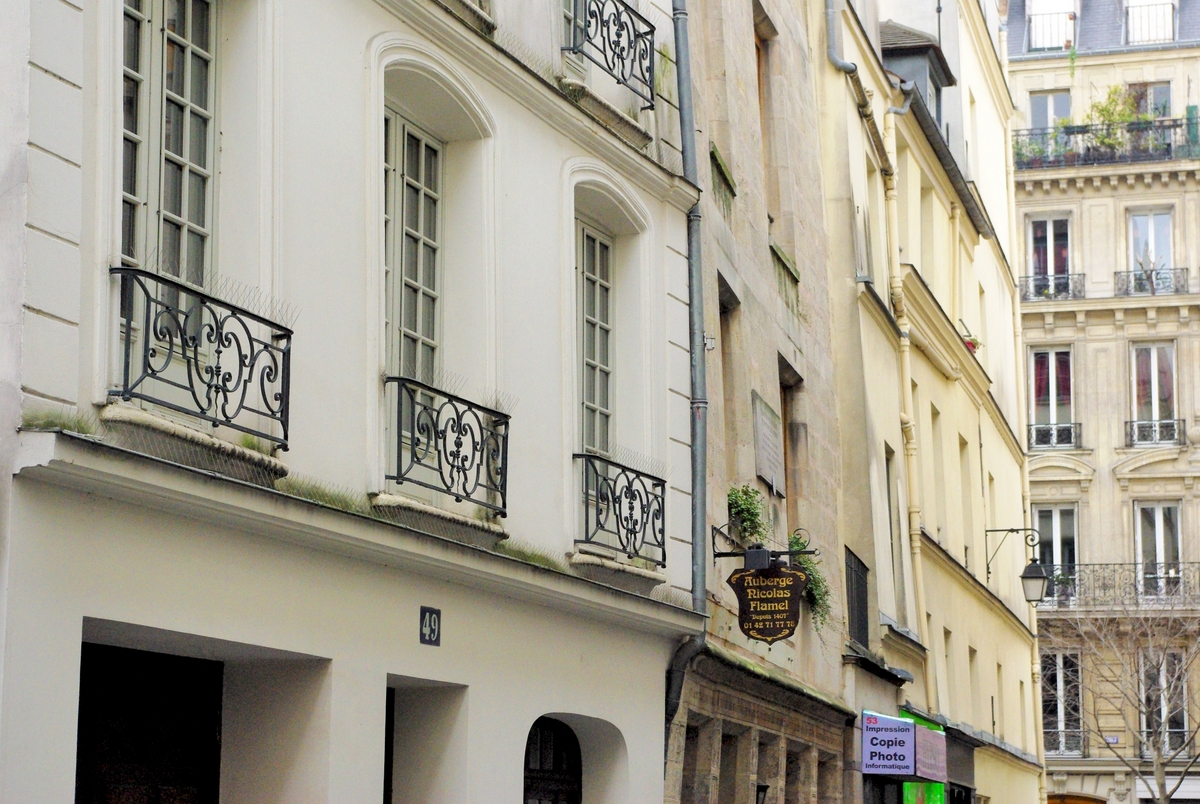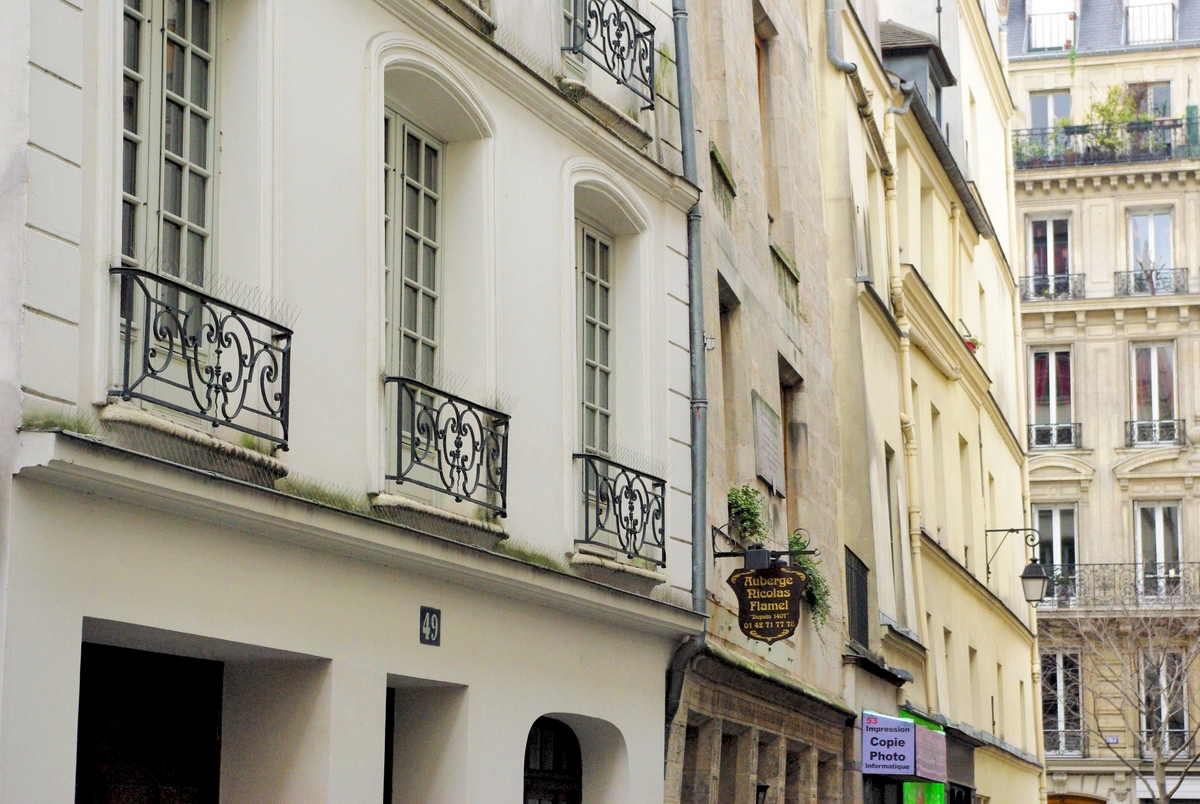 The house is situated at number 51 Rue de Montmorency in the 3rd arrondissement of Paris. The house belonged to Nicolas Flamel and his wife Pernelle who had it built in 1407 to house the poor.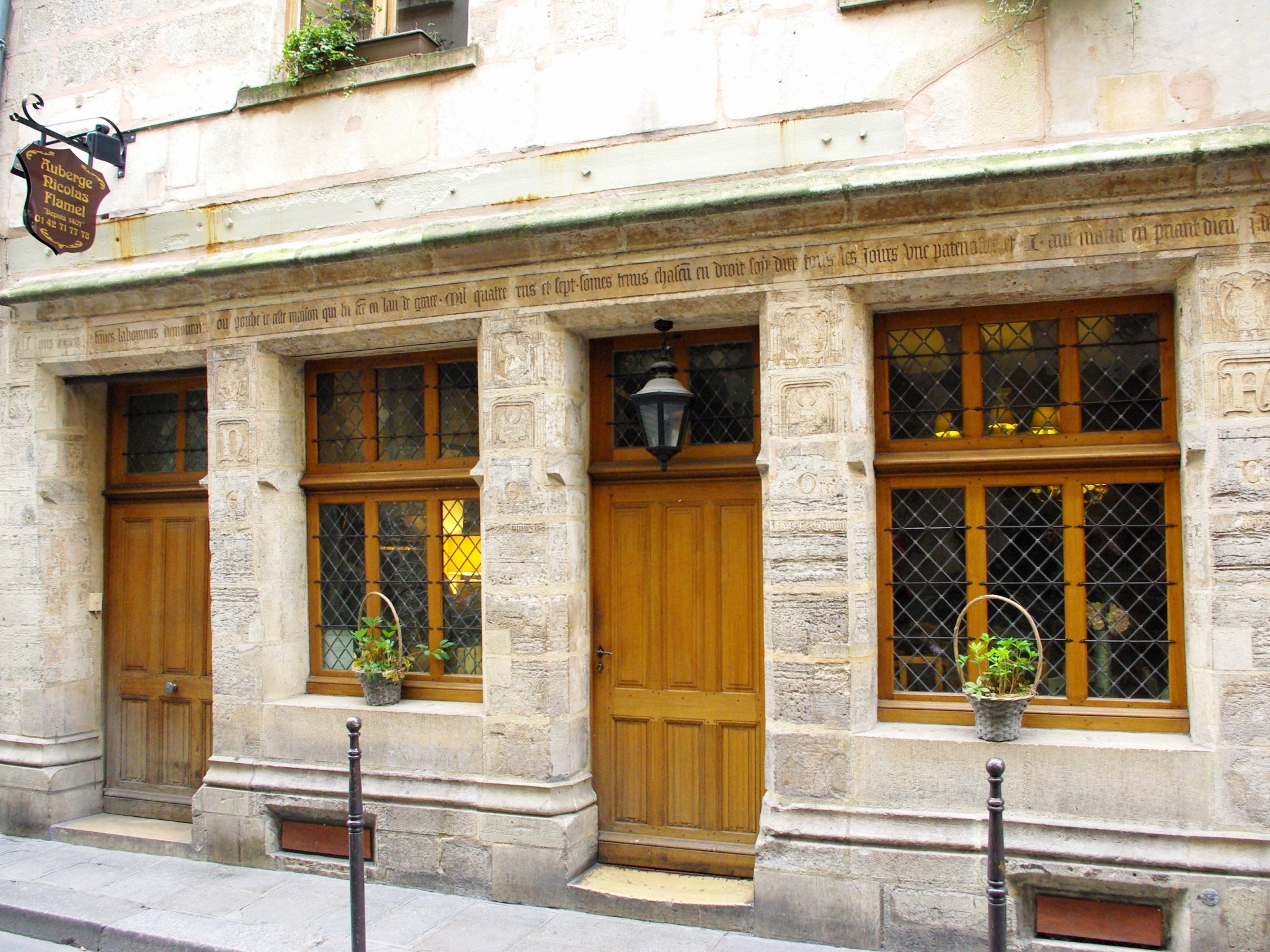 To make use of this dormitory, the occupants had to comply with the condition to pray for their souls. This is testified by an inscription in old French still visible on the façade today:
"Nous homes et femes laboureurs demourans ou porche de ceste maison qui fut faite en l'an de grâce mil quatre cens et sept somes tenus chascun en droit soy dire tous les jours une paternostre et un ave maria en priant Dieu que sa grâce face pardon aus povres pescheurs trespasses Amen."
Which is translated in English: "We, ploughmen and women living at the porch of this house, built in 1407, are requested to say every day an 'Our Father' and an 'Ave Maria' praying God that His grace forgive poor and dead sinners. Amen."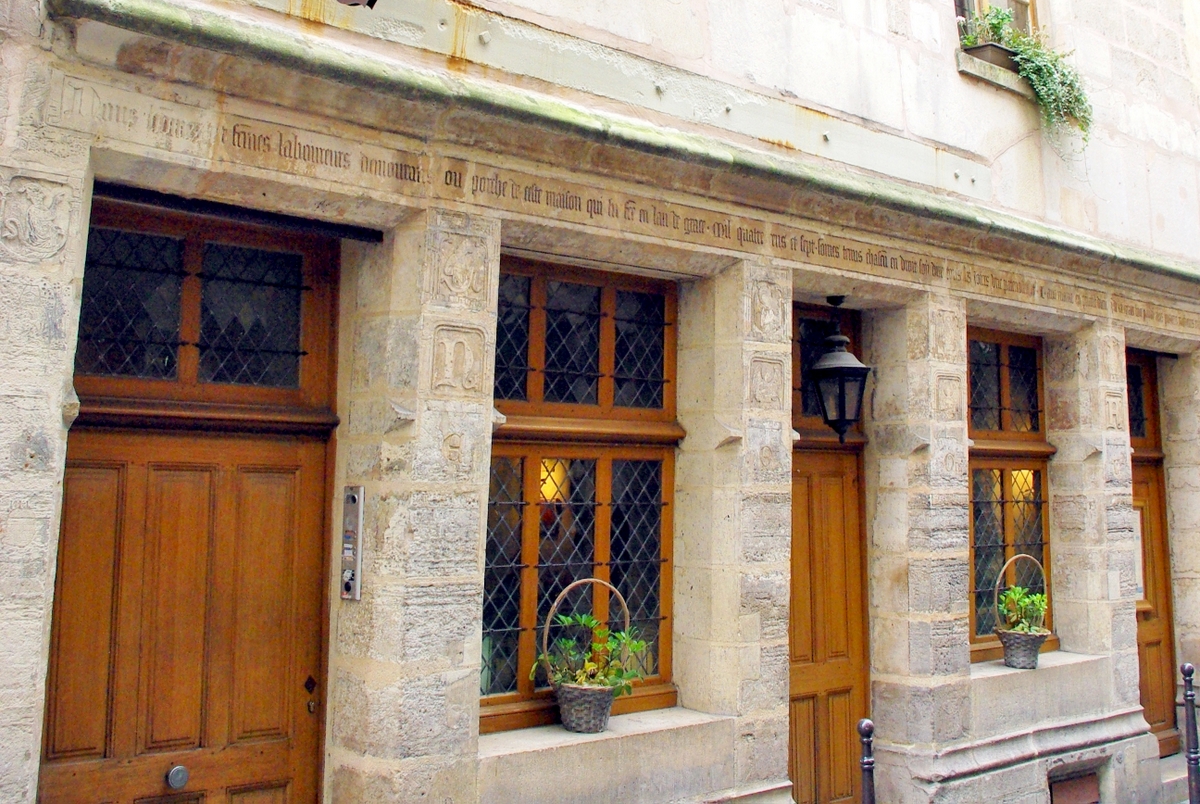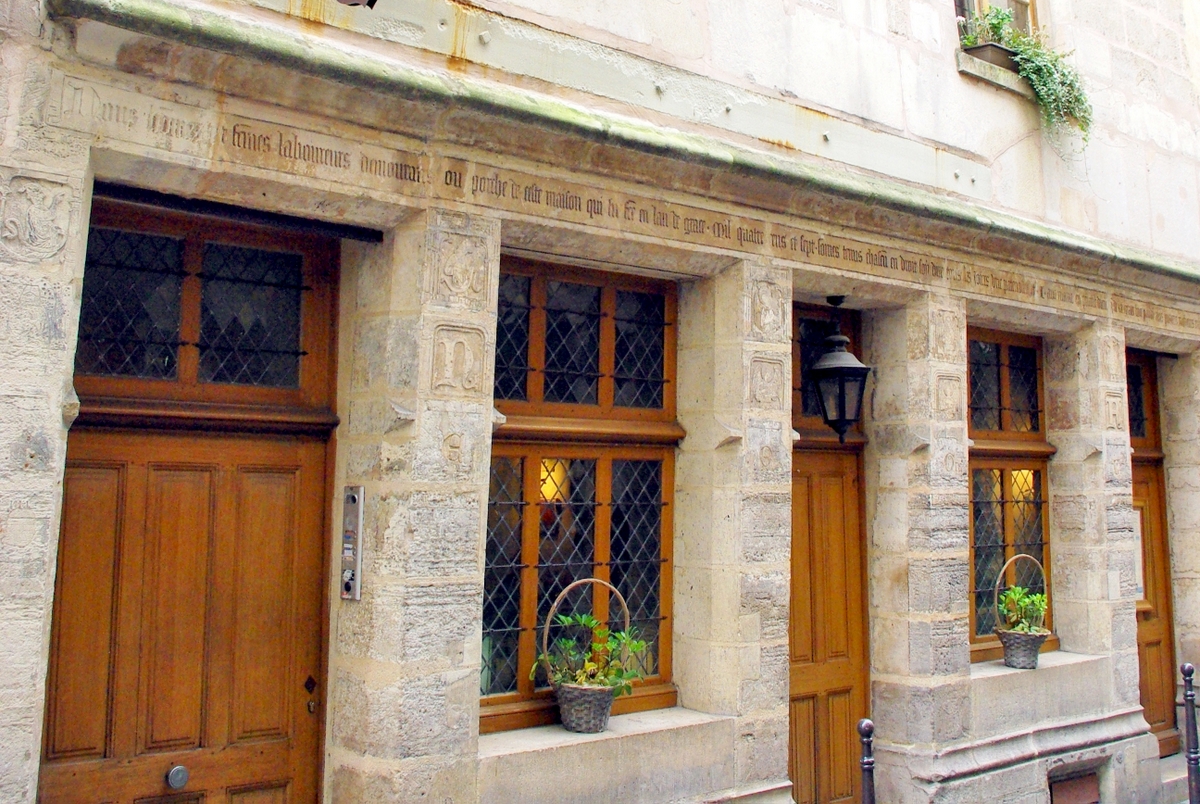 In addition, the stone façade also bears sculptured angels playing music. They look a bit eroded by time:
---
Why Nicolas Flamel never resided in his house?
Nicolas Flamel built many houses of this kind in Paris. He constructed the one at 51 Rue de Montmorency on the deserted land between the old wall of Philip-Augustus and the newly added wall of Charles V. In fact, Nicolas and his wife never resided inside.
All the houses built or bought for the purpose of housing the poor have disappeared since, except for the Flamel House.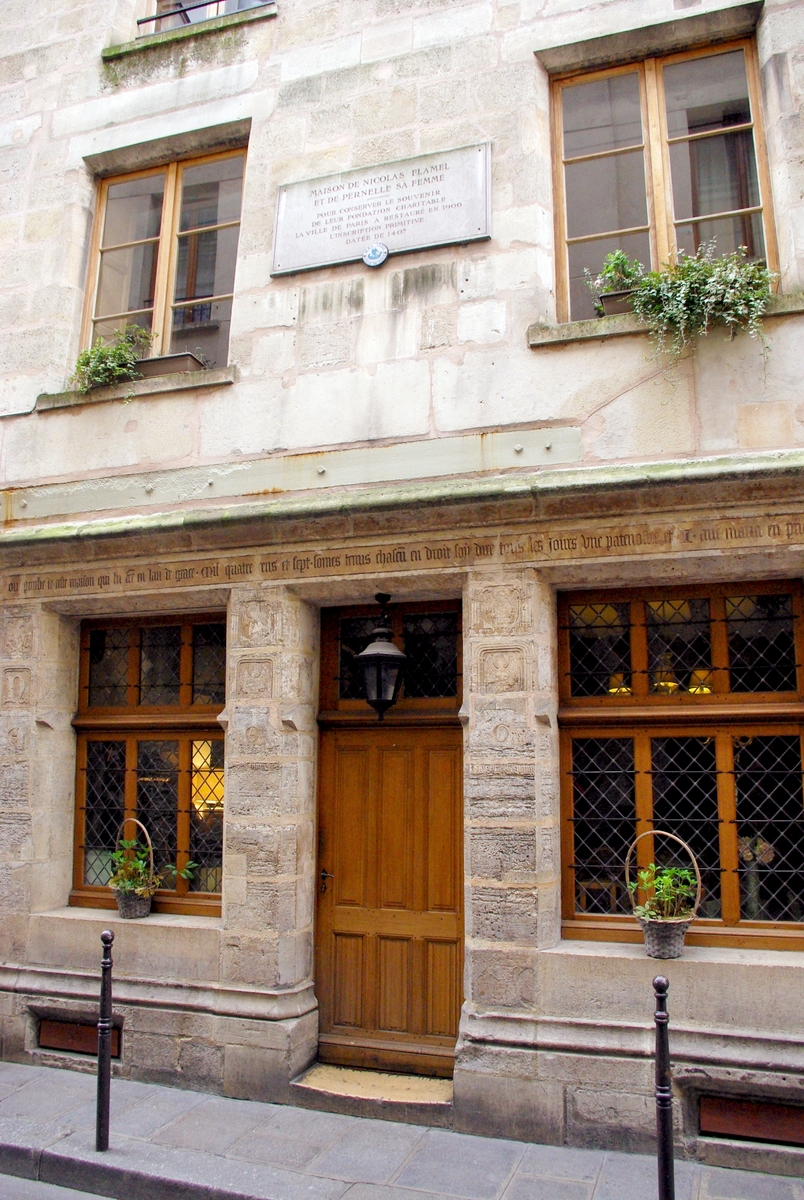 ---
Who was Nicolas Flamel?
Nicolas Flamel was born in Pontoise circa 1330 and died in 1418. A reputed French scribe and manuscript-seller, he married Pernelle, a wealthy Parisian lady in 1368.
In the 17th century, nearly two hundred years after his death, legends started to appear about Flamel being an alchemist. He would have discovered the Philosopher's Stone and immortality.
In 1900, the house underwent a complete restoration with the removal of all traces of plaster. Then, in 1911 the French State listed the edifice as a historic monument.
The house is not open for visits… Today the ground floor is occupied by the Auberge de Nicolas Flamel. The restaurant is known for being Paris' oldest inn.
To access the Nicolas Flamel House at 51 Rue de Montmorency (3rd Arrondissement), the closest metro station is Rambuteau on Line 11.
---