Lyon is France's second-largest urban area after Paris and the capital of the Auvergne-Rhône-Alpes region. The city is a major tourist site with its historic town (Vieux-Lyon, Presqu'île) and a World Heritage site by Unesco. 2,000 years ago, the Romans founded the city where the Rhône meet the Saône. It became a commercial and cultural hub in Eastern France, also famous for being the French capital of gastronomy. Here is some practical information to help you plan your visit to this amazing vibrant city!
What about Lyon?
Situated in Eastern France, Lyon is the third biggest French city by population, after Paris and Marseille. In 2016, 515,695 people lived in the city, and the population is increasing every year.
Consequently, Lyon has strengthened its important role in the French economy and culture over the years.
Nowadays, Lyon is the capital of the Auvergne-Rhône-Alpes region, the second largest and richest region in France.
The Saône and the Rhône
Lyon is closely associated with the two rivers which run through the city.
"La Saône", which comes from the North-East of France, meets "le Rhône", which comes from Switzerland to the Mediterranean Sea. Between the two rivers, a peninsula has formed: this is the Presqu'île. This is the city's commercial and cultural centre.
An ancient city
The Romans founded the city in 43 BC on the Fourvière Hill. Its name? Lugdunum, which later evolved as Lyon. From that era comes the city's nickname: Capitale des Gaules (capital of Gaul). You can still find many relics of this period in modern-day Lyon, such as the Ancient Theatre.
A Unesco-listed old town
Lyon is also well-known for its old town, one of the largest surviving Renaissance districts in Europe. It is located on the right bank of the Saône River and at the foot of Fourvière Hill. "Vieux Lyon" suffered damage over the years, but restoration in the 1960s gave it a new life.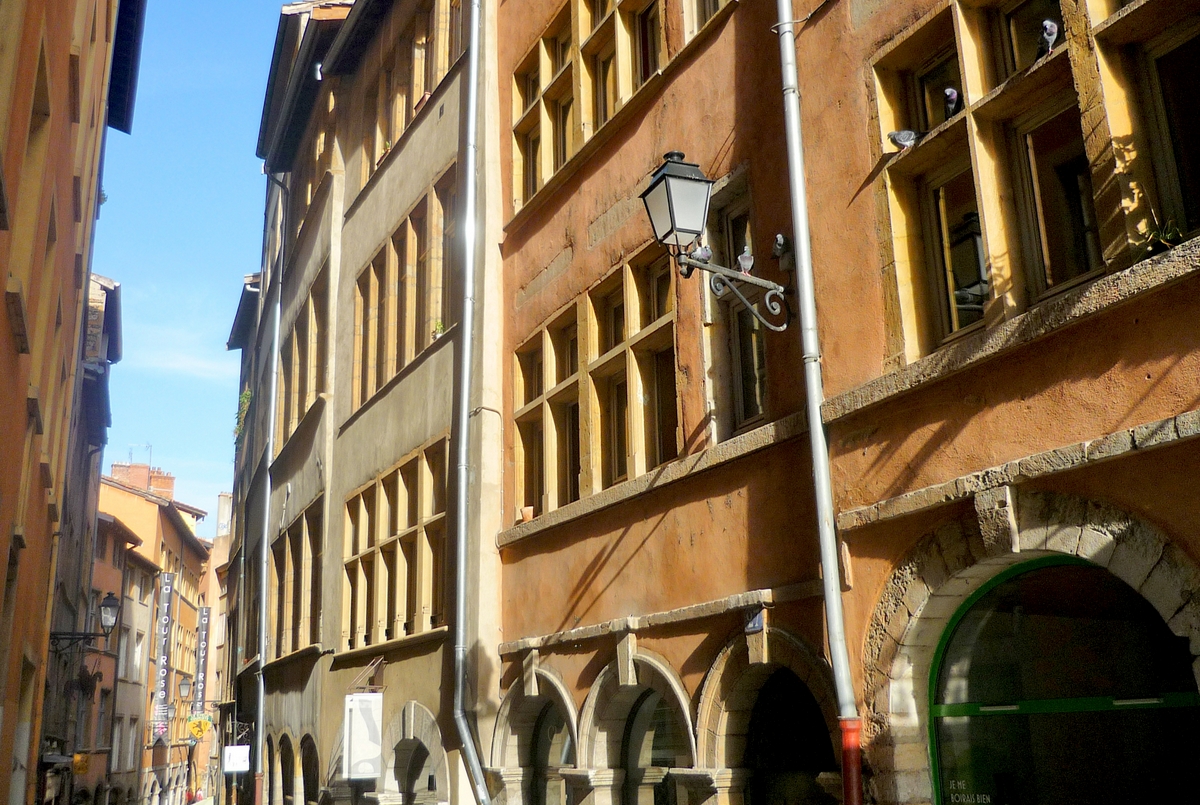 In 1998, UNESCO listed the area as a World Heritage site. In the old town, you can find many little traditional restaurants called "bouchons", which contribute to the city's reputation as the French capital of gastronomy.
As a bridge from France's past to its future, Lyon is a very interesting town to visit. You will enjoy the city whether you come to discover historical remains, cultural places or even for shopping (!).
Practical information about Lyon to help you plan your visit!
Now let's give you some practical information about your next visit to Lyon.
I have compiled some interesting things to help you plan your stay: accommodation, activities and touristic tours, city passes and more. Check it out below:
Where to stay in Lyon?
You can choose from a great range of accommodation in Lyon, from hotels to B&B and campings! My recommendation is to book your accommodation near the city centre. Although it's a more pricey option, you'll save time on transportation and can access most of the 10 things to see within walking distance.
Also, when possible, don't wait until the last minute to book as finding hotel rooms can be a problem, especially on weekdays.
To book your accommodation in Lyon, click on this affiliate link which will redirect you to our partner booking.com… or use the interactive map below:
Things to do in Lyon
Looking for activities and things to do in Lyon? Check out the offers from our partner Get Your Guide:
Get the Lyon City Card
The Lyon City Card is like a city passport that will give you unlimited access to public transport and free entrance into 23 museums (and their temporary exhibitions).
You also get free river cruises, guided walking tours, visits and activities, as well as huge reductions on the city's best leisure activities, shopping, and more!
What's included:
Free access to all public transport in the city (bus, metro, tram and funicular, except on 1 May) as well as park-and-ride facilities
Access to 23 museums, including temporary exhibitions, and numerous discovery activities
Guided walking tour
River cruise
Discounts for numerous other shows and activities (Guignol puppet show, etc.)
Self-guided tour
Click here to discover the entire list of attractions/activities included in the Lyon City Card.
The major events in Lyon
Lyon is a vibrant city… there will certainly be an event organised during your visit!
La Fête des Lumières
(Lyon Festival of Lights)
Since the mid-19th century, the Lyonnais have spontaneously honoured Holy Mary on 8 December. Festivities involve installing lights in windows and on balconies at night time. In 1989, this tradition became an official event in the city. Nowadays, every year, the "Fête des Lumières" marks the start of the end-of-year festivities. For four days around 8 December, about 4 million people come here to enjoy the show, which is well worth it!
La Biennale de la Danse
(Biennial Dance Show)
Since September 1984, every two years, this festival has taken place in various sites in the city, especially in the "Maison de la Danse" (Dance Hall). It lasts for two and a half weeks, with up to fifteen different shows a day! You can enjoy parades, ballets and different dance performances by young and renowned artists.
Les Nuits de Fourvière
(Fourvière Nights)
Every summer since 1946 and for two months, the Nuits de Fourvière festival has welcomed artists from all around the world, to perform in the amazing space of Fourvière's ancient theatre. Various disciplines are showcased: music, dance, theatre… For the last five years, the Festival has grown in popularity. French and international stars have performed there: Vanessa Paradis, Julien Clerc, Juliette Gréco, Tracy Chapman, Iggy Pop, Sting, Bob Dylan, Björk…
La Biennale de l'Art Contemporain
(Biennial Contemporary Art Show)
Every other year, you can enjoy this festival of contemporary art exhibitions which take place in several museums. The main place to go is La Sucrière, a former warehouse in the Confluence area. The 2011 festival brought together 78 artists from all over the world and more than 200,000 visitors.
Le Festival Lumière
(Lumière Film Festival)
How could the birthplace of the Lumière brothers not hold an important cinema festival? The town had to wait until 2009 to see the Lumière Film Festival created. Clint Eastwood was the first director to be awarded, for the whole of his work. Since then, many actors and directors have been under the Lumière Film Festival's spotlights: Gérard Depardieu, Jean Dujardin, and Ken Loache, in 2012.
How to get around in Lyon
Since the 1970s, the public transport network has been considerably improved. It is now very easy to go from one point to another in the town.
There are four metro lines you can use from 5 a.m. to 1 a.m. To climb Fourvière Hill, you can also use the two special funicular lines.
Since the mid-1990s, the municipality has been mindful of traffic and pollution problems and has promoted public transport, especially tramway lines. After having first been removed in 1956, tramways came back to the town in 2001. People from Lyon are used to catching the five tramway lines that go across the city, from North to South and from East to West. In 2010, another special tramway was launched. Called "Rhônexpress", it joins Saint-Exupéry International Airport direct to Part-Dieu Railway Station.
Finally, more than 150 bus lines help you to join every single point of Lyon and its outskirts.
How to get there
Reaching Lyon is quite easy, wherever you come from!
By car
If you are already in France, you can drive to Lyon. From Northern France, the A6 Motorway is the quickest way and goes straight from Paris in four and a half hours. From Southern France, the A7 Motorway will take you to Lyon from Marseille or Montpellier in three hours.
Fancy the train?
The easiest way to reach Lyon from anywhere in France is to take the TGV. It takes one and a half hours from Marseille, two hours from Paris or Montpellier, three hours from Lille and less than four hours from Strasbourg or Toulouse. And it might even be cheaper than driving!
Fly there!
To travel to Lyon from abroad, you should consider travelling by plane. Almost every European city is connected to Lyon Saint-Exupéry Airport by direct flights, operated by various companies (Air France, British Airways, Lufthansa, Emirates, etc). From Australia and America, you can reach the city thanks to connecting flights from Paris-Charles-De-Gaulle, London-Heathrow or Frankfurt.
Find out more!
Pin it for later!