Since the early 20th century, Lyon has been widely considered the French capital of gastronomy. In 1935, the French gastronomy writer Curnonsky, who was then the most celebrated in the trade, along with Marcel E. Grancher, wrote a book called "Lyon, the World Capital of Gastronomy". Lyon gastronomy is often a quite simple way of cooking with local produce. Typical dishes from Lyon might sometimes be rich, but Lyon gastronomy is a high-quality traditional cuisine. Let's discover its main features through a culinary journey into the Gauls' capital.
Lyon, the World Capital of Gastronomy
Eating well has been so important to the people of Lyon. It makes no surprise to learn that France's second largest urban area is often dubbed France's gastronomic capital… if not the world's!
There are many reasons to explain how the city has become so devoted to good food. One has to understand the geographic situation of Lyon. At the intersection of important trade routes between the north and south of Europe. This since ancient times! Lyon is indeed a meeting point where different peoples and cultures could discover each other's food and recipes.
Lyon is indeed one of the strongholds of French gastronomy.
In Lyon, the French expression "Les plaisirs de la table" takes on its full meaning.
Lyon gastronomy is made up of a repertoire of feisty dishes served in the emblematic bouchons lyonnais, the local restaurants. (I'm telling you more towards the end of the article)
The new Cité Internationale de la Gastronomie
As the World Capital of Gastronomy, Lyon had to welcome one of the new International Gastronomic Centres, alongside Dijon, Tours and Paris-Rungis.
Since October 2019 the historical Hôtel-Dieu has housed the Centre International de la Gastronomie. The world's only cultural centre devoted to fine food!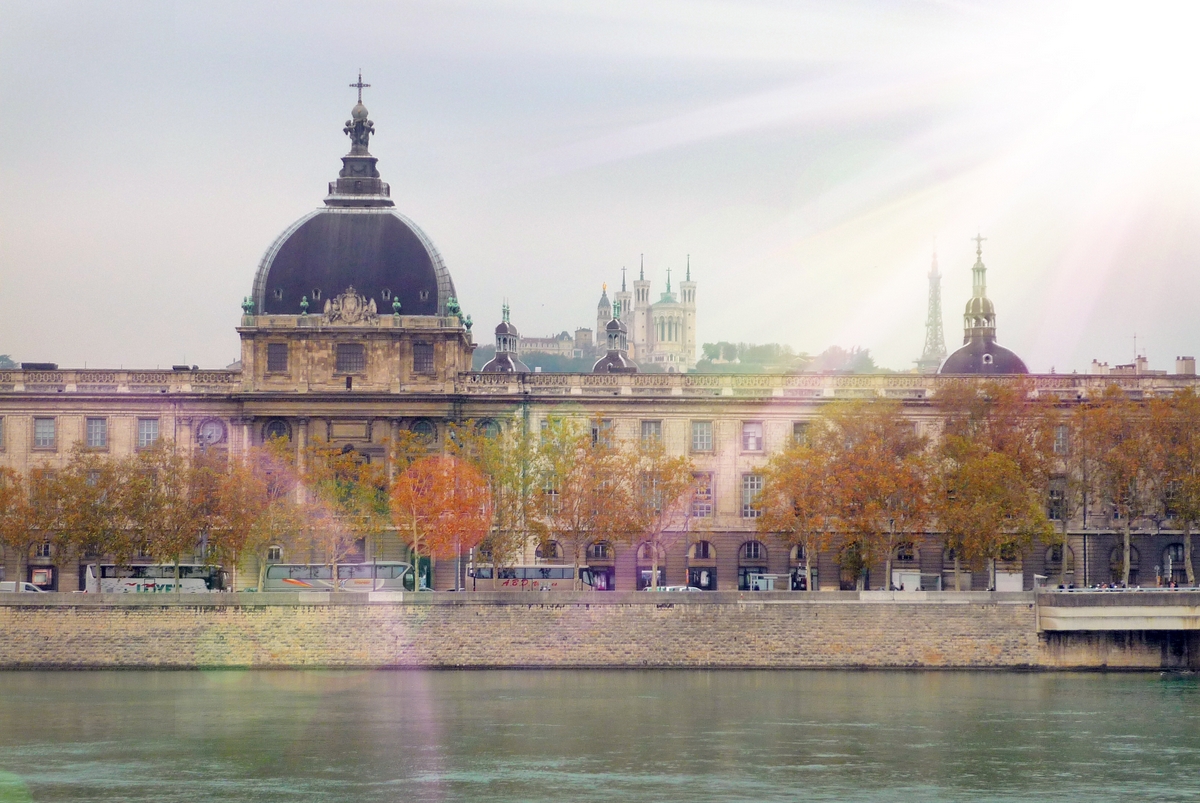 The centre occupies the oldest parts of the Hôtel-Dieu. The Cité de la Gastronomie's theme is food as nutrition and a guarantor of good health (after all, we're in a former hospital!)
More info about the International Gastronomy Centre in Lyon (official website)
Lyon Gastronomy: a plethora of specialities
The people from Lyon enjoy many specialities, from Entrées to Main courses and from Cheese to Desserts!
Entrées
If you go out for lunch or for dinner in a typical restaurant or if you are invited by friends from Lyon, you cannot avoid "Cochonaille"!
This word is often used in the area of Lyon to refer to pork products, which are more commonly named "Charcuterie" in other parts of France.
In Lyon, many people are used to repeating this maxim: "Tout est bon dans le cochon !" (which literally means that there are no wasted parts in pork). Generally speaking, Lyon's cooking style includes many offal dishes.
Sausages from Lyon
It's especially true with "Rosette" which might be one of the most famous pork products from Lyon.
Rosette is a large cured sausage, which has been dried for two or three months. Its name comes from its rose-coloured appearance. You can buy a whole rosette in every "charcuterie" (delicatessen) in Lyon, or ask for it to be sliced up.
Rosette is the cousin of "Jésus de Lyon" (Jesus from Lyon). However, with its diameter of ten centimetres, Jesus de Lyon is even bigger!
Lyon people are also keen on cooking dry sausages so that they can eat them hot. This "saucisson chaud" (hot dry sausage) is often served with potatoes and butter.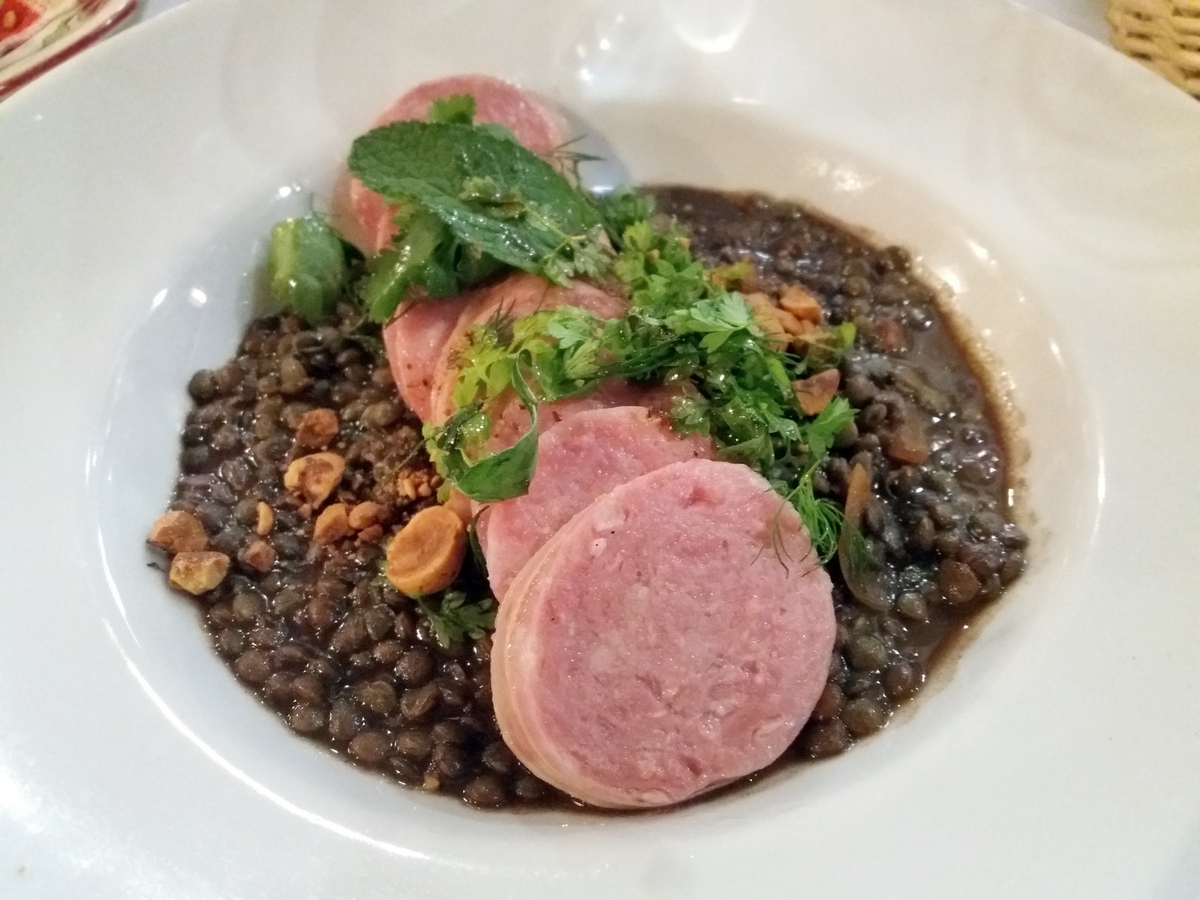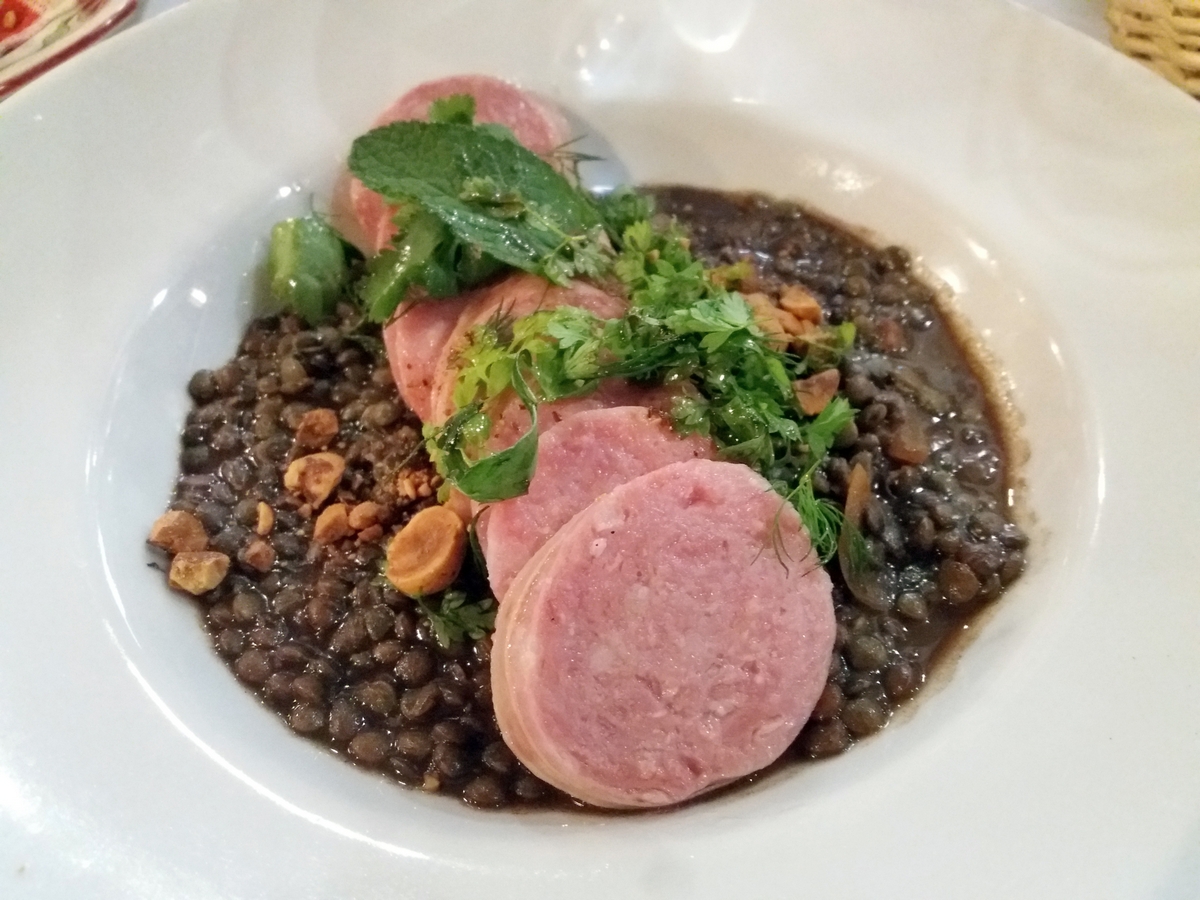 Moreover, "Cochonaille" in Lyon also refers to many types of ham, especially cured ham which the people of Lyon much appreciate.
Tablier de sapeur
In addition to pork products, people from Lyon often cook offal from beef. For example, "Tablier de sapeur" literally means a sapper's apron. This is a very famous entrée from Lyon and you can find it in every good "bouchon", the typical restaurant in the town.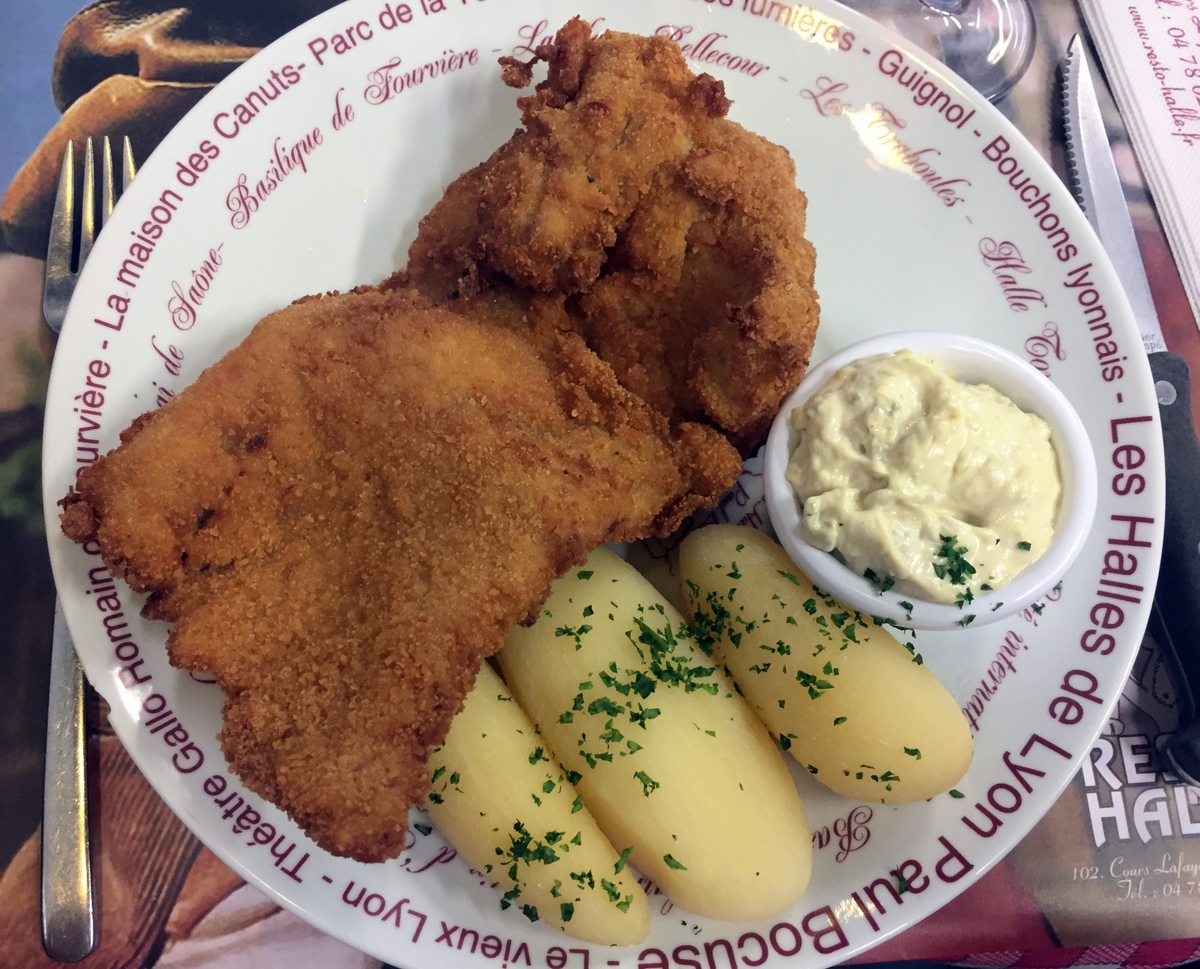 The recipe originates from Marshal Boniface de Castellane. The Lyon military governor in the 1850s enjoyed meals that were made from tripe. Before becoming a military governor, de Castellane was a sapper and had to wear a leather apron while working in order to protect his uniform. The name "Tablier de sapeur" comes from the fact that the Marshal, who enjoyed this kind of meal, used to wear an apron. Usually "Tablier de Sapeur" comprises crumbed beef tripe which is cooked with white wine and served with salad and potatoes.
Salade Lyonnaise
There are other types of entrées which are typical of Lyon. Salade Lyonnaise is among the most famous dishes in France and you will find it on the menus of many restaurants throughout the country.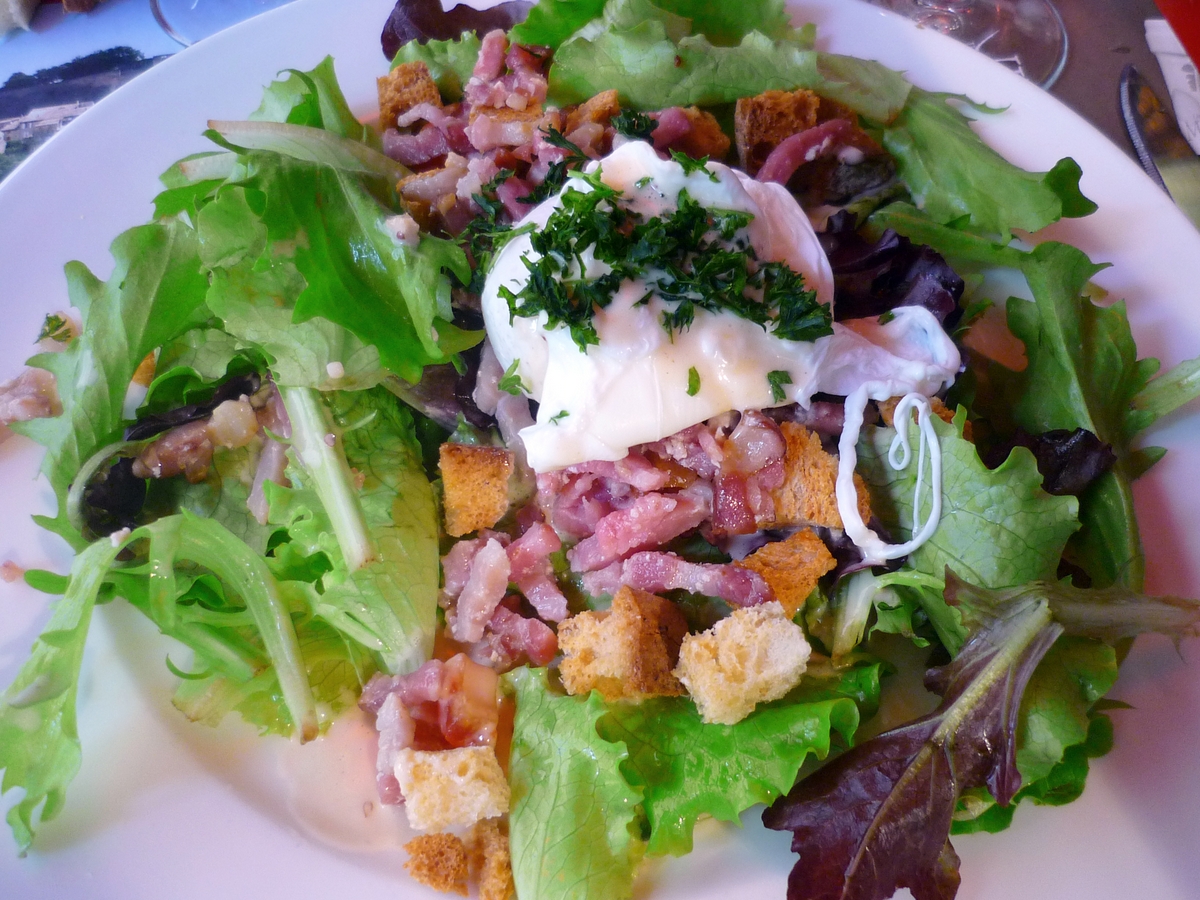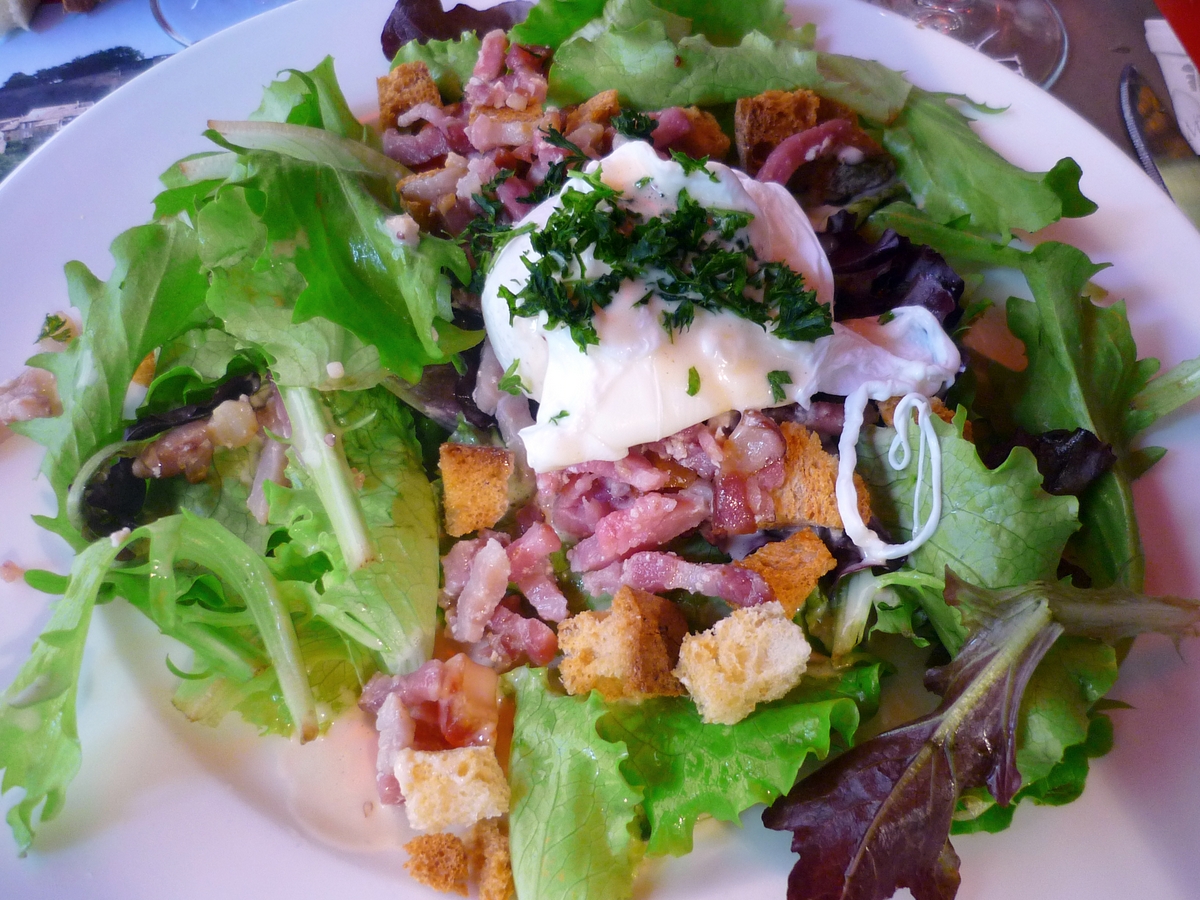 However, as expected, it is better to eat Salade Lyonnaise in Lyon as the original savoir-faire comes from the city. Salade Lyonnaise is actually a green salad served with many sides: lardons (bacon strips), croûtons and always poached eggs. It is also very enjoyable eating Salade Lyonnaise with fried potatoes!
Paillasson Lyonnais
Speaking of potatoes, they are often part of many typical dishes from Lyon.
A famous entrée with potatoes is the "Paillasson Lyonnais", which literally means 'doormat from Lyon'. It is named thus because of its shape, which often looks like a rectangle. Like many typical courses from Lyon, it is a simple dish which is easy to cook as it only comprises potatoes and butter!
Main courses
As for main courses, Lyon is famous for its poultry meals.
The area to the northeast of Lyon, called the Bresse, is actually the most famous area in France for poultry farming. People from the area are especially keen on fatted chicken ("poularde") which is often cooked for family meals, in particular for Christmas and New Year's celebrations. Usually, the meat is stewed in a sauce made from cream, flour, Vin Jaune and mushrooms such as morels. Some will use truffles for a high-quality dish.
The famous "Poularde demi-deuil" recipe was invented by "la Mère Filloux". She was a very famous chef in the early 20th century in Lyon. This dish includes truffles and vegetables such as leeks, carrots and, potatoes. It can be served with "gratin dauphinois": sliced potatoes cooked in the oven with cream and grated cheese.
The Lyon Gratins
Generally speaking, people from Lyon love "gratins". You will often find gratins if you stay in the Lyon area. They can include potatoes such as "gratin dauphinois", but also pasta or vegetables.
Leeks gratin is very popular and so are pumpkin and onion gratins.
If you visit Lyon in winter, it is likely that you will eat "gratin de cardon" (cardoon gratin). It is a feature of Lyon gastronomy in this season. It is made of vegetable stems, which are topped with a browned crust and often served with cream.
Boudins and Andouillettes
As for pork products, several famous French main courses are typical of Lyon, such as "boudin noir" (black pudding). In Lyon, people cook black pudding with stewed apples. Pretty similar in shape, "andouillette" is a white sausage made of pork offal. People often cook it in the oven with mustard or with wine.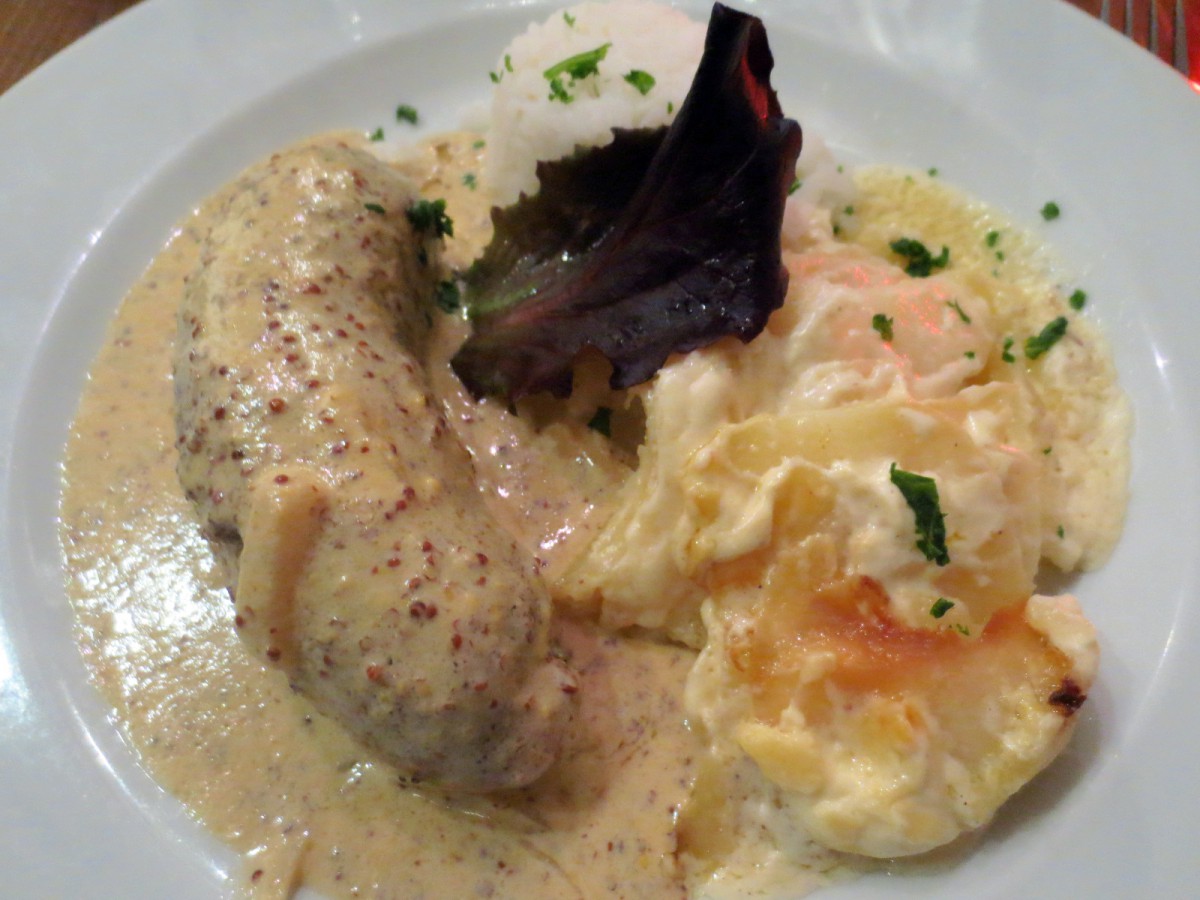 Lyon's own Quenelles
Finally, Lyon people are fond of quenelles!
Quenelles are dumplings made of wheat (either wheat flour or semolina), butter, eggs, milk, water and, usually, fish.
The most famous quenelles are pike quenelles ("quenelles de brochet") and are often served with Nantua sauce, referring to a town located to the northeast of Lyon in the Jura. This sauce includes crayfish, celery, carrots and Cognac and is also sometimes served with whitefish and rice.
Cheese
Lyon is the place to be if you like cheese!
Saint-Marcellin
Saint-Marcellin is a very famous small cheese from Dauphiné. It has a very special history, becoming popular in the 15th century thanks to Louis XI, prior to becoming King. During a game hunting trip in the Drôme department, two woodcutters saved him from a bear attacking him. To help him recover, the two woodcutters fed him a typical cheese from their area, which we know today as Saint-Marcellin. Louis XI then ennobled the woodcutters and their cheese became famous throughout the kingdom.
In Lyon, it became especially famous thanks to "la Mère Richard", a dairywoman who invented a new maturing technique making the cheese even better!
Saint-Félicien
Saint-Marcellin has a close cousin called Saint-Félicien, which is slightly smoother and twice the size (150 grams).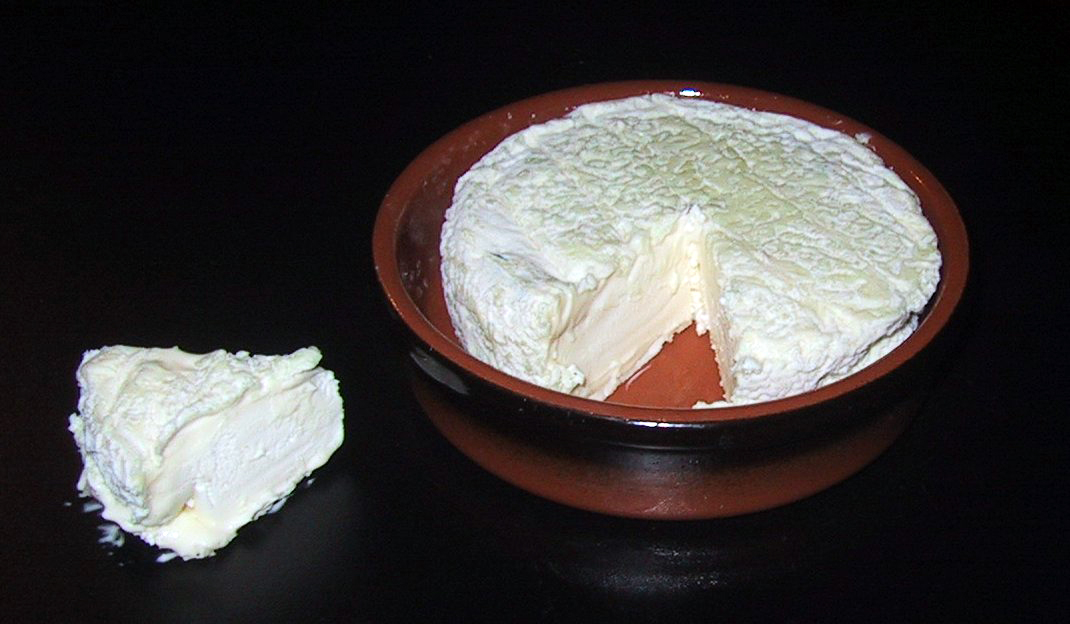 Tomme du Beaujolais
Another well-known cheese from the Lyon area is "Tomme du Beaujolais" It is a soft 350-gramme cows' milk cheese which comes from the north of Lyon.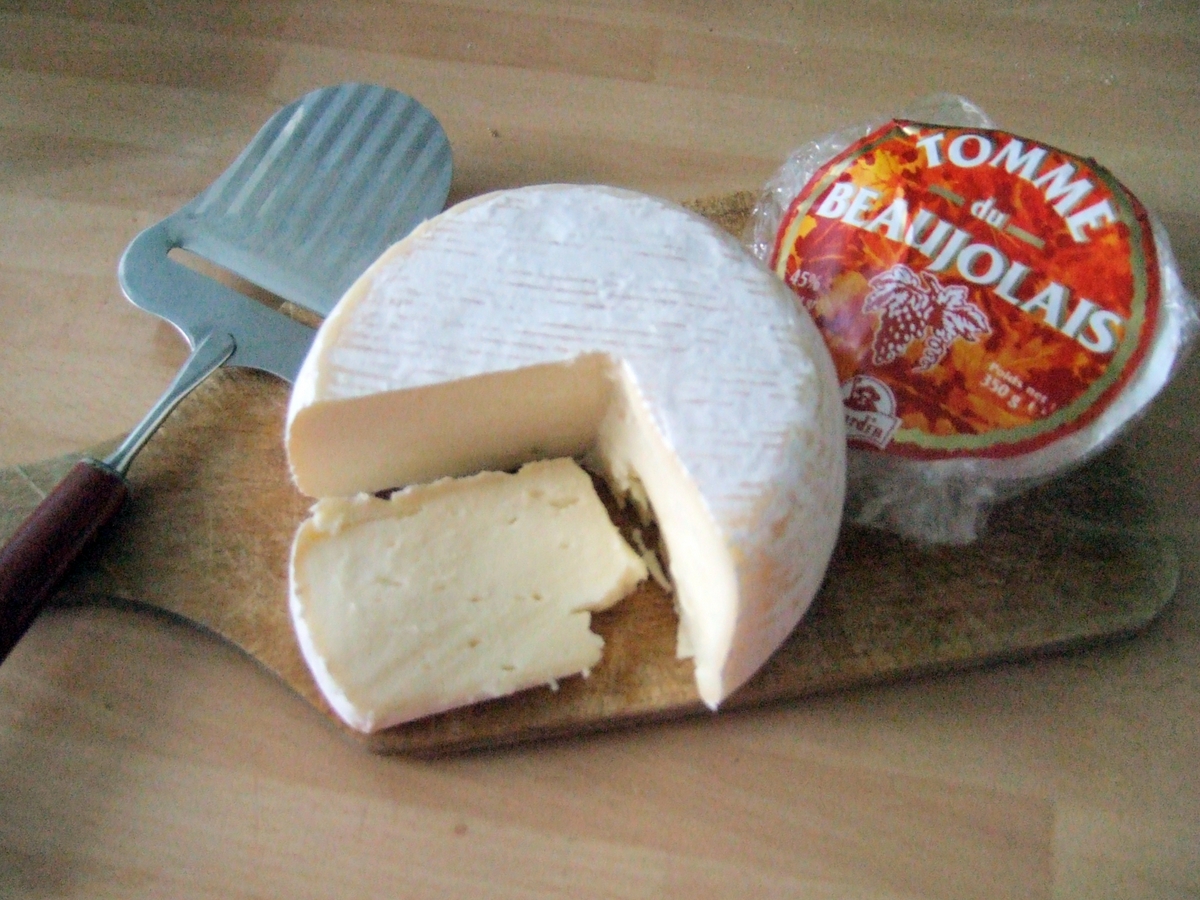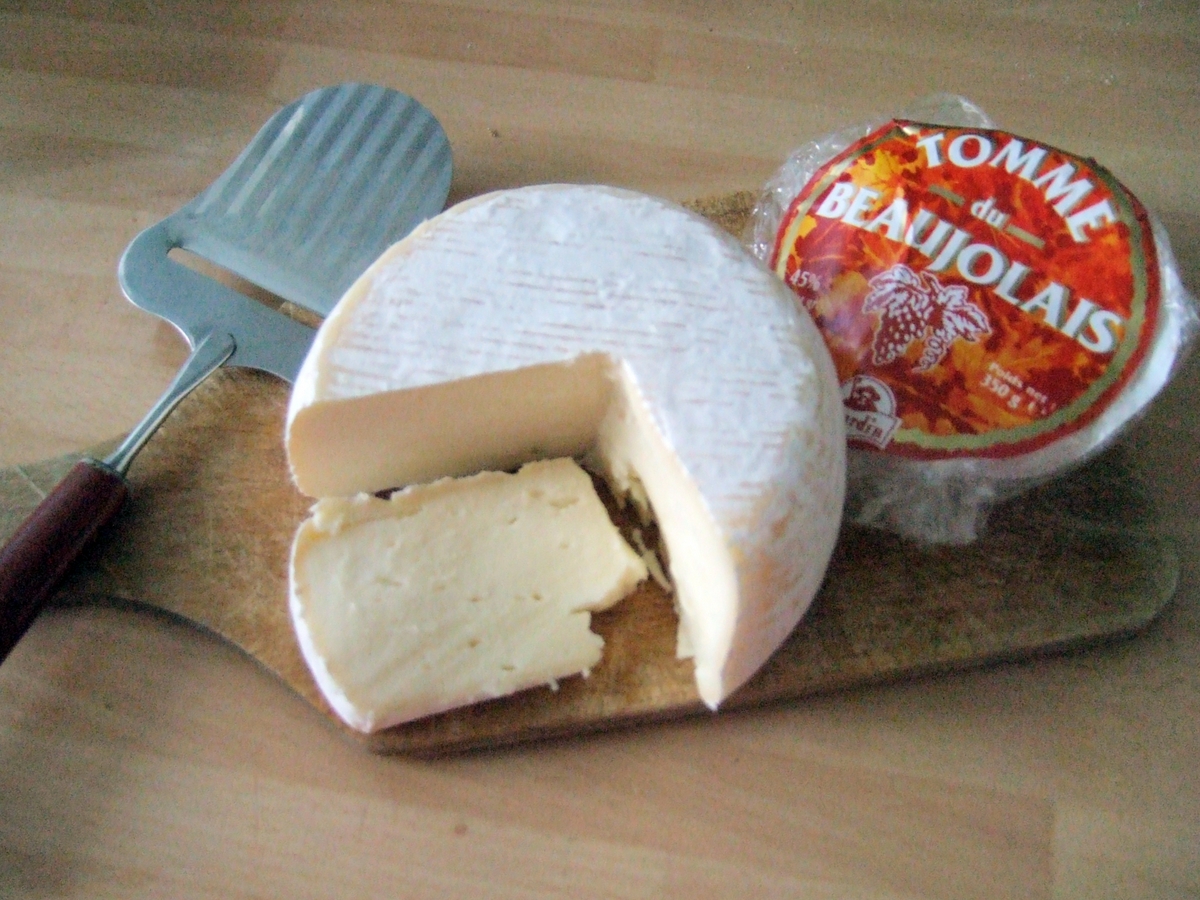 Fourme de Montbrison
Another cows' milk cheese from the area is "Fourme de Montbrison", an orange-coloured smooth cheese which is far bigger than Tomme du Beaujolais (2 kilos).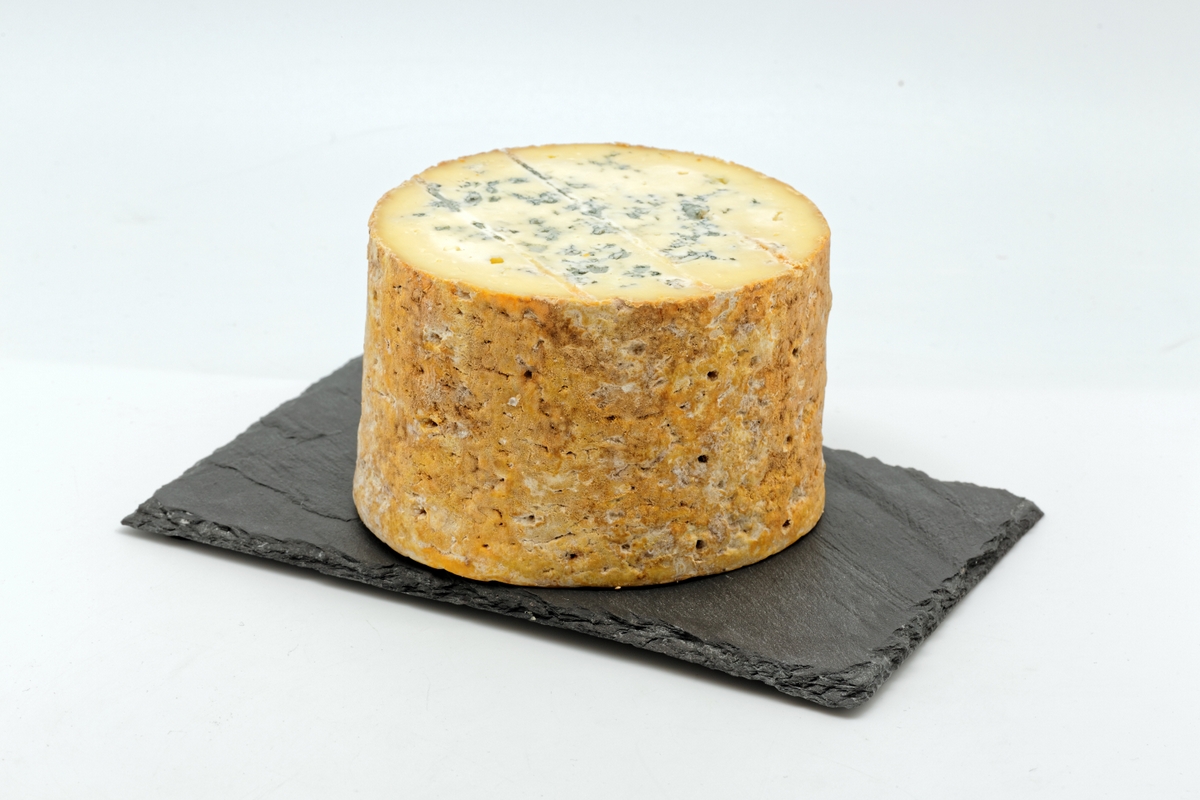 Rigotte de Condrieu
As for goats' milk cheese, the most famous one is "Rigotte de Condrieu". It is matured for three weeks and only weighs 35 grammes. The people of Lyon are keen on eating lukewarm Rigotte with a green salad.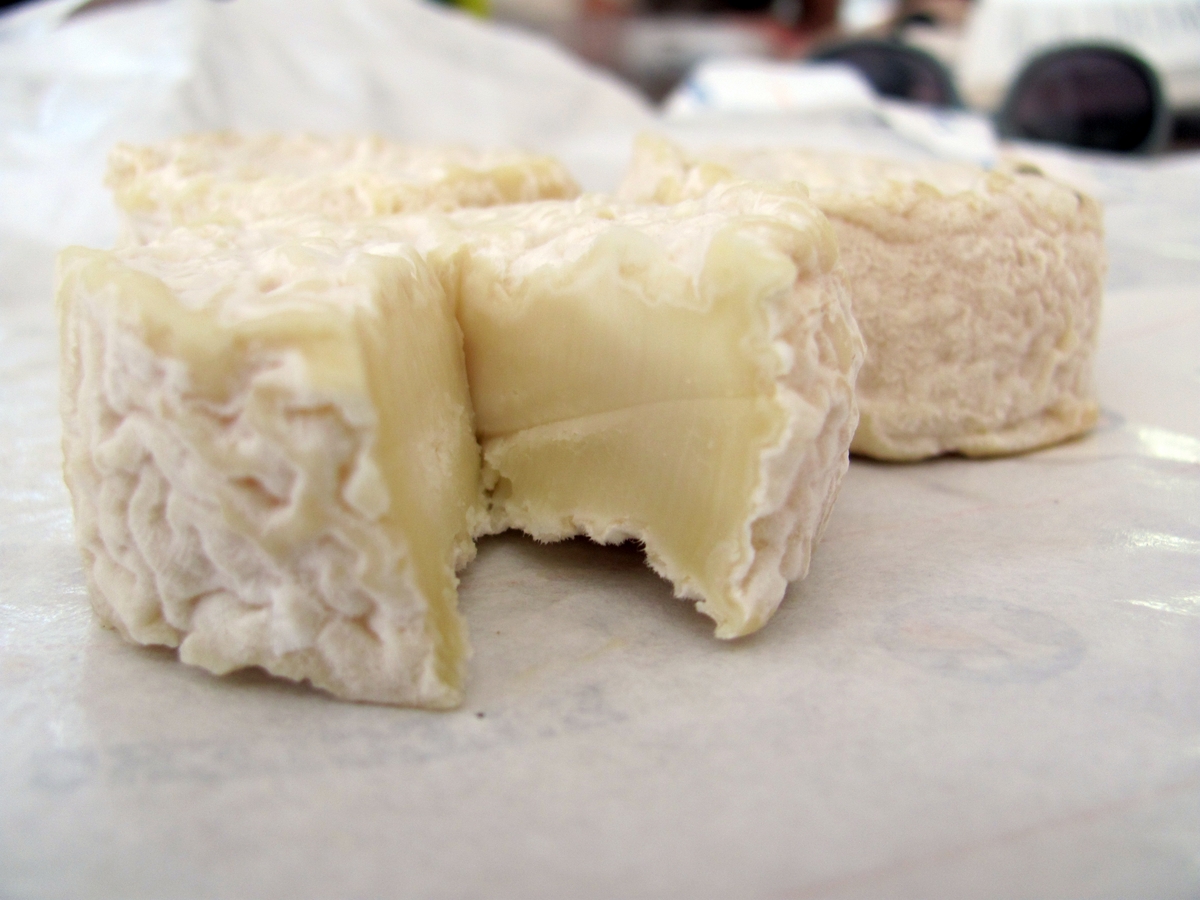 Cervelle de Canut
The most typical cheese speciality from Lyon might be "Cervelle de Canut" (literally meaning Canut's brains). It is a fromage blanc flavoured with chives, garlic, shallot, parsley, salt, pepper, oil, vinegar and white wine.
The recipe has changed several times throughout the years but Paul Lacombe, a Lyon chef, is widely considered the creator of the "cervelle de canut".The name of the cheese comes from the Canuts, silk workers of Lyon mostly working on the hill of Croix-Rousse in the 19th century. The Canuts were poor people and they used to feed their families with cottage cheese, adding herbs, salt and pepper to give it a stronger taste.
Desserts and sweets
Lyon gastronomy is also famous for desserts and sweets. Lyon enjoys quite simple desserts, which are quite easy to cook and/or convivial.
The Matefaim
The Matefaim looks quite like a mix between a normal cake and crêpes.
As with most specialties from Lyon, it is quite rich and its name refers to an expression from the Lyon dialect: "Mater la faim" (suppressing appetite).
Most of the time, matefaim includes apples but you can also find some with pear or potato matefaim, which makes it even richer!
Originally, matefaim was a farmers' potato galette. As a rich morning dish, it would help sustain the farmers throughout the day at work. Matefaim has evolved as a thick salty or sweet crêpe made of flour, eggs and water, with cheese (for a savoury matefaim) or with milk, sugar and fruits (for a sweet matefaim).
Bugnes
Bugnes are very famous desserts from the Lyon area, coming originally from Savoie before spreading to the West.
The word "bugnes" comes from a dialect word meaning "beignet" (doughnut). Bugnes from Lyon are fried doughnuts, which are cooked in very hot oil and are quite thin and crispy. To give them a nicer taste and in order to hide their oiliness, bugnes can include lemon or orange blossom.François Rabelais mentioned them in the 16th Century as part of Lyon gastronomy in his well-known novel "Pantagruel".However, bugnes have been popular in and around Lyon since the Roman era. Since then, in the Lyon area, people have prepared and eaten bugnes for Mardi Gras.
Poires à la Beaujolaise
Another famous dessert from Lyon made from pears is "Poires à la Beaujolaise" (Beaujolais style pears).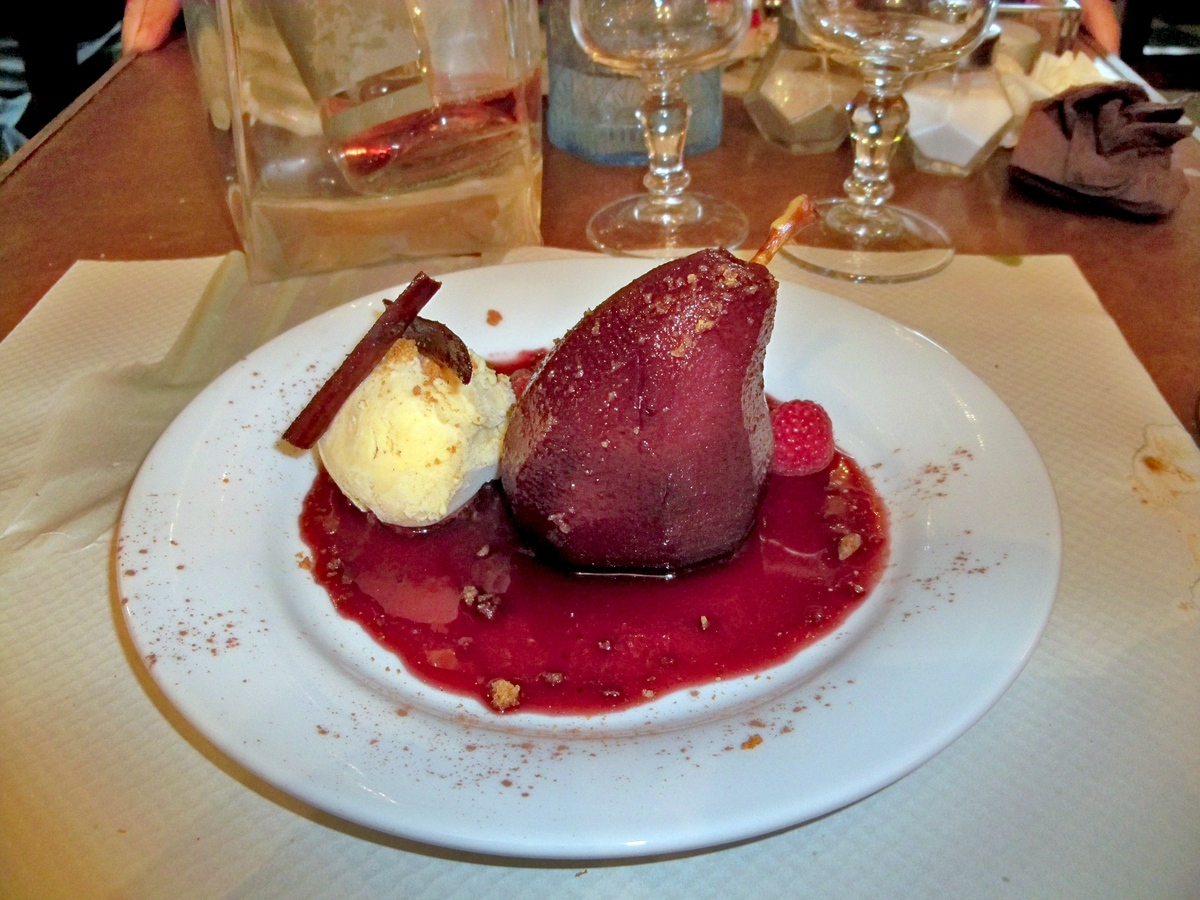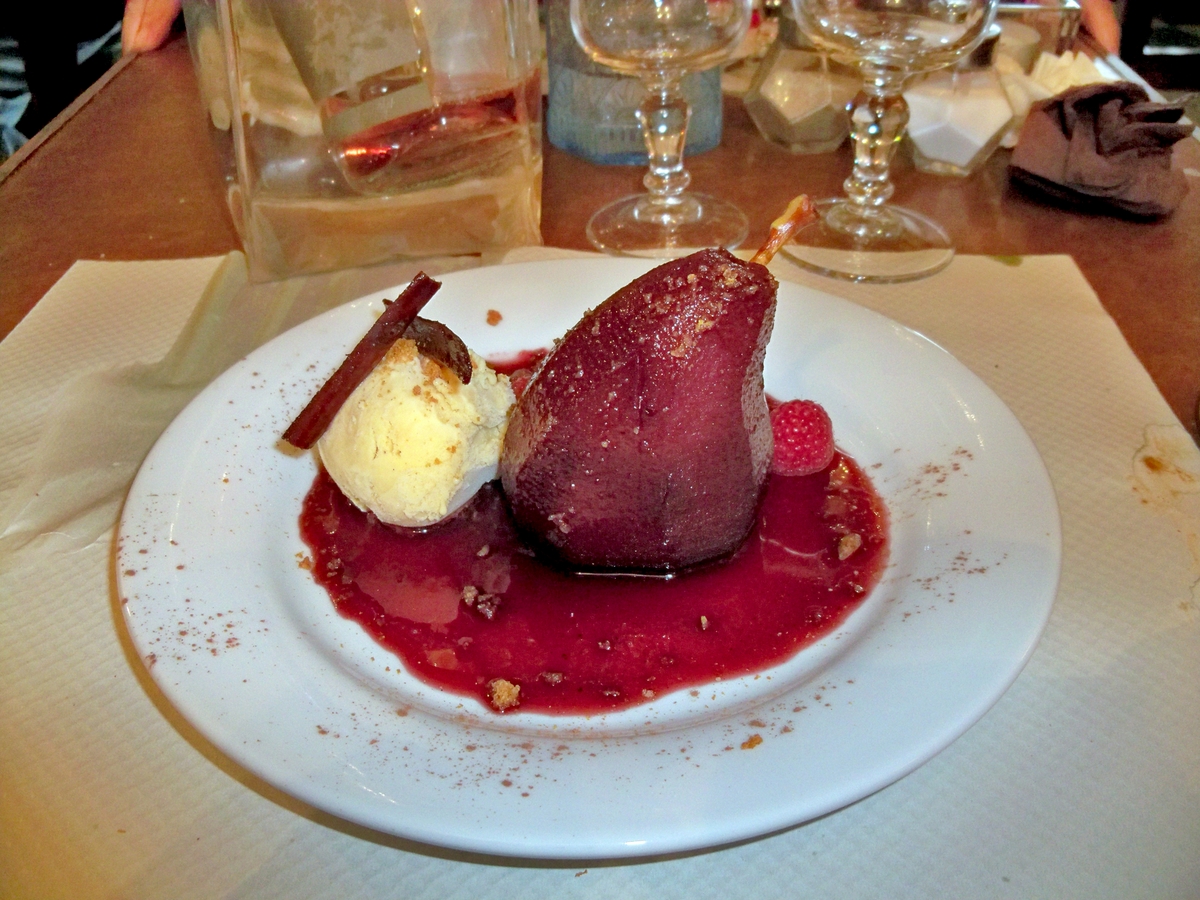 Pears are cooked for five minutes in red wine from the Beaujolais (vineyards to the North of Lyon) with sugar, vanilla, cinnamon, cloves and orange peel. A syrup is then made with the sauce and blackcurrant liqueur, in which pears need to stew for another 20 minutes after having been peeled. Then, you get a very tasty and sweet dessert, typical of Lyon!
Coussins
As for sweets, Lyon's main speciality is called "coussins", which literally means cushions. The name refers to their padded square shape. Coussins are little green candies made of chocolate and almond paste.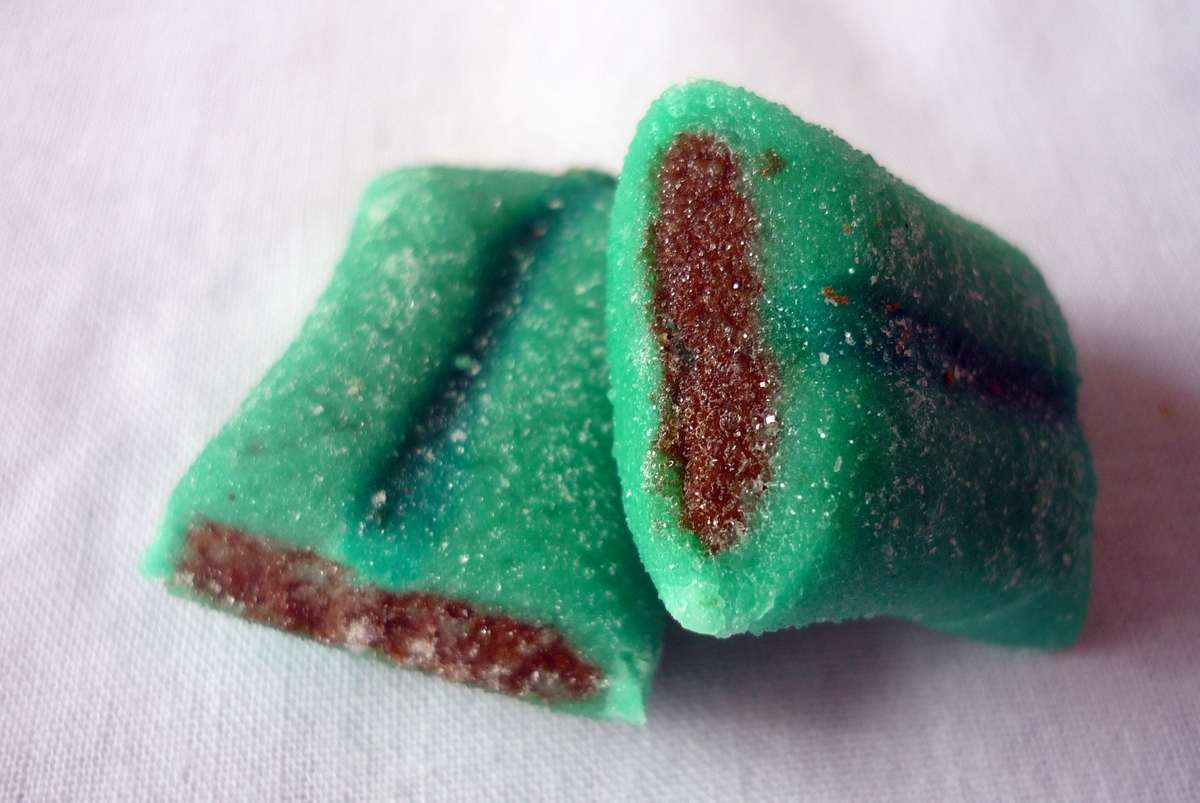 Confiserie Voisin and Coussins
When you buy coussins at the famous Voisin confiserie on Rue de la République in the Lyon Presqu'île area, you get beautiful packaging explaining the history of this speciality. It refers to the plague epidemic which hit Lyon in 1643 and to the "Voeu des Echevins" (Aldermen vow). The aldermen vowed that the plague left the town, offering the Virgin Mary a seven-kilo candle as well as a gold écu coin which was set on a silk cushion. As a sweet, the "coussin de Lyon" was born in 1960. It is a creation of Lyon's sweet maker Voisin.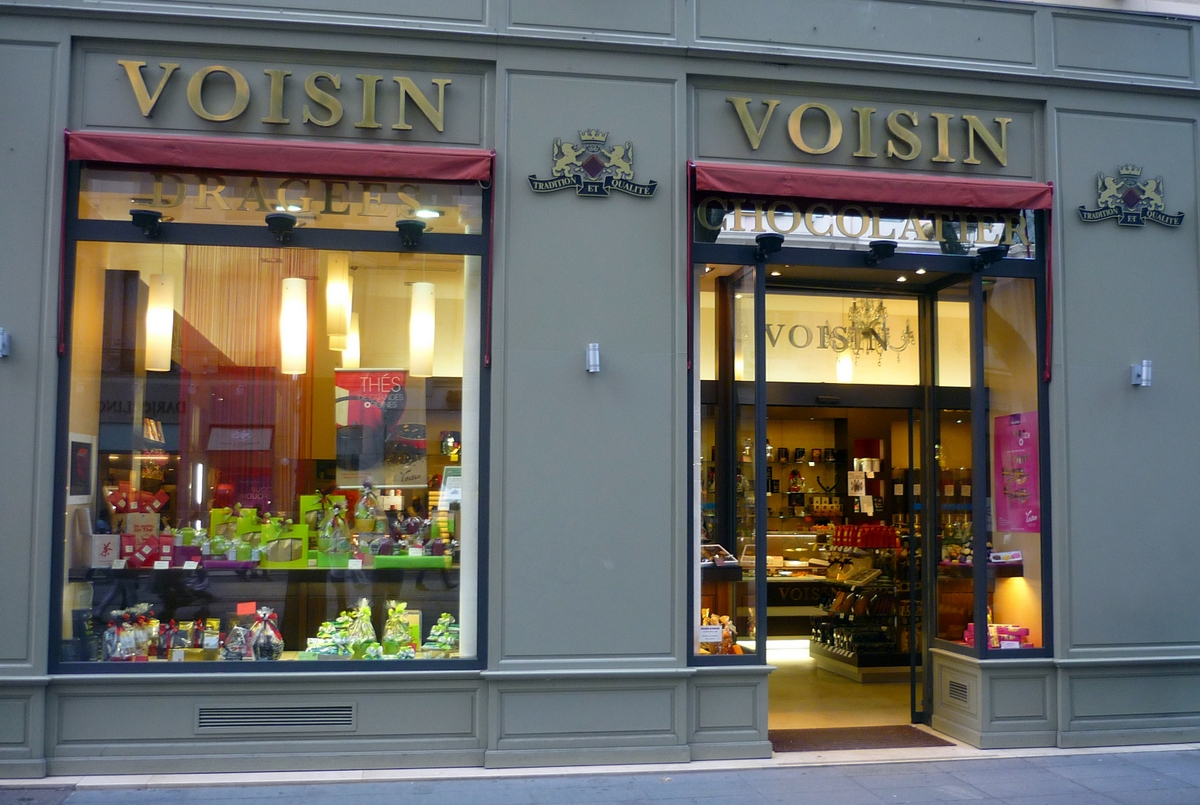 Voisin is also famous for its amazing macarons, which are very sweet and flavoursome. You can buy macarons made of many different flavours, such as lemon, pistachio, blueberry, violet, and salted butter caramel.
Délices des Sens
Another well-known sweet maker from Lyon is "Délices des Sens" with three chocolate shops located on the Rhône left bank (3rd and 6th Arrondissements).
Pralines of Lyon
Another sweet speciality from the Lyon area is pralines. They are almonds wrapped with cooked sugar and pink food colouring.
This hard sweet is said to have been created by Clément Jaluzot, who was the chef of a 17th-century French Marshall called Plessis-Pralin… hence the name "praline"!
They are part of the local gastronomic heritage! You can eat them by themselves or use them to decorate cakes and tarts such as the famous "tarte aux pralines" (pralines tart).
The "Gâteau de Saint-Genix" or "brioche aux pralines" originates from the eponymous town in Savoie.
This latter is quite famous around Lyon thanks to Auguste Pralus, a sweet maker from Roanne. Auguste Pralus (whose name looks and sounds like "praline"), created "brioche aux pralines" as "Praluline" in 1955. A play on words built around his own name and the name of the sweet!
Wines in the Lyon area
The surrounding region of Lyon has been a wine-producing region since the Roman era. From the Middle Ages to the 19th century there were even vineyards in districts which are nowadays parts of the town, such as on the hills of Fourvière and Croix-Rousse.
However, infestations of the phylloxera insect ate into the vineyards, making them less and less productive. In fact, built-up areas overtook the space. Nowadays, there are three "Appellations d'Origine Contrôlée", which are guarantees of quality wines.
First appellation: the Beaujolais
The Beaujolais was originally an old French province located to the North of Lyon. It took its name from the town of Beaujeu, the historical capital. Nowadays, the economic centre of the area is the city of Villefranche-sur-Saône (pop. 35,000), on the banks of the river Sâone.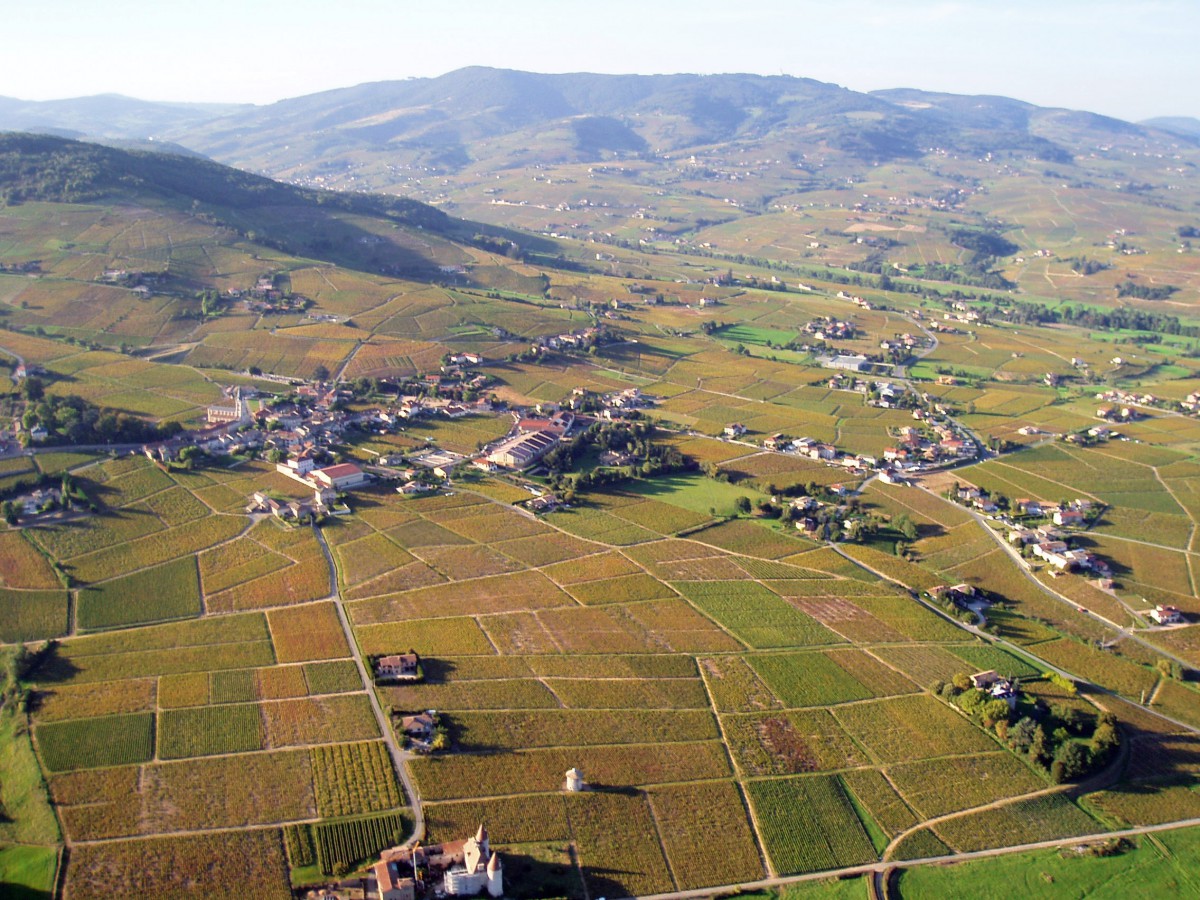 The Beaujolais includes:
The Western Beaujolais – the "Beaujolais Vert" (Green Beaujolais). A hilly and forested area. Most of the trees are conifers, therefore the area remains green throughout the year.
The Eastern Beaujolais covers 1,000km². It is famous for being a wine-producing region. Wine production reaches more than 30 million litres every year.
The 12 appellations of Beaujolais
The Beaujolais itself is divided into twelve different appellations. Most of them refer to villages in the area:
Beaujolais, Beaujolais Villages, Morgon, Régnié, Moulin à Vent, Côte de Brouilly, Brouilly, Juliénas, Saint-Amour, Chénas, Chiroubles and Fleurie.
A focus on Gamay
99% of the wine comes from a single grape variety called Gamay. It is a purple-coloured grape which can also be found in the Loire Valley. Gamay is known for producing fruity red wines which explain why, most of the time, Beaujolais wines are red wines. Indeed, they represent an average of 97% of the annual production.
Generally speaking, Beaujolais wines should be drunk quite quickly after they have been bottled. Because of the Gamay grape variety's characteristics, the wine has more body if drunk after some modest ageing. Only a few Beaujolais wines can be stocked in the cellar for ten years at best.
Beaujolais Nouveau!
For this reason, a very common tradition in France – especially in the Lyon area – is to celebrate the arrival of "Beaujolais nouveau" (new Beaujolais). Since 1951 the annual celebration has taken place on the third Thursday of November. That is only two months after the completion of the grape harvest! It is a nice tradition where people gather together at home or in town to enjoy a moment with friends and family.
Second appellation: Coteaux-du-Lyonnais
The second appellation is "Coteaux-du-Lyonnais". The vineyards are located to the West of Lyon. The appellation comprises two parts:
a Northern part around the town of L'Arbresle, and
a Southern part located around Brignais.
Each year, the production of Coteaux-du-Lyonnais only comes to about 760,000 litres. This is far less than the 30 million litres of Beaujolais! The vineyards to the West of Lyon used to be far more extensive but they suffered infestations of phylloxera in the 19th century.
Its characteristics are quite similar to Beaujolais. Most of the wines from Coteaux-du-Lyonnais are red. People enjoy them with "cochonaille" from Lyon. As with Beaujolais wines, don't expect to store them for too long! Their ageing potential lies somewhere between one and three years.
Third appellation: Côtes-du-Rhône Septentrionales
Finally, the "Côtes-du-Rhône Septentrionales" (Northern Côtes-du-Rhône) appellation applies to the South of Lyon.It is part of the larger "Côtes-du-Rhône" vineyards which extend south as far as Avignon, along the Rhône Valley.The Northern part of Côtes-du-Rhône is made of eight appellations, some of them being among the most famous in France:Côte-Rôtie, Condrieu, Château-Grillet, Saint-Joseph, Crozes-Hermitage, Hermitage, Cornas, Saint-Péray.They are quite different to the other appellations in the Lyon area. They are made from grape varieties which are usually very different (Syrah, Viognier, Roussane and Marsanne).Wines from Northern Côtes-du-Rhône are often finer but more expensive. You can keep them far longer than Beaujolais or Côteaux-du-Lyonnais wines. Some cellars would store Hermitage red wines for 40 years and more!In Northern Côtes-du-Rhône, wine production reaches more than 12 million litres every year. They include red, rosé, white or sparkling wines.
Lyon gastronomy and the great food markets
As the French capital of gastronomy, Lyon hosts several well-known food markets which are part of the cultural heritage of the town.
Market of Croix-Rousse
Croix-Rousse market might be the biggest and the most famous market in Lyon. It stretches over one kilometre.
It takes place every morning (except Mondays) from 6 am to 1 pm and mainly welcomes fruit and vegetable retailers.
On Saturdays, there is an organic market with producers from the Lyon area.
On Tuesdays, the market includes manufactured goods retailers, selling pretty much everything, including clothes.
Going to Croix-Rousse market is a very nice idea if you want to catch the spirit of Lyon and discover local specialities and customs…
Saint-Antoine market
Saint-Antoine market is another well-known market in Lyon. It takes place in the Lyon Presqu'île area, on Quai Saint-Antoine and Quai des Célestins. That is along the Saône banks between Place des Terreaux and Place Bellecour.
As with the Croix-Rousse market, it occurs every day except Monday, from 6 am to 1 pm. In a way, it is like a local open-air supermarket, as more than 130 merchants offer every kind of food product and Lyon gastronomy specialities.
Saint-Antoine market is especially famous for its butchers, its delicatessens and its cheese shops, which are among the best in Lyon. It is also very enjoyable thanks to the lovely view over the Saône banks, Lyon Old Town and Fourvière Hill.
Place Carnot market
In the Presqu'île you can also go to Place Carnot market. It only takes place on Sundays, from 6 am to 1 pm.
It is a nice spot to enjoy a relaxing Sunday morning in town, with local merchants always ready to tell you about their products and Lyon specialities.
Place Carnot also hosts every December the Lyon Christmas market with 140 chalets. Even though not as big as the Christmas markets in Alsace-Lorraine (such as Strasbourg, Colmar and Metz), Place Carnot's Christmas market has become an important meeting place in the region. Not forgetting the highly popular Festival of Lights in early December.
Halles de Lyon – Paul Bocuse
Finally, Lyon also has a covered market which is located on the left bank of the Rhône, in the Part-Dieu district. The first "Halles de Lyon" operated in the Cordeliers area (Presqu'île) between 1859 to 1971.
The building became dilapidated in the middle of the 20th century. Consequently, the covered markets moved to the current location, a few kilometres away to the West. It underwent renovation in 2005 and 2006. Since it has become one of the most modern covered markets in France.
It took the name "Halles de Lyon – Paul Bocuse", as a tribute to the charismatic and world-famous chef from Lyon, Paul Bocuse. It is also a way of giving the market international standing, based on Paul Bocuse's celebrity.
Nowadays, Lyon covered market hosts 56 stores and restaurants which are keen on offering to Lyon people and tourists local goods and specialities.
The covered market is open from Tuesday to Saturday from 7 am to 10.30 pm (and to 2.30 pm on Sundays).
Join a Morning Food Market Tour in English at Les Halles Paul Bocuse
Get your ticket for a guided tour of Lyon gastronomy in the Halles Paul Bocuse! Highlights of the tour
Learn about Chef Paul Bocuse, aka the 'Pope of French Gastronomy', and owner of a 3 Michelin-stars restaurant
Sample Lyonnaise dishes, local cheeses and wines, plus get insider tips on where to eat, shop, and drink in Lyon
Learn about the Les mères Lyonnaises, the women who carved an identity for Lyon as a gastronomical hub
What's included?
Two-hour English-speaking tour of the indoor market, Les Halles Paul Bocuse
Local guide
Visit 5 to 7 stalls to taste wine, cheeses, chocolate, macarons, and other French delicacies (all expenses included)
Small group size of no more than eight people
Get your ticket to join the morning tour in Les Halles – Paul Bocuse here!
The fantastic story of Les Mères lyonnaises
If Lyon prides itself on the title of the French capital of gastronomy, it is largely thanks to its chefs. From the end of the 19th century to the 1980s, the best chefs in Lyon were women, called "les Mères lyonnaises" (Mothers from Lyon). These women used their savoir-faire and creativity to make Lyon gastronomy one of the best in France.
The audacious women of Lyon!
Originally, the Mères used to be personal chefs of families from the Lyon bourgeoisie. However, from the end of the 19th century, some of these families suffered economic trouble. Consequently, they had to dismiss their personal chefs in order to save money. Most of these women started their own businesses. This is surprising considering how women were treated in the labour market back then. They opened their own restaurants. They cooked perfectly simple and cheap dishes. Everyone could afford to eat there, from the bourgeois to the silk workers (known in Lyon as the "Canuts").
The famous Mères Lyonnaises!
The role model of all these women was the Mère Guy, who opened her own open-air restaurant in La Mulatière (in Lyon's south-west suburbs) in… 1759!
La Génie
Her own granddaughter, called "La Génie" (The Genius one) followed her and received huge appreciation from her customers, most of them being part of Lyon's upper class. She was so famous throughout France that Empress Eugénie, Emperor Napoleon III's wife, once specifically came from Paris in order to taste her amazing meals!
Mère Brigousse
Another famous early Mother from Lyon was the Mère Brigousse. She ran a restaurant in the first half of the 19th century in the Charpennes area, close to the Parc de la Tête d'Or. She remained famous in Lyon gastronomy history for one of our specialities called "Têtons de Vénus" (Venus breasts). They were round-shaped quenelles that she offered to young men during their stag parties…
Mère Brazier
One of the most famous Mothers from Lyon is undoubtedly the Mère Brazier. Indeed, she was the first woman whose restaurant gained three stars in the Michelin Guide.
She was a former employee of another Mother – the Mère Filloux. But both chefs had strong characters, and unsurprisingly Mère Brazier decided to quit in 1921. She opened her own restaurant at the foot of the Croix-Rousse hill.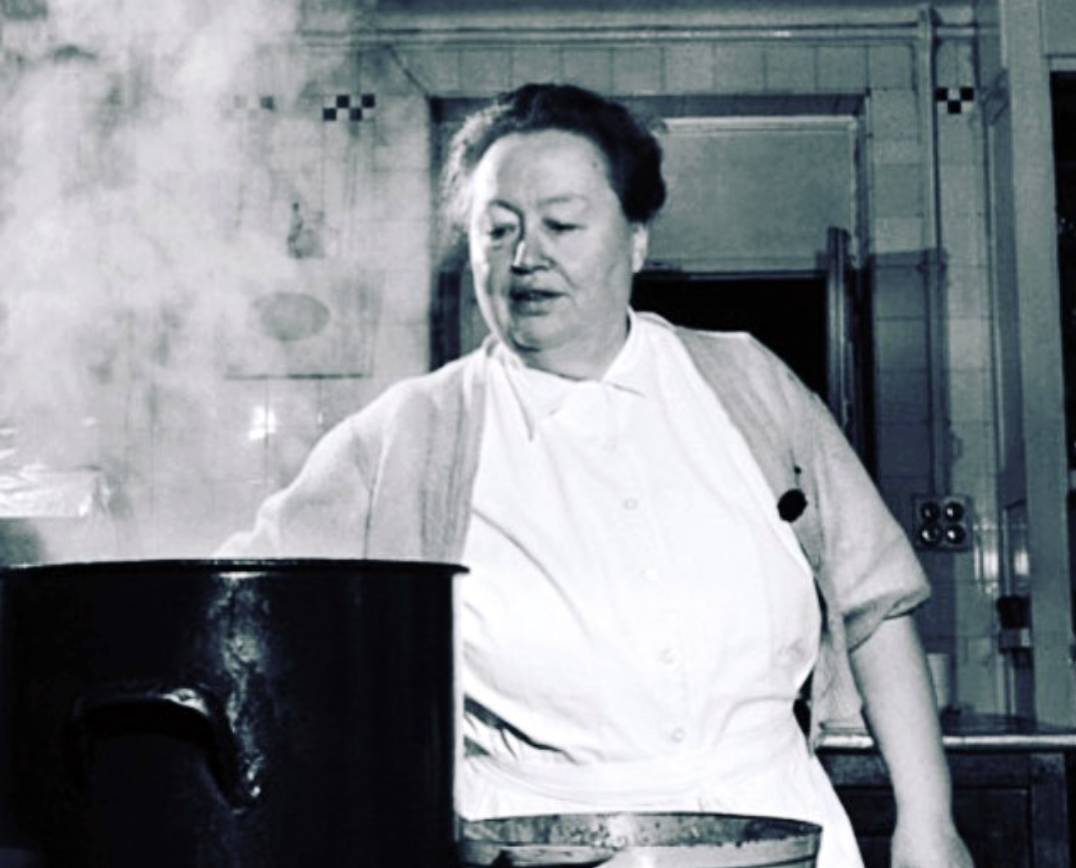 Paul Bocuse, certainly Lyon's most famous chef, learned most of his skills in the kitchen of the Mère Brazier. She became very famous throughout the country. So much that Lyon's long-time mayor Edouard Herriot once said she ought to be the second mayor for making Lyon so famous!
The last Mères lyonnaises
The Mothers from Lyon remained active until the 1980s. Among the last ones were "Madame Biol" and "Tante Paulette", who worked until 1990 and was famous for being a very generous person.
The very last Mother of Lyon is Paulette Castaing, also known as "Mamie Castaing". She retired in the late eighties, but still remained active for a long time. She died in 2014 at the grand age of 103.
Nowadays, even if the Mothers from Lyon have all disappeared, you can still go and eat in their restaurants. New generations of chefs carry on their savoir-faire. The Mère Brazier restaurant, for example, still enjoys two stars in the 2019 Michelin Guide.
The emblematic Bouchons Lyonnais
The "Bouchons" from Lyon are typical restaurants where you can eat all the specialities from Lyon, often served with Beaujolais or Côteaux-du-Lyonnais wines. They are showcases of Lyon gastronomy. There you can eat quite simple and cheap dishes, in a modest but friendly atmosphere.
The name "bouchon" comes from an old tradition. Some restaurants still carry it on. To inform their potential clients that the restaurant served wine, the owners would hang up a little wine grape, called "bouchon".
Where to find the Bouchons?
Head to the Lyon Old Town for the greatest concentration of traditionally rustic Bouchons.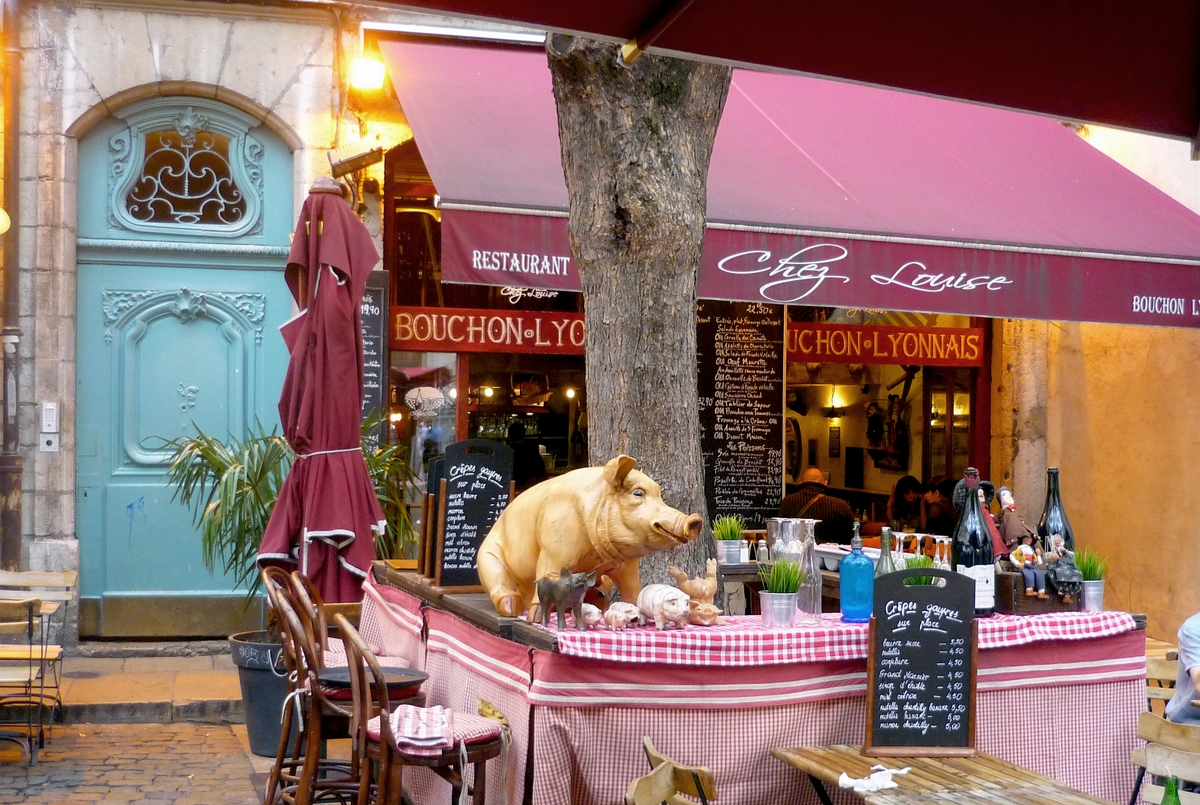 However, there is a great number of Bouchons in rue Mercière, in the Presqu'île area.
Nowadays, it is said that more than 300 restaurants in Lyon are using the "bouchon" appellation.
This led to some abuse… as some restaurants call themselves bouchons without respecting its traditional aspects. Therefore, in 2012 the Lyon Chamber of Commerce created a label: "Les Bouchons Lyonnais".
The objective of the label is to help customers choose between several restaurants, by indicating which ones follow the traditional Lyon gastronomy heritage. Some standards are expected in relation to the food quality and origins, home-made cooking, hospitality and atmosphere. As the label is quite new, only 22 restaurants are currently part of the movement.
2013 Best restaurants in the Lyon area
According to the Michelin Guide [2013 edition]
Along with "Bouchons", which are pretty simple restaurants, Lyon hosts several gourmet restaurants. Ten of them are ranked with at least one star in the 2013 Michelin Guide in inner Lyon, and another dozen in the town's surroundings.
Where to stay in Lyon?
You can choose from a great range of accommodation in Lyon, from hotels to B&B and campings! My recommendation is to book your accommodation near the city centre. Although it's a more pricey option, you'll save time on transportation and can access most of the 10 things to see within walking distance.
Also, when possible, don't wait until the last minute to book as finding hotel rooms can be a problem, especially on weekdays.
To book your accommodation in Lyon, click on this affiliate link which will redirect you to our partner booking.com… or use the interactive map below:
And here's more info about Lyon…
Find out more about Lyon
Lyon Gastronomy: English-French vocabulary
(f) for féminin, (m) for masculin, (adj) for adjective and (v) for verbs
beef = boeuf (m)
blackcurrant = cassis (m)
butcher = boucher (m, profession) / boucherie (f, shop)
butter = beurre (m)
cake = gâteau (m)
carrot = carotte (f)
cheese = fromage (m)
chives = ciboulette (f)
cinnamon = canelle (f)
cloves = clous de girofle (m)
to cook = cuisiner (v)
covered market = halles (f)
cow = vache (f)
crayfish = écrevisse (f)
cured = fumé (adj)
delicatessen = charcuterie (f) / "cochonaille" (f) (only in the Lyon area)
dish = plat (m)
doughnut = beignet (m)
dry sausage = saucisson (m)
egg = oeuf (m)
fatted chicken = poularde (f)
to feed = (se) nourrir (v)
fish = poisson (m)
fruity = fruité (adj)
garlic = aïl (m)
gastronomy = gastronomie (f)
goat = chèvre (f)
grape = raisin (m)
kitchen = cuisine (f)
leek = poireau (m)
market = marché (m)
milk = lait (m)
oil = huile (f)
organic = biologique (adj)
oven = four (m)
parsley = persil (m)
pasta = pâtes (f)
pear = poire (f)
pepper = poivre (m)
pike = brochet (m)
pork = porc (m)
potato = pomme de terre (f)
poultry = volaille (f)
to produce = produire (v)
pumpkin = citrouille (f) / potiron (m)
recipe = recette (f)
retailer = commerçant (m)
rice = riz (m)
salt = sel (m)
sausage = saucisse (f)
savoury = salé (adj)
shallot = échalotte (f)
sparkling = pétillant (adj)
sugar = sucre (m)
sweet = sucré (adj) or sucrerie (f)
vanilla = vanille (f)
vegetable = légume (m)
vinegar = vinaigre (m)
vineyard = vignoble (m)
water = eau (f)
wheat = blé (m)
wine = vin (m)
Pin it for later!
Liked what you read about Lyon Gastronomy? Pin it on Pinterest: