On a sunny Monday morning of the long August weekend, we visited Le Marché of Heathfield. We'd been looking forward to this once-a-year event as we saw signs on the roads promoting it. We only had to drive 10 minutes to reach the little market town in South-East England, where we enjoyed a little taste of France near our new home in East Sussex.
Discover Le Marché of Heathfield
The town of Heathfield in East Sussex holds a French/Anglo market every year on the Monday Summer bank holiday, which falls the last weekend in August.
Known as Le Marché, it has been running for the past 23 years. It prides itself in being the longest-running French market in England's South-East. The event has also become one of Heathfield's major attractions of the year.
What can you find at Le Marché?
The market gathers 80 stalls, just under half of them are run by salesmen who have brought their produce across the Channel from Normandy.
You'll find fruit and vegetables, pâtés, pies and meats, cheeses from both sides of the Channel, olives, crêpes and churros, artisan bread and pâtisserie, dairy goods and preserves, wines, French CDs and cards, soaps, accessories, handbags and baskets, French enamelware, jewellery…
And to make the experience even better, there is street entertainment (street performers, bands…). Our daughter was excited to get her red balloon from the Kings Church Heathfield.
L'Entente Cordiale in East Sussex!
It was actually quite surreal to hear the sound of French music (particularly Charles Aznavour) while strolling around our market town.
The market is decorated in France's national colours. And the good thing is they are Britain's too!
Indeed, the Union Jack and the Tricolour flew side by side at many stalls and shops in town!
Here, you know you're in for a treat from Normandy (hence the Norman flag to the right):
Then it was awesome to see Mirabelle plumbs from Lorraine… probably one of the only places in Britain to find them!
There are also croissants and French baguettes… and French mushrooms (Girolles):
Without forgetting French onions and garlic that reminded us of the beautiful Provençal markets we were visiting just a few months ago: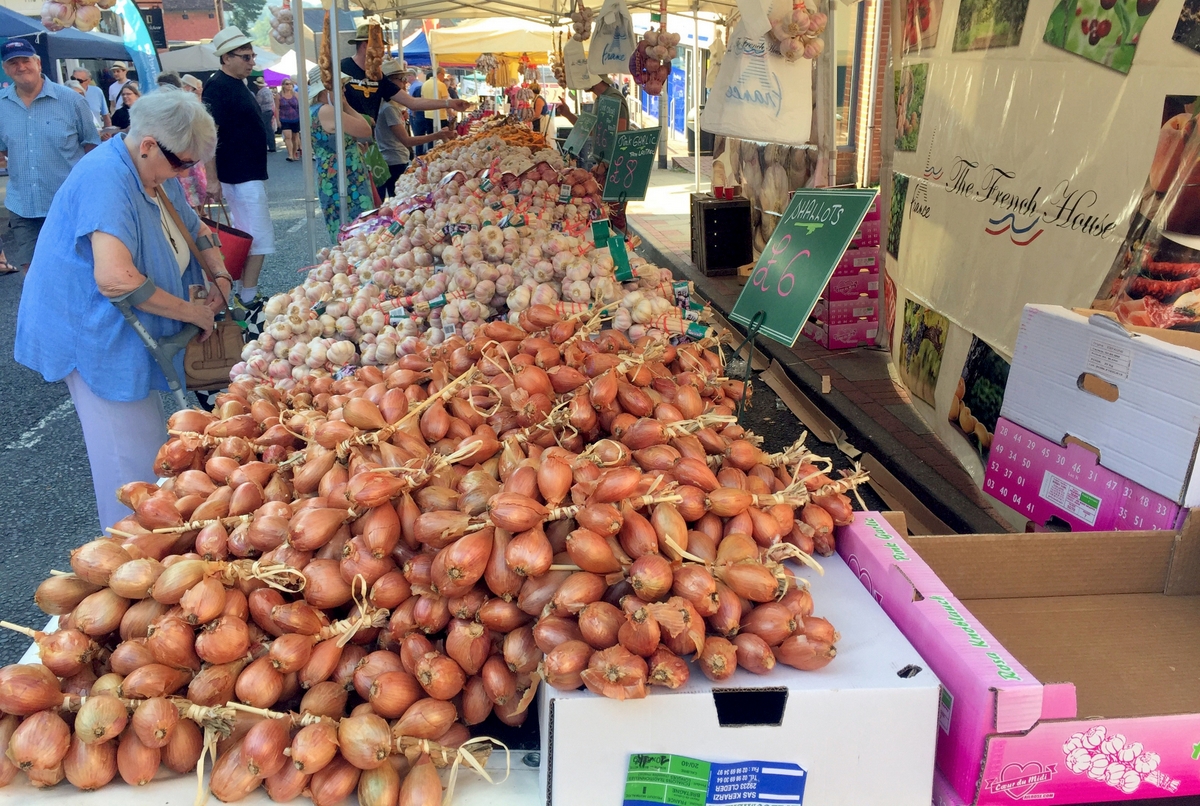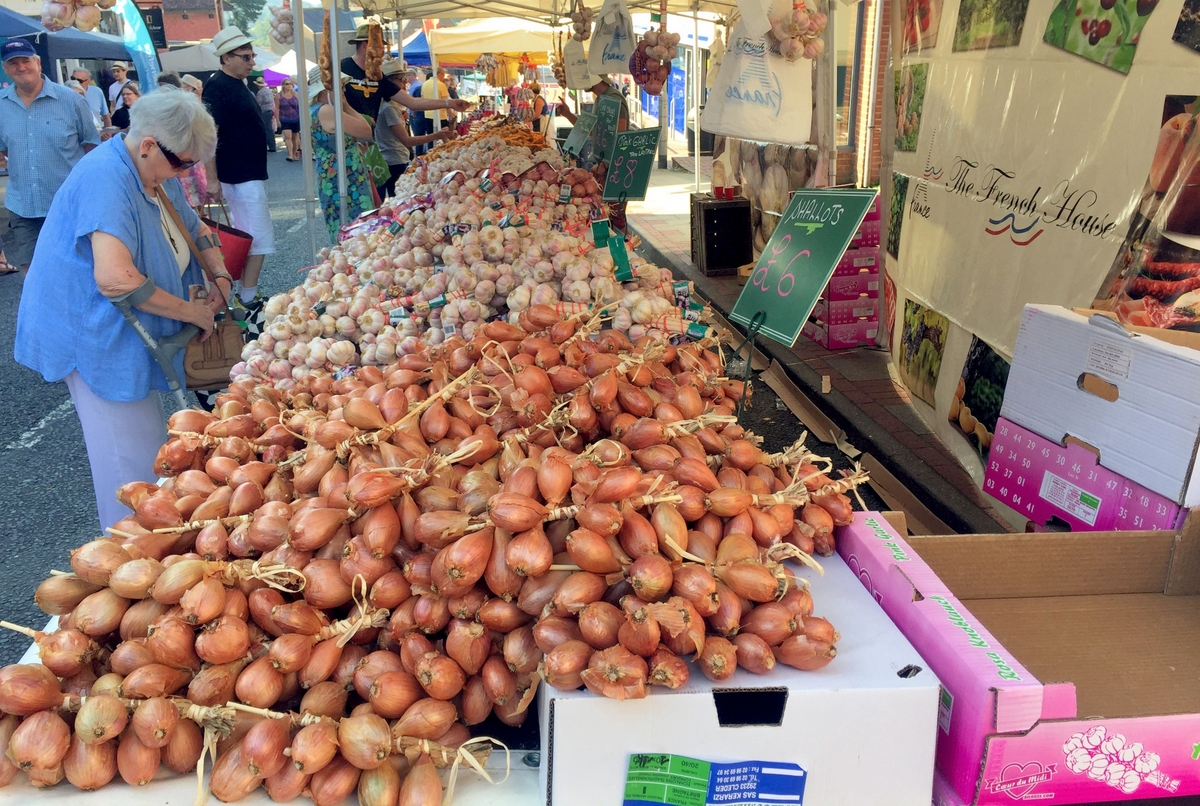 We couldn't miss the French cheese stall. If I'm not mistaken, it came from Normandy and featured France's most celebrated cheese: from camembert to Beaufort and Roquefort.
Not all produce sold was from France. Many local producers are based in South-East England and come to show case their beautiful products.
I've always dreamed of tasting English wine. At Heathfield, we had a bit of a taste of the local Pinot Gris and Bacchus from the vineyards of Beacon Down.
I found it fascinating to hear about the growing success of vineyards in our part of Britain!
Forges-les-Eaux in Normandy
The market also honours Forges-les-Eaux, a town in Upper Normandy that has been twinned with Heathfield since May 1998.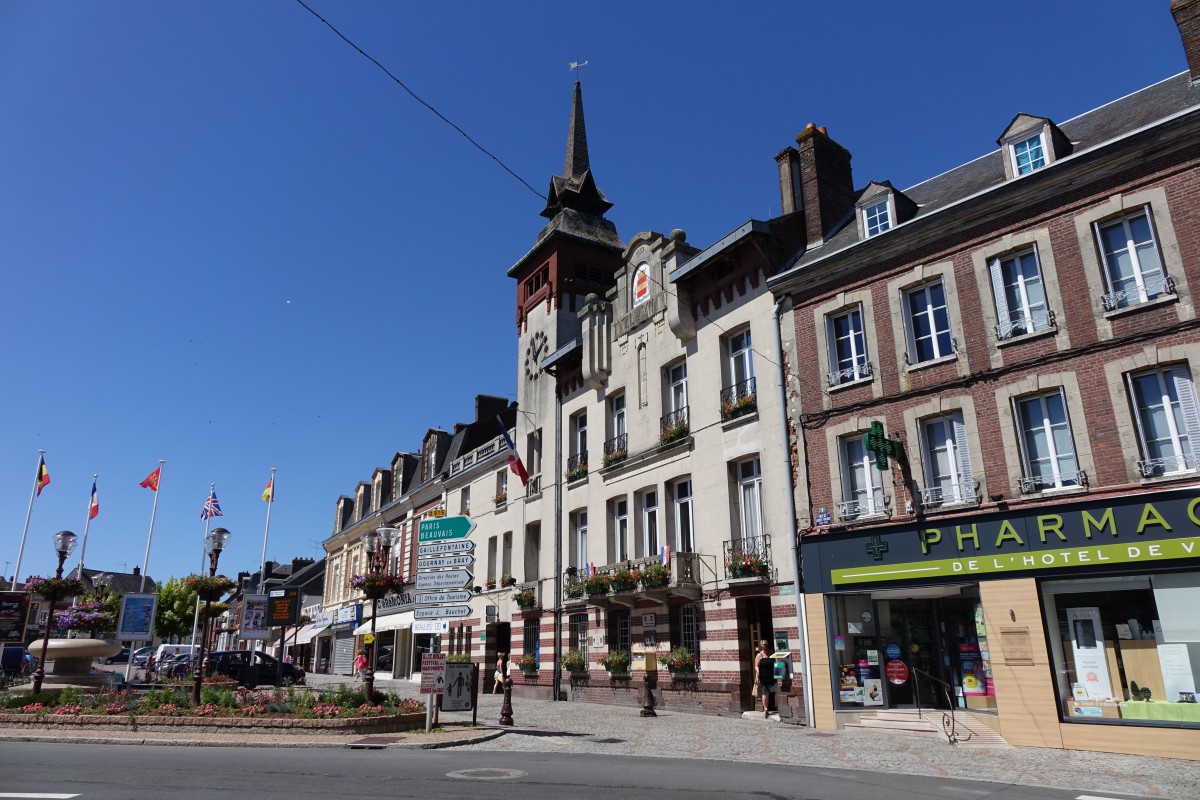 Forges-les-Eaux is a farming and spa town in the Pays de Bray whose waters became famous in 1573. We haven't visited this part of Normandy yet, but now we're living in this part of the world, it should be easier to get there… we only have to cross the Channel!
Now we've visited the market, we'll be looking forward to the 2023 edition!
Rendez-vous next year 😉
More info about the French market
Le Marché takes place from 9.30 am to 3.30 pm on Station Road and Station Approach, closed to traffic all day for the event.
To make our visit to Le Marché stress-free, we parked outside the town in the free car park. A shuttle bus took us to the town centre. We found the car park well signposted on the day (on the A265 Burwash Road).
Heathfield is situated in East Sussex, South-East England:
Find out more about Le Marché of Heathfield on the event's official website.
Did you like what you read? If so, please share this article on Facebook or Twitter! 🙂