Lamp posts have become part of Paris' identity, so much so that one can easily recognise the French capital by their design. It comes at no surprise that Paris' historical lamp posts are famous throughout the world for providing atmosphere and elegance on the city's streets. Follow me to the discovery of the many lamp posts of Paris.
---
The Lamp Posts of Paris
Technically, a lamp post is a raised source of light on the edge of a street which is lit every night.
The first electric street lighting used arc lamps, designed in 1875 by a Russian electrical engineer, Pavel Yablochkov.
His candles were first used in 1878 to light the Grands Magasins du Louvre in Paris. It partly contributed to give the French capital the nickname of "City of Lights" (Ville Lumière in French).
On the 1st January 2009, Paris recorded 61,900 candelabra and 29,800 lights attached to buildings.
There are many different styles of lamp posts in Paris.
Some are very plain and modern, others are old-fashioned, fixed on a single pole or as a candelabra (candle tree), and a few are extravagantly ornate.
---
Single Pole Lamps
This is a common yet delicate lamp post found all over the city – here near Hôtel des Invalides.
A double-arm version in Place de la Bastille:
You can easily spot old-fashioned-style lamp posts like this one in Place Dauphine all over town.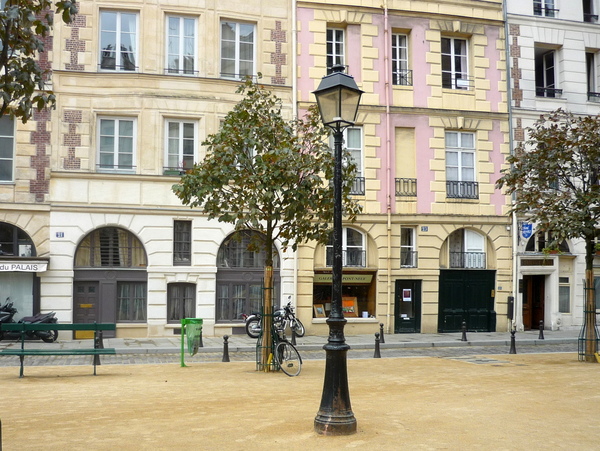 A variant shape of the above is more elaborate and topped with a crown. It is a 'single version' of the famous candelabra and is also found in many parts of town:
by the stairs of Montmartre,
on Pont des Arts or
in the Napoleon Courtyard of the Louvre.
You'll see another classic lamp post in Paris on Pont Notre-Dame, Pont de l'Archevêché, near the Panthéon, at the Louvre and in the Tuileries Garden: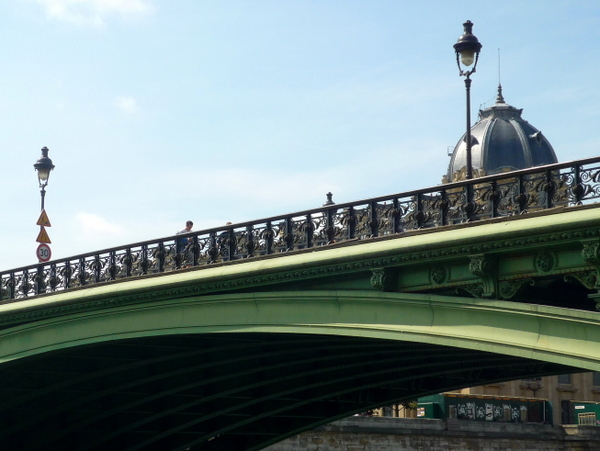 The Louvre-Tuileries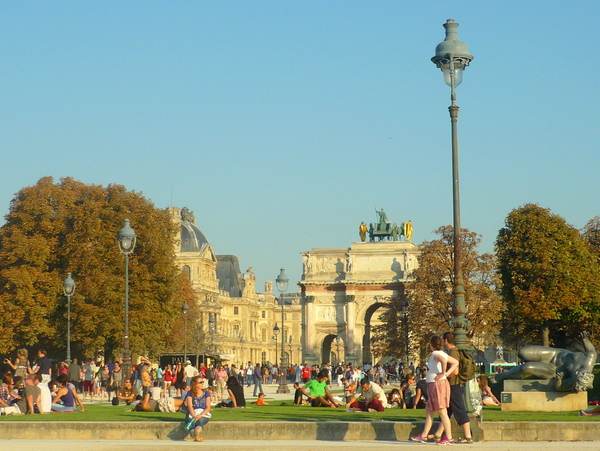 Pont de la Tournelle
On the banks of the River Seine, Pont de la Tournelle linking the Left Bank to Île Saint-Louis features a particular single pole rather unusual: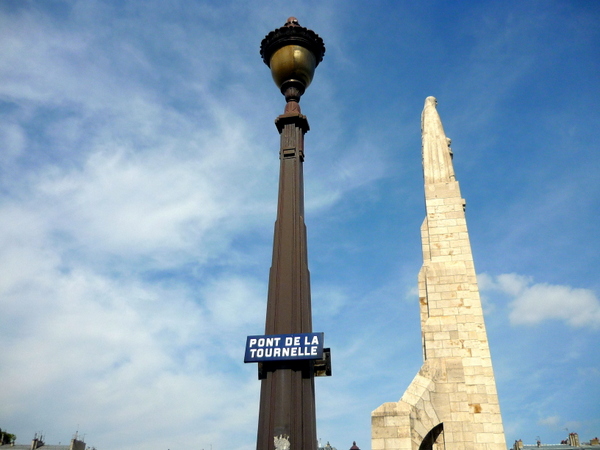 Rounded lamp posts can create romantic shadows like in Place des Vosges.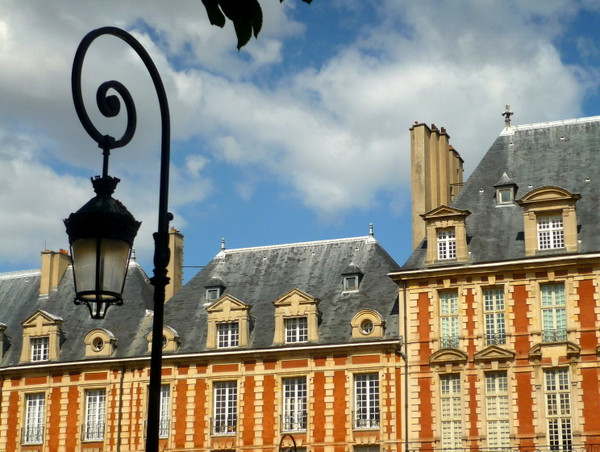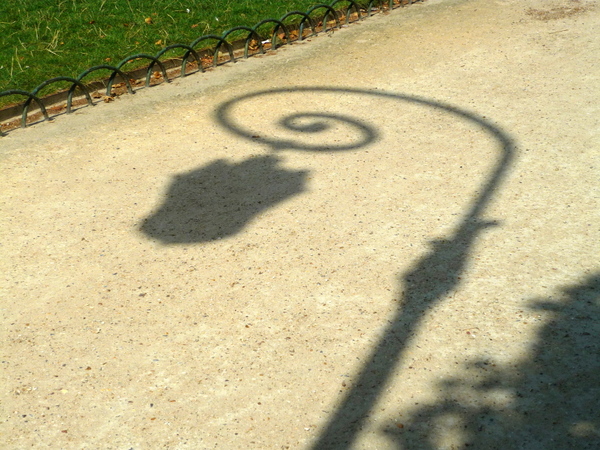 In addition, there are many narrow streets in Paris (mainly in the districts of Marais, Saint-Germain-des-Prés, Latin Quarter and Montmartre) where the lighting is simply attached to the façades of the buildings.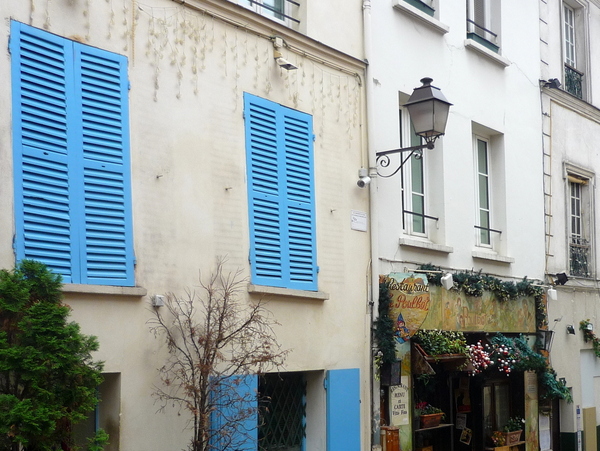 ---
The Candelabra Lamp Posts of Paris
There are many types of candelabra in Paris with a varying number of arms.
First, candelabra with three arms in Place de l'Opéra, Place Vendôme, in the Grands Boulevards, and near the Petit-Palais:
Place Clemenceau
And a more modern version of three-arm candelabra as pictured in Place Clemenceau (Champs-Élysées), looking like water drops: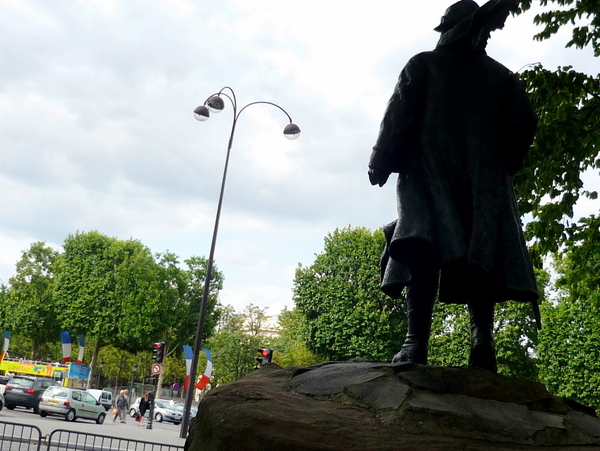 Place de l'Hôtel de Ville
Here are candelabra with four arms in Place de l'Hôtel de Ville:
Louvre
Then candelabra with five arms in the Louvre: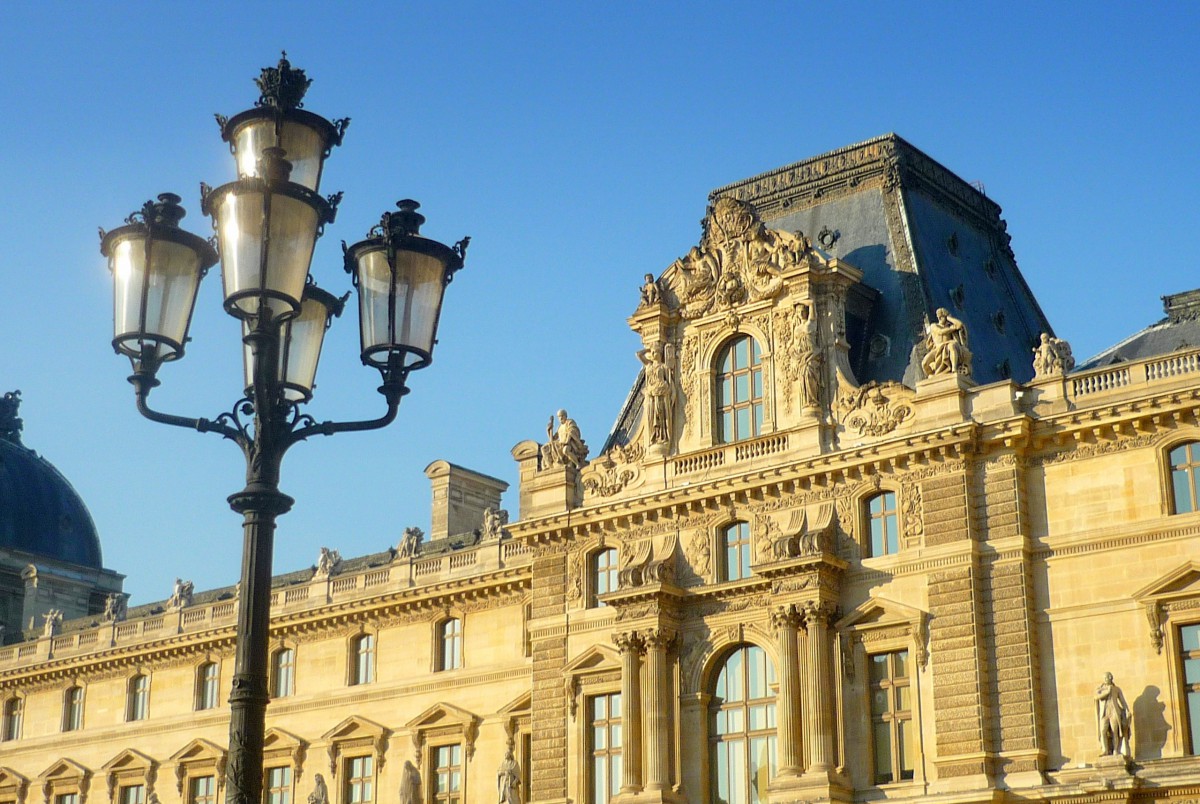 The lamp posts on Place de la Concorde are candelabra with incredibly intricate details.
Pont Alexandre III
Then the most extravagant lamp posts of Paris are without doubt those standing on Pont Alexandre III with ornate candelabra reminiscent of La Belle Époque.
Place de l'Hôtel de Ville
Finally the silhouette of some lamp posts in Paris can look fantastic when in presence of a famous monument. Here in the square of Hôtel de Ville.
---
English-French Vocabulary
(f) for féminin, (m) for masculin, (adj) for adjective and (v) for verbs
arm = bras (m)
bank = rive (f)
branch = branche (f)
candelabra = candélabre (m)
City of Lights = Ville Lumière (f)
lamp post = lampadaire (m), réverbère (m)
pavement = trottoir (m)
stair = escalier (m)
street = rue (f)
---
Inspired? Pin it for later
Check out our Pinterest boards for beautiful photos of Paris and France!
---