To start the winter season off in style we were given the opportunity to do something that's really incredible, maybe a once in a lifetime experience…. the La Plagne Bobsleigh is run at the popular Winter resort in the Tarentaise Valley!
In about 90 seconds you get to go down 19 bends and enough sensations to keep you buzzing for a while afterwards! It's definitely a unique experience and maybe after reading our review you'll want to give it a go too!
Let's go to La Plagne in the French Alps. It's the only place in the world where the bobsleigh is easily accessible to the general public. Find out all about our thrilling experience below!
[read this article in French!]
A bit about the Bobsleigh – an Olympic Sport
Bobsleigh is a professional sport involving much stamina and precision.
This Olympic sport became popular after the much loved Cool Runnings film was released in 1993. I remember watching that movie as a child …!
"Feel the Rhythm! Feel the Rhyme! Get on up, it's bobsled time! Cool Runnings!"
The bobsleigh has been part of the Olympic Games since 1924. The most successful nations are Switzerland and Germany.
In 2019 there are now 17 bobsleigh tracks in the world (7 of which are in Europe). Most of them have been built for when countries were hosting the Winter Olympic Games. The only track in France is where we were at La Plagne, which is part of a huge ski area in the Savoie region of the French Alps. It was built specifically for the Winter Olympic Games organised in 1992 at Albertville.
How exciting that we got to try it out!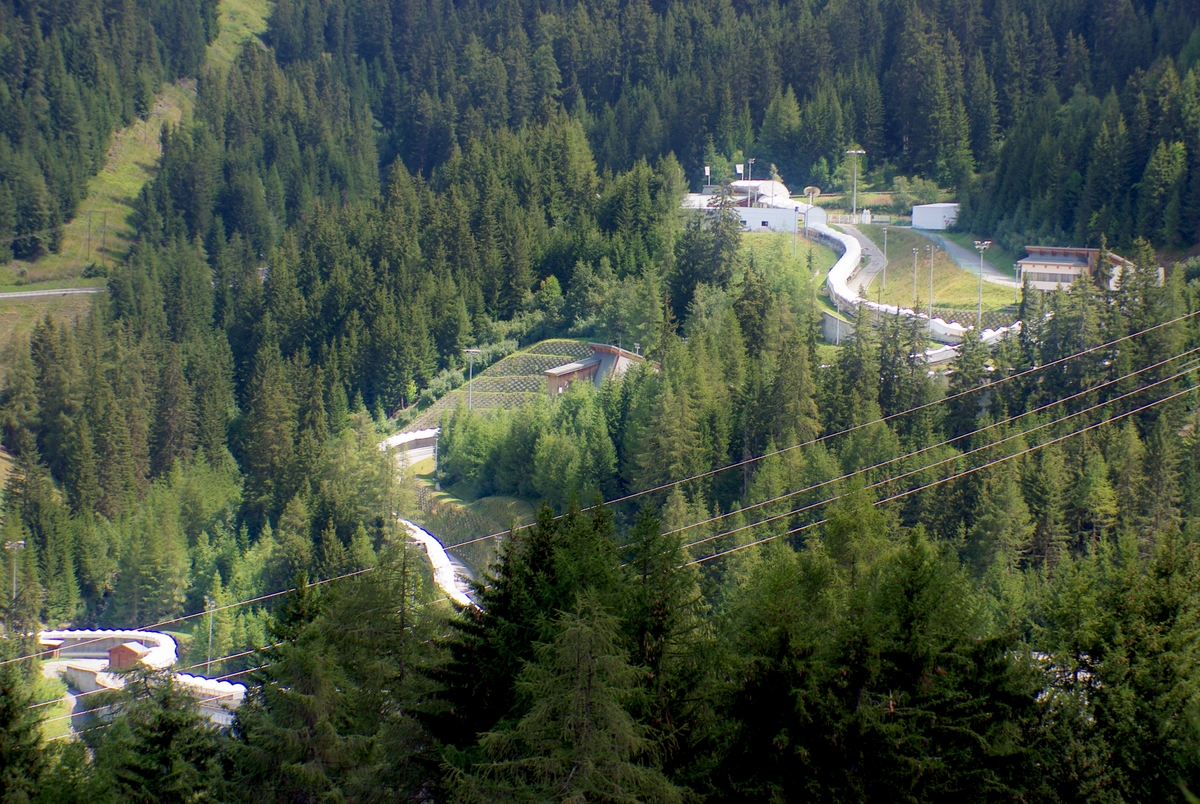 Some interesting facts about the La Plagne Bobsleigh run
It's the only track in France and unique in the world as it's the only run where the general public can have a go.
19 bends
1,507m long + 200m at the end for breaking
3rd longest track in the world
124m descent from start to finish
an average 8.9% incline
134kph is the highest speed record
it was built between Sept 1988 and Dec 1990
in 1991 it hosted its first bobsleigh competition
in 1992 part of the Winter Olympic Games (350 athletes from 27 countries)
14,000 people access the La Plagne Bobsleigh each winter.
233 million French francs is how much it cost to build (equivalent to 45 million euros)
Where does the ice come from?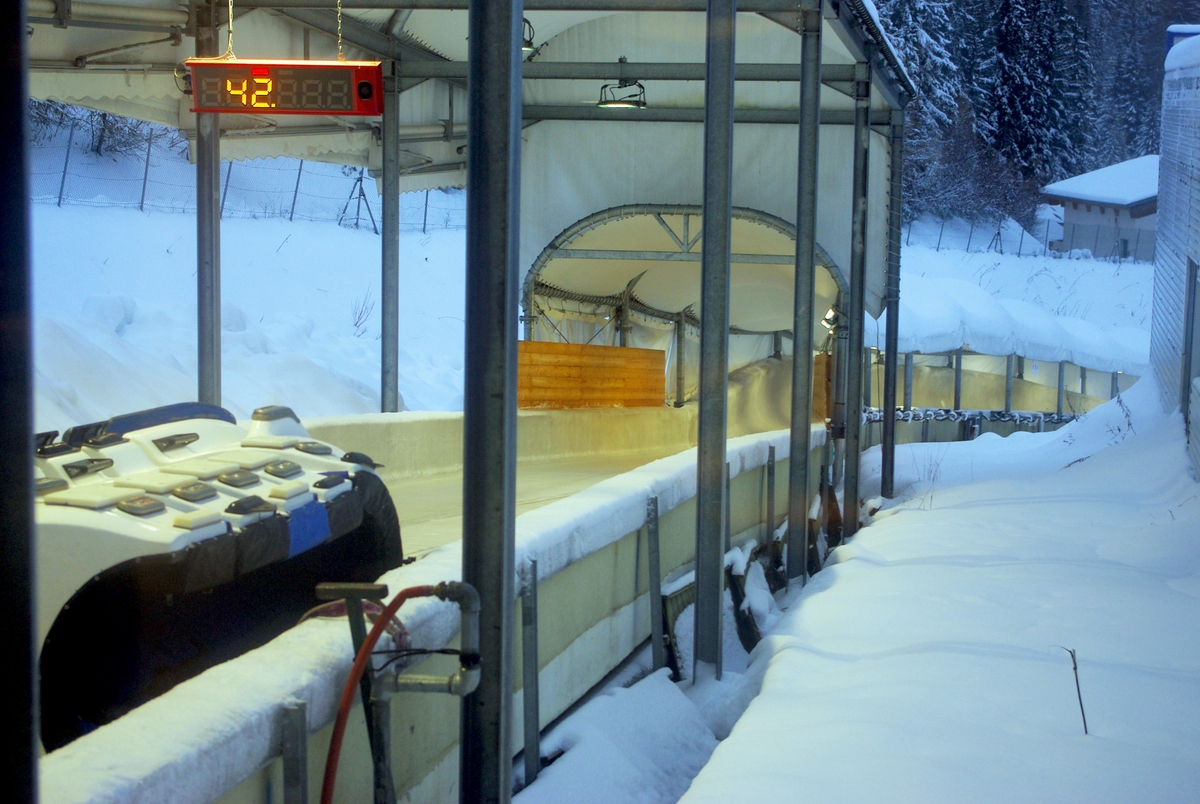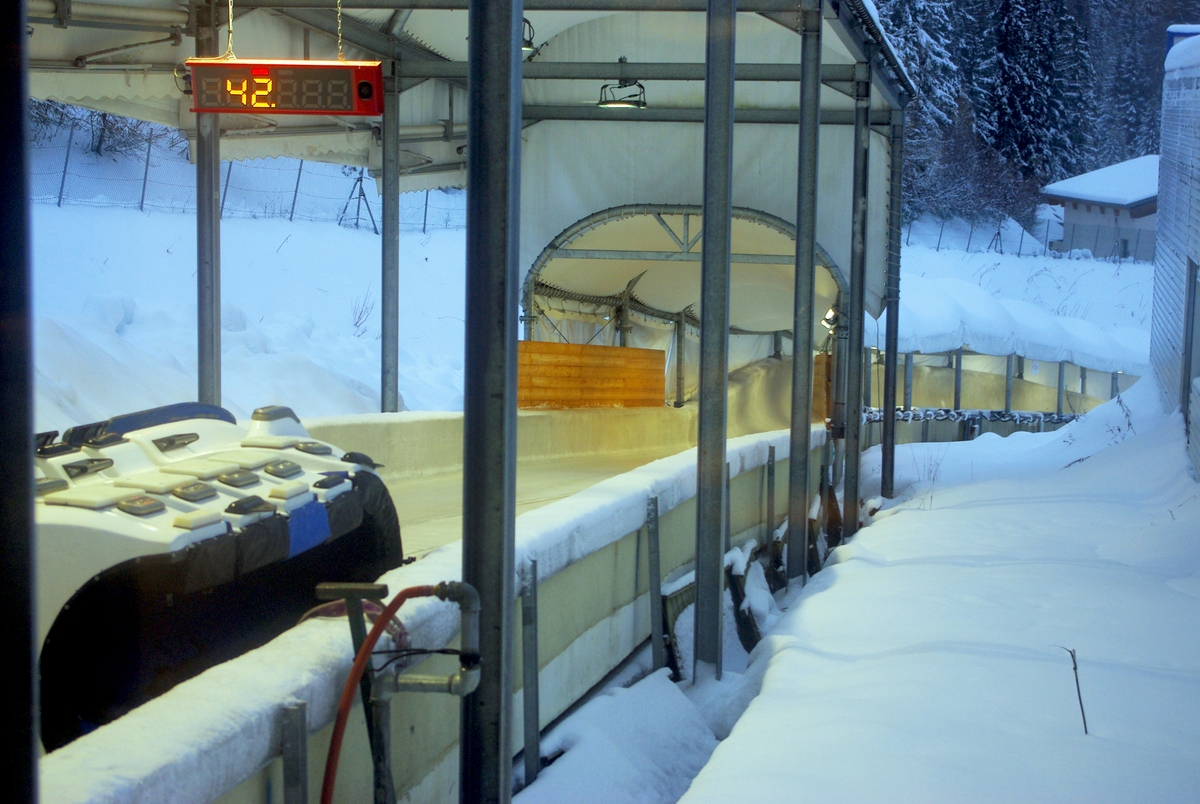 You have no doubt guessed that the ice doesn't just magically appear on its own! Even when the temperature outside is below freezing it takes 6 days of work by a team of 50 people to craft the track!
The location of the track was carefully planned as it faces North which helps the glaciers' job of keeping the track in top condition. The glaciers at La Plagne are highly skilled and were even called upon to supervise the crafting of the ice for the bobsleigh course for the 2014 Winter Olympics.
Before (in the 1990s) 45 tons of ammonia were used to cool the track. Now, the use of ammonia has become controversial so brine water is used instead which is more ecological.
Security is no laughing matter!
There are no less than 280 sensors all along the track which enable the temperature of the run to be controlled. You don't imagine all the detail that goes into it as you are hurtling down the track!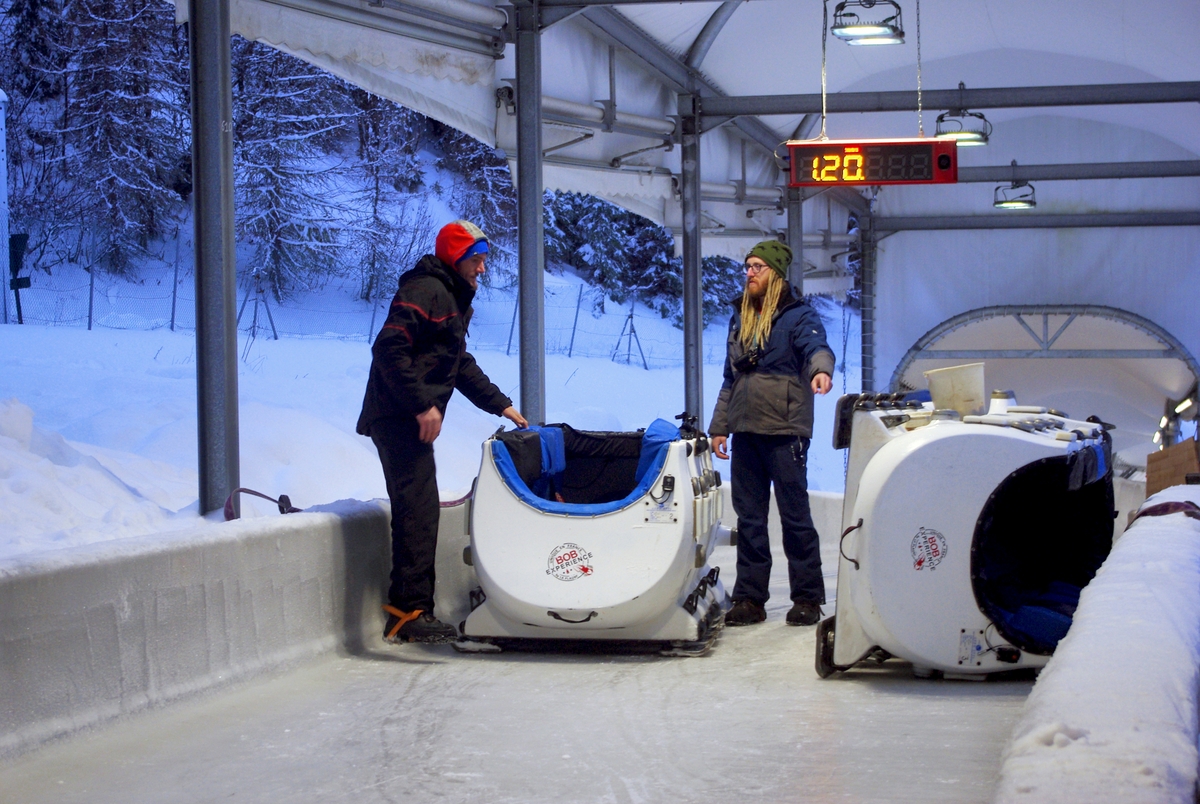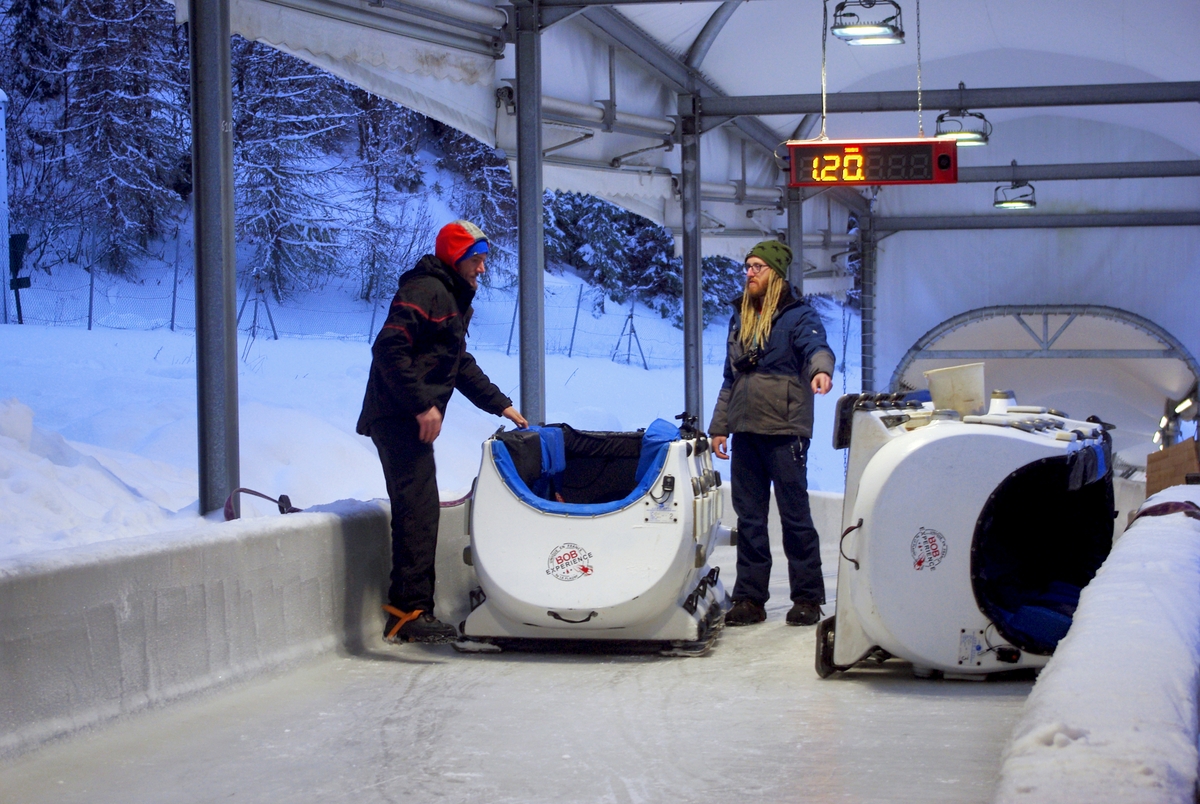 So who is driving?
Ummm …. well no-one … unless you choose the Bob Racing option where a professional pilots the La Plagne Bobsleigh!
With the options Bob Raft or Bob Luge it is a self-guided / auto-breaking run where the bobsleigh is pre-programmed using the security sensors to break at certain points.
I didn't realise but each day they have to re-set these depending on the conditions of the ice! You can find out more about the different options at the bottom of this post.
Recap of our bobsleigh run…
Invited by the Office de Tourisme de la Grande Plagne we got to try out the Bob Raft. We were driven up to the hamlet of La Roche which is just below the Plagne 1800 ski station.
The huge Olympic site was spread out below us as we arrived at the departure point of the bobsleigh run. The place was buzzing with people all waiting for their turn. I was surprised by how popular it was but then as it only opens at 4 pm to the public each day the crowds made sense! There was a sense of history and something special, made even more magical by the falling snow around us.
Our little team
Josiah, 13 years old, my English nephew who had come to spend Christmas with us
my wife Rachel and
me!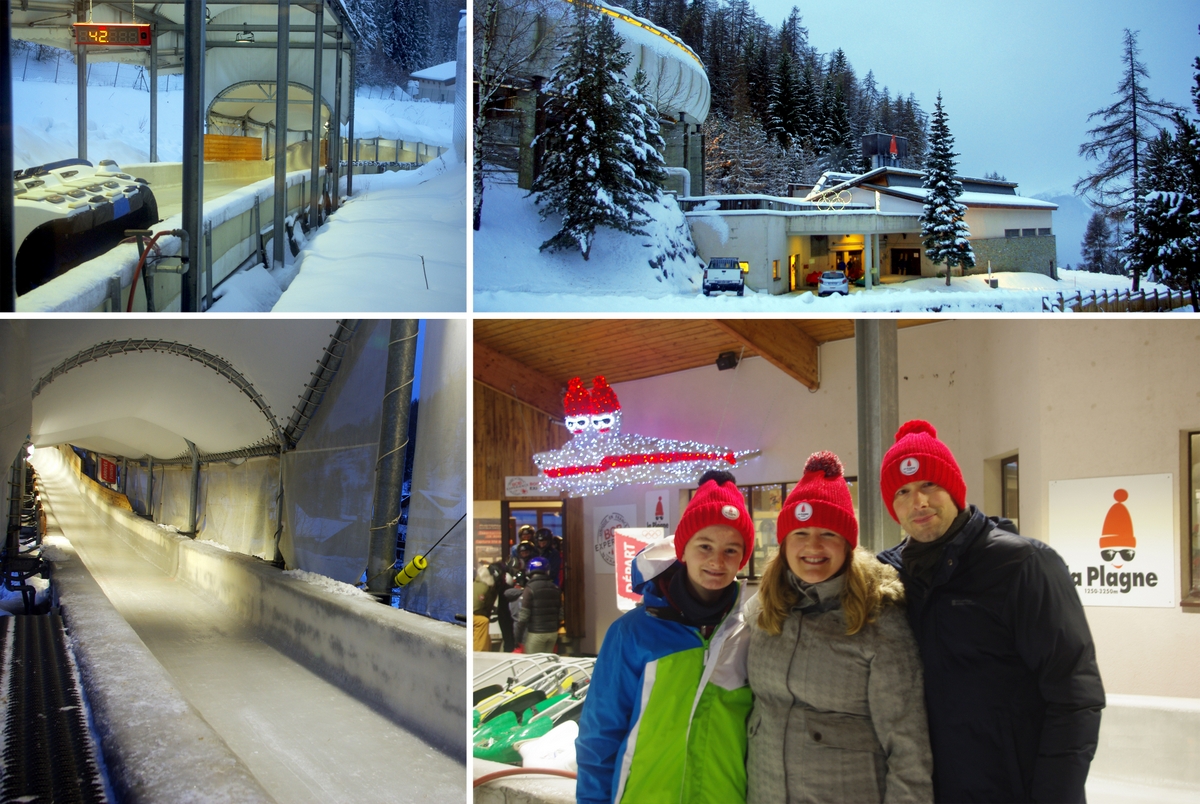 Before accessing the track we put on a helmet that would protect our head and neck.
The Bobsleigh
For the Bob Raft, you go down in an engine similar to those used by athletes, 3.5 metres long with a weight of 270kg.
Getting ready!
You sit in a line inside the bobsleigh with your legs around the person in front of you. There is a soft mattress to each side for protection and ropes to hold onto. Needless to say, it's nice and cosy with the four of you! The staff check you all have your lap belt on and that you're secure.
Josiah went up front, followed by Rachel, then me and behind another person, on holiday from England too.
The launch and descent
With a big push, we were off!
Quite a peaceful launch… so far so good.
After the first couple of bends, I thought "ok, this is not too scary, I can handle this".
How fun to be gliding down the icy track!
But quickly things got a bit more dramatic…!
When the bobsleigh reached high speed and hit the next bends it was an incredible sensation…
Shcrrriiiiiiiick! You can hear the engine squeaking and breaking on the ice! I think I'll remember that sound all my life!
By halfway down I'd lost count of how many bends we'd been down.
Shcrrriiiiiiiick! How many bends were there?
19… hmmmm … still quite a few to go…!
Shcrrriiiiiiiick! This is never going to end …!!!
I lean my head a bit to the right to take in the view… and to take my mind off what I am actually doing … it's a very different experience to a roller coaster ….
Shcrrriiiiiiiick ! Shcrrriiiiiiiick !
Then I think of my little girl and wonder if she's having fun at the after school club back home in our village across the valley.
Shcrrriiiiiiiick!
Ok, almost there…
Shcrrriiiiiiiick ! … almost at the end.
Shcrrriiiiiiiick!
And then suddenly it was over: the bobsleigh went up into the breaking tunnel and then slowly rolled back to the finish line.
Phew!
That was the longest 1.30 minutes of my life!
We got out of the engine with our legs a bit wobbly.
The sleigh was then lifted onto a truck which takes the bobsleigh and the passengers back up to the top of the track.
First Reactions
Josiah was very happy with his adrenaline rush ("holidays in the French Alps are awesome!")
Rachel was still in shock ("how on earth did I agree to do that?!")
Me – I had to quickly focus as I still had some photos to take for the blog, such as this one: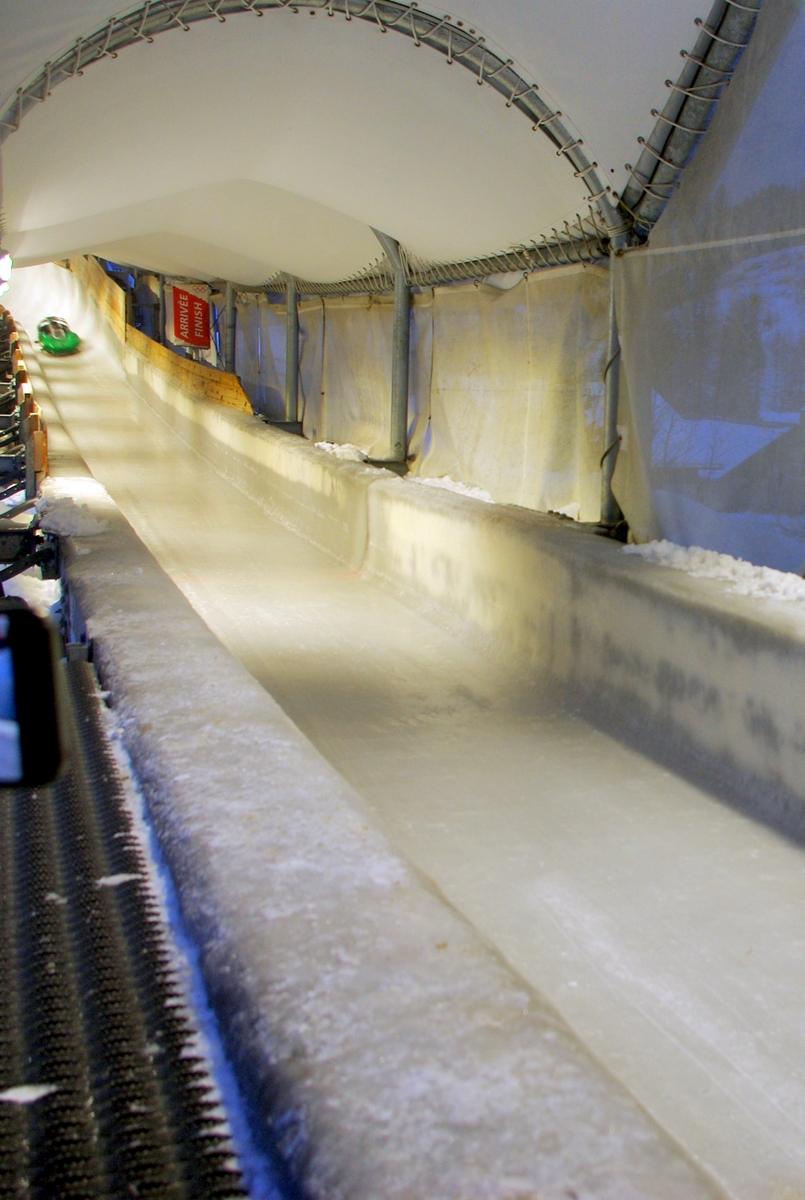 Before going down the run we didn't realise quite how full of sensations it would be!
It's a super impressive winter activity to do but not for the faint-hearted!
Honestly speaking if you have a health condition or don't like strong sensations then this isn't for you … but there are a ton of other lovely things to try out at La Plagne if this isn't your cup of tea.
I had often thought that going down a bobsleigh run would be like a ride at an amusement park it's totally more than that in every regard – it's a really spectacular experience where each descent is slightly different.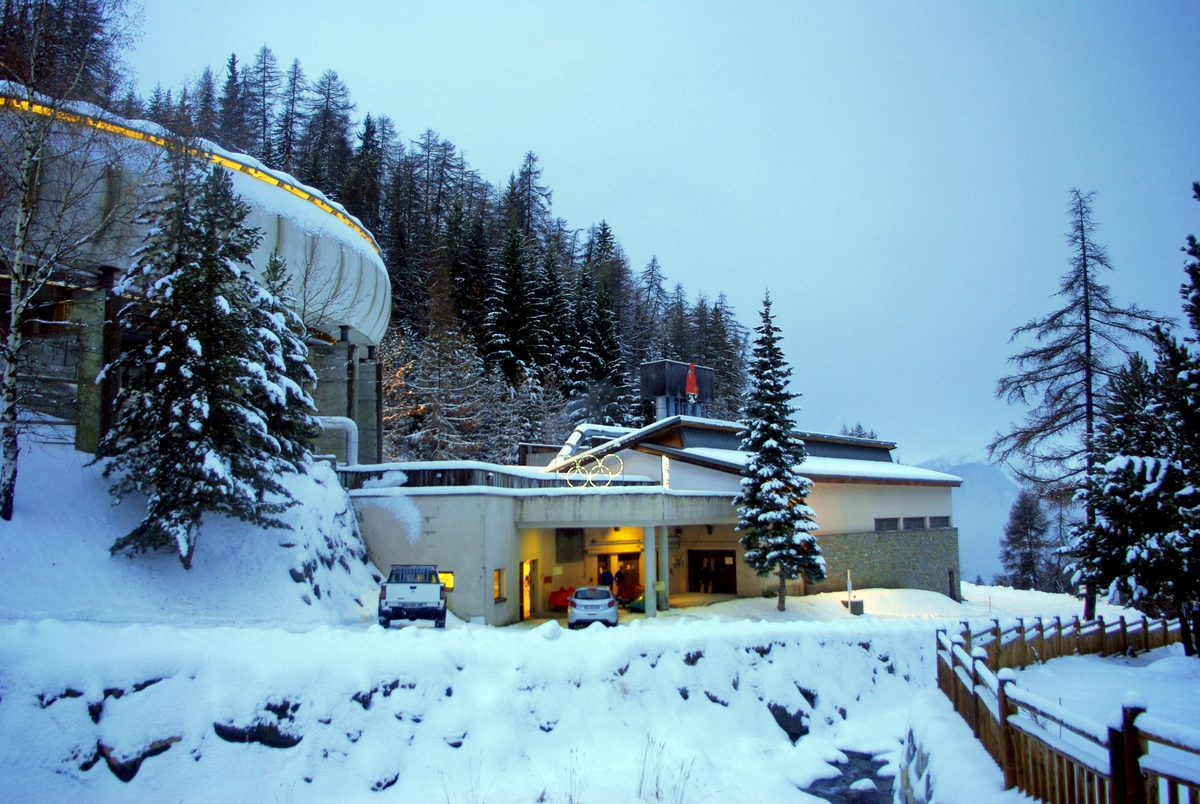 Return to the starting point
Once we got back to the top, the icing on the cake was to get a video to take home of our bobsleigh run on a USB key.
A video? yes – the bobsleigh is equipped with 3 cameras to get different angles and also film the track as you go down!
Thanks to Photofinish, our Bobsleigh run at La Plagne can be re-lived! for about 15 euros you get to keep a film and momento of the unforgettable experience!
I should have smiled a few times for the camera! When I think of all the funny faces I made bend after bend!
Check out our video below which Photofinish have kindly let us share with you! It was actually a lot faster than what it seems on the video – somehow the film makes it look much more serene!
Impressive?!!! Next time it's your turn! 🙂
The three different Bobsleigh run options
Depending on the level and speed you prefer…
The BOB RAFT (the one we did!)
Climb aboard a 4 seat bobsleigh (perfect for families and friends!)
Self-guided and breaks automatically
Speed: 80km/h
Open Tuesday to Sunday from 4 pm to 6.30 pm
For under 14's: minimum height 1m30 and accompanied by a parent.
From 14 years old: parental authorisation or accompanied by a parent/guardian
The SPEED LUGE
Solo run on a skeleton bobsleigh. In between a bobsleigh and a sledge, you go down the run in a semi-laying down position in a self-guided and auto breaking skeleton engine.
You have a better view of the track as you go down.
Speed: about 90km/h
Open Tuesday to Sunday from 4 pm to 6.30 pm
The minimum age is 16 years old. Written parental permission is required or the presence of a parent/guardian for 16-18-year-olds.
Le BOB RACING
Climb aboard a bobsleigh with space for three passengers behind a professional racer.
In this descent the pilot drives and breaks … the closest to a real bobsleigh experience like in a competition!
Speed: up to 120km/h
Wednesday, Thursday or Saturday from 6 pm, Sunday from 4.30 pm
With its adrenaline rush and speed, this run is not for the weak hearted!
The minimum age is 16 years old. Not recommended for people suffering from heart problems, back or other vascular conditions, pregnant women or those having recently given birth. Written parental permission is required or the presence of a parent/guardian for 16-18-year-olds.
Practical information about the La Plagne Bobsleigh track
Opening hours
It's pretty obvious but don't turn up in summer! The ice will have melted a long time ago. That being said the track is used in the summer as part of the famous 6000D race! You can also walk up to it in the summer season.
This winter the Olympic bobsleigh run at La Plagne is open from December to early April.
Access
The departure point is at La Roche, just under Plagne 1800. There is a shuttle bus available from the ski stations or simply drive and use the car park.
GPS: Latitude: 45.519985 / Longitude: 6.68134
How to book
To book your unforgettable experience in a bobsleigh at La Plagne, click here.
Follow these 5 steps to make your booking and you are ready for one of the most amazing experiences you'll ever have!
the type of run (bob raft, speed luge, bob racing)
choose an available date
enter your personal details
review and pay for your booking
receive your booking confirmation
Contact details and for more information
If you need any further information about the La Plagne Bobsleigh:
A huge thank you to the Office de tourisme de La Grande Plagne for inviting us to try this out and for giving us such a warm welcome. it was an unforgettable lifetime experience. Merci!
Pin it for later
Did you like what you read? Pin it on Pinterest: