Kugelhopf, Kougelhof, Kouglof… there are many names to describe what is certainly Alsace's most famous cake which depend on local germanic dialect. A Kugelhopf is also prepared in neighbouring regions of Southern Germany, Switzerland and Austria.
---
This recipe gives a 'soft' variant of the cake: spongy and moist it melts in your mouth when fresh. The Alsatian tradition is to eat a much 'dryer' Kugelhopf, which some locals dip in their morning coffee. In Alsace, the briochy cake is often traditionally prepared for Christmas.
---
Ingredients
500g plain flour
120g caster sugar
120g unsalted butter – soft (room temperature)
2 eggs lightly beaten
250ml milk
A little vanilla sugar (1 sachet) or a couple of drops of vanilla extract (optional)
salt
1 sachet of yeast
almonds (unsalted) – about 30
sultanas soaked in rum
About the mould:
The dough that you will get from the recipe will make two average-sized Kugelhopfs.It is best to use ceramic moulds, such as those found in Alsace, however, you could use a similar mould in silicone or aluminium if you can't get a ceramic one.
---
Method
Warm the milk and melt the butter with it.
Mix the flour, sugar, salt and add the dried yeast.
Make a well and then add the milk and butter and the eggs.
Mix until the mixture comes away from the side of the bowl.
Leave to rise for several hours with a clean dry tea towel over the top.
Once the dough has rise, beat the dough again to incorporate more air. Drain the sultanas and roll them in a little flour, then carefully mix them through the dough.
Butter the moulds and put an almond in each hole.
Put the mixture into each mould (do not overfill as some room is needed when it rises a final time).
Leave to rise again for several more hours with the tea towel on the top.
Once the dough has risen, cook in an oven at 180 (150 if fan assisted) for about 50-60 minutes. You do not need to pre-heat the oven – it should be cool when you put them in.
When you take them out leave them to cool a little (20-30 mins) and then carefully tip the mould up and release the Kugelhopf.
Decorate with icing sugar.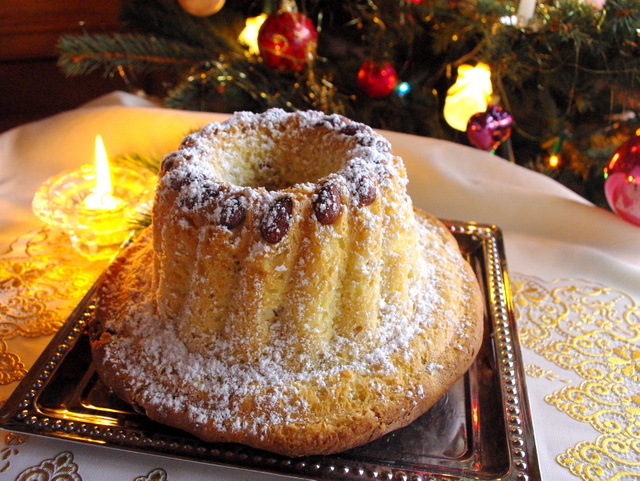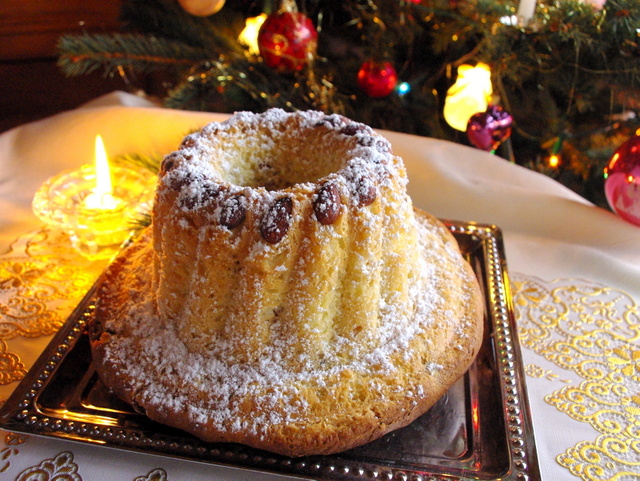 ---