Provence immediately conjures up images of lavender-filled fields, beautiful farmhouses and manors with their leafy terraces and linen-draped tables adorned with fresh-cut flowers, olives, local wines and dishes filled with sunshine. One of our favourite regions of Provence is the Luberon which lies to the east of Avignon and north of Aix-en-Provence. This area has always been a popular destination for well-heeled tourists renting villas in the south of France. Peter Mayle's "A Year in Provence" and the film "A Good Year" have helped put Provence on the tourist map and it's not hard to see why. After all, who wouldn't want to spend their holiday in the Luberon!
A dream holiday in the Luberon
When it comes to accommodation in Provence we highly recommend renting a luxury villa over a hotel stay as it means you can have more flexibility, you can eat when you want to and relax around your own private pool in complete privacy. Having a home to come back to rather than a hotel room means you have space, a peaceful, private environment, and your own kitchen in which to prepare all those gorgeous ingredients you'll want to buy at the local markets. If you are going away as a group you can easily find large properties in the Luberon area with numerous ensuite bedrooms, multiple outdoor areas and break-out spaces which makes holidaying together so much easier between friends or family. You can also completely customise your experience and get the dream holiday you've been waiting for.
The Luberon is home to lots of small villages which cling to the foothills and exude beauty with their very narrow cobbled streets, flower-strewn buildings and houses, cafés, fountains, small grocery stores, boulangeries and village squares where life seems to stand still and take you back in time to an era where smartphones and internet didn't exist. Here are 7 of our favourite villages which you must make sure you visit on your next holiday in the Luberon.
Lourmarin
Lourmarin is one of our personal favourites so we've put it top of the list! It has something very special with its relaxed winding narrow streets filled with Mediterranean architecture, art galleries and numerous cafés. Nestled between olive groves, vineyards and almond trees it is a lovely place to soak up the Provence atmosphere and people watch. Albert Camus who won the Nobel Literature Prize lived here, and his grave can be found in the cemetery. The beautiful Château de Lourmarin is worth a visit especially if you appreciate fine art. The village is classed as one of the "Most Beautiful Villages of France" and it's easy to see why!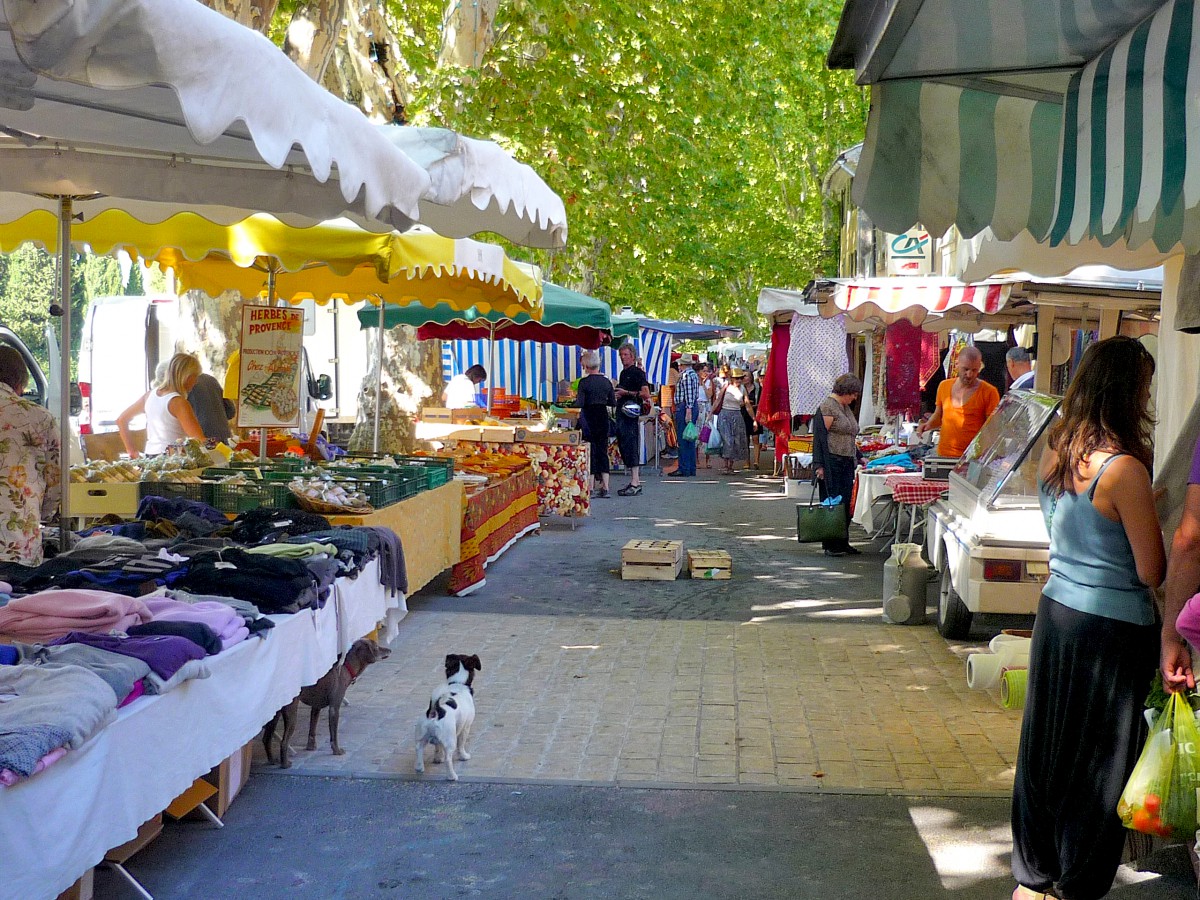 Market day on Friday is a highlight. The Lourmarin market has fewer food produce stalls than some other markets but alongside honey, ginger, olive oil, wine, herbs and local cheeses you can find an array of stalls selling colourful materials by the metre, table cloths and other artisanal and local items such as ceramics and kitchenware, crockery, baskets, soaps, carved olive wood, jewellery, wraps and scarves, handbags etc. It's the perfect place to find some memories to take home.
Roussillon
This village is named after and famous for its russet-red hues where the dust from the ochre cliffs upon which the village was built has tinted the stonework throughout the village. Roussillon is quite unusual with its stunning views over the Luberon and Mont Ventoux and below the vivid green pines contrasted by the red, yellow and orange-tinted ochre landscape. You can visit the Ochre Trail (Sentier des Ocres) where you have the choice of a shorter 30-minute or a longer 60-minute walk through the disused ochre quarry. It's a really unique experience and well worth visiting. The village itself has a good selection of shops, cafés, art galleries and ice cream shops and this is where we tried lavender ice cream for the first time!
The market on Thursday morning has a wonderful array of fresh produce stands selling seasonal fruit and vegetables, local goats cheeses, oils, wine, bread, honey, herbs, jams and charcuterie. Like Lourmarin, Ménerbes and Gordes, Roussillon has also been awarded the prestigious title of one of the "Most Beautiful Villages of France".
Ménerbes
Perched on the cliff this little village is one of the prettiest of the Luberon and has been named one of the "Most Beautiful Villages of France". Although it is not overflowing with shops and restaurants the few it has offer quality and authenticity and in any case, the village is worth visiting just for the view which can be enjoyed from the top. You'll find a boulangerie, a little grocery store, an ice-cream shop and a handful of lovely restaurants to choose from each offering menus full of local produce.
If you visit on a Thursday morning you can also stroll around the weekly market. If museums are your thing then in Ménerbes you might want to check out the museum about corkscrews "Musée du Tire-Bouchon" with a collection dating back to the 17th century with over 1200 pieces. There is also the Maison de la Truffe et du Vin whose cellar features all the AOP wines from Luberon, Ventoux et Pierrevert at the same price as you would find them at the cellar door. It also houses a gastronomic restaurant and a wine bar where truffles and an extensive wine list feature on the menu.
Bonnieux
Bonnieux is a beautiful village that clings to the Luberon hillside. If you want the best view you can climb the 86 steps up to the 12th-century Romanesque church which is right at the top of the hill. Once you've caught your breath you can then enjoy a gentle meander back down to the centre of the village and find yourself in a lovely square surrounded by colourful houses, cafés, a few art galleries and little shops. Friday is market day in Bonnieux and is well worth a visit.
Towards the bottom of Bonnieux is the "new church" which dates back to the 19th century. On the outskirts of Bonnieux, you will find Château la Canorgue which was featured in the film "A Good Year". It produces organic wine which you can purchase from May to August (Monday to Friday: 9 am to 7 pm and Saturdays 9 am-12 pm and 2 pm to 7 pm) but unfortunately, it is not open for tours.
There is however the Musée de la Boulangerie which exhibits the history of bread making and is housed in a 17th-century building. It opens from April to October most days from 1 pm to 6 pm (closed Tuesdays).
The Jardin de la Louve are private but outstanding gardens that are sometimes open to the general public. Make sure you book ahead as you can't just turn up without a reservation.
Gordes
This is one of the most visited places in the Luberon. Gordes is also one of the seven villages in the Vaucluse département that are members of the "Most Beautiful Villages of France". The labyrinth of steep cobblestoned streets with their specially spaced steps and carefully positioned pebbles are called "Calades". They were constructed to make it easier for people as well as donkeys and mules to go up and down the village.
The impressive Château that dominates the village was remodelled in the Renaissance but dates back to the 10th century. It can be visited from April to October and includes exhibitions on famous local artists. Don't miss the very pretty Romanesque Saint-Firmin church and the cellars of the Palais Saint-Firmin where there is a huge network of caves that used to be a hub of underground activity. Also, walk down the beautiful side streets to the Quartier de Fontaine Basse and try and imagine the industries that made up this neighbourhood in the 1700s including tanners, leatherworkers (there were 400 shoemakers in the early 19th century), silkworm raising and wool carding.
If you are visiting in August then the first weekend there is the annual Wine and Olive Oil fair in Gordes. Throughout the year there is a market every Tuesday morning in the village centre and a Farmers Market takes place on Thursday evening (June to September) at the hameau "Les Imberts". You will find a wonderful selection of restaurants and cafés in Gordes, including some Michelin recommended ones. And after you visit the little shops and galleries make sure you take time to walk off the beaten track and soak up the authentic atmosphere of Gordes in one of the quieter side streets whilst admiring the view.
Just outside Gordes and worth a detour …
Abbaye Notre-Dame de Sénanque (5km from Gordes): this Abbey is a popular photo spot and is well worth a little detour, especially when the lavender is in full bloom from the end of June to late July when it is usually harvested. The Abbey is still occupied by a community of Cistercian monks so although visits are possible there are strict hours and conditions. Services are open to the public. More info on the Sénanque Abbey.
Bories Village (3km from Gordes): Le Village des Bories is an open-air museum of drystone-built huts constructed at the beginning of the 17th century.
Le Musée du Moulin des Bouillons (4km from Gordes): this museum which is set in a 3 hectare park also houses the Musée de l'histoire du Verre et du Vitrail (Museum of Glass and Stained Glass). At the Moulin des Bouillons which is set in a very old olive oil mill you will discover the history of olive oil and savon de Marseille (soap).
Cucuron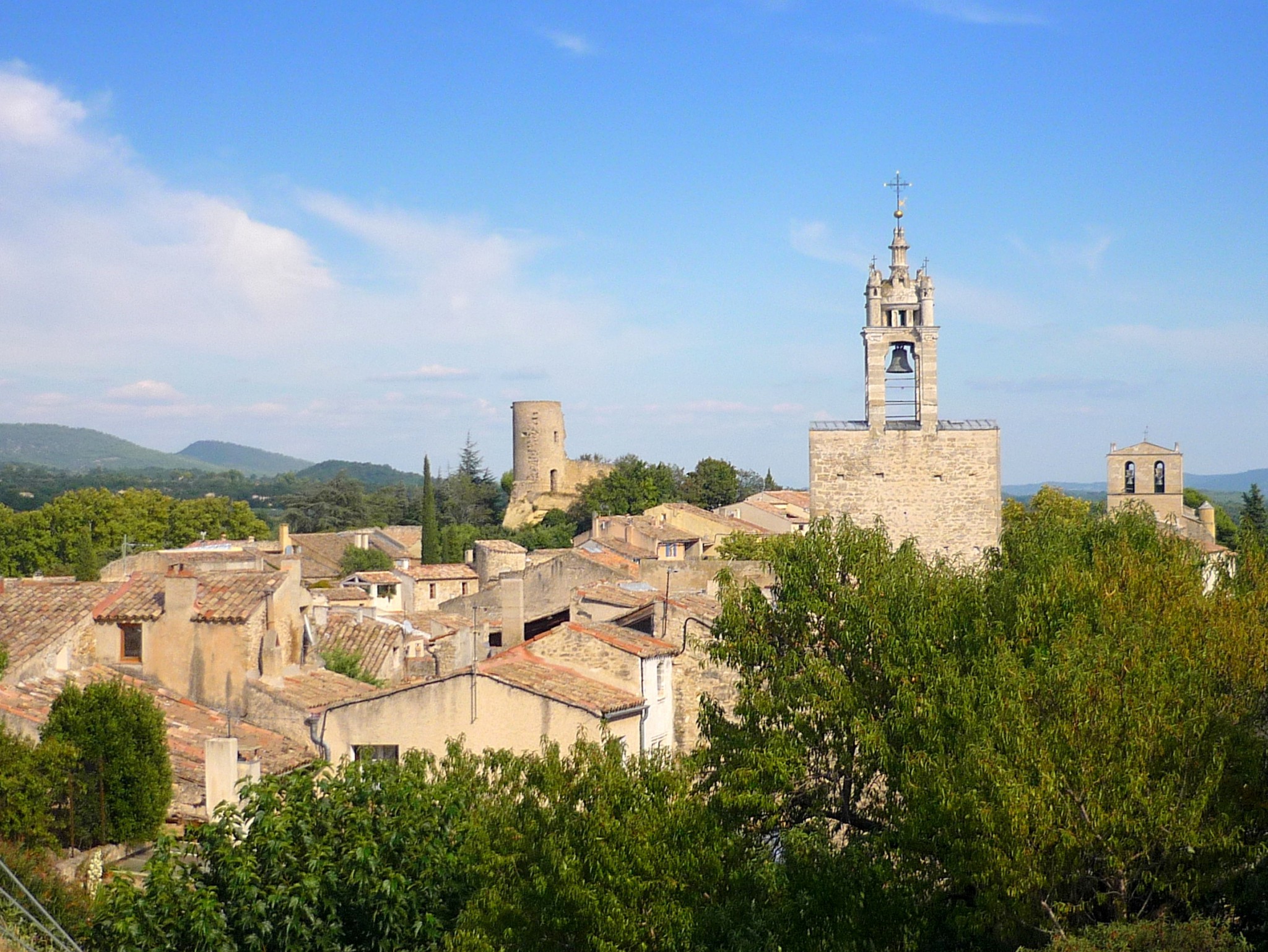 This pretty village became famous with the film "A Good Year" for the scene where Russell Cowe and Marion Cotillard have a drink and their first kiss in the rain by the Bassin de l'Etang which is a huge man-made stone pond that dates back to the 16th century and was originally used to power flour mills. In the 19th century, it stopped being used and became purely decorative and it now provides a pretty focal point for the village with restaurants located around it and is also where the weekly market sets up on a Tuesday morning.
La Petite Maison de Cucuron is a well-established restaurant worth checking out. The village is home to a small museum: Musée Marc Deydier which has free entry and has some photos and history of the village on display. The village's history goes back to Roman times and you can see medieval remnants as you stroll through the streets and admire the ancient churches, the bell tower and ruined keep.
Oppède-le-Vieux
Oppède-le-Vieux is a small, but rather pretty hilltop village which has been named an "Outstanding Heritage Site" with ancient ruins of a castle perched high on the rocks. Not for the faint-hearted as you have to park your car outside the village and walk a good 5-10 minutes uphill. A further 10-15 minute walk up a stone path and you'll have reached the castle and church of Notre-Dame-d'Alydon situated above the village and be rewarded with some incredible views over the Luberon valley below.
The village has some stunning restored 15th and 16th-century houses you can admire as you stroll through the streets. Sit in the peaceful square for a few moments and soak up the atmosphere, get a drink at one of the outdoor cafés, this is what a holiday in the Luberon is all about.
More info!
Other villages not to be missed in the Luberon if you still have time are Lacoste, Ansouis, Fontaine de Vaucluse and Saint-Saturnin.
Resources
We would like to say 'merci' to our partner Luxury Retreats for this sponsored post.
Let us know your favourite places in the Luberon and what you enjoyed most about this beautiful region.
Inspired by a holiday in the Luberon? Pin it for later: