Since its creation in 1994, the Christmas markets of Grenoble has become one of the most popular in the Rhône-Alpes region. The beautiful site of Grenoble, a city surrounded by the mountains of the French Alps, fits well with the festive atmosphere during Advent.
Grenoble Christmas Market
The Grenoble Christmas market takes place in the centre of town, along Place Victor Hugo, Rue Félix Poulat and Place Grenette, which are bordered by authentic Haussmann-style buildings.
The Christmas market is organised by the Tourist Office for the City of Grenoble and draws more than 500,000 visitors each year.
The mountain chalets and the 91 exhibitors offer a number of handcraft items: wooden toys, Christmas decorations, santons, jewels and original gifts. Local produce include snails, ravioles gratins, seafoods, foie gras, honey, gingerbread, and chocolates.
Under a marquee set on Place Victor Hugo, a sit down temporary restaurant with space heaters place offers a restful interlude to the discovery of this festive market.
The Christmas lights in the town of Grenoble are found on 200 sites and 120 streets.
There are also live performances by local artists which run in Place Victor Hugo.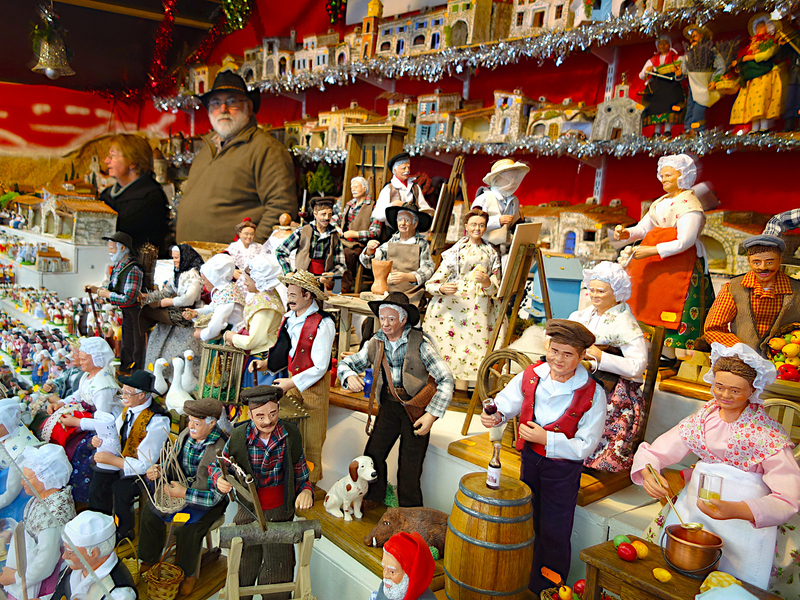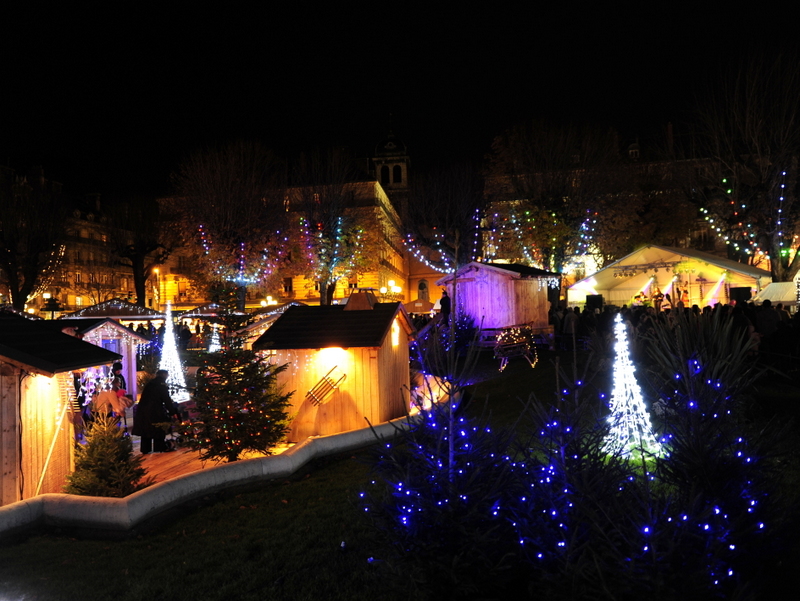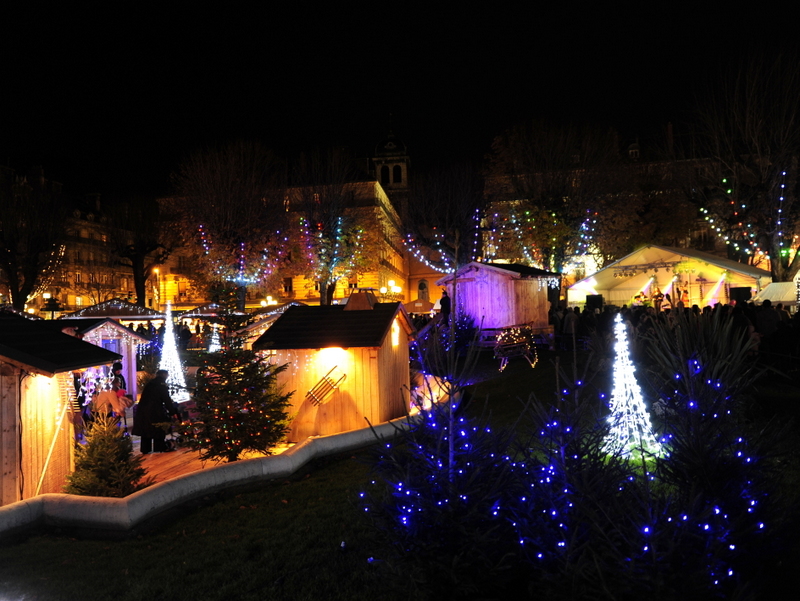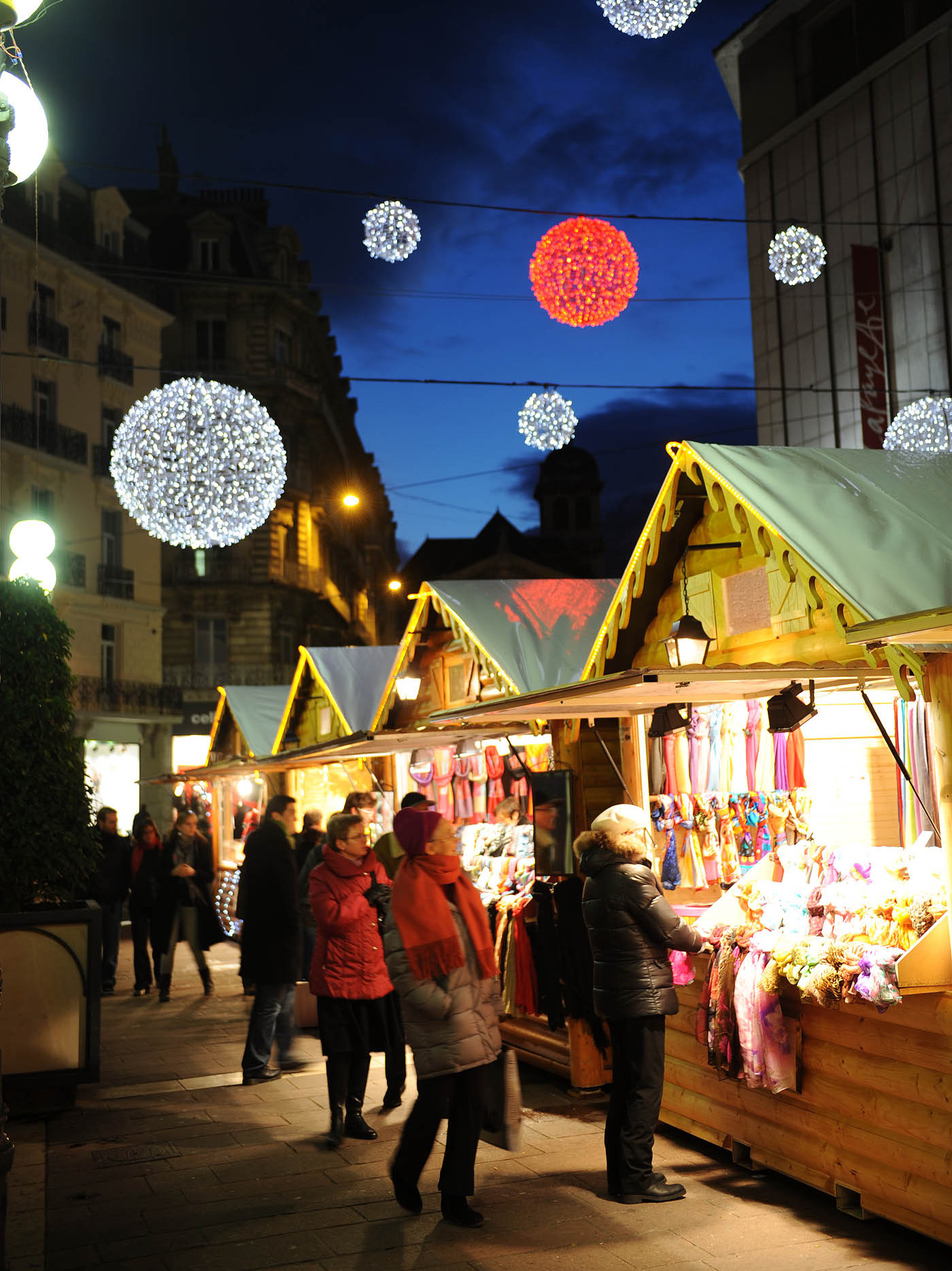 English-French Vocabulary
(f) for féminin, (m) for masculin, (adj) for adjective and (v) for verbs
Advent = Avent (m)
Alps = Alpes (f,p)
Christmas = Noël
Christmas Eve = veille de Noël (f) / réveillon (m)
Christmas lighting = illuminations de Noël (f,p)
Christmas market = marché de Noël (m)
Father Christmas = Père Noël (m)
holiday season = période de Noël (f), temps des fêtes (m)
Santa = Père Noël (m)
square = place (f)
street = rue (f)
French Moments would like to thank the Tourist Office of Grenoble for giving us the opportunity to share their photos on this page, including the featured image.
Visit the Tourist Office website of Grenoble.