Buenos Aires, the capital of Argentina, is famous for its unique blend of cultures, reflecting the heritage of various influences that have shaped its identity. Although much of the immigration came from Italy and Spain, the French touch occupies a special place among these influences, manifesting through different aspects of the city's daily and cultural life. Here are five elements that witness the French Touch in Buenos Aires.
The French Touch in Buenos Aires
Architecture and picturesque streets
Some of the streets of Buenos Aires are dotted with French architectural influences, reminiscent of the elegance and charm of old Paris. Neoclassical and Art Nouveau buildings adorn the streets, testifying to the French influence in the design of public and residential buildings. The Retiro district, in particular, is renowned for its French architecture, offering visitors a real immersion in the past.
We recommend you take a walk starting from the Plaza San Martin and continuing along Calle Arroyo-Alvear until you reach the Recoleta. You may find it interesting to note that many shops have names directly in French: la Bouqueterie, Palacio Versailles (located at the intersection of Avenues Alvear and Callao), Palacio Duhau, etc.
Opposite the Plaza San Martin, there are two buildings that you can visit. The "Círculo Militar" is an old house built by the French architect Louis-Marie Henri Sortais for José C Paz, the owner of the most widely read newspaper at the end of the 19th century, La Prensa. Guided tours are available.
The current Ministry of Foreign Affairs is on the other side of the Plaza San Martin. In Argentina, it is known as the Cancillería. This large mansion belonged to one of the city's wealthiest families, who, like other wealthy families, travelled constantly to Paris in the late 19th and early 20th centuries.
Patisseries and gastronomy
The French passion for pastries has recently left a delicious mark on Buenos Aires. Although there have always been a few French bakeries and patisseries, they were frequented by the wealthier classes. However, there is a fascination with the rediscovery of French patisserie, which has led to businesses opening in many neighbourhoods without initial French presence.
Many bakeries and patisseries offer croissants, éclairs, macaroons and other sweet delights reminiscent of French savoir-faire—just a few examples: Co-pain, Merci, Le Pain Quotidien, Croque Madame, Brioche Doré.
The city's traditional cafés offer a French-style experience, freshly baked croissants and top-quality coffee. The city's oldest café is called Café Tortoni and was founded by a Frenchman in 1958.
The elegance of tango
Although tango originated in Argentina, it was greatly influenced by French ballroom dancing. At the end of the nineteenth century, when tango was born, the wealthy classes did not appreciate it because the words and movements were considered crude. However, around 1910, tango began to be danced in Paris and became a success. The dance became more elegant and sophisticated on Parisian dance floors, adding a unique touch to the Argentine style.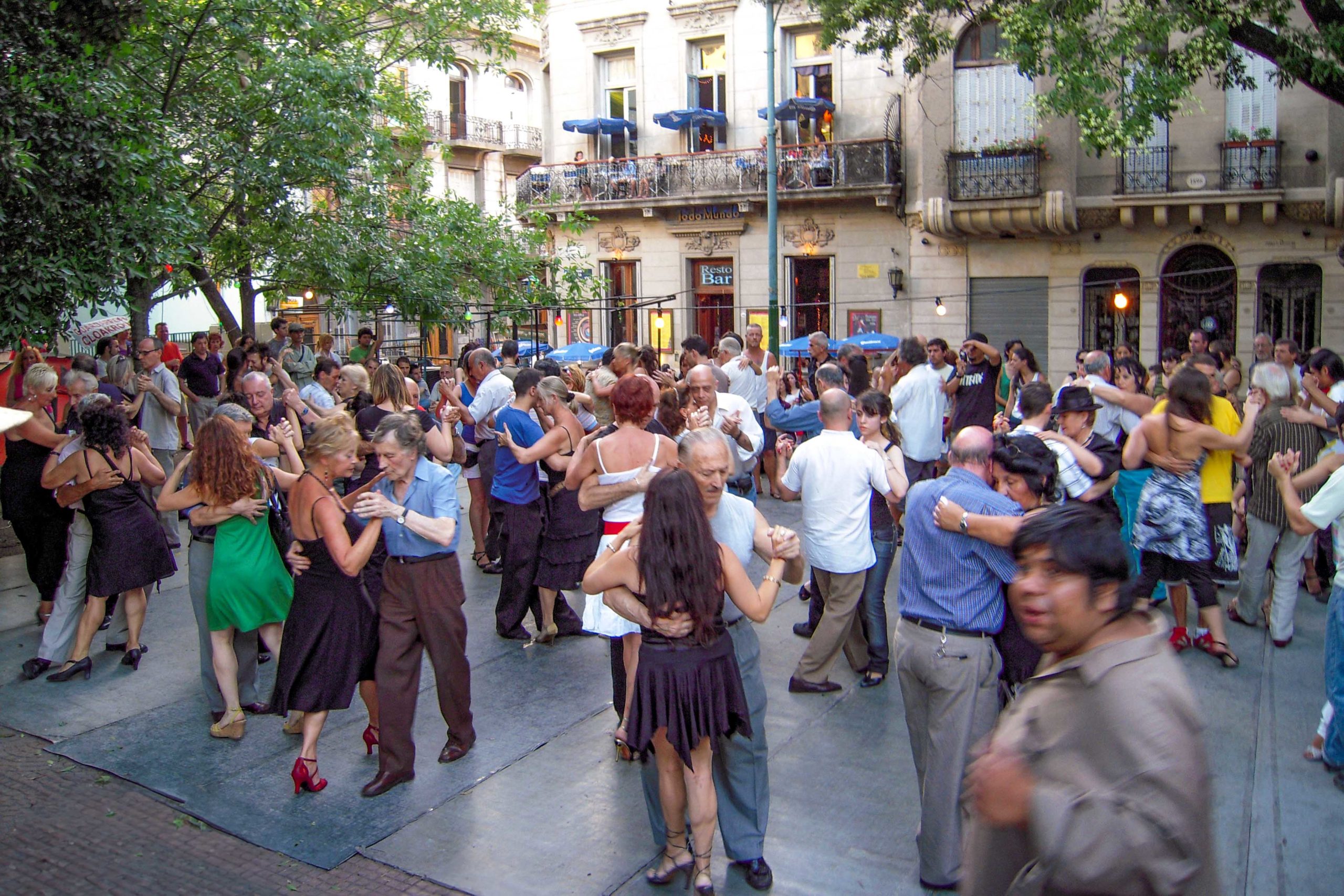 Argentines travelling to Paris were fascinated by the dance and brought it back to Buenos Aires, from where hundreds of places to dance opened up.
Today, any foreigner can see tango, either in a tango show or in a milonga, the term we use to designate a musical rhythm and where we dance the tango.
Education and Culture
Buenos Aires is home to many educational and cultural institutions inspired by the French model. Cultural alliances, schools and French language centres help to promote the French language and culture in the city. In addition, the presence of bookshops selling French literary works and cultural events showcasing French artistic creativity bear witness to France's lasting impact on the intellectual world of Buenos Aires.
Every year, the French embassy opens its doors to visitors in a magnificent French mansion with exquisite architecture. Such is the buzz that people usually wait two hours in line to get in.
Parks and gardens
The French influence can also be felt in the city's green spaces. Parks and gardens laid out in the style of French gardens offer havens of peace and beauty in the heart of Buenos Aires. Tree-lined avenues, artistic sculptures and fountains are reminiscent of the iconic gardens of France, inviting citizens and visitors alike to enjoy moments of relaxation and contemplation.
The star landscape designer was Carlos Thays, a Frenchman who arrived in Argentina and designed many of Buenos Aires' squares and parks. Many of them are also home to French monuments. The Thays family is now in its fourth generation and remains involved in landscape design.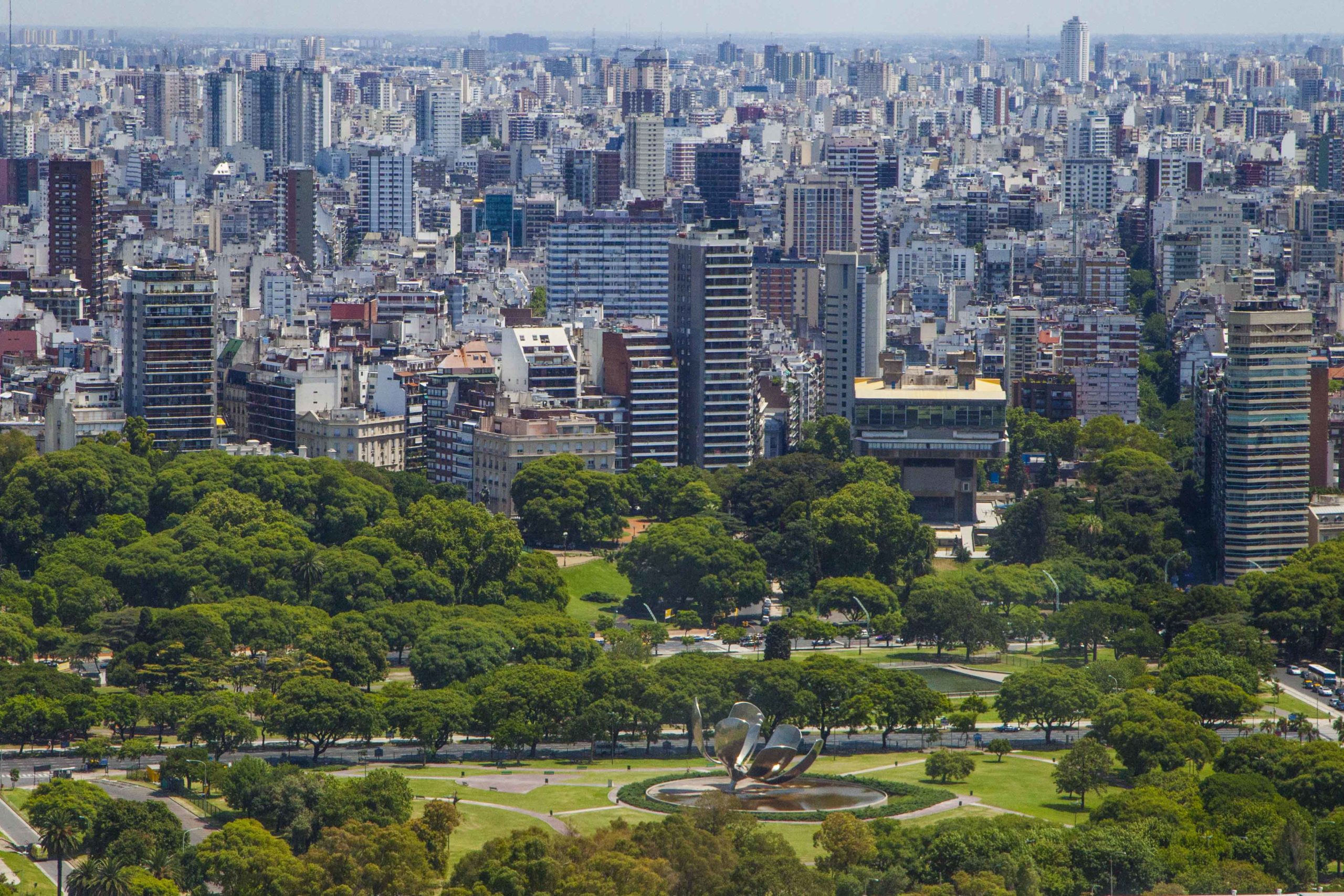 In conclusion
In conclusion, the French imprint in Buenos Aires is deeply rooted in various aspects of the city's cultural and urban life. From architectural elements to sweet treats, dance and education, France leaves its distinctive mark on the Buenos Aires cultural scene, creating a unique link between the two worlds.
Pablo wrote this guest post from Fulanoinfo.com, which offers tourist info about Argentina in French.
Featured image: 9 de Julio Avenue at sunset – Buenos Aires. Photo by diegograndi via Envato Elements