In this article, I give you 10 French books ideas that can inspire you for your child(ren)'s Christmas presents.
10 French Books Ideas for your Child's Christmas Presents
I've gone through my daughter Aimée's (8 years old) library to come up with some French books ideas and recommendations for Christmas.
I hope you find this little list useful and that it inspires you to find a quirky and out of the box Christmas (or birthday) gift!
Let me know in the comments below if you recommend any other French books ideas for Christmas! 🙂
Astérix et le Griffon
This is the latest comic book featuring Asterix the Gaul (October 2021).
Asterix, Obelix and Dogmatix are back for their 39th adventure. Accompanied by Getafix, the most famous of the druids, they are about to set off on a long journey in search of a strange and terrifying creature.
---
The Usborne First Thousand Words in French
A classic French bi-lingual word book, illustrated by Stephen Cartwright, reissued to celebrate the 40th anniversary of Usborne Publishing. A thousand everyday words are illustrated with fun themed scenes and labelled pictures to help children learn key French vocabulary.
---
La famille Oukilé
The Oukilés (literally Où qu'il est? – Where is he?) is a friendly family of globetrotters created by Béatrice Veillon.
The Dad with a prominent lock of hair, the Mum who runs around everywhere, Nestor and Flore, the two intrepid children and of course, the faithful Opié, a dog traveller.
The book has a similar concept as "Where's Charlie?": you have to find them in the four corners of the world, in a dense crowd. When you have finished finding them, you can extend the game with many other characters or objects to find on each page. You can also enjoy watching the different scenes, which are full of gags and anecdotes!
The Oukilé family books also have pages with geographical and cultural information.
La famille Oukilé visite Paris (the Oukilé family visits Paris)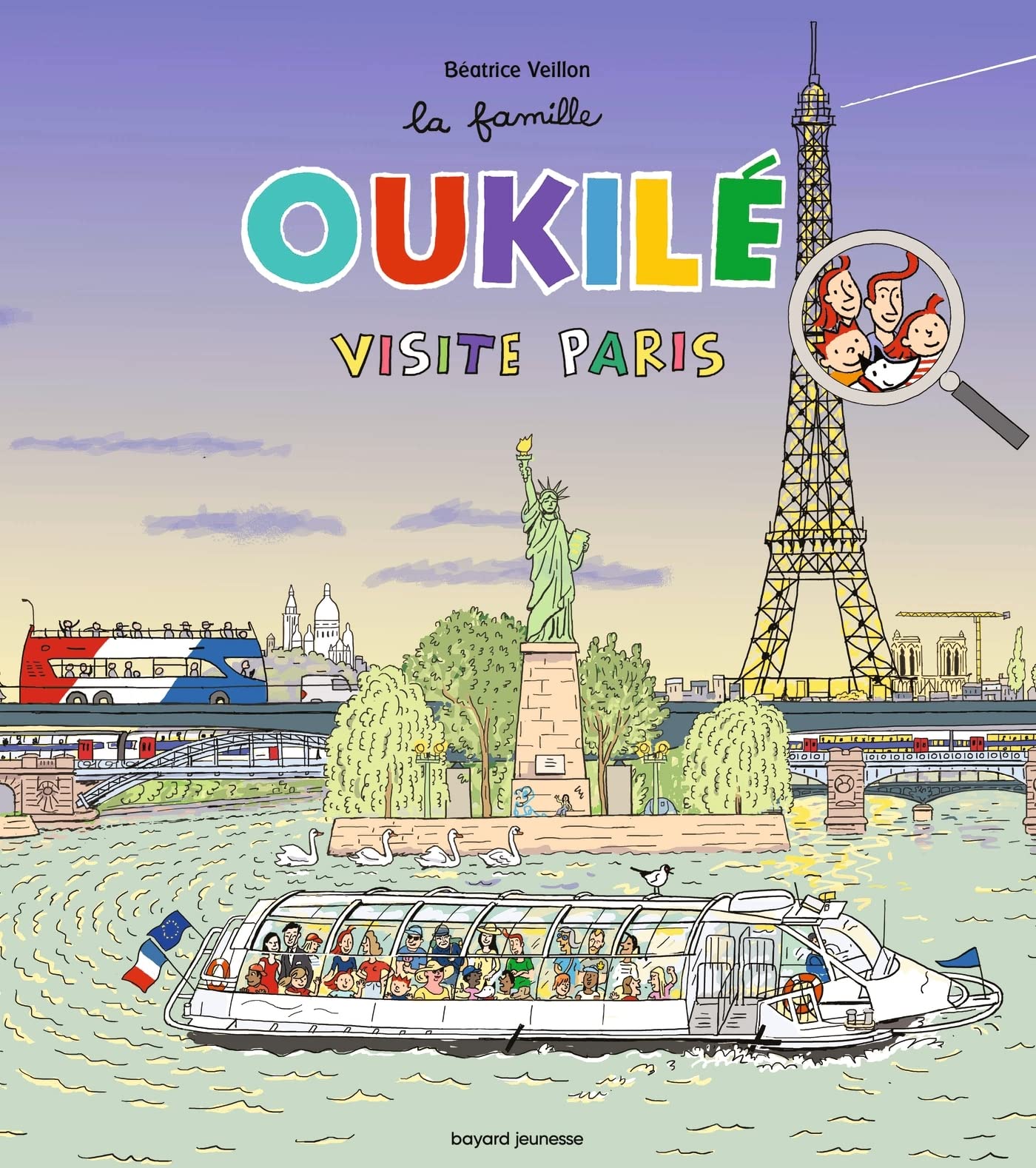 Notre-Dame de Paris, the Musée d'Orsay, the Eiffel Tower… Mr and Mrs Oukilé and their children, Flore and Nestor, stroll through 11 districts of the capital.
They visit famous museums and monuments, as well as more secret places, and stroll around discovering Paris and the Parisians.
Open your eyes and have fun looking for them in the large pictures full of details.
And, at the end of the journey, discover the unusual information that Flore and Nestor have collected in their travel diary!
Le Très Grand Voyage de la famille Oukilé (the very big trip of the Oukilé family)
This is a compilation of four albums in which the Oukilé family travels around the world in 45 destinations. Travel with them through Europe, America, Africa, Asia and Oceania, explore the world, discover cultures, meet people and… keep your eyes open!
Will you be able to find them in these large images?
This is a very large book format which features large picture pages on the animals of the world, the architecture and monuments of the world, the means of transport and all the souvenirs brought back by the Oukilés.
Le Tour de France de la famille Oukilé (the Tour of France of the Oukilé family)
Mr and Mrs Oukilé and their children, Flore and Nestor, go on a grand tour of France.
They are going to discover the landscapes and the particularities of 14 regions of France:
Brittany, Normandy, the North, Paris, Strasbourg, Jura, Lyon, Provence, Quercy, the Loire Valley, Angoulême, the Basque Country, Roussillon and Corsica!
Have fun looking for them in the large pictures full of details.
And at each stage, discover the travel diary that Flore and Nestor have made!
---
The Geography of France Workbook: 60 Fun Activities for Kids
This is actually my book! This collection of 60 activities will help your child learn all about the Geography of France. The worksheets are aimed at children aged 8-12 but some content can even be used by college students. Depending on your child's age, some activities may require a little bit of help from a grown-up!
Topics:
The landscapes of France
The climates of France
The rivers of France
The cities of France
The regions of France
The worksheets have been made colourful and easy to use. They make an excellent tool to help learn about the Geography of France. The activities develop your child's ability to analyse information. There are worksheets for writing, reading, playing and crafting ideas.
---
Le Gruffalo [in French!]
The Gruffalo has become a classic children's book. And the book also exists in French!
Julia Donaldson's trademark rhyming text and Axel Scheffler's brilliant illustrations come together in this perfect read-aloud.
Never heard of the Gruffalo's story? A mouse is taking a stroll through the deep, dark wood when along comes a hungry fox, then an owl, and then a snake. The mouse is good enough to eat but smart enough to know this, so he invents… the gruffalo! As Mouse explains, the Gruffalo is a creature with terrible claws, and terrible tusks in its terrible jaws, and knobbly knees and turned-out toes, and a poisonous wart at the end of its nose. But Mouse has no worry to show. After all, there's no such thing as a Gruffalo…
Le Petit Gruffalo
In this book, the Gruffalo comes back with… his child!
One evening when it was snowing, the Gruffalo was snoring. The Gruffalo's child was bored in her corner. She was not afraid at all and left the cave with wolf steps…
---
Je colorie Paris
The colouring book (on very nice paper) features many scenes from Paris. Rather detailed drawings, so probably more for adults than children. 50 pages.
---
Madeline's Christmas
This is a classic children's book that has made many English-speaking children dream.
'Twas the night before Christmas, and all through the house, not a creature was stirring because of a nasty, contagious illness – even the mouse is in bed with a miserable cold. Only brave Madeline is up and about… competently running the household until she hears a knock at the door – a visitor whom she suspects might be Santa Claus.
Instead, it is a magical-rug merchant, with 12 red carpets that Madeline thinks would be perfect for the 12 girls and "For our ice-cold in the morning feet." She procures a few francs from Miss Clavel and pays the merchant. Without his rugs, however, he is very chilly, and he feels quite silly for having sold them.
He returns to the old house (still covered in vines), where Madeline helps him thaw out, and he works a little Christmas magic–sending the girls on cross-country carpet rides to surprise their parents. Of course, Miss Clavel's bell breaks the spell and they're all back in time to celebrate the New Year…
---
Larousse Junior de la Pâtisserie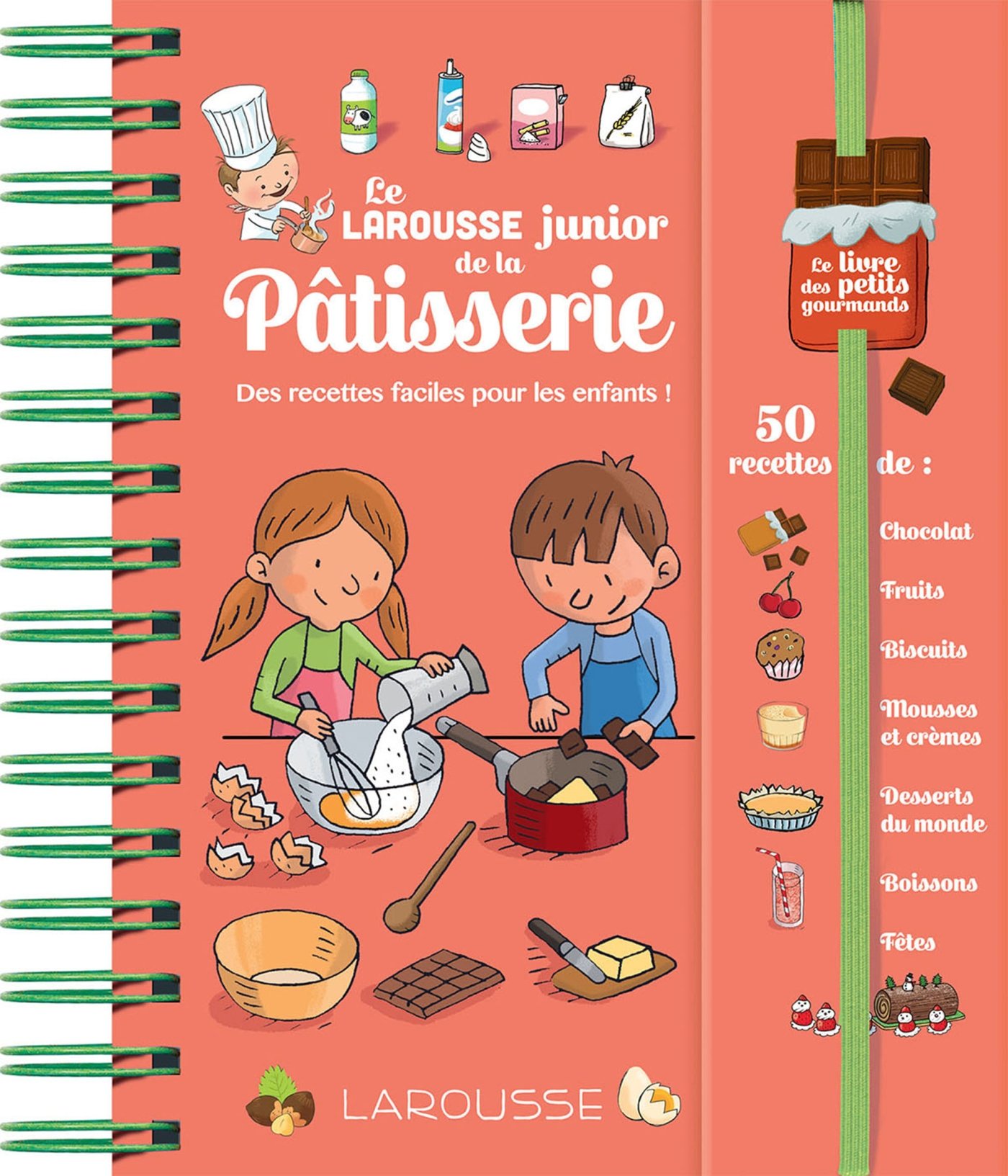 A book with more than 50 recipes adapted to children, from the classics to the most original, divided into 7 tabs (Chocolate, Fruits, Biscuits, Mousses and creams, World desserts, Drinks, Parties) and 7 ideas for decorating your table and cakes.
A playful and amusing layout that makes it easy to differentiate and identify the seven areas covered, and numerous illustrations that show the different stages of the recipes. For children ages 7-12.
---
Mon 1er Atlas du monde
This atlas for children takes them on a journey to the four corners of the globe! From India to Brazil, through Togo, Spain and Australia, they will discover cities and villages full of history, tasty national dishes, surprising traditions and emblematic characters!
---
Madame Bonheur et les Trois Ours
The Mr Men and Little Misses are the zaniest characters you've ever met in this best-selling series which has sold millions worldwide. Bright and charming, with easily recognisable characters and a small take-along format, Mr Men and Little Miss books are easy enough for young readers, witty sufficient for humour-prone adults, and highly collectable for one and all. They have been translated into French like this one inspired by Boucle d'Or et les Trois Ours (Goldilocks and the Three Bears).
---
Pin it on Pinterest!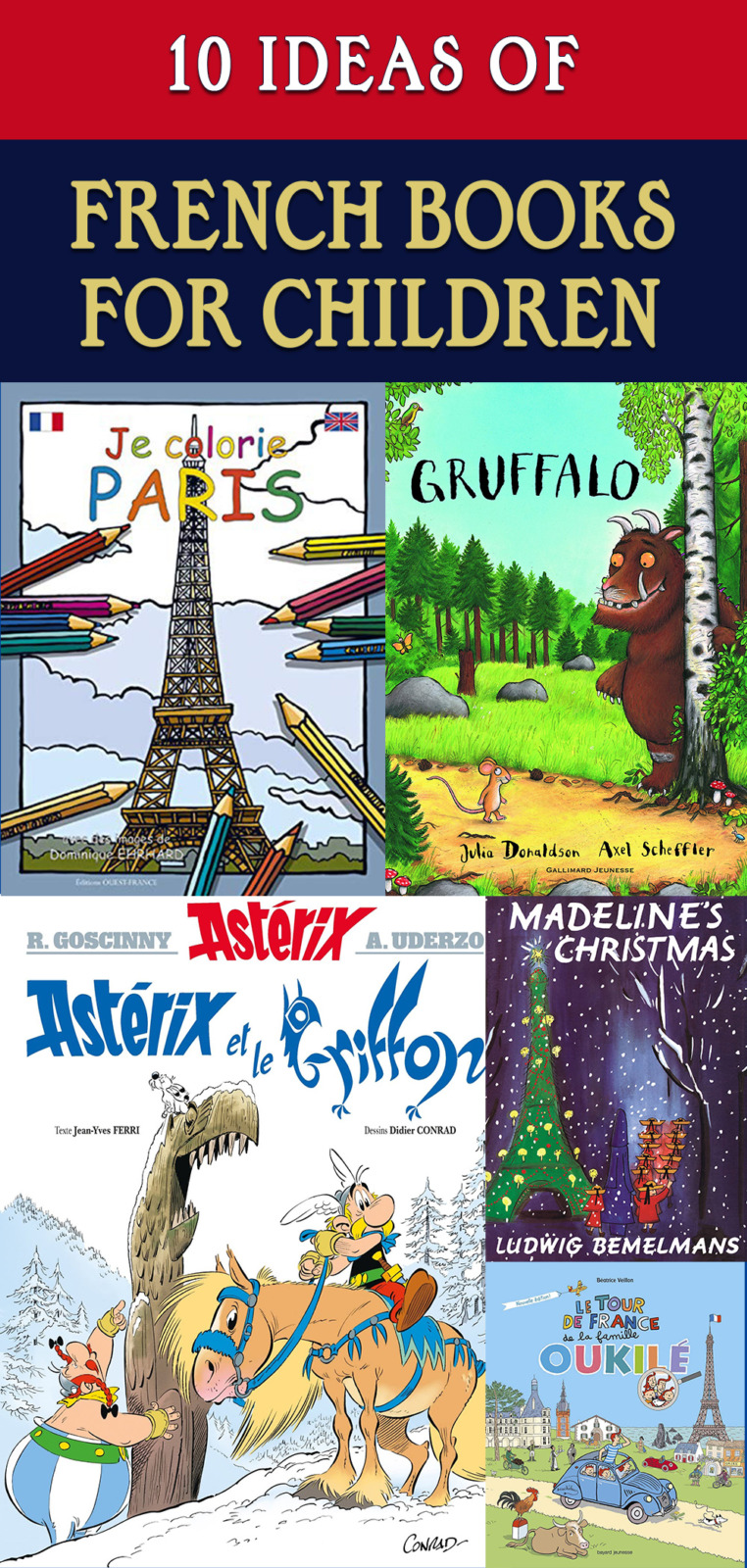 Disclosure: Some of the links below are affiliate links. This means that, at zero cost to you, I will earn an affiliate commission if you click through the link and finalize a purchase.
Find out more about Christmas in France!
---