Today the intersection of rue Saint-Honoré and rue de l'Arbre-Sec is part of one of the nicest parts of Paris. There, in the heart of the 1st arrondissement is a little fountain known as Croix-du-Trahoir. It is a witness to public executions and other atrocities committed from the Middle Ages until the 18th century.
The Croix-du-Trahoir fountain
The fountain of the Croix-du-Trahoir is situated in the 1st arrondissement of Paris at the corner of rue Saint-Honoré and rue de l'Arbre-Sec.
The presence of a fountain on the site has been attested since the Middle Ages.
At a very important intersection in Paris, the fountain owes its name to the fabrics that were pulled out on its steps. Hence the French word 'tiroir', became 'trahoir'.
A fountain was designed by Jean Goujon in 1529 on the initiative of King François I and later rebuilt in 1606.
In 1636 the fountain was moved from the centre of the crossroads to the side to improve traffic on the rue Saint-Honoré.
The current fountain dates back to 1775 and adjoins the wall of a building raised in 1776 by architect Jacques-Germain Soufflot, formerly occupied by the Consulat of Andorra.
Public executions on the square
The square was a witness to public executions until 1698. Their counterfeiters were boiled, and Lutherans were burnt at stake (21 January 1535). Furthermore, unworthy servants' ears were cut off until 1739.
An ancient calvary cross used to stand next to the fountain for the condemned to make their final prayers. Its foundations of stone and steps were used by butchers and greengrocers to display their produce. The calvary cross was destroyed during the French Revolution in 1789.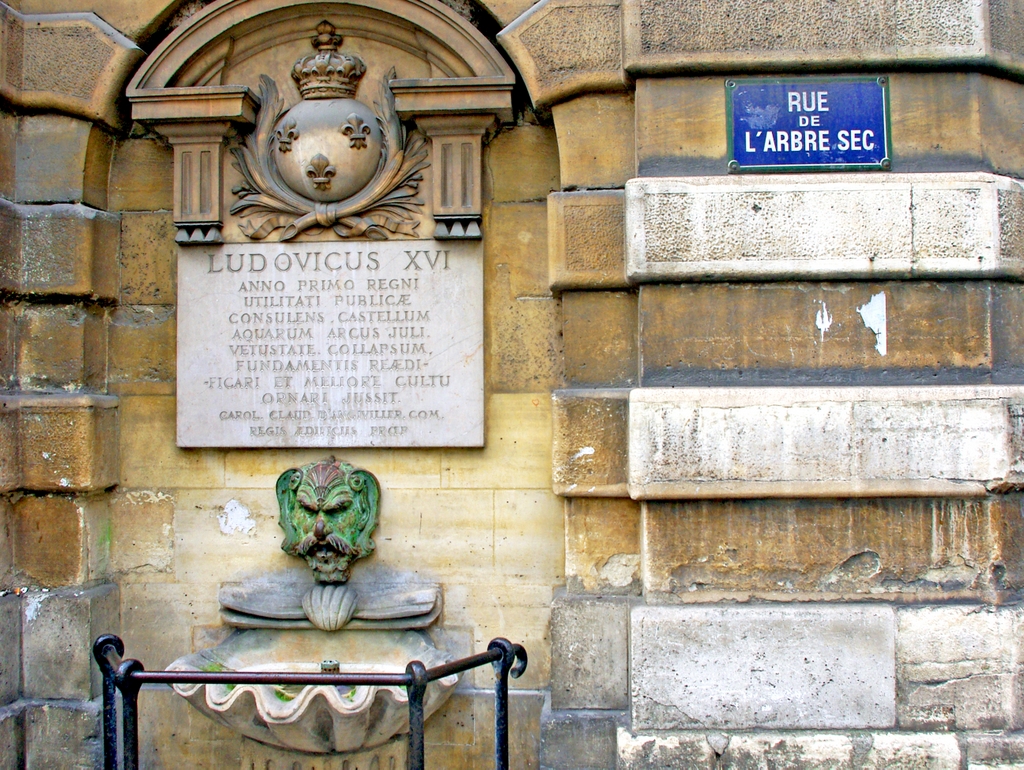 The inscription in Latin
The fountain bears the following inscription:
LUDOVICUS XVI

ANNO PRIMO REGNI

UTILITATI PUBLICÆ

CONSULENS CASTELLUM

AQUARUM ARCUS JULI

VETUSTATE COLLAPSUM

FUDAMENTIS REÆDIFICARI ET MELIORE CULTU

ORNARI JUSSIT.

CAROL. CLAUD. D'ANGIVILLER. COM

REGIS ÆDIFICIIS PROEP
(Louis XVI, in the first year of his reign, commands to act on behalf of the common good, that the water tower of Julian's arch, now dilapidated and in a bad state, be completely re-edified more elegantly by Charles Claude d'Angiviller superintendent of the King's Buildings.)
Trivia about Croix-du-Trahoir
The fountain was mentioned in Victor Hugo's novel "The hunchback of Notre-Dame" (Book 3, Chapter 2).
On 14 May 1610, King Henri IV and his open carriage passed by the fountain a few minutes before he was assassinated by François Ravaillac on rue de la Ferronnerie.
The French State listed the fountain as a historic monument in 1925.