The village of Duingt enjoys an idyllic setting, tucked away between Lake Annecy and the last slopes of the Taillefer mountain.
---
Situation of Duingt, Haute-Savoie
On the west shore of Lake Annecy, Duingt and its promontory are set at the bottom of the Taillefer mountain and separate the Grand Lac from the Petit Lac. Duingt is situated 12kms from the city of Annecy.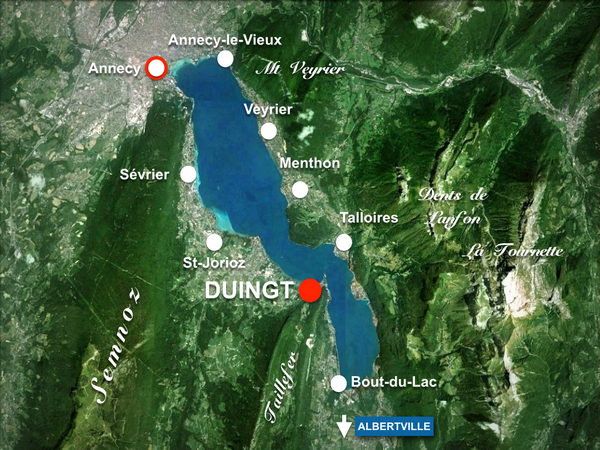 The village has a population of approximately 800 and its village-centre lies at approximately 450m above sea-level. It is crossed by the D1508 which links Annecy to Albertville and by the Annecy-Faverges cycling path.
---
The village of Duingt
Duingt is a small place but has retained a number of typical Savoyard stone houses from the 17th and 18th centuries which can be found along the old and narrow streets.
There is a fine view of the rooftops of the village from the cemetery.
---
The castles of Duingt
There are two private castles in the commune: the Dhéré and Ruphy castles.
The Dhéré castle was built in the 15th century and is best seen from the Annecy-Faverges cycling path or from a boat cruising on the lake.
Romantically set on a promontory, the Ruphy or Châteauvieux castle is a former stronghold which was restored in the 18th and 19th centuries and was painted by Cézanne.
The castle faces Talloires and the Roc de Chère across the lake and guards the strait separating the Grand Lac and the Petit Lac.
This romantic fortress is a private residence and cannot be visited. It is best seen from a boat on the lake.
---
English-French Vocabulary
(f) for féminin, (m) for masculin, (adj) for adjective and (v) for verbs
Alps = Alpes (f,p)
cemetery = cimetière (m)
church = église (f)
hotel = hôtel (m)
house = maison (f)
lake = lac (m)
Lake Annecy = Lac d'Annecy (m)
lakeshore = bord du lac (m)
mountain = montagne (f)
resort = lieu de villégiature (m)
village = village (m)
---
Visit the Annecy Tourist Office website here.