There is no longer any need to prove the reputation of Dijon gastronomy. This is what we picked up in our recent stay in the capital of Burgundy. A great foodie destination that we'd love to share with you.
Dijon gastronomy, a symbol of Burgundy
When someone mentions Dijon, what does it mean to you?
The palace of the Dukes of Burgundy?
The old town with cute half-timbered houses?
A vibrant city at the crossroads of Paris, the North-East and the South-East of France?
Well, Dijon is all that… but particularly the town is one of the capitals of French gastronomy.
It could be seen as a reference.
Dijon is about good food.
In Dijon, food lovers are in the right place.
From mustard to gingerbread and crème de cassis.
From marbled and cured parsley ham to the great Burgundy wines.
Dijon is the jewel in the crown of Burgundy cuisine
In his lifetime French gastronome Curnonsky praised the reputation of the region's gastronomy:
"Par la gloire de son vignoble, par la richesse de son sol, par l'excellence et la qualité de ses produits naturels aussi bien que par le talent et le goût de ses chefs et de ses cordons-bleus qui, depuis des siècles, ont su maintenir les plus belles traditions, la somptueuse Bourgogne est un paradis de la gastronomie."
(Loosely translated by: "Sumptuous Burgundy is a paradise of gastronomy for its glorious vineyards, the riches of its soil, the excellence and quality of its natural produce, and for the talent and taste of its chefs and their cordons-bleus whom have maintained the most beautiful traditions for centuries.")
To deal with the topic of good food in Dijon, I'd need to write a very long article… and eat at a lot more places which in two days was impossible … (next year maybe!)
As I'm not a food connaisseur this is not a restaurant review but simply a list of the things we enjoyed while we were there with some lovely photos!
Les Halles market of Dijon
This is foodie heaven and a favourite destination for locals in and around Dijon.
The roof of the metallic market hall is somewhat reminiscent of the former market of Les Halles in central Paris. Dating from 1875, the market hall shelters 246 stalls.
The architecture of the building is decorated with symbolic motives that refer to food. You'll find many of them on the spandrels and the column's capitals: game, poultry, fish, vines…
The central market is a dream location for finding local produce from Dijon and Burgundy.
For example Ruffey and Meursault asparagus, Burgundy truffles, blackcurrants, onions from Auxonne, coq au vin, Burgundy beef, Burgundy potée …
At the cheesemonger's, you'll find all the regional cheese: Cîteaux, Epoisses, Brillat-Savarin, Chaource, Trou du cru… or a stall that specialises in local goats cheese.
We also saw a stand that sold just beef from a local producer where the cows were grass-fed and reared traditionally. The whole stand was vacuum-packed cuts of prime beef.
At the caterer Le Gourmet Dijon
During our stay in Dijon, we were sent to the stand of the caterer Le Gourmet Dijon for a little tasting session (enter in from rue Quentin opposite the restaurant Le Dôme).
This is where we tasted a delicious jambon persillé for the first time, also known in English as marbled and cured parsley ham (what a treat!) …
… without forgetting the ganache gingerbread (our daughter's favourite!)
This delicious creation made up of sandwiched-super fine gingerbread filled with chocolate ganache goes well with a dessert or as an aperitif.
Before we head off to another gourmet stop … just look at these wonders!
Les Halles market of Dijon
► Open Tuesday, Friday and Saturday mornings from 7 am to 12.30 pm
► Location: rue Claude-Ramey, rue Quentin, rue Bannelier and rue Odebert
▷ Website of the Dijon markets
The Edmond Fallot moutarderie
I'm sure you've heard of Dijon mustard. A visit to the town would not have been complete without entering the Edmond Fallot Moutarderie at 16 rue de la Chouette.
The Fallot Moutarderie is a local institution. Founded as early as 1840 it is the last family-run mustard factory in town.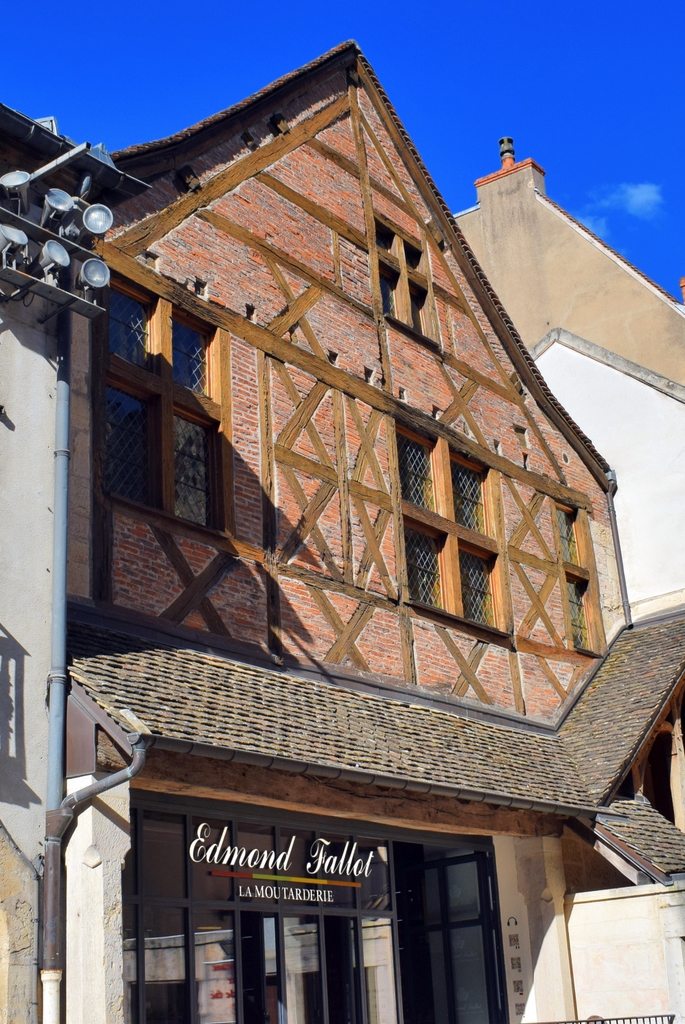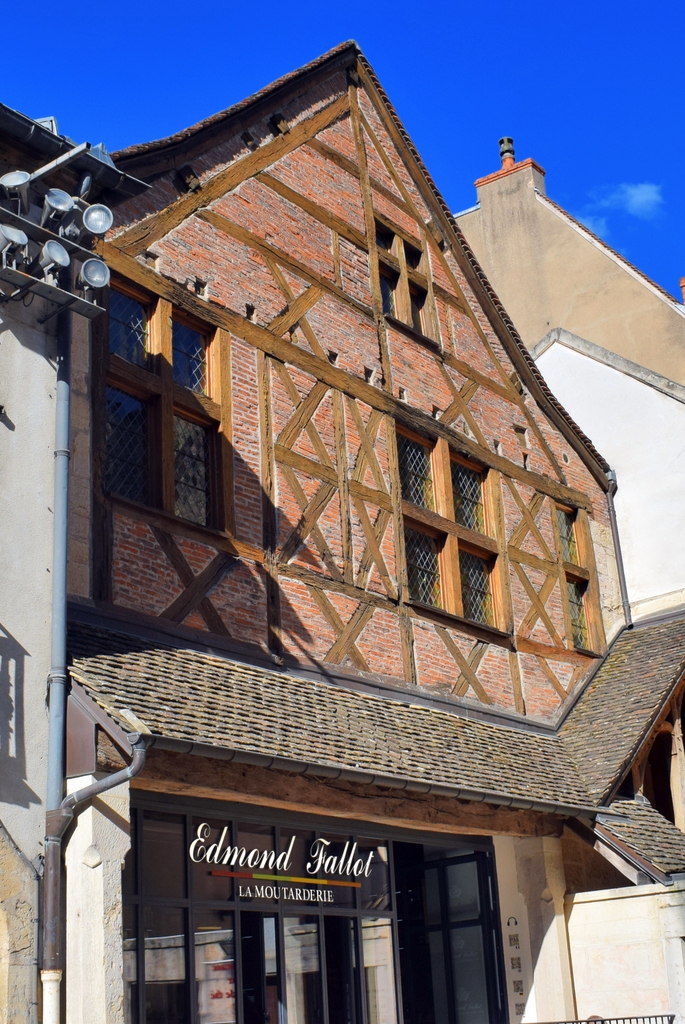 We were warmly welcomed in the store (merci Clémence ??) with an in-depth and interesting presentation of the Fallot House and the history of the mustard industry in Burgundy (find out more on the moutarderie's website here).
On entering the store you'll find a sack of mustard seeds which you can run your hands through … it's strangely therapeutic and Aimée spent most of the visit fascinated by the tiny seeds and delving her hands in them!
Go around the store to discover new and creative flavours. And don't miss the "Mustard Bar", a fun and very original tasting area! The Pinot Noir was our favourite and even Aimée gave that one the thumbs up!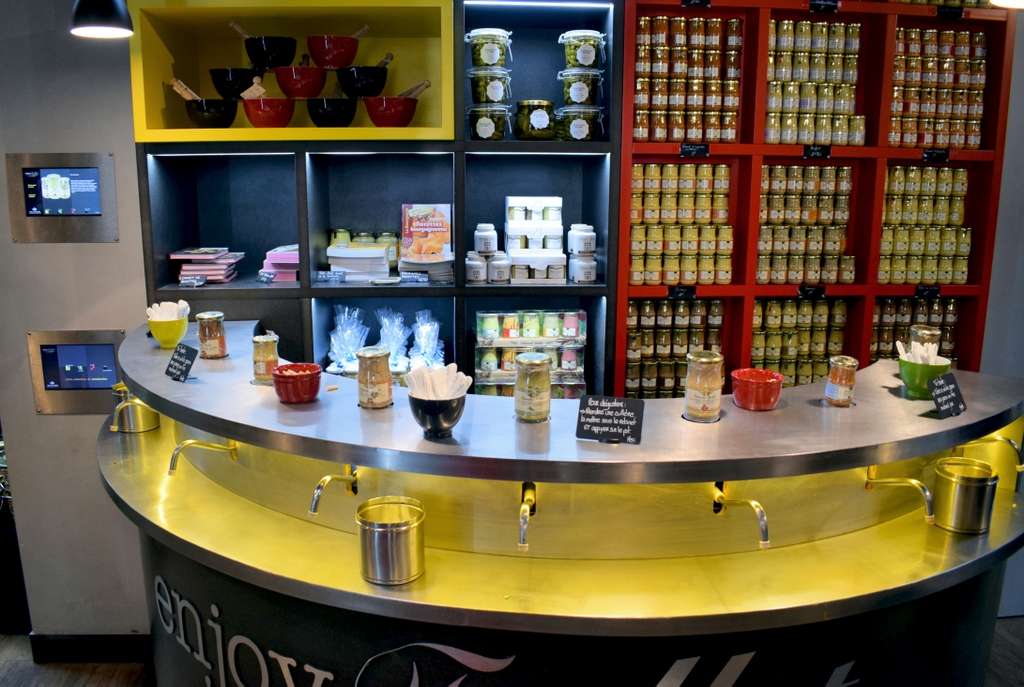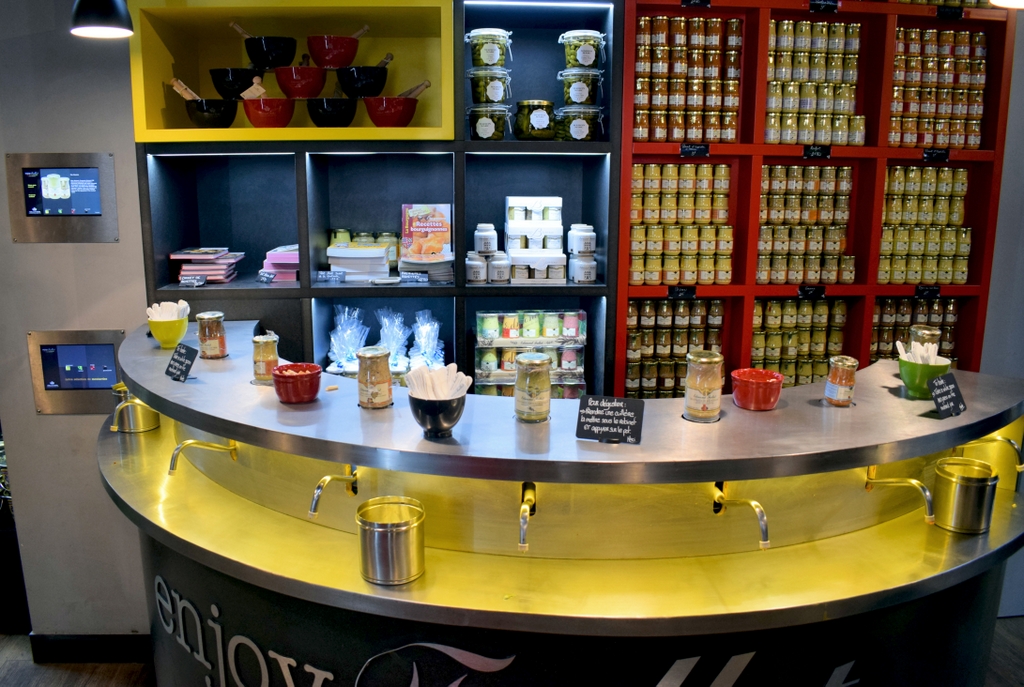 Rachel is going to be running a feature with several recipes highlighting some of their speciality mustards. Clémence told us how you can transform a recipe or cheeseboard with a little amount of carefully chosen flavoured mustard.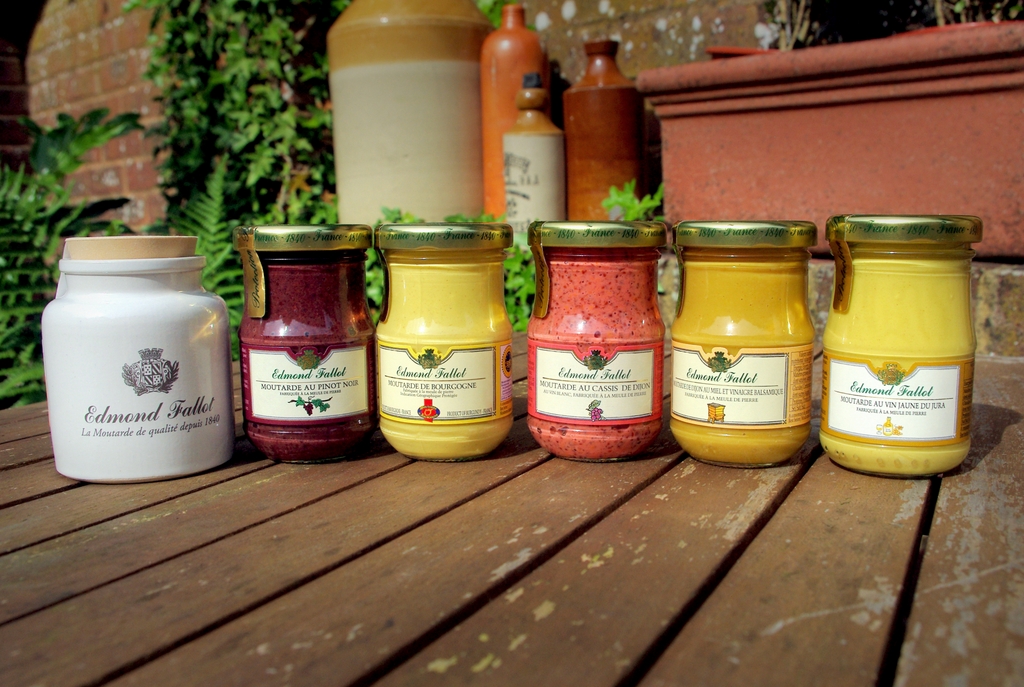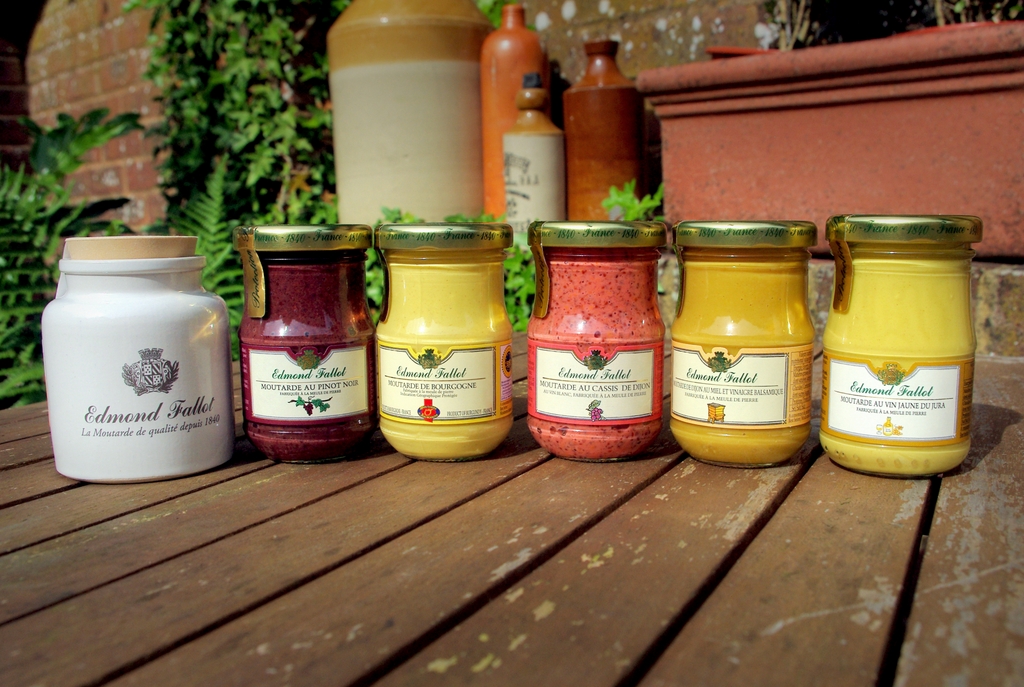 Featured above (left to right):
Meursault wine
pinot noir
de Bourgogne
Dijon blackcurrant
honey and balsamic vinegar
yellow wine from Jura
We'll tell you more about them all soon in a separate post with plenty of photos! ?
► Location: 16 rue de la Chouette (opposite the famous Dijon owl!)
► Website of the Fallot moutarderie [in English]
Buy your Fallot mustard online at Amazon. 3 pack assortment with three popular flavours: Walnut Dijon, All Natural Seed Style and Green Peppercorn
The gingerbread from Mulot & Petitjean
The historical shop of Mulot & Petitjean is found in the old Catin de Richemont mansion. This beautiful half-timbered house from the 15th century is located at 13 place Bossuet.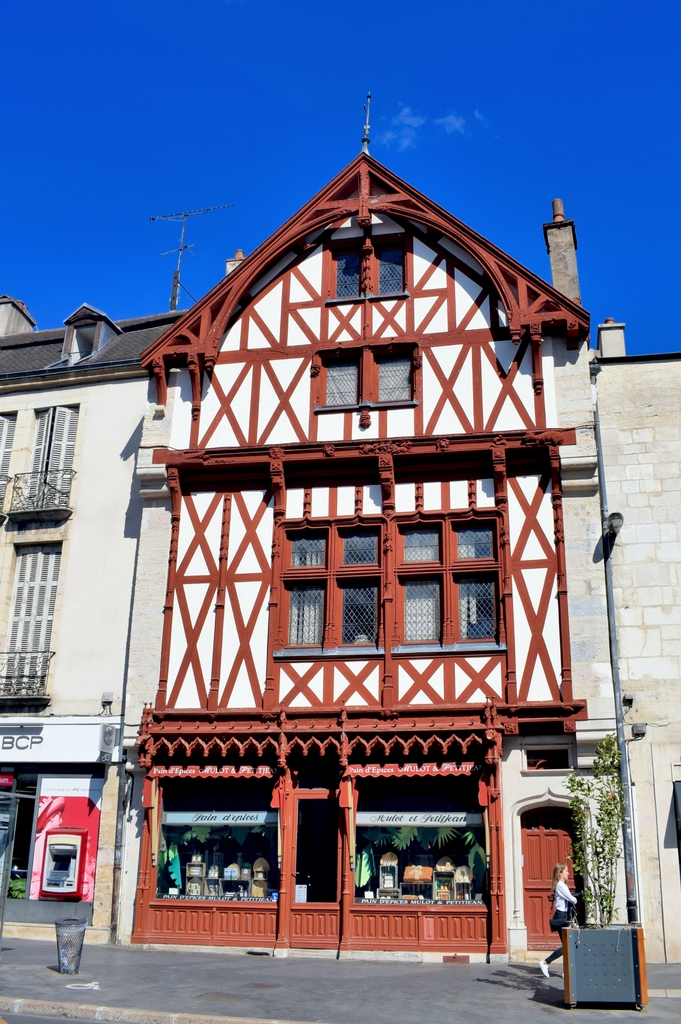 The richly crafted interior of the store is fabulous. Observe the beautiful coffered ceilings, the marbled and wood-sculpted furnishing… while inhaling the smell of gingerbread in the air.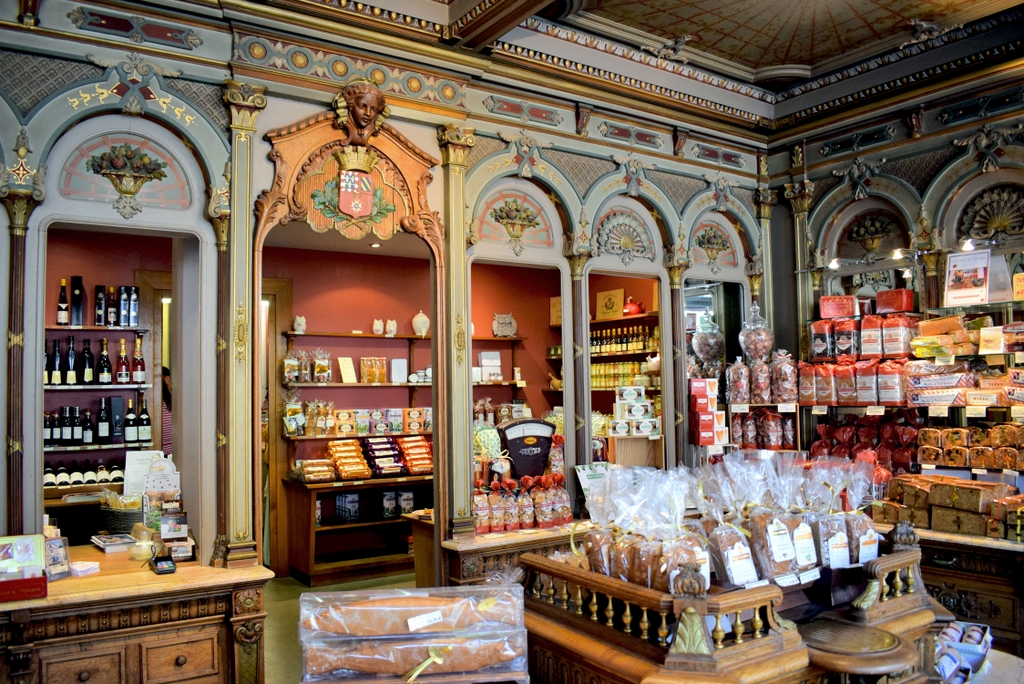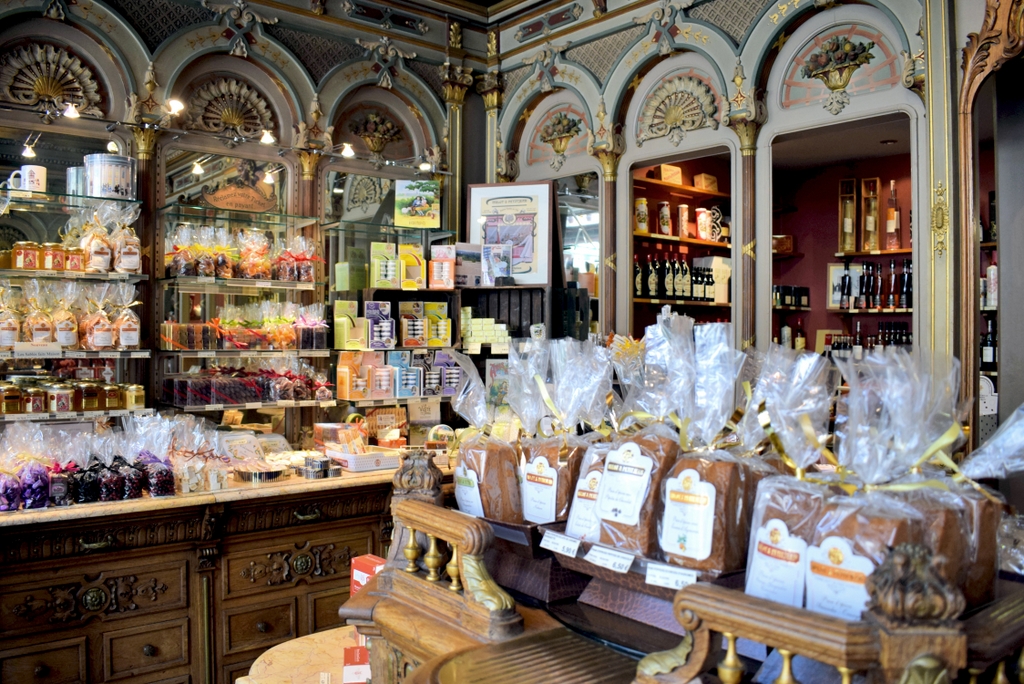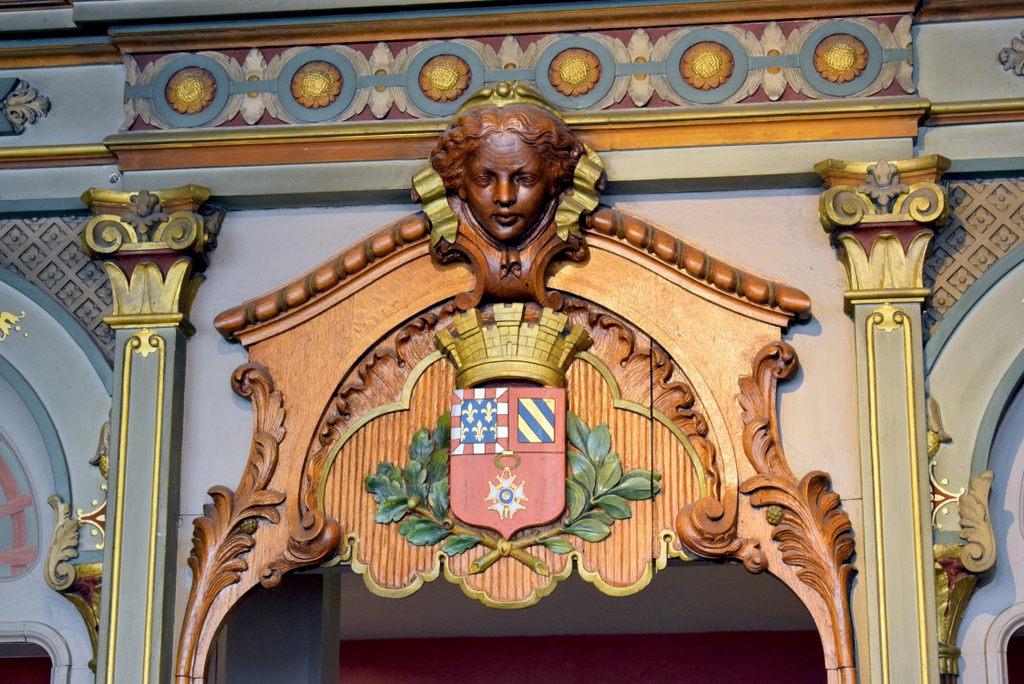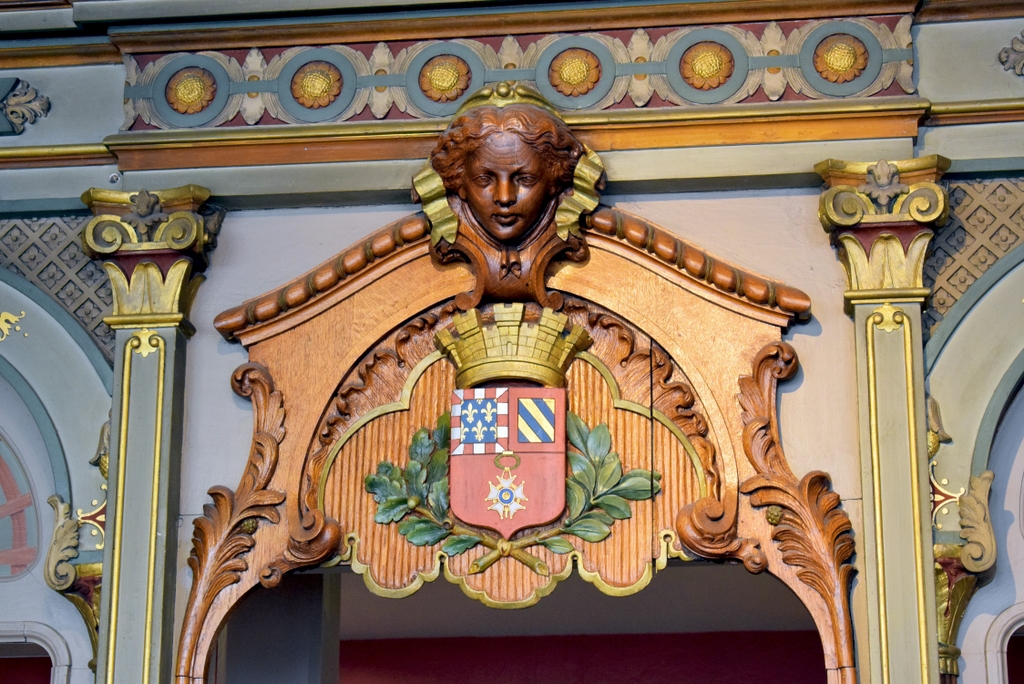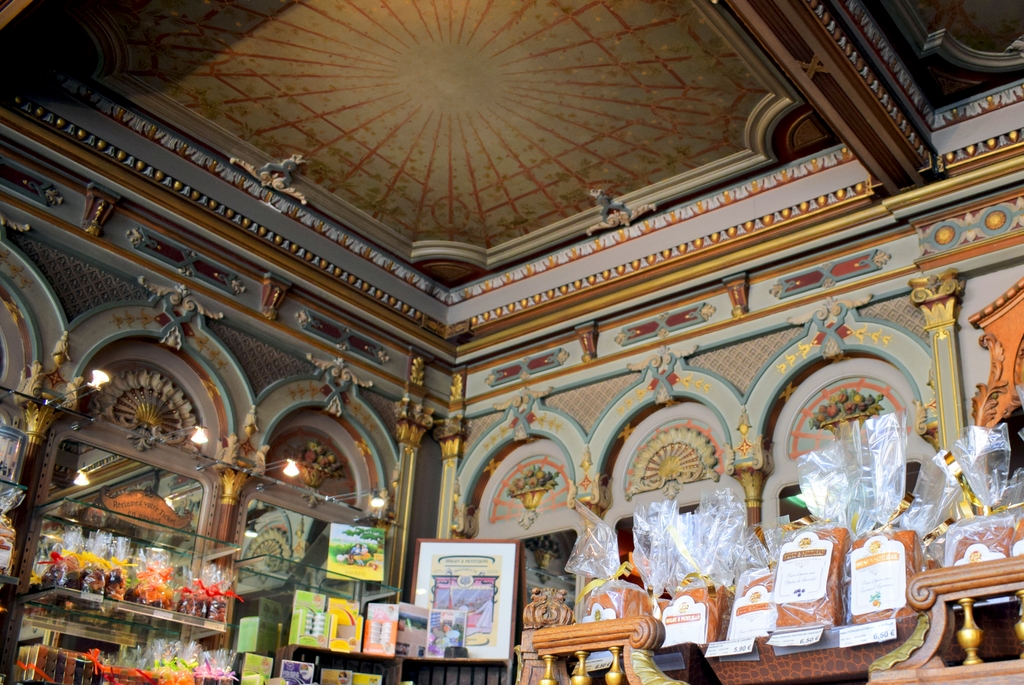 The company manages a few stores in the centre of Dijon: 1 place Notre-Dame, 1 rue de la Chouette, 16 rue de la Liberté and in Beaune: 1 place Carnot.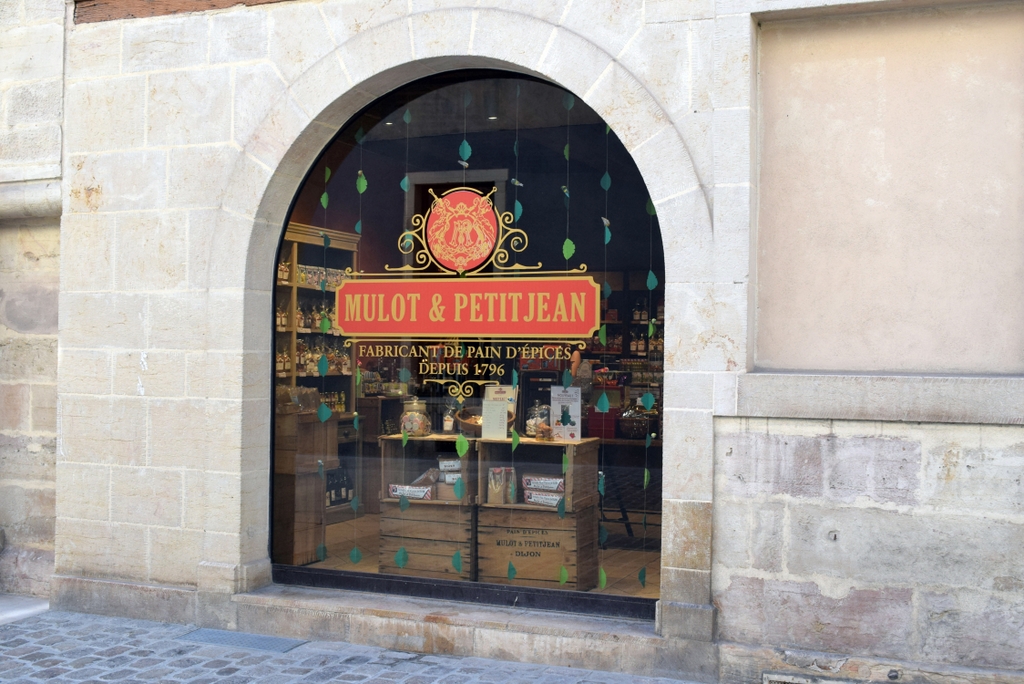 Dijon gingerbread
Gingerbread is one of the most renowned sweet specialties of Dijon. Its introduction in Burgundy dates back to the 14th century.
The Mulot & Petitjean house was founded in 1796 and is to this day the oldest gingerbread factory in town.
There we tasted the famous Dijon gingerbread. To be honest with you I am very familiar with Alsatian gingerbread and learnt that the traditional Dijon gingerbread is quite different as the dough contains no rye flour. And most importantly it is flavoured with aniseed only (in Alsace, gingerbreads contain a mix of spices). It also doesn't have any milk or butter in it.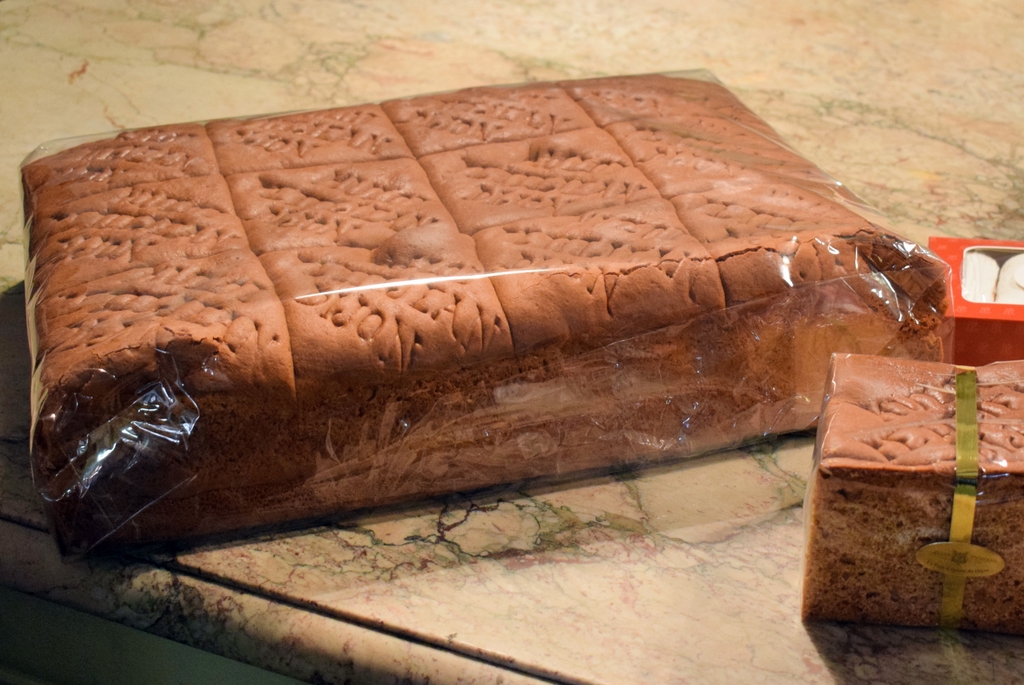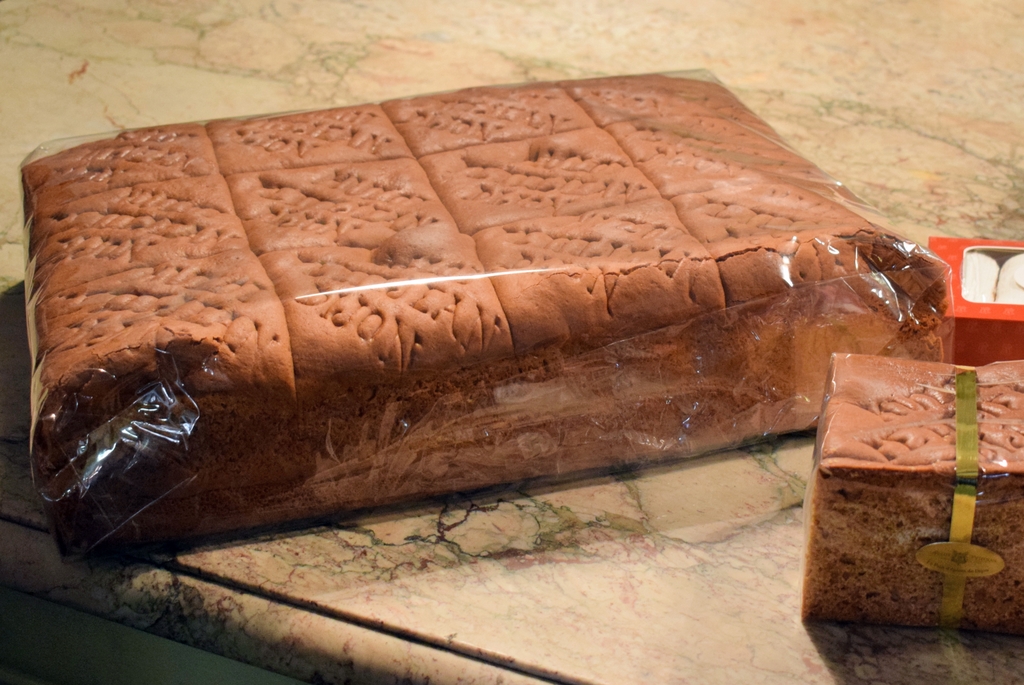 To some palates, the Dijon gingerbread can taste a little bit too dry. This is normal as this honey cake must only contain a maximum of 3% fat. That makes it special. It's also a good excuse to serve a slice with some butter for a local breakfast!
For those that prefer a more moist specialty: the Dijon nonnette.
This delicious little gingerbread cake is traditionally filled with orange jam although there are many more flavours available now. The nonnette over the years has become an emblem of Dijon gastronomy. It takes its name from the nuns (nonnes in French) who made it in the convent during the Middle Ages.
► Location: 13 place Bossuet (the historic flagship store), 1 place Notre-Dame, 1 rue de la Chouette, 16 rue de la Liberté
► Website of the Mulot & Petitjean House
Dijon's best restaurants
Dijon is also world-famous for its starred restaurants, jewels of French gastronomy: the Hostellerie du Chapeau Rouge, the restaurant Loiseau des Ducs, the restaurant Stéphane Derbord, the Maison des Cariatides…
In more modest restaurants you'll find the great classics of Dijon gastronomy: Burgundy beef, coq au vin, Burgundy snails… without forgetting the famous egg dish locally known as œufs en meurette.
This specialty is based on poached eggs with a Burgundy sauce made up of red wine, lardons, onions, shallots fried in butter, and Paris mushrooms.
Here is a photo of my œufs en meurette dish at the restaurant Café de l'Industrie (15 rue des Godrans, website)
The website TripAdvisor updates a list of the best restaurants in Dijon based on customer's reviews (read here).
When staying in Dijon, we were invited to dine at two restaurants in the town centre. Two good addresses where you can eat very well.
The restaurant L'Essentiel
Situated not far from the busy place Darcy, this bistronomic restaurant offers a menu of refined and delicate dishes inspired by Burgundian and European cuisine. You'll see in my photos how the presentation of the plates was amazing.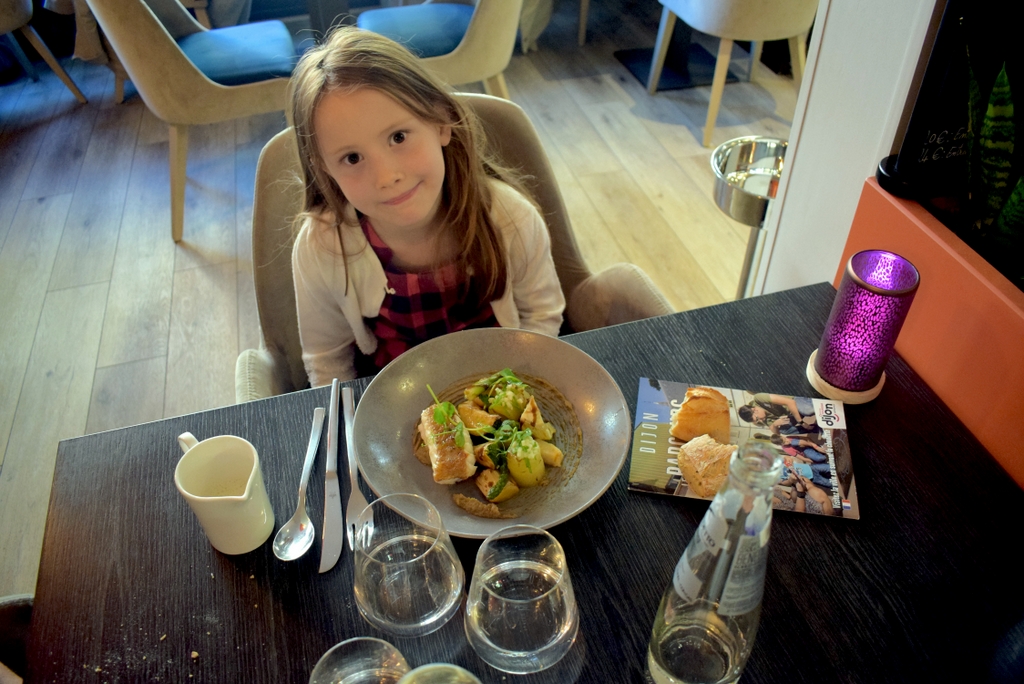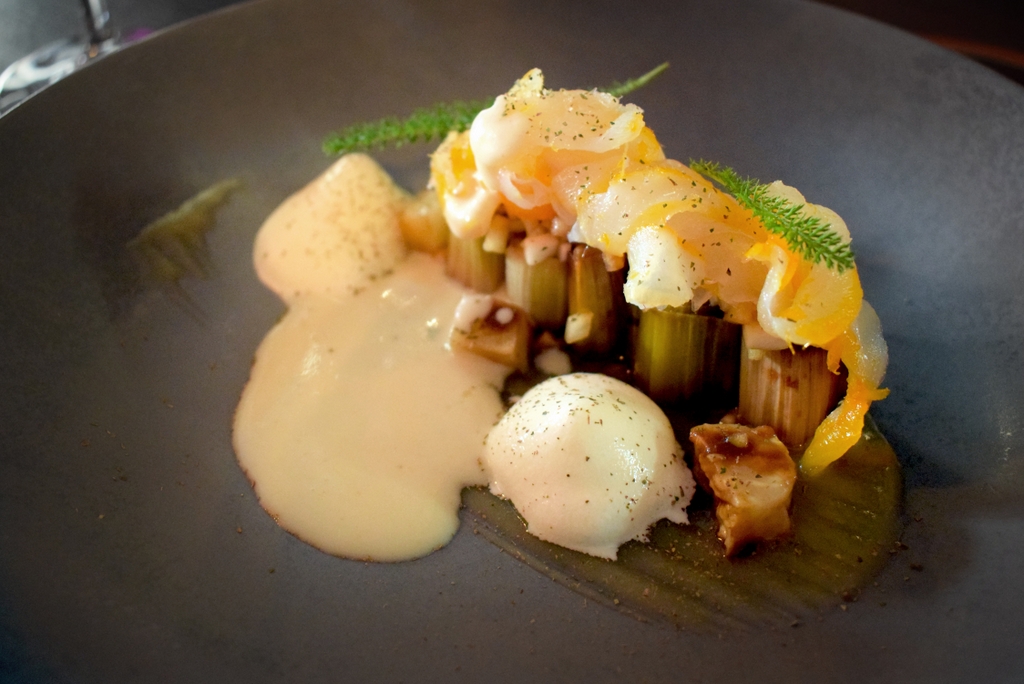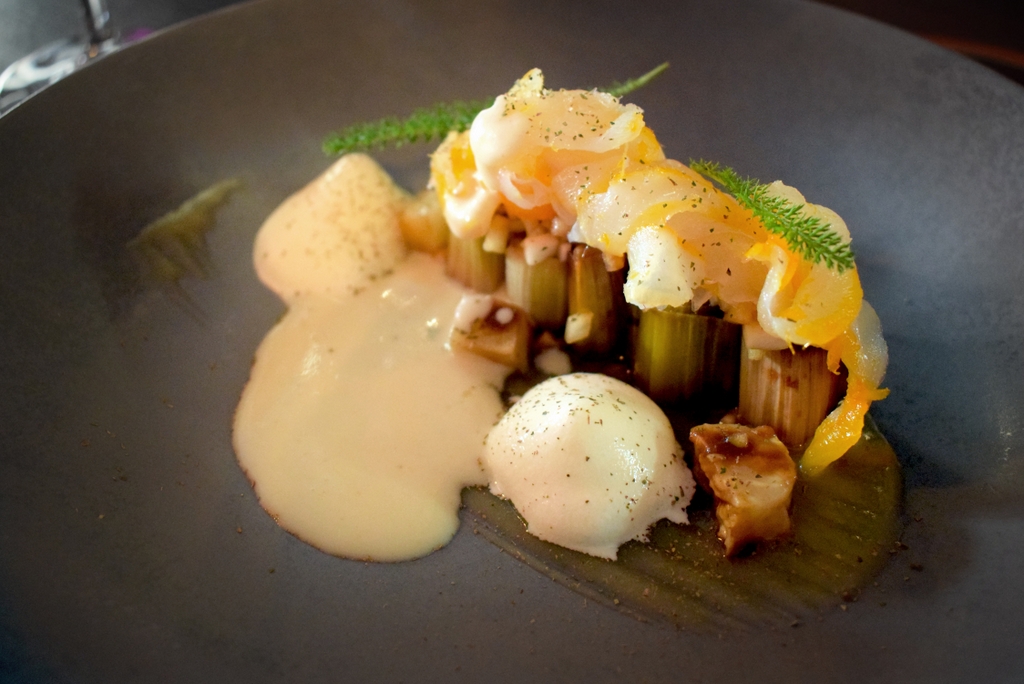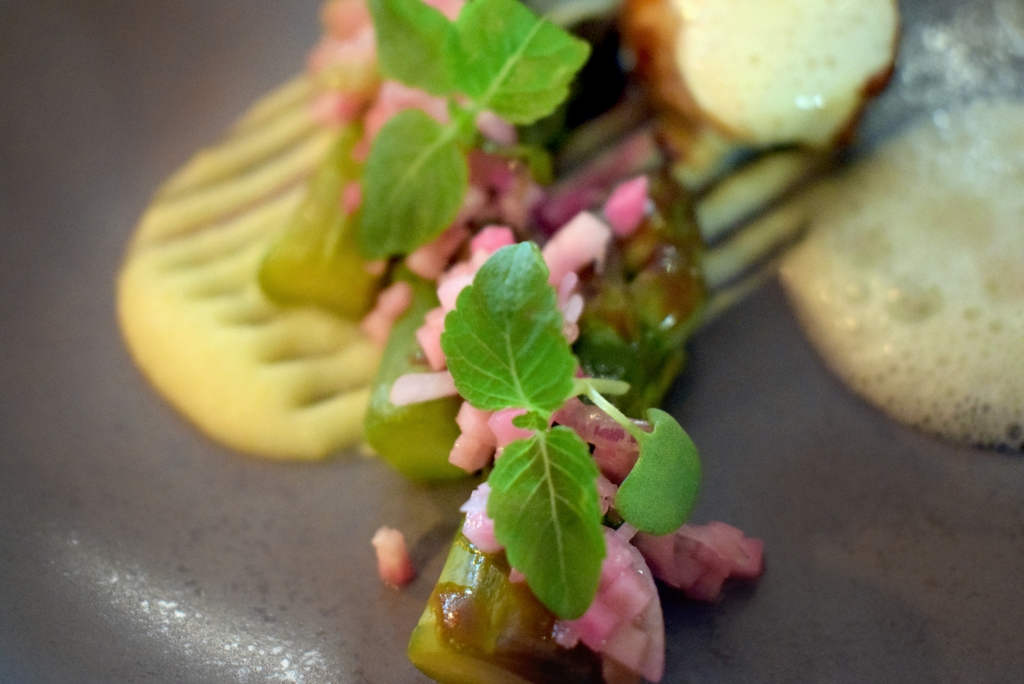 The desserts – full of delicateness and elegance – definitely won us over!
Aimée, who adores strawberries, was in heaven with hers – strawberries, croquant of white chocolate, basil and meringue with Sil Timur berries.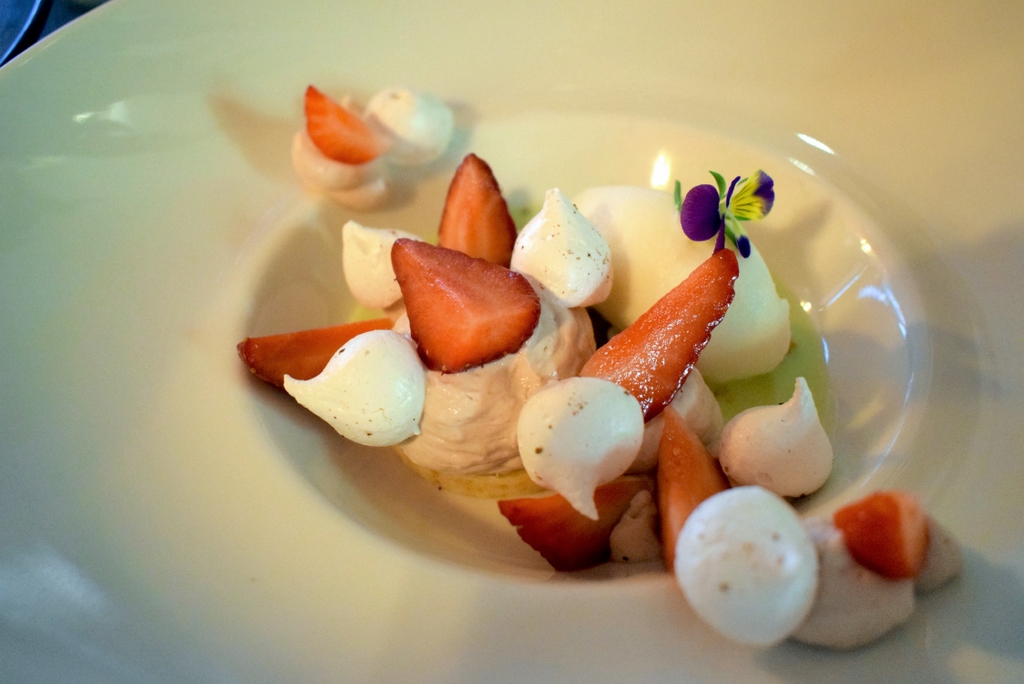 Rachel chose a rather surprising creation: rhubarb, Sakura green tea, light balsamic cream and almond shortcrust.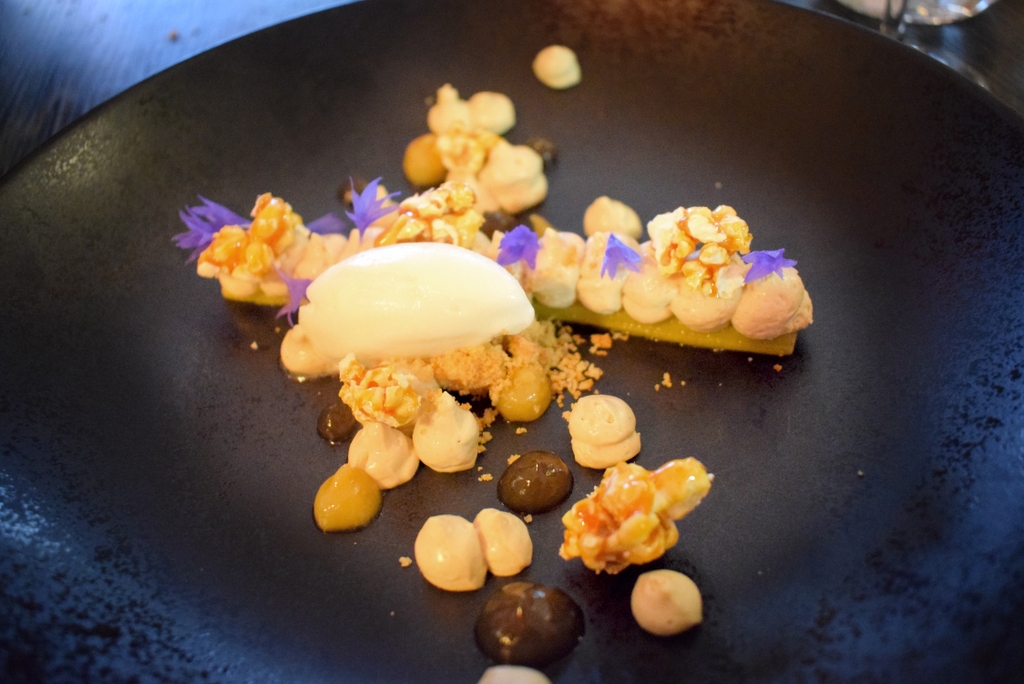 We spent an excellent moment in the restaurant with perfect service. It's got a lovely balance of excellent food which is neither overpriced nor snobby. It's a great choice for a relaxing meal with guaranteed good food between friends or family. We would definitely go back here. We recommend booking in advance. Merci to the chef and his team!
► Location: 12 rue Audra, phone: +33 (0)3 80 30 14 52
► Facebook Page of the restaurant L'Essentiel
The restaurant L'Epicerie & Cie
This is an out-of-the-ordinary restaurant that we enjoyed on the pretty wooded square of place Emile Zola. Once inside we were surprised by the fun and warm setting themed on a pre-war era.
The restaurant has several dining rooms. We were placed in La Grange, an old vaulted cellar with stone walls.
There we met dear old friends! The Fallot Moutarderie, the Mulot & Petitjean gingerbread factory…
A look at the menu took us back in time with pretty French-style writing:
Now, let's talk about the food!
The dishes are generous, varied and well presented. If you like hearty food then this is for you. They echo the restaurant's motto: "une autre idée de la cuisine". They refer to those traditional and hearty dishes cooked by our grandmothers. Those who were served with generosity and conviviality around a large family table.
At the dessert, I cracked for this iced soufflé with Flavigny aniseed drops and red berries coulis:
Aimée loved the kid's play area and the fun touches to the children's menu. The restaurant is super child friendly which was a plus. Thank you to the restaurant for their welcome.
► Location: 5 place Emile Zola, phone: +33 (0)3 80 30 70 69
► Website of the restaurant L'Epicerie & Cie
Find out more about Dijon gastronomy
Pin it for later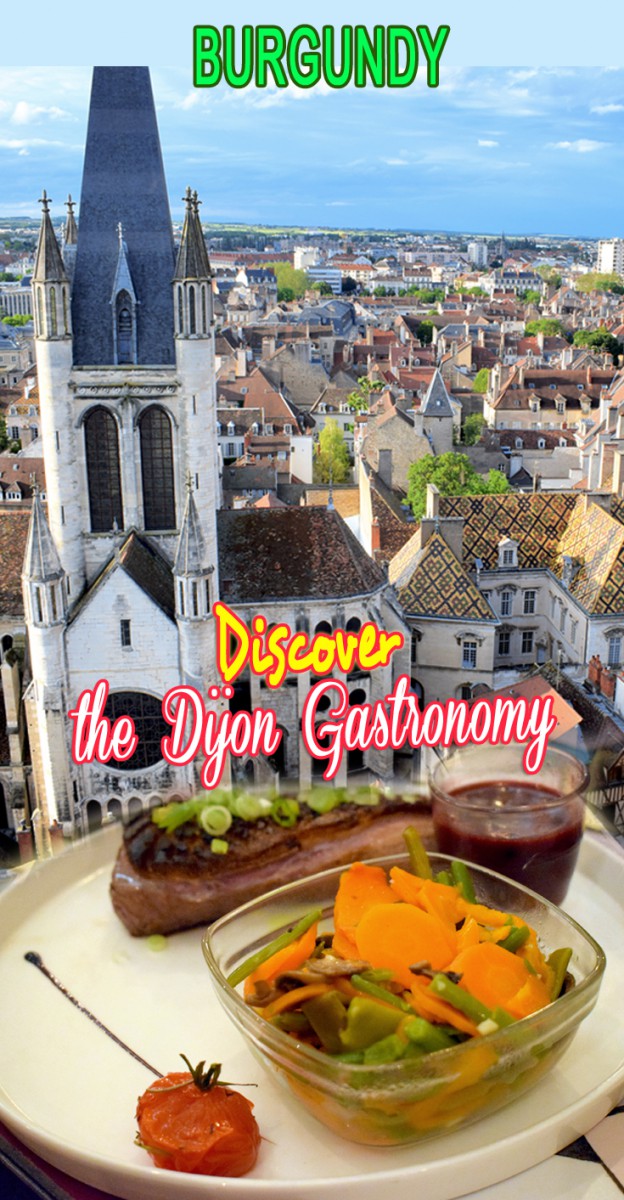 Many thanks to Bourgogne Tourisme and Destination Dijon for organising this amazing opportunity to discover Dijon gastronomy!