Comté, a cow's milk and hard cheese from the Franche-Comté region.
Comté is a cow's milk cheese made from pressed scalded curds with a golden-yellow to brown firm rind.
The fat content is at least 45%.
---
Origins of Comté
These large cheeses have been made since time immemorial in the old province of "Franche-Comté".
Since the 11th century, farmers of this region have entered into partnership to collect the milk produced by their various herds daily in order to produce a Comté "à la fruitière" (made by a cheese dairy).
Comté is mentioned by ancient authors such as Pliny, and by some from the 15th and the 19th century (Victor Hugo).
Dairy cows, exclusively local breeds (Montbéliarde or Pie Rouge de l'Est) are fed with fodder from the appellation area.
---
Comté production area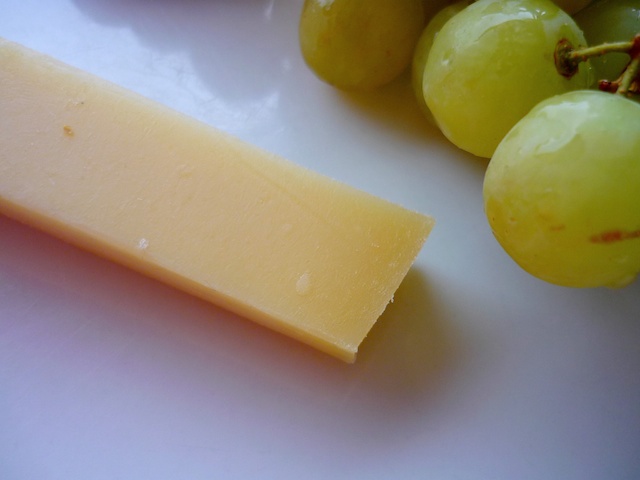 The AOC area includes the Jura mountains, and covers most of the départements of:
Doubs
Jura,
and a little part of Ain, Saône-et-Loire and Haute-Savoie.
---
The production of Comté
Made exclusively from raw cow's milk with no additives. The milk comes from two consecutive milkings and is poured into big brass vats. It is then transformed into curdled milk by adding natural rennet.
This curdled milk is heated to a temperature of 53-55°C for 45 minutes to provide the right temperature for the bacteria to multiply. It is then drawn off, pressed and salted with or without brine.
The affinage lasts at least 120 days, during which the cheese is turned and rubbed regularly.
---
Selection and tasting of Comté
In the form of a round, it is 50-75 cm in diameter and 8-13 cm in height.
Comté goes with everything from the apéritif to the dessert. It is enjoyed plain or as a garnish.
Exceptional for a cheese, it brings out the best in sea and fish-farming products.
It can be served with light red wines and dry white wines, including champagne.
---