Christmas markets in France are small villages made up of little stalls made of wood (called chalets). They are usually located in the main square or street of a town. They officially start on the first weekend of the Advent that is 4 Sundays before the 25th December. Christmas markets in France sell decorations, local products and handcrafted items, without forgetting "vin chaud" (mulled wine), Christmas cakes, biscuits and gingerbread. Here's what you need to know about the not-to-be-missed festive events!
---
About Christmas Markets in France
The Christmas markets are one of the best Christmas traditions enjoyed by millions of French people during Advent. There are hundreds of markets organised throughout France. From the world-famous Christkindelsmärik in Strasbourg to more 'exotic' places such as Nice, Bordeaux, or Perpignan.
Christmas lights and decorations!
Decorations and illuminations give each market a specific atmosphere. That's why I love visiting a Christmas market, even though sometimes it seems that some of the stalls are repetitive from one market to the other.
I'm talking about the fairy lights and decorations, the aroma of mulled wine and gingerbread. Without forgetting carols being sung in the streets. At the most authentic and traditional Christmas markets you will find wooden chalets with many handcrafted items on display. All of this combines to make an enchanting Christmas atmosphere.
The many names of Christmas markets in France
A few towns in France have chosen to give a name to their Christmas markets which includes a great range of events:
Often the Christmas markets in France feature street parades, sound and light shows or bands playing Christmas music. An increasing number offer an ice-skating rink, a Ferris Wheel or merry-go-rounds.
---
The very first Christmas market in France!
The first Christmas market founded in France is that of Strasbourg.
Called Christkindelsmärik (Market of infant Jesus), it has taken place in the capital of Alsace since 1570. Back then, Strasbourg and Alsace were part of the Holy Empire (and not of France).
The tradition of running Christmas markets in French towns is only recent. It dates back to the 1990s/2000s. There are now more than 40 Christmas markets organised in France outside Alsace that are open every day. It is estimated that 27 million people visit France's Christmas markets each year!
---
Our 10 most favourite Christmas markets in France
This is a list of our 10 most favourite Christmas markets, in Alsace, Franche-Comté, and Lorraine.
Strasbourg – the oldest and the largest Christmas market in France.
Colmar – an old town beautifully illuminated hosting 8 markets.
Sélestat – a traditional market held at the birthplace of the Christmas tree.
Alsace Wine Route – authentic markets in four medieval villages: Eguisheim Kaysersberg, Riquewihr and Ribeauvillé.
Mulhouse – the land of rich fabric has a market growing in popularity.
Haguenau – beautifully decorated and illuminated.
Wissembourg – one of the most authentic Christmas markets I've ever visited.
Montbéliard – the town sets its market up around France's oldest Protestant temple.
Metz – the second largest Christmas market in France in the Old Town.
Nancy – locally known as "Saint-Nicolas market", it also features an elegant Christmas tree.
---
Strasbourg Christmas Market
The Strasbourg Christmas market is one of the largest of all Christmas markets in France. At least, it is the oldest. Several locations all over the Old Town welcome villages of chalets which sell anything to do with Christmas. It is locally called Christkindelsmärik (Market of Child Jesus) Marché de l'Enfant Jésus).
During the Advent season, the little stalls made of wood (called chalets) offer decorations, local produce and craftsmanship. Without forgetting "vin chaud" (mulled wine), Christmas cakes, biscuits and gingerbread.
Read more about Strasbourg Christmas Market and the Christmas trail across the streets of the old town.
---
Colmar Christmas Market
During the Advent season, the Christmas celebrations offer the Alsatian town of Colmar a special atmosphere. The fairy-tale setting of the old town is even more magical at Christmas. Everywhere you look, the shop windows and houses are brilliantly decorated for Christmas.
The entire historic centre welcomes no less than 5 Christmas markets. They include a multitude of chalets selling original gift ideas and Christmas delicacies.
Read more about Colmar Christmas Market.
---
Sélestat Christmas Market
Located between Strasbourg and Colmar, the town of Sélestat is an important landmark in the history of Christmas traditions. It was there that the first Alsatian Christmas tree appeared. Or, at least, it is in Sélestat that, on the 21st December 1521, a Christmas tree was mentioned for the first time in history.
Read more about Sélestat Christmas Market.
---
Christmas Markets of the Alsace Wine Route
The Alsace Wine Route is 170 kilometres long and criss-crosses through the Alsatian vineyards from north to south. Several cities and villages along the scenic route have since become famous.
Consequently they attract a very large crowd of visitors during the summer months and Christmas.
These gems of the wine country often feature old medieval ramparts, winding alleyways that bloom with magnificent geraniums, winstubs, vaults, half-timbered houses, and medieval churches.
Many town names have become synonymous with rich traditions, friendliness, prosperity and great wines. Names such as Molsheim, Obernai, Barr, Ribeauvillé, Hunawihr, Riquewihr, Kaysersberg, Colmar, Éguisheim, Rouffach, Guebwiller, and Thann.
Renowned Christmas markets are those of villages crossed by the touristic Alsace Wine Route: Éguisheim, Kaysersberg, Riquewihr and Ribeauvillé. Of course, they are not the only towns hosting a Christmas market along the Route, but this selection includes the most popular.
The Christmas market of Éguisheim
Birthplace of the Alsatian vineyards, Eguisheim has been listed as one of the Most Beautiful Villages in France since 2003. It has been awarded the National Grand Prize winner for Flowers since 1989.
Located only 5km from Colmar, Eguisheim is surrounded by a 339 hectare vineyard, whose hills "Eichberg" and "Pfersigberg" are classed among the " Great Wines" of Alsace.
The picturesque Christmas market of Eguisheim is themed on the Alsatian customs and traditions. It occupies two squares in the centre of village.
Read more about Éguisheim Christmas Market.
The Christmas market of Kaysersberg
For many, the Kaysersberg Christmas market is the most authentic of all the Alsatian markets.
29 craftsmen are carefully chosen by the municipality to fill up the decorated stalls with their products. The market occupies two locations: in the courtyard of the Town Hall and along the lane behind the church.
They offer floral art, pottery, Christmas crib figures, glass ornements, toys made from wood, rich fabrics… without forgetting mulled wine, gingerbread and bredalas.
The square in front of the Town Hall also welcomes a "marché paysan" (rural market).
Read more about Kaysersberg Christmas Market.
The Christmas market of Riquewihr
Listed among the most beautiful villages in France, Riquewihr is rightly the pearl of the Alsatian vineyards. The village and its countless half-timbered houses attracts millions of visitors each year, especially in summer and at the approach of Christmas.
Read more about Riquewihr Christmas Market.
The Christmas market of Ribeauvillé
At the heart of the Alsace vineyards, Ribeauvillé reveals its medieval charm to its visitors. From the centre of town with its marvellous half-timbered houses to the hills of the Vosges above. This is where the three ruined castles of Ribeauvillé (Saint Ulrich, Girsberg and Haut-Ribeaupierre) still keep watch of the neighbourhood.
The Ribeauvillé Christmas market is possibly the most fancy along the Alsace Wine Route. A joyful medieval atmosphere awaits the visitors. Here the stall tenants and animators put on fancy medieval dress. You'll find handcrafted items, such as candles, Advent wreaths and Nativity scenes. Stall-keepers also offer traditional food and drinks: roasted boar, beer and wine, and local sweet delicacies. This market is definitively a show for young and old: stilt walkers, jugglers, fire-eaters and musicians, all stride along the medieval streets of Ribeauvillé to the amusement of many.
The Ribeauvillé Christmas market is not open everyday. It usually take place on the two first weekends of December (Saturdays and Sundays).
---
Mulhouse Christmas market
Mulhouse, to the South of Alsace, is not as touristy as major attractive centres such as Colmar or Strasbourg. Nevertheless, the former industrial town has accomplished over the last decade an amazing facelift. It came up with a new and modern tramway network. In addition Mulhouse renovated its historic centre. And – icing on the cake – it became over the years one of the most beautiful Christmas markets in France. Centred around the Temple Saint-Etienne (France's tallest protestant church) it is about to celebrate in 2020 its 30th anniversary!
Read more about Mulhouse Christmas Market.
---
Haguenau Christmas market
North of Strasbourg is Haguenau, a medium-sized town which is famous for its vast forest: the Forêt de Haguenau. The historic town was once part of the Decapolis, an alliance of Alsatian towns in the Middle-Ages.
Today Haguenau offers a charming Christmas market open everyday during the Advent season. Each year the municipality, the stall keepers and residents take great care in the decoration and illumination of their town.
---
Wissembourg Christmas market
To the northern tip of Alsace, on the border with Germany is Wissembourg. The little historic town enjoys a Christmas market during the four weekends of Advent.
The market is faithful to the traditions of Christmas in Alsace. You won't find Santa Claus here but other characters that are Christmas heroes in this part of France! Saint-Nicolas, Hans Trapp and Christkindle.
---
Montbéliard Christmas market
Every year during Advent, Montbéliard organises a German-style Christmas market.
Since its first edition in 1987, the Christmas market has been one of the most popular of its kind in France with more than 425,000 visitors in 2018. The success of the market is partly due to a spectacular illumination design of the old town's streets. Each day of Advent, the Christmas lights are an enchantment to visitors. From Place Denfert-Rochereau to the Railway station, you'll admire a fantastic light display of volutes and arches with 115,000 light bulbs.
Read more about Montbéliard Christmas Market.
---
Metz Christmas market
Metz (pronounced "Mess") is a charming provincial city and is located on the east side of the Moselle River, between Nancy and Luxembourg. Metz is famous for its lofty gothic Cathedral St Etienne and its German Imperial District around the railway station. It takes pride in being a true Garden City, with its trees, flowerbeds and green esplanades.
For the past 20 years, the Christmas market in Metz has become one of the largest Christmas markets in France. In 2010, Metz went the extra-mile, hosting a Christmas market spread over 4 sites: Place Saint Louis, Place de la République, Place d'Armes, and Place Saint-Jacques.
Read more about Metz Christmas Market.
---
Nancy Christmas market
South of Metz lies Nancy, the former capital of the Dukes of Lorraine. From its prosperous past, the town has kept a number of architectural gems. The famous royal square of Place Stanislas is one of them. Along with Place de la Carrière and Place d'Alliance, the three 18th C squares are listed as a World Heritage site by Unesco.
In Nancy, the "Christmas market" is known as Marché de Saint-Nicolas (St Nicholas Market). Saint-Nicolas is celebrated in great style on a weekend early December. However the festive season lasts over 6 weeks. Don't miss the elegant Christmas tree on place Stanislas. And take a ride aboard the Ferris Wheel in Place de la Carrière for a breathtaking panoramic view!
Read more about Christmas in Nancy.
---
Find out more about Christmas markets in France
Want to read this article in French? Visit our blog Mon Grand-Est for more insight and photos.
Check out below all our articles about Christmas markets in France!
Our pages on CHRISTMAS MARKETS
---
Inspired? Pin it for later: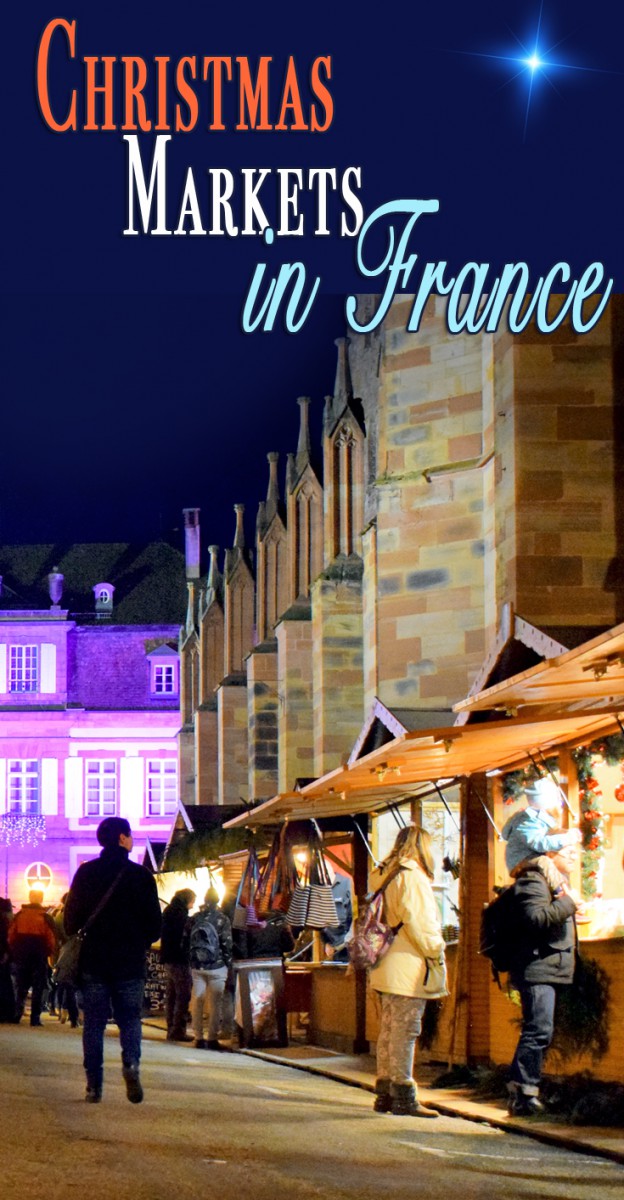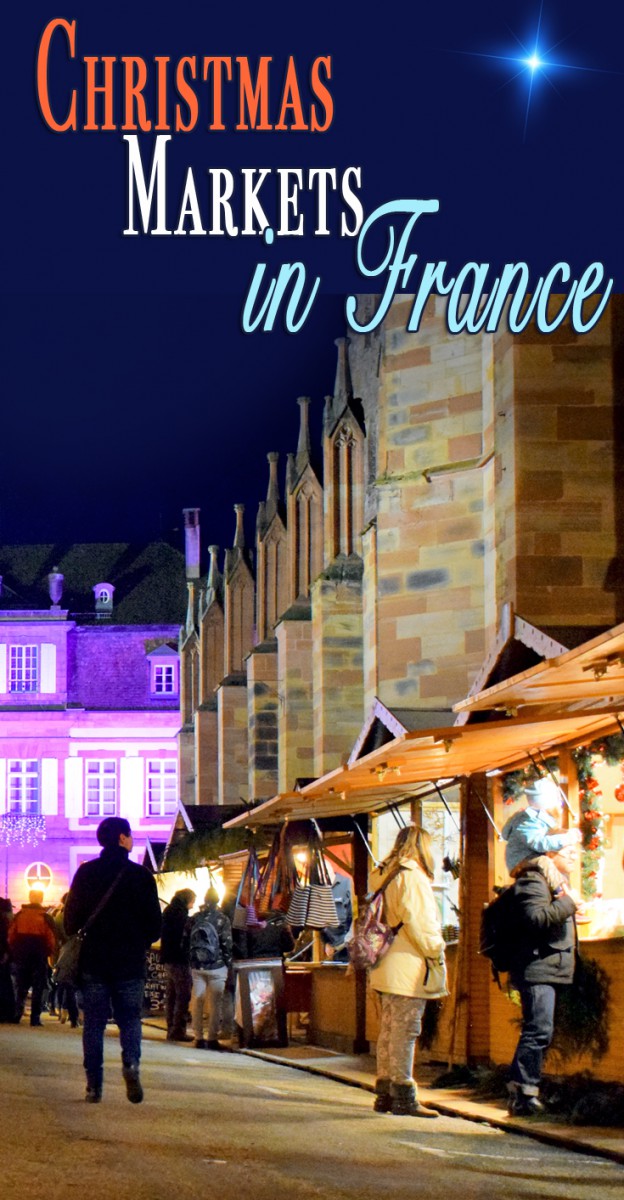 ---
Some of the links above are affiliates so if you're planning a trip, using these links helps me keep things running. There's no extra cost to you. All you have to do is click the link and any booking you make is automatically tracked. Merci !
---