The little town of Guebwiller is situated along the Alsace Wine Route at the foot of the Vosges mountains. For the Christmas season, Guebwiller distinguishes itself from the popular Alsatian destinations that are Colmar and Strasbourg with an original yet creative event called "Blue Christmas" (Noël Bleu).
---
A Blue Christmas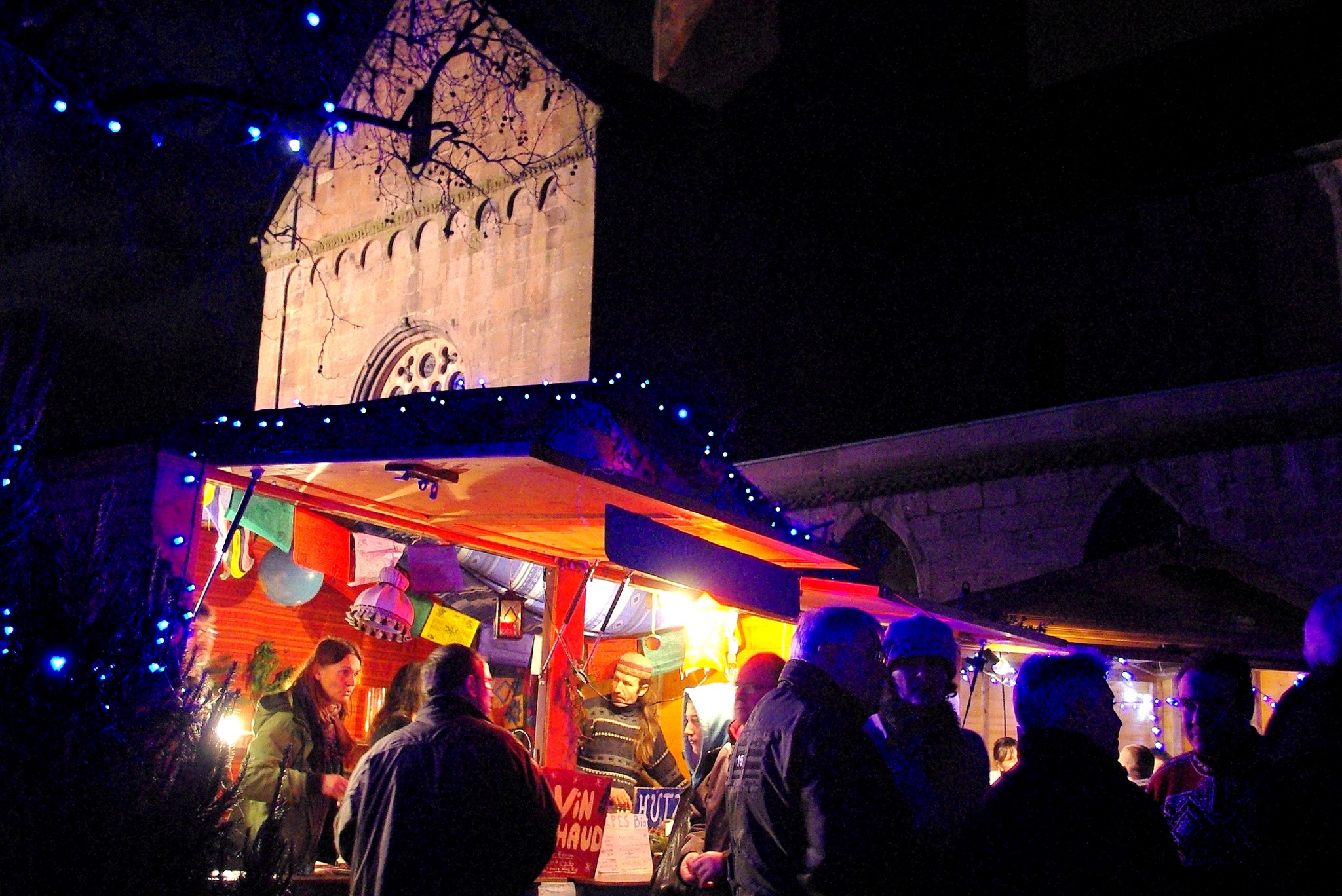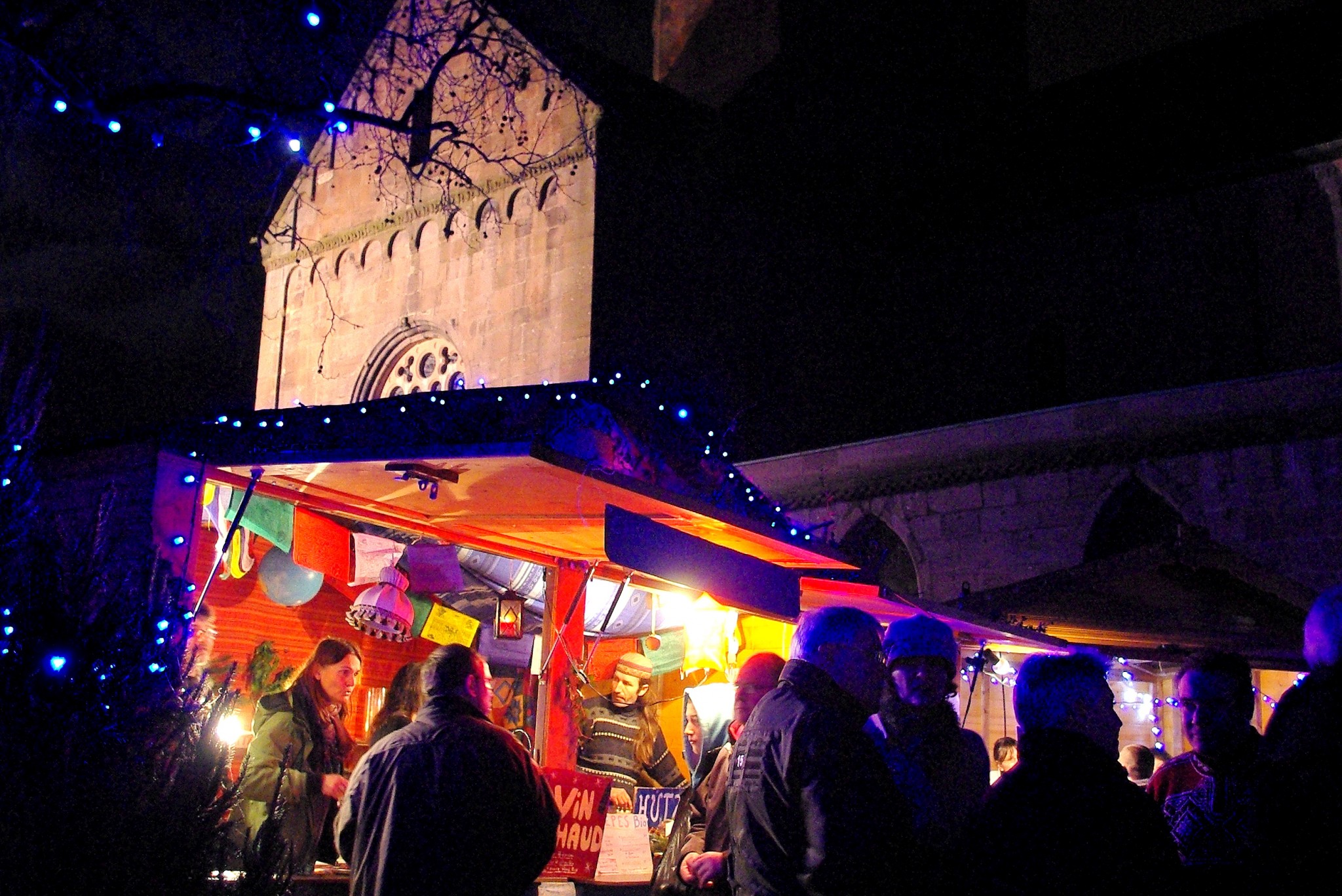 In 2014, the Christmas season is coming back to Guebwiller with the 6th edition of the "Noël Bleu" event.
The name of the event does not come from the popular Christmas song but rather refers to the Deck-type of blue used by a local ceramicist, Théodore Deck.
Mixing traditional Christmas illuminations with mapping video (projections on buildings and monuments), the Noël Bleu in Guebwiller aims to emphasise the rich architectural heritage of the town.
The monumental video projections take place on the majestic façade of Notre-Dame church.
Another projection is shown on the Place de l'Hôtel de Ville which is also decorated by permanent blue Christmas decorations.
The Romanesque church Saint Léger is also magically lit up with a theme that is closely linked to the Christmas market that takes place at the foot of the church.
On Boxing Day (26 December), the festivities end with fireworks launched from the vineyards.
---
Guebwiller Christmas Market
At the foot of the Romanesque Saint-Léger Church, the chalets of the Guebwiller Christmas Market offer some of the best organic produce of Alsace: mulled wine, gingerbread, jams, honey and also crêpes, seafood, smoked salmon and snails…
---
About Guebwiller
Half-way between Mulhouse and Colmar, Guebwiller is a lively town at the entrance of the Florival Valley. Owned by the powerful Abbots of Murbach during the Middle-Ages, the town of Guebwiller often suffered from the conflicts between the churchmen and the Habsburgs. From that troubled history, Guebwiller retains some interesting monuments, particularly some of Alsace's finest churches: the Church Saint-Léger (12th-13th centuries), built in the late Rhenish Romanesque style, the Dominican Abbey and cloister, in the Gothic style and the Church Notre-Dame de Guebwiller (1762-1785) of neo-Classical style.
Find out more about Guebwiller and the Alsace Wine Route.
---
How to get to Guebwiller
By train
Guebwiller is situated 25 km from Mulhouse train station with train connections to Colmar, Strasbourg, Lyon, Basel and Paris.
By car
Situated between Colmar and Mulhouse, Guebwiller is easily reached from Strasbourg (110 km), Freiburg-im-Breisgau (60 km) and Basel (60km). Paris is 500 km from Guebwiller.
By air
The closest international airport is the Basel-Mulhouse-Freiburg Euroairport (50km) which is serviced by national and European airlines.
---
English-French Vocabulary
(f) for féminin, (m) for masculin, (adj) for adjective and (v) for verbs
Advent = Avent (m)
chalet = châlet (m)
Christmas = Noël
Christmas Eve = veille de Noël (f) / réveillon (m)
Christmas lighting = illuminations de Noël (f,p)
Christmas market = marché de Noël (m)
Christmas Tree = sapin de Noël (m), arbre de Noël (m)
church = église (f)
Father Christmas = Père Noël (m)
holiday season = période de Noël (f), temps des fêtes (m)
Santa = Père Noël (m)
square = place (f)
street = rue (f)
---