Ready for the most wonderful time of the year in France? Christmas is an enchanting time when the best attractions of Paris and France transform into the most festive winter wonderlands. During the holiday season, you'll spot Christmas lights and trees in every city and town in the country. You'll also find enchanting Christmas markets taking centre-stage in historic districts. The purpose of this article is to explain what makes Christmas in France the merriest time of year leading up to New Year's Eve. This page includes a wide array of information about how Christmas is celebrated in true French style! Follow the links on this page to enter into a French winter wonderland…
The information on Christmas in France was last checked and/or updated on 27 October 2021.
Christmas in France: An Ever-changing Celebration
It may be tempting to believe that the Christmas traditions and customs we follow in our Western countries date back to ancient times.
However, this is not the case.
Most of them date back to the 19th century at the earliest.
This is the case with Santa Claus, Christmas presents, Advent calendars and Christmas glass baubles, tinsels and fairy lights on the tree.
A germanic influence
Moreover, it is clear that many Christmas traditions in France and in Europe have their origins in the German countries that were once part of the Holy Roman Empire (Germany, Austria, Switzerland, Alsace, etc.).
For example, the tradition of the fir tree cut down in the forest to decorate the inside of houses comes to us from Alsace in the 16th century.
This is also the case for Christmas markets, the oldest of which are in Dresden, Nuremberg, Strasbourg and Vienna.
An American influence
From the 19th century onwards, the United States participated in the evolution of Christmas traditions in our Western societies. Thus, the character of Santa Claus (derived from St. Nicholas) began to make a place for himself in post-war Europe.
Christmas presents are also associated with the Christmas shopping frenzy. For it was in the United States that, slowly but surely, Christmas became a child-centred holiday.
Ancient traditions still survived
However, the French continue to follow a number of ancient traditions, some of which date back to pre-Christian times, particularly Celtic and Roman times. For example, people still decorate their houses with holly and celebrate Christmas on 25 December (the date replacing the Roman celebrations of Saturnalia during the winter solstice).
But above all, since the second half of the 20th century, we have witnessed the desecration of Christmas, whose central character, Jesus Christ, seems to be fading away in front of Father Christmas…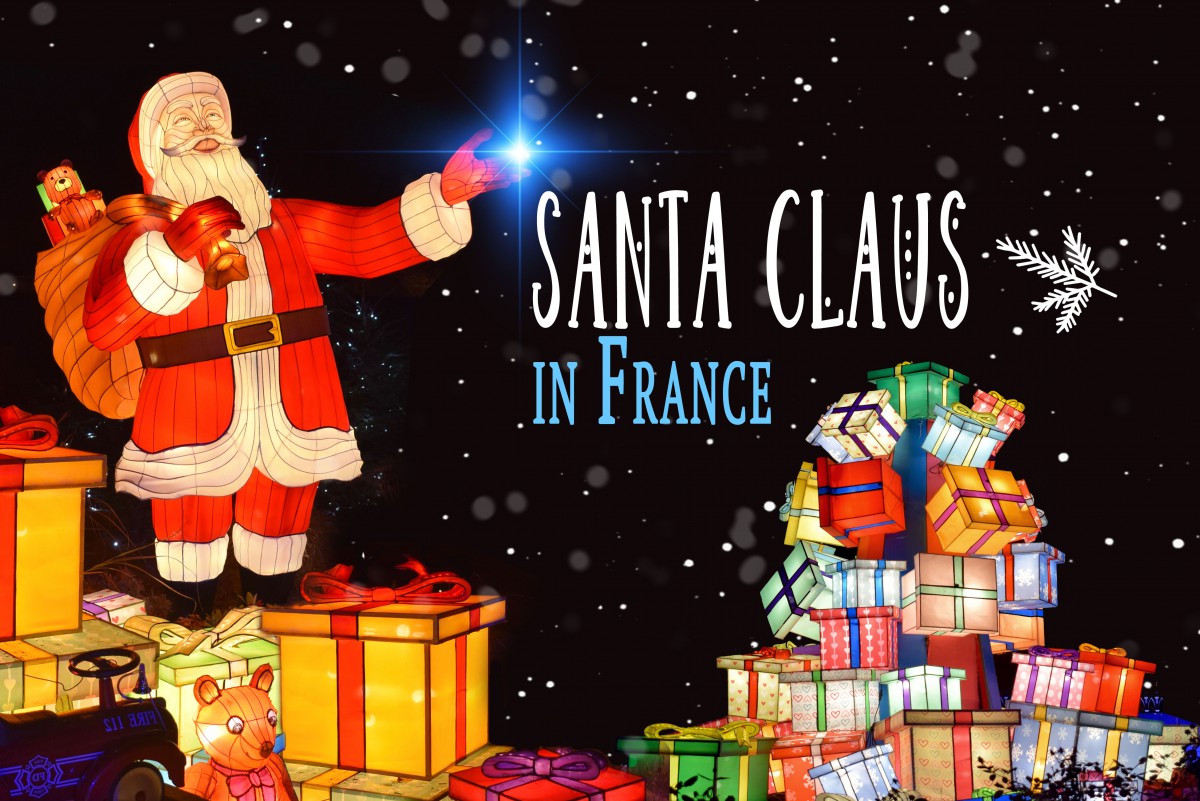 Thus, the fascinating history of Christmas traditions and customs continues to evolve in France and in our Western world.
What is Christmas in France like?
Christmas in France is made special with the multitude of Christmas illuminations and traditions found throughout the country.
From the end of November, the cities and towns of France transform into a magical wonderland with all the Christmas lights.
In Paris or in Alsace, this is time for "ooh" and "ahh" at the Christmas light displays and festive markets.
People travel near and far to see the Eiffel Tower sparkling at night. They make sure not to miss the dazzling Christmas lights in the prestigious Avenue des Champs-Elysées.
Some of the festive attractions we can't wait to see in Paris are the animated window displays of department stores Printemps and Galeries Lafayette.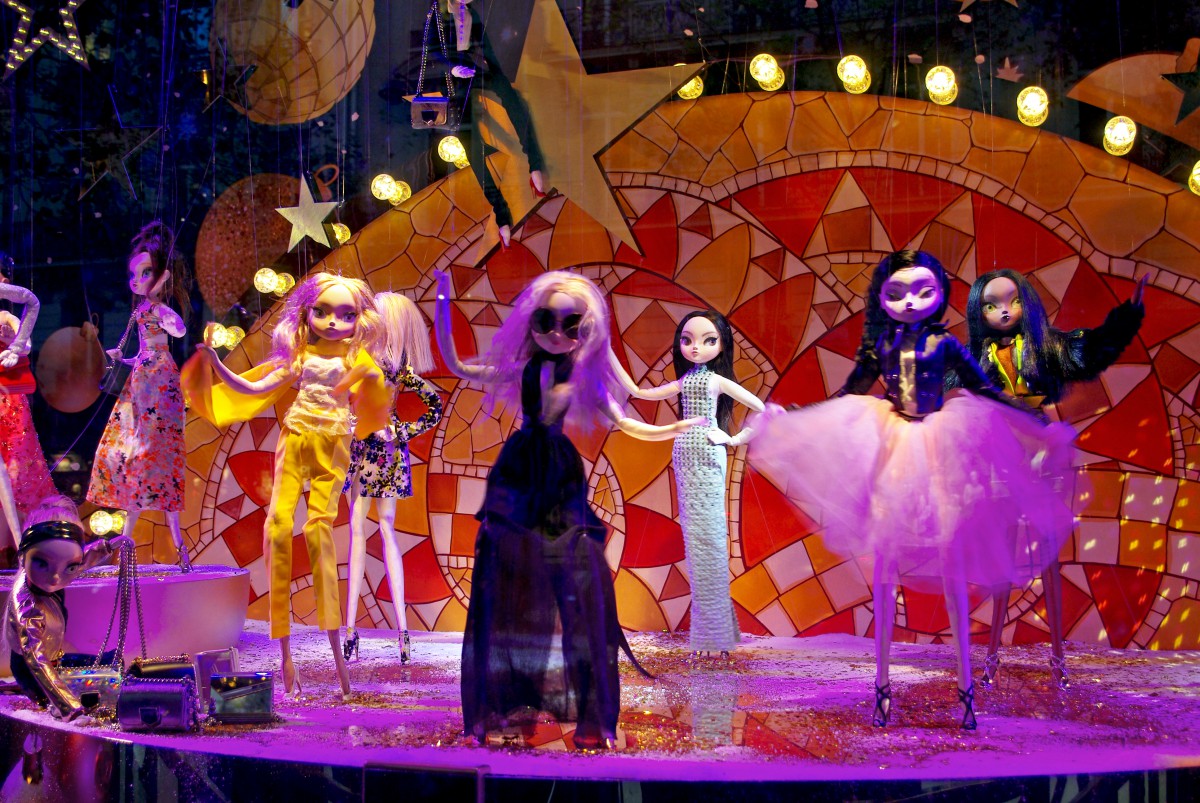 Get the Christmas in Alsace eBook – a Photographic Journey
My eBook Christmas in Alsace – a Photographic Journey contains 340+ photos, 256 pages and covers 16 destinations.
Illuminations, decorations, fir trees and delicious treats: this is a compilation of things I loved and experienced while visiting Alsace in December.
These are photos shot during freezing nights in December… but also in the warm atmosphere of an authentic Christmas market.
It is a book especially dedicated to the discovery of the Christmas traditions that make Alsace such a unique holiday destination.
I hope it will transport you somewhere special – to a magical land far from all the bad news in the media.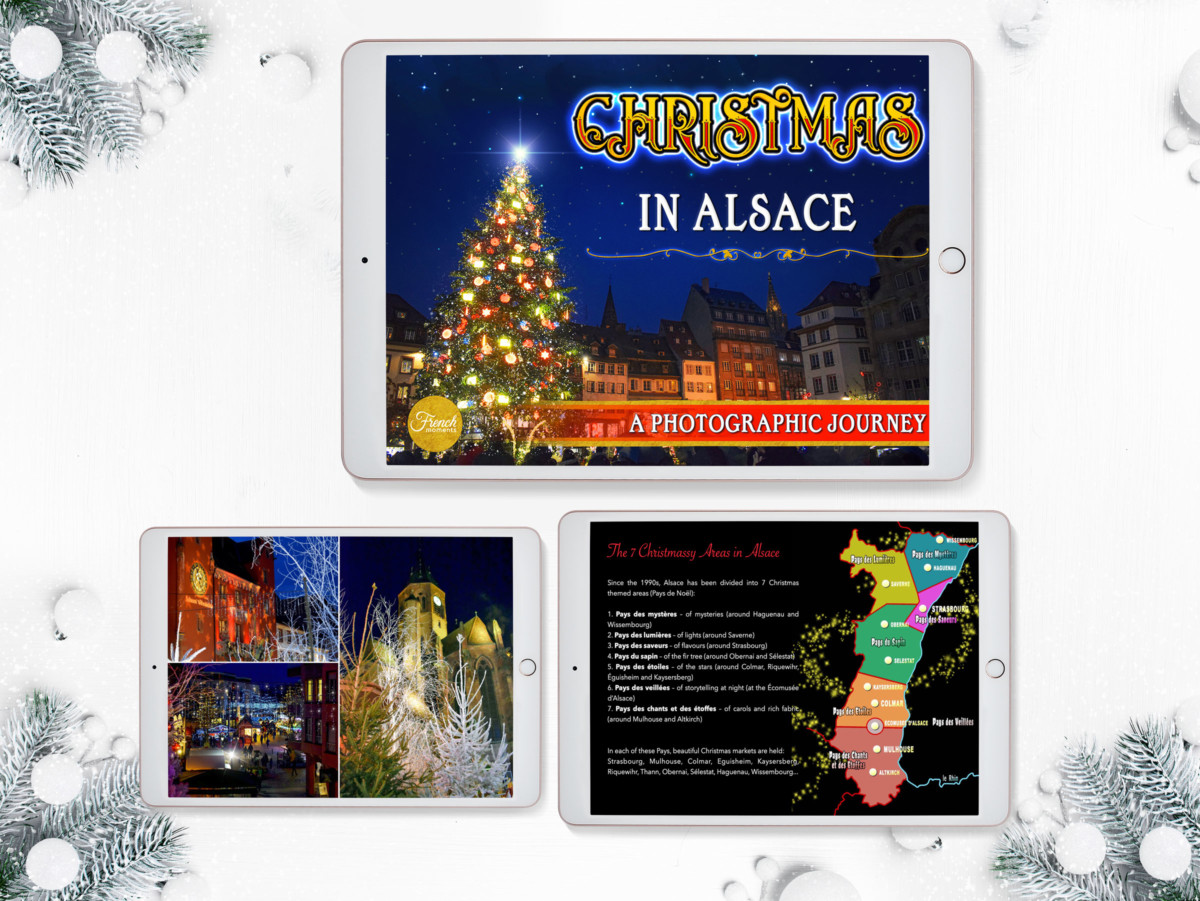 Why is Christmas important in France?
Christmas is a big event for the nation which is diversely celebrated whether you are in Paris, in Normandy or in Provence.
People in the Alsace region festoon their homes with elaborate Christmas decorations.
In Provence, it is tradition to serve 13 desserts on Christmas' Eve.
In the Alps of Savoie, you may taste a delicious cheese-based dish such as fondue or raclette.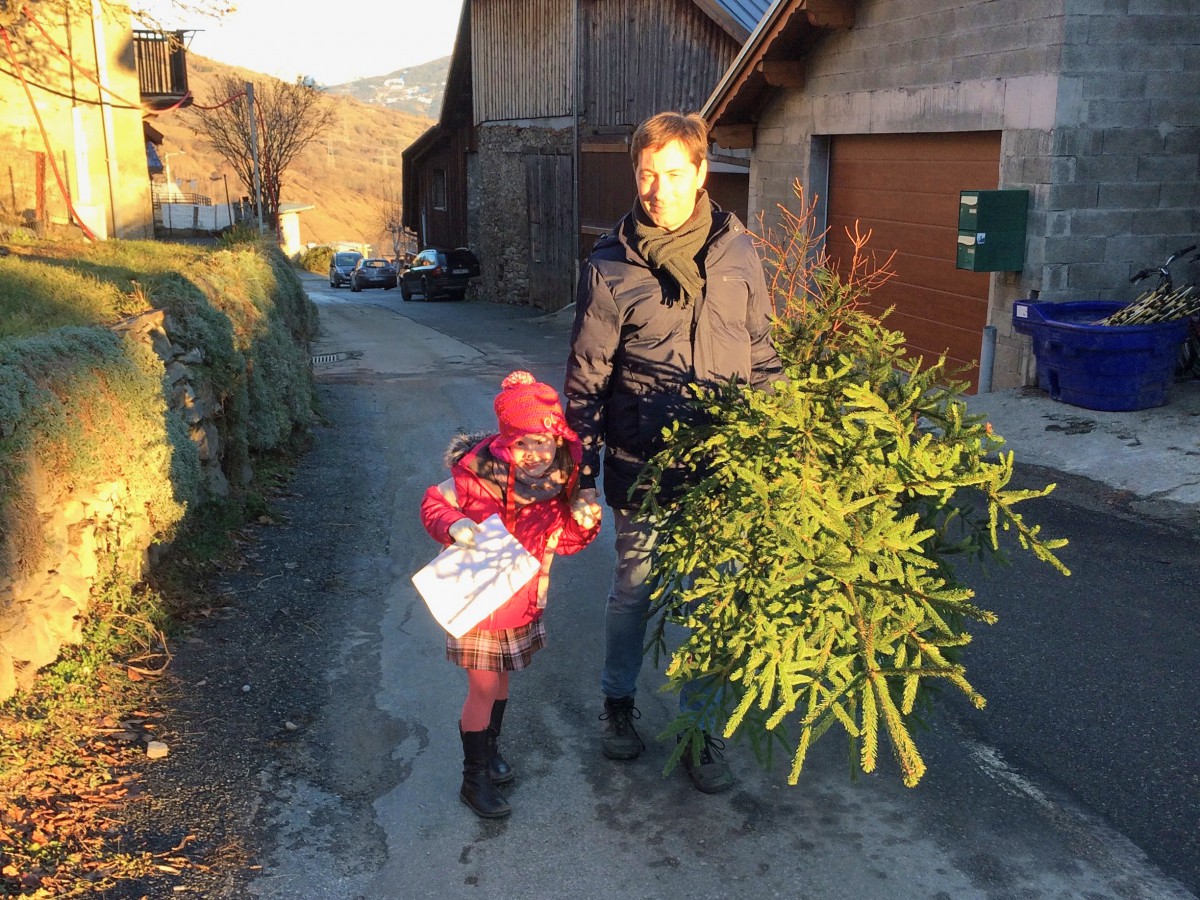 First of all, Christmas is a religious celebration that remembers the birth of Jesus-Christ in Bethlehem.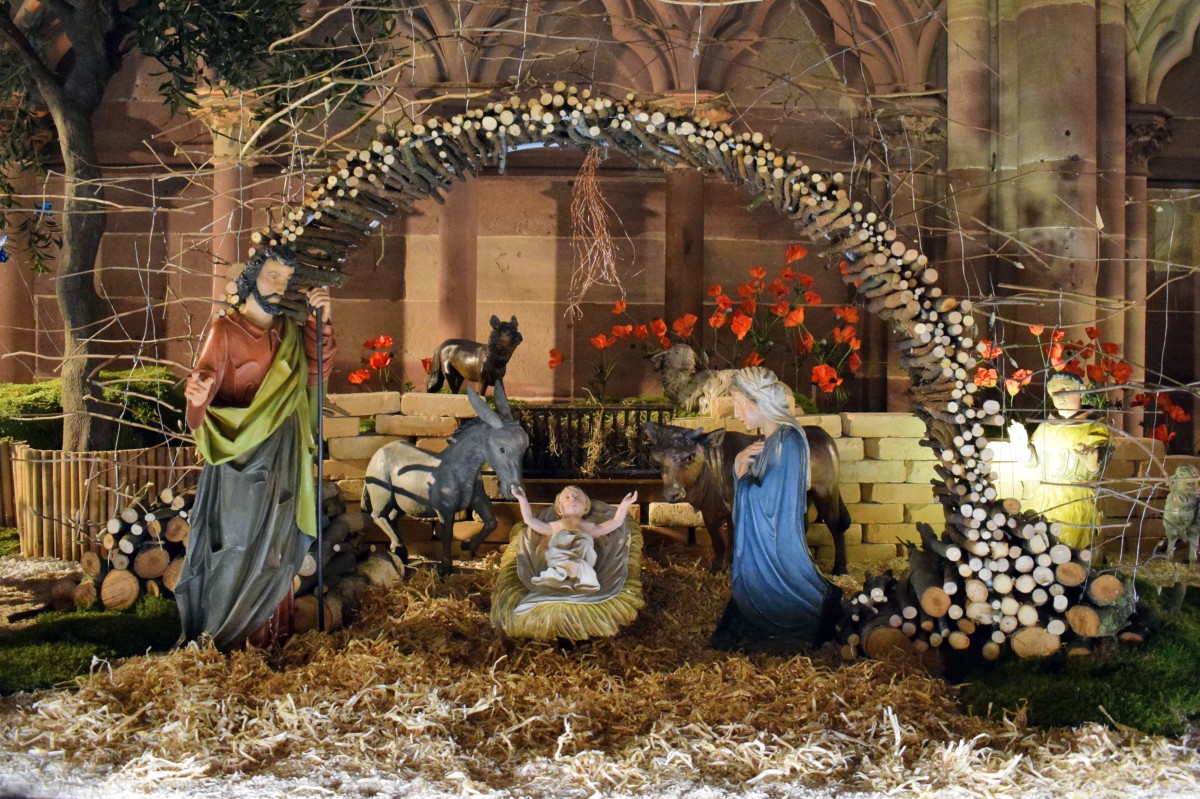 Then a great number of traditions have emerged such as the Advent wreaths and calendars, a great dinner on Christmas' Eve, presents and gifts, without forgetting Christmas trees!
There are many stunning Christmas trees throughout France, but the ones of Strasbourg and Nancy are among the prettiest I've ever seen. Adorned in glowing lights, the twinkling Christmas trees are highlights that stand out during the festive season.
I may be a bit biased, but nothing quite compares to Christmas time in Alsace. This is why you'll find a lot of information and photos on this blog dedicated to this region in northeast France.
If you enjoy Christmas and everything that comes with it, Alsace is the place to be. There are Christmas decorations all over the cities and villages, and countless Christmas markets which attracts masses of visitors daily.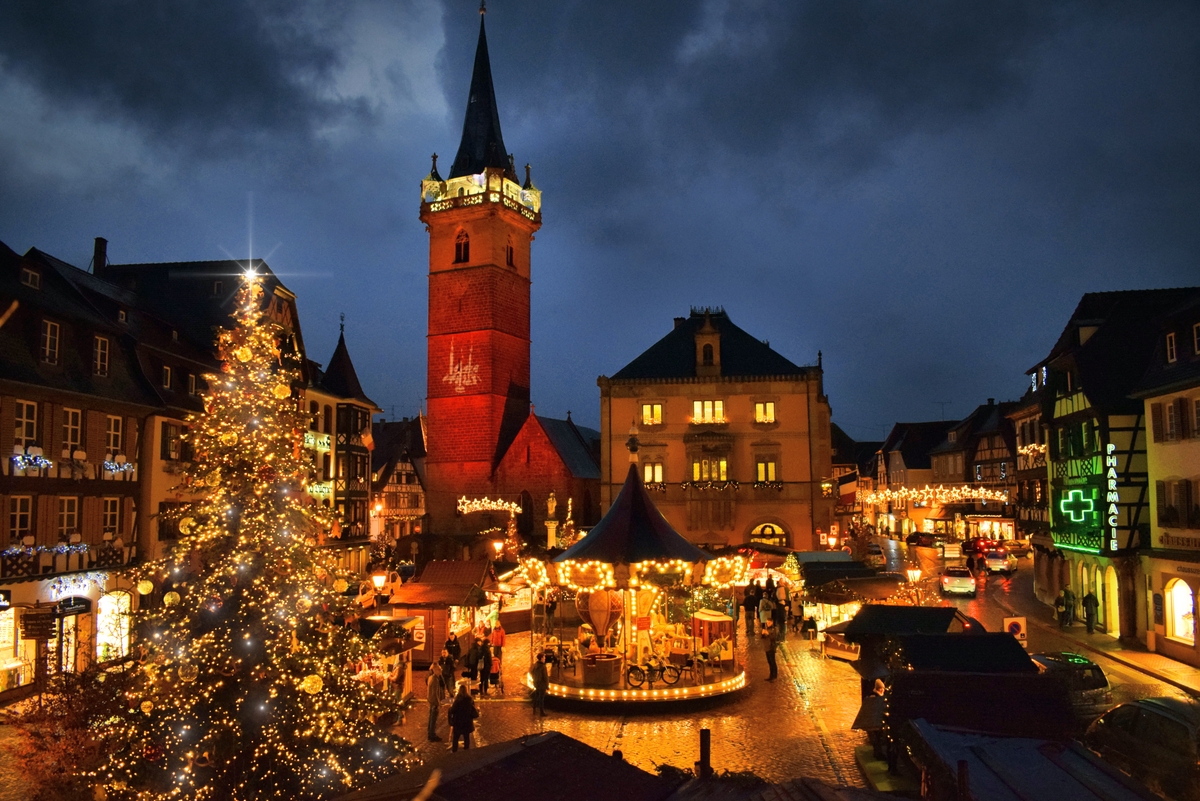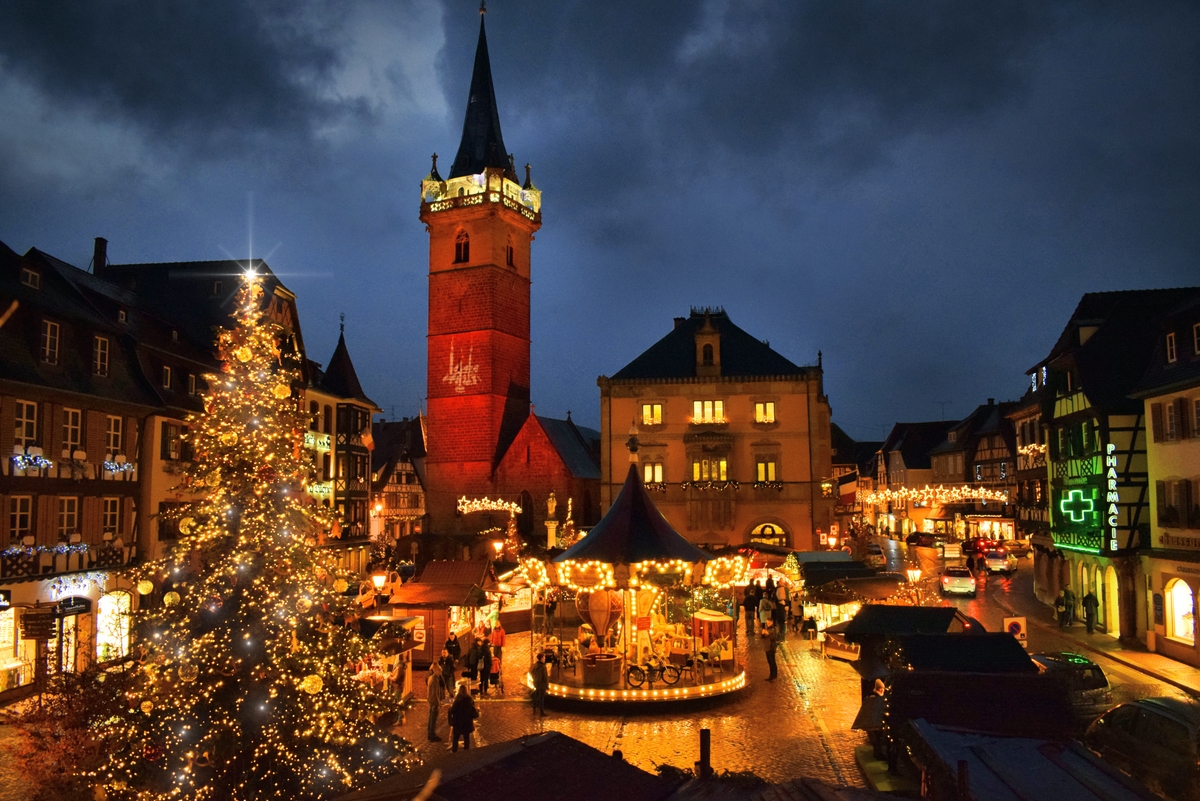 The characters of Christmas
Finally, a number of characters have been created in the imagination of our forefathers…
The list is rather long if you take account of the regional characters: Saint-Nicolas, Père Fouettard, Christkindle, Hans Trapp, Tante Airie, Père Chalande… The recent addition to the list is Santa Claus, known as Père Noël in France.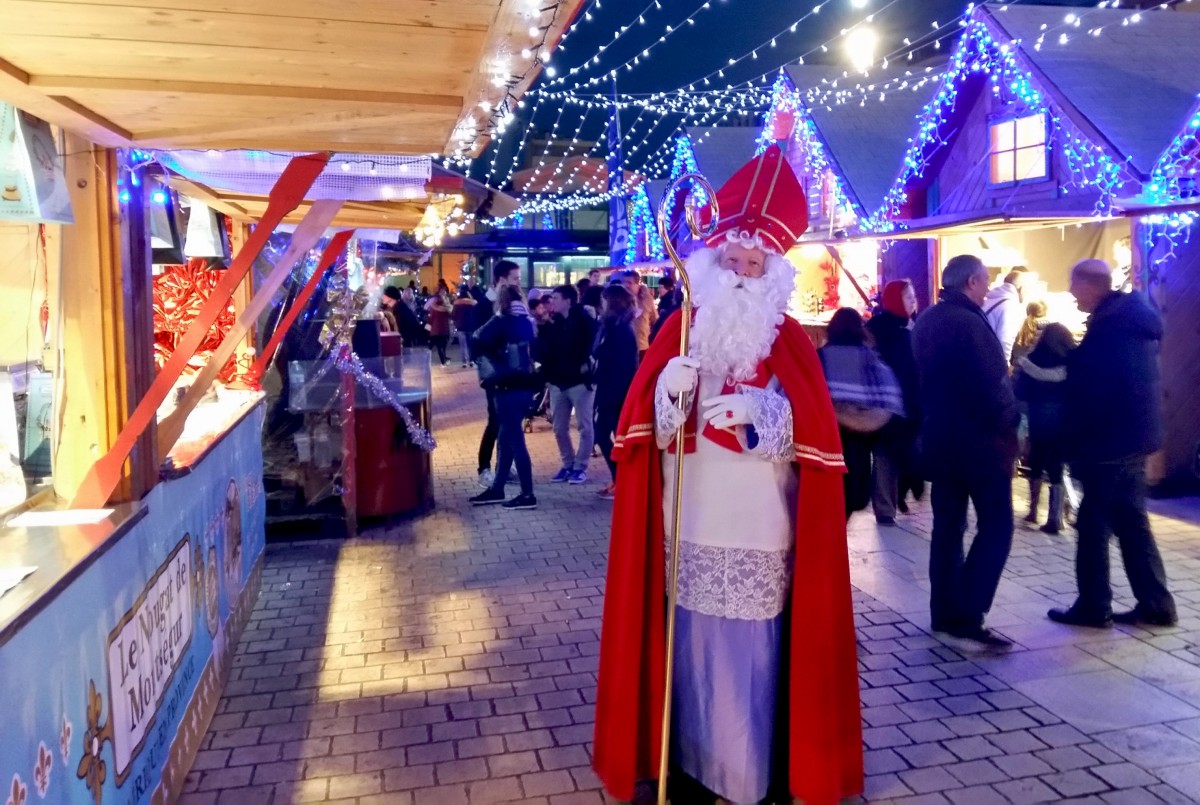 How do you say 'Christmas in France' in French?
► CHRISTMAS is NOËL in French [pronounced no-well]
► CHRISTMAS IN FRANCE is NOËL EN FRANCE in French
In French, Noël is a proper noun and is therefore capitalised in both the singular and plural.
This masculine word (je vous souhaite un beau Noël – I wish you a merry Christmas) becomes feminine when used with the definite singular article (je vous verrai à la Noël – I will see you at Christmas) because the ellipsis of "fête de" is used.
However, when it comes to the Nativity songs, the term used is masculine with a lower case (nous avons chanté des noëls – we sang Christmas carols).
Noël is also a common surname (actress Annie Noël, Vosges MP Jean-Baptiste Noël, comedian Matthieu Noël, etc.), as well as a male (Noël) and female (Noëlle) first name, celebrated unsurprisingly on 25 December. This name is often given to children born on Christmas Day.
Download our English-French and French-English glossary about Christmas.
15 Fun Facts about Christmas in France
Noël and the Nativity Scenes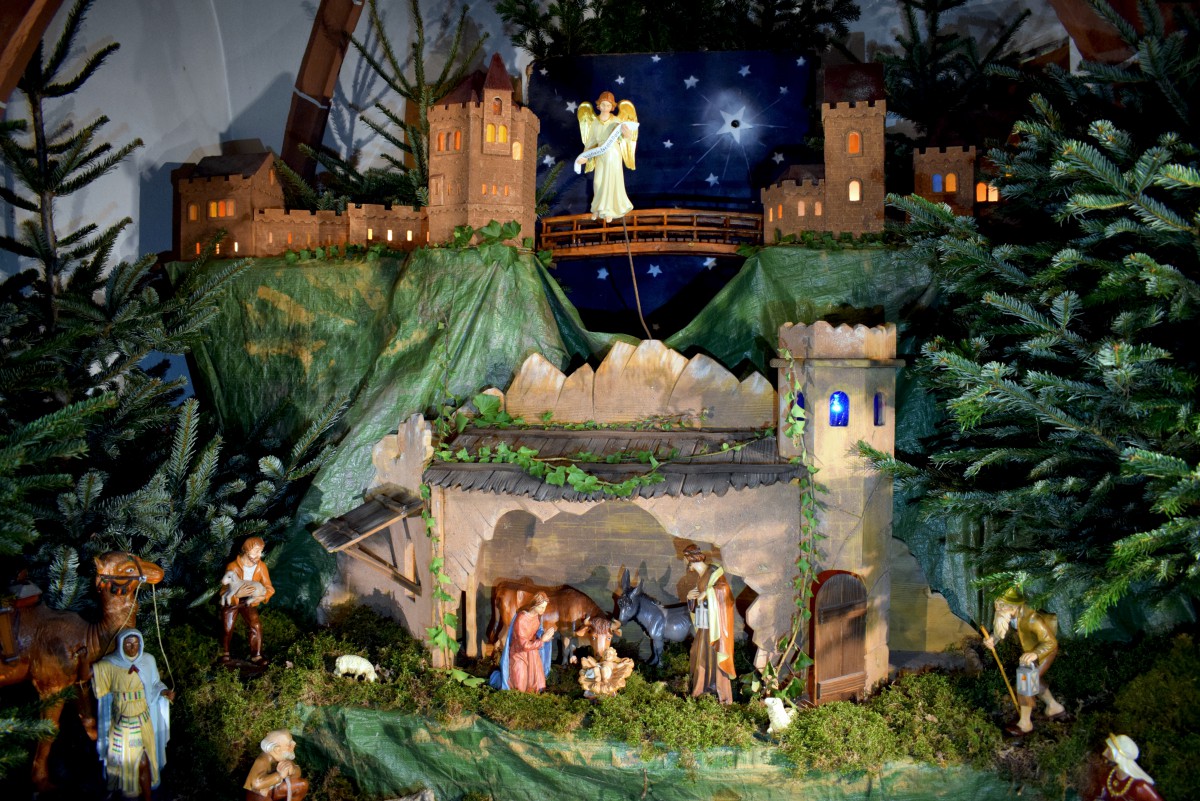 The first mention of the word Noël is attested in France in the early 12th century.
According to legend, in 1223 Saint-Francis of Assisi created the first Christmas crib before midnight mass. The scenes were performed by actors (villagers from Grecchio, Italy) and real animals were part of the event. The first cribs were therefore Nativity plays.
In Alsace, the oldest mention of the existence of a crib set in a church (1420) is kept in Haguenau.
Christmas Trees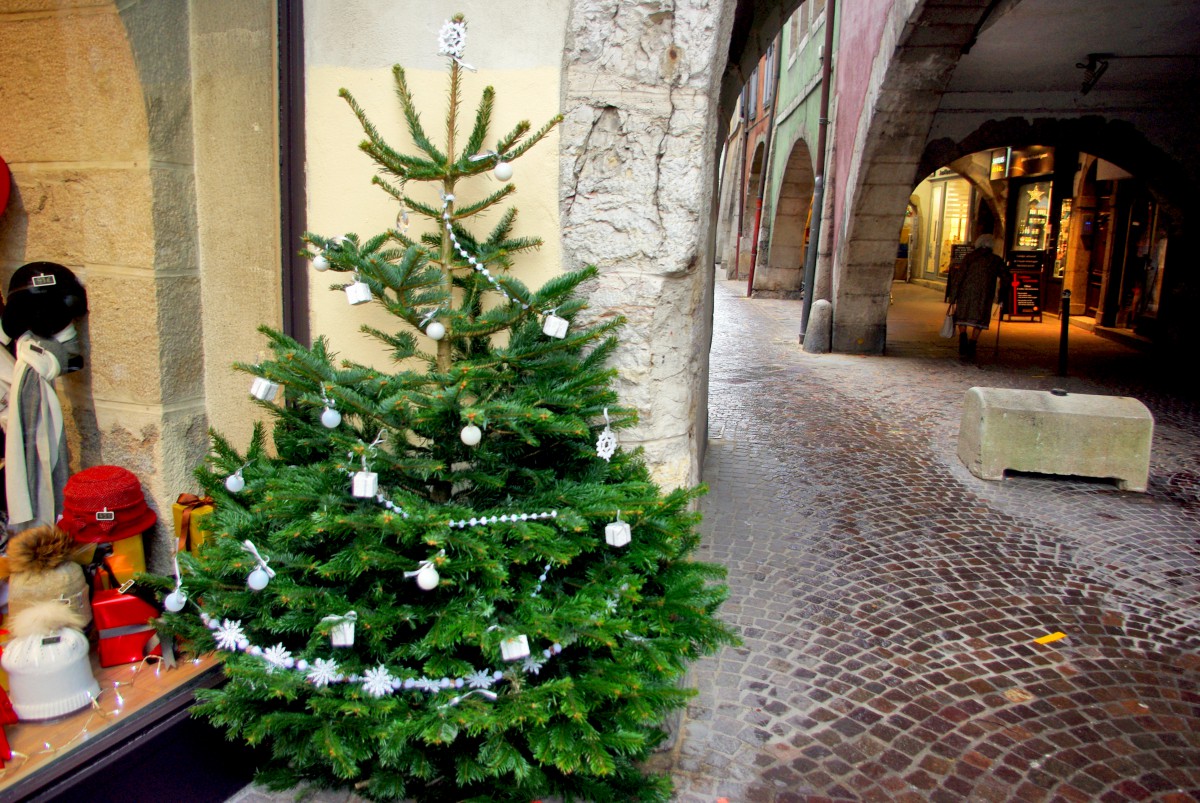 The first mention of a Christmas tree cut down in the forest to be raised inside houses is kept in the municipal archives of Sélestat. It occurred on Christmas 1521.
Strasbourg's Christmas tree on the Place Kléber is considered to be the tallest in France and one of the tallest in Europe.
Christmas markets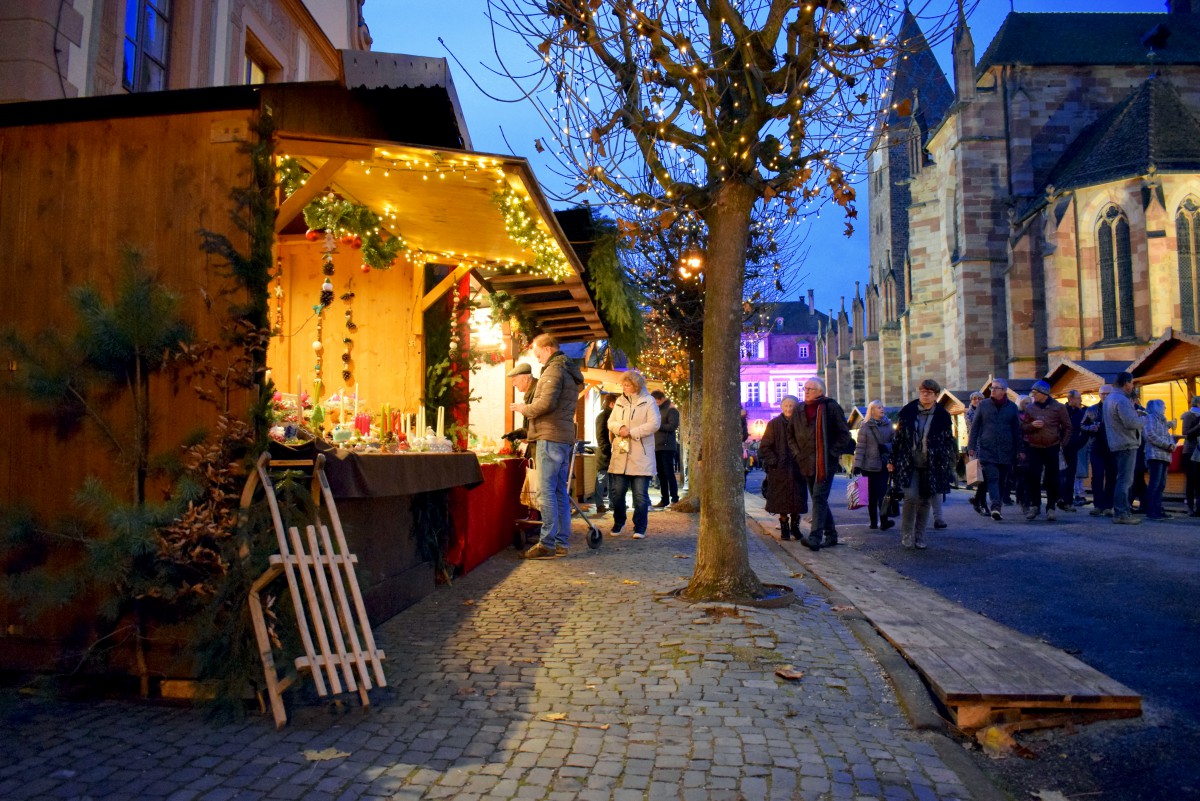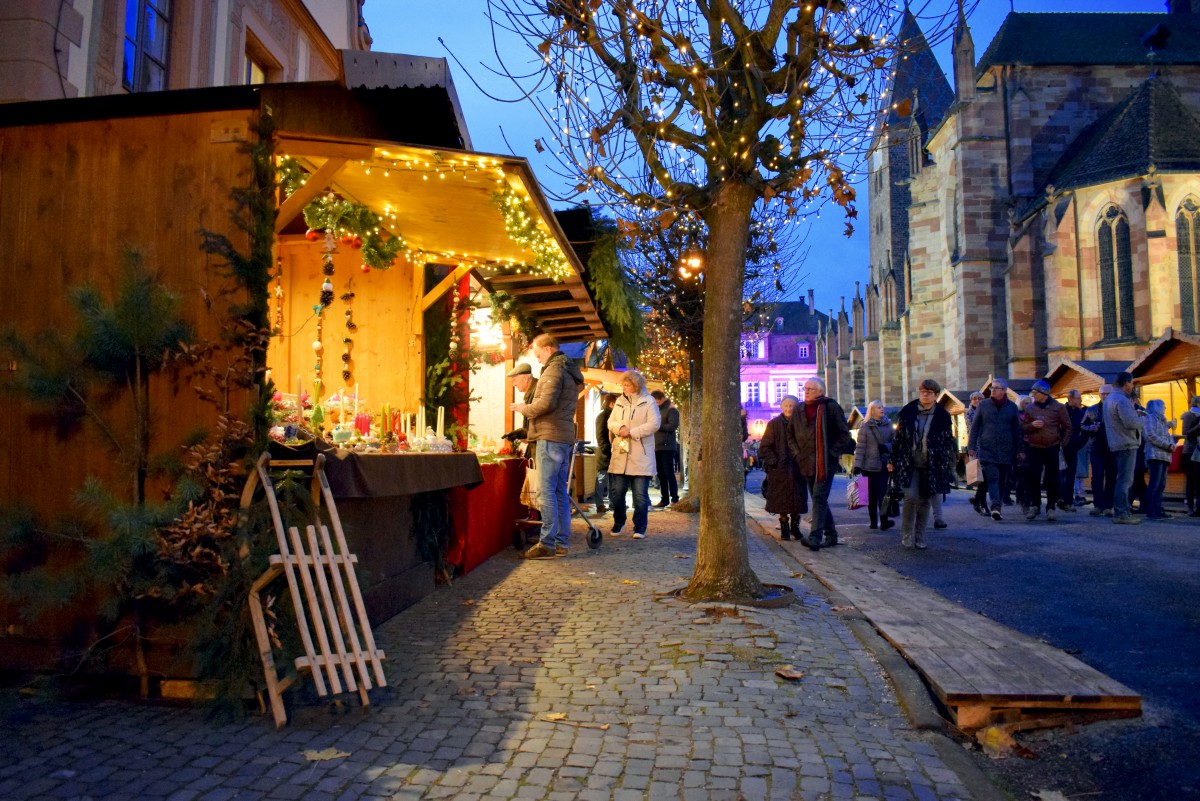 In France, Christmas market translates as Marché de Noël. In some cities, this name is replaced by Village de Noël. This is the case for the Christmas market in Colmar, which consists of 5 Christmas villages.
The oldest Christmas market in France is the one in Strasbourg. The capital of Alsace, then part of the Holy Roman Empire, has been holding its Christkindelsmärik since 1570.
Only a few French cities display a giant Christmas pyramid in their Christmas markets: Metz, Arras, Calais and Nice.
Towards the night of Christmas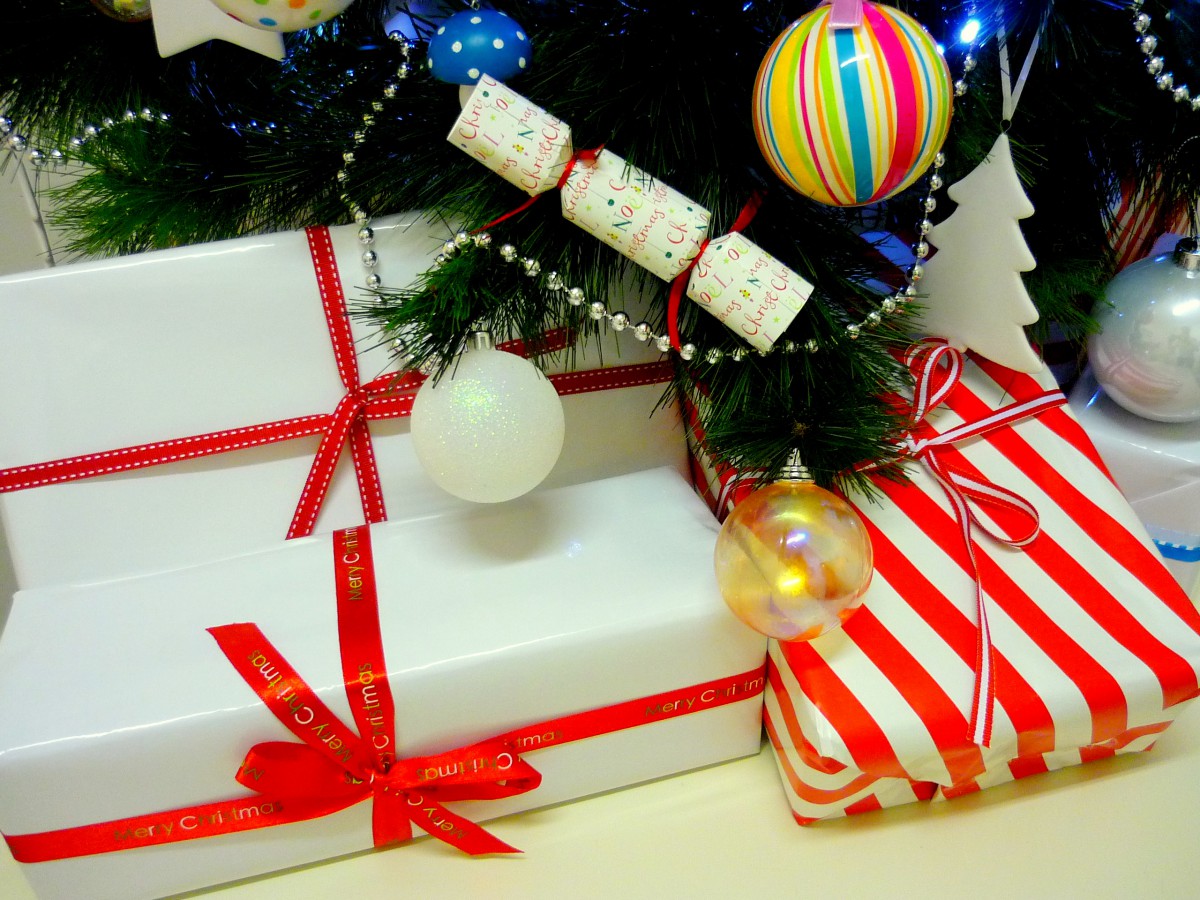 For many families in France, 24 December, Christmas Eve, is a two-part event: a hectic day of preparation and a festive evening around Christmas Eve dinner: le Réveillon de Noël.

Before the appearance of Father Christmas, it was Little Jesus (le Petit-Jésus) who distributed presents in Paris and in France (except in Alsace-Lorraine and Flanders).

In Alsace, there are several gift distributors: Father Christmas of course, but also Saint-Nicolas and Christkindel.

Christmas has become the time to exchange gifts with your family. The French national statistics institute (INSEE) estimates that people spend 2.5% of their annual income on Christmas presents. This represents two-thirds of their presents budget.
Christmas Carols
The oldest Christmas carol in Germany dates back to the 9th century. It was composed by the monk Otfried of Wissembourg (a town now in France), considered the first German-language poet.

In France, the oldest surviving hymn dates from the early 16th century: "Entre le bœuf et l'âne gris".

In France, the song "Petit Papa Noël", performed by Tino Rossi in 1946, was a popular hit when it was released: the song still holds the French record for sales of singles.
All our Articles on Christmas in France
Our blog contains a huge amount of resources on Christmas, from traditions to celebrations and gastronomy. Here is a selection of Christmas articles published on the blog.
Learn about the Christmas traditions in France
The Christmas tree:
The Nativity Scenes: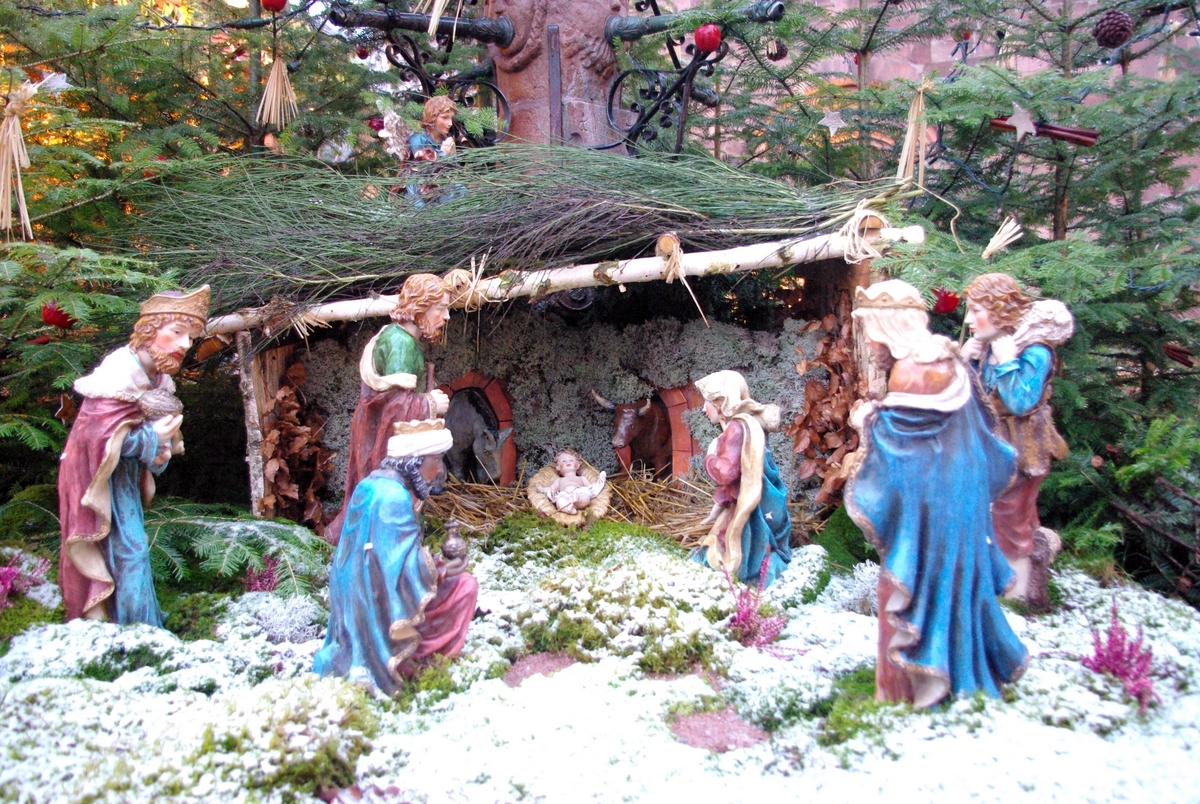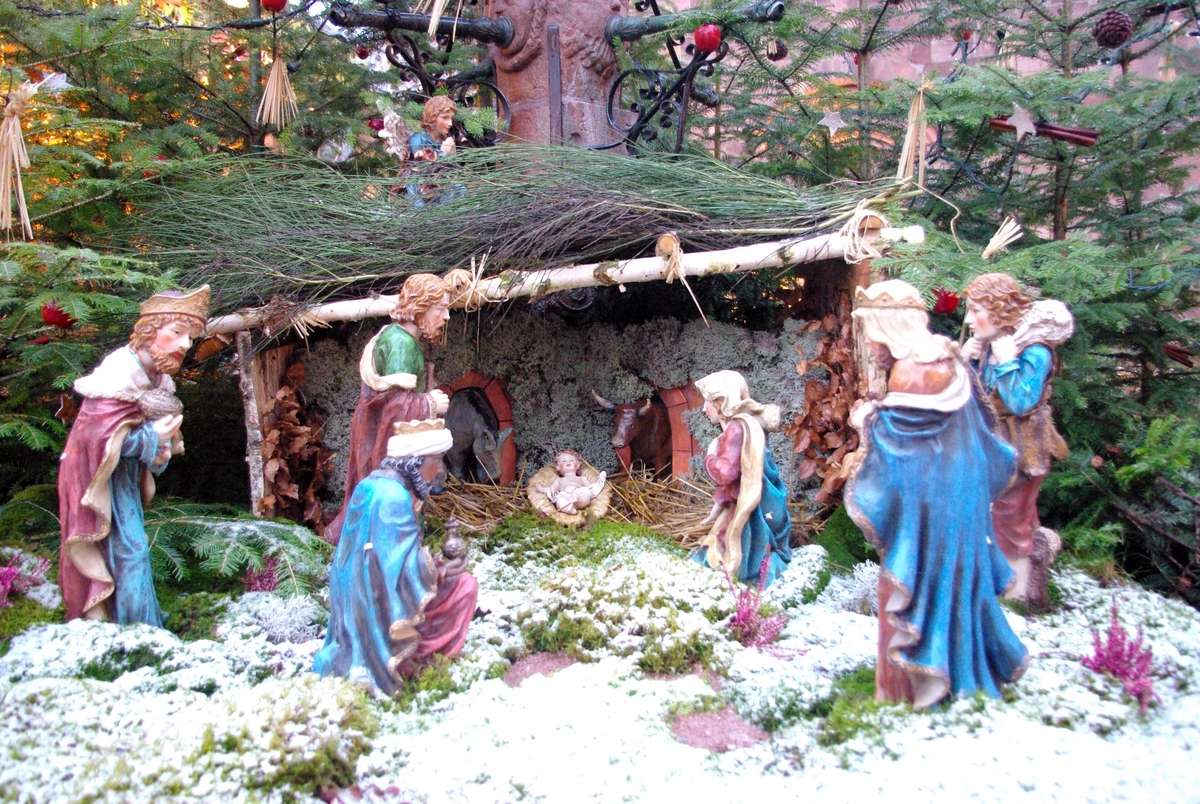 The Characters of Christmas: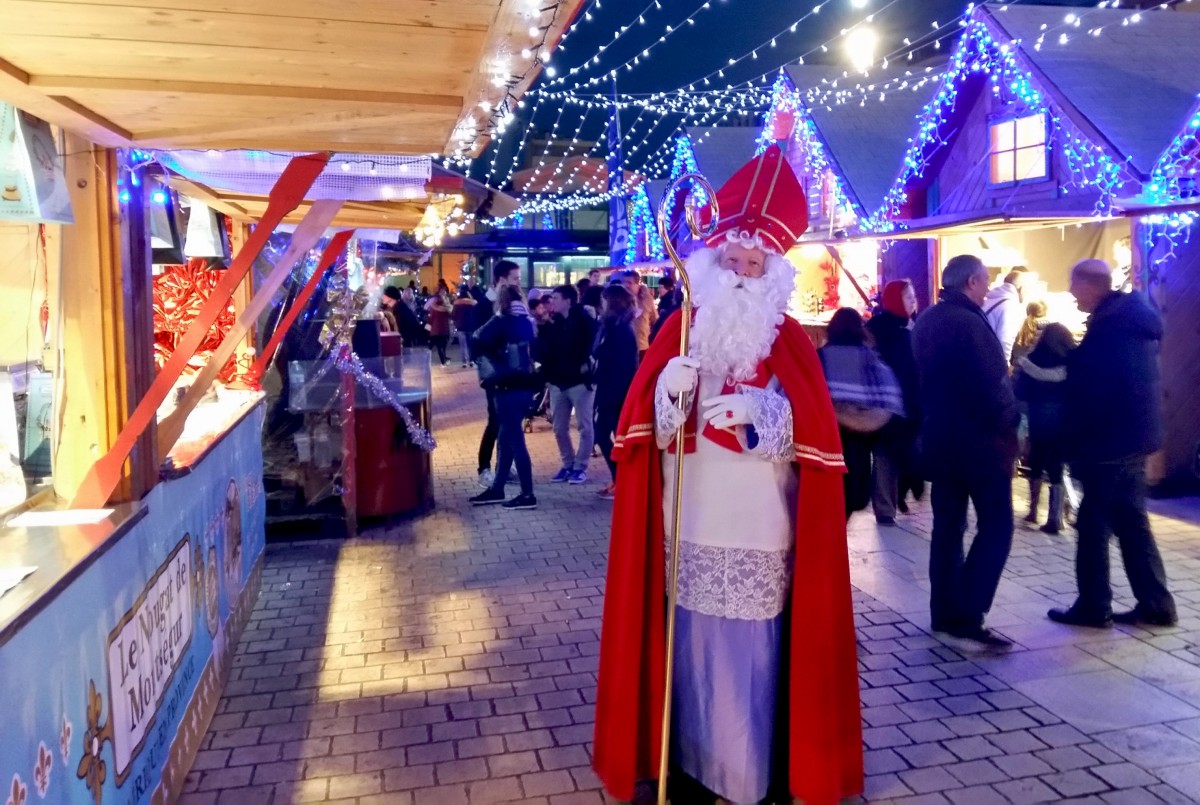 Discover the Christmas Markets in France
Enjoy the Christmas Gastronomy of France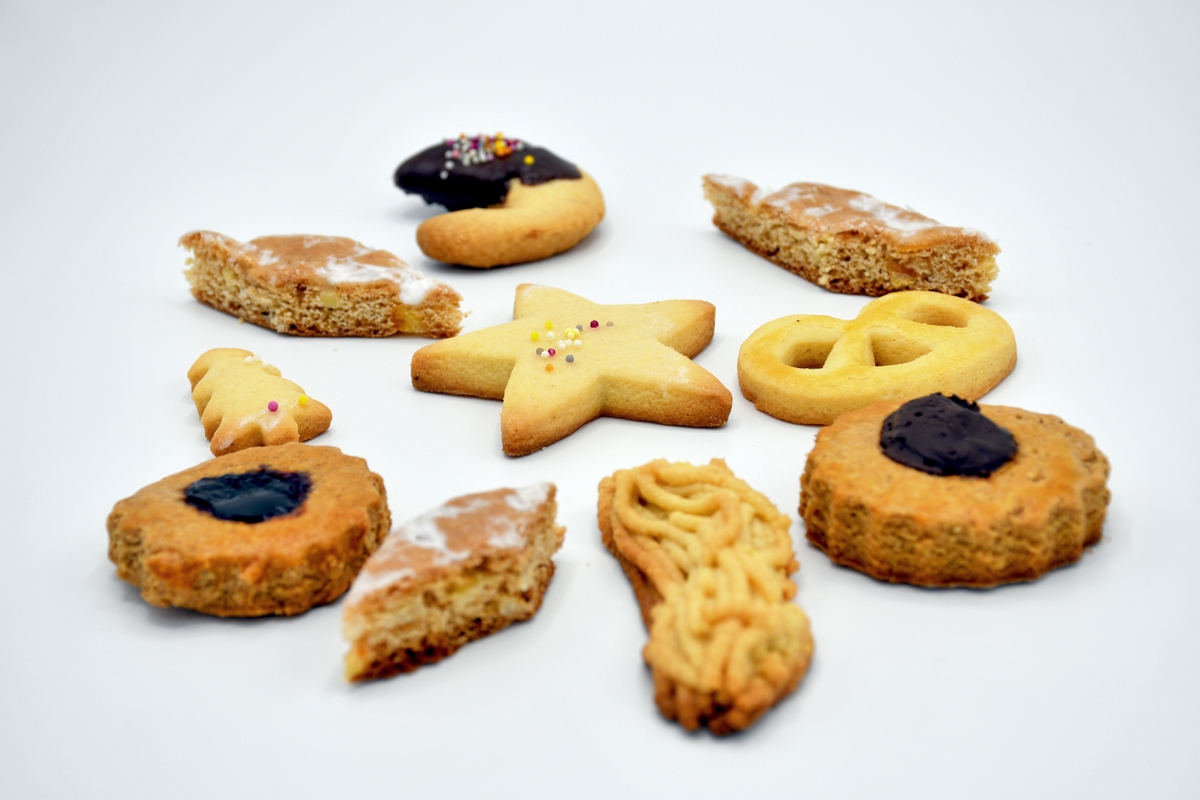 Regional Christmas in France
Alsace-Lorraine: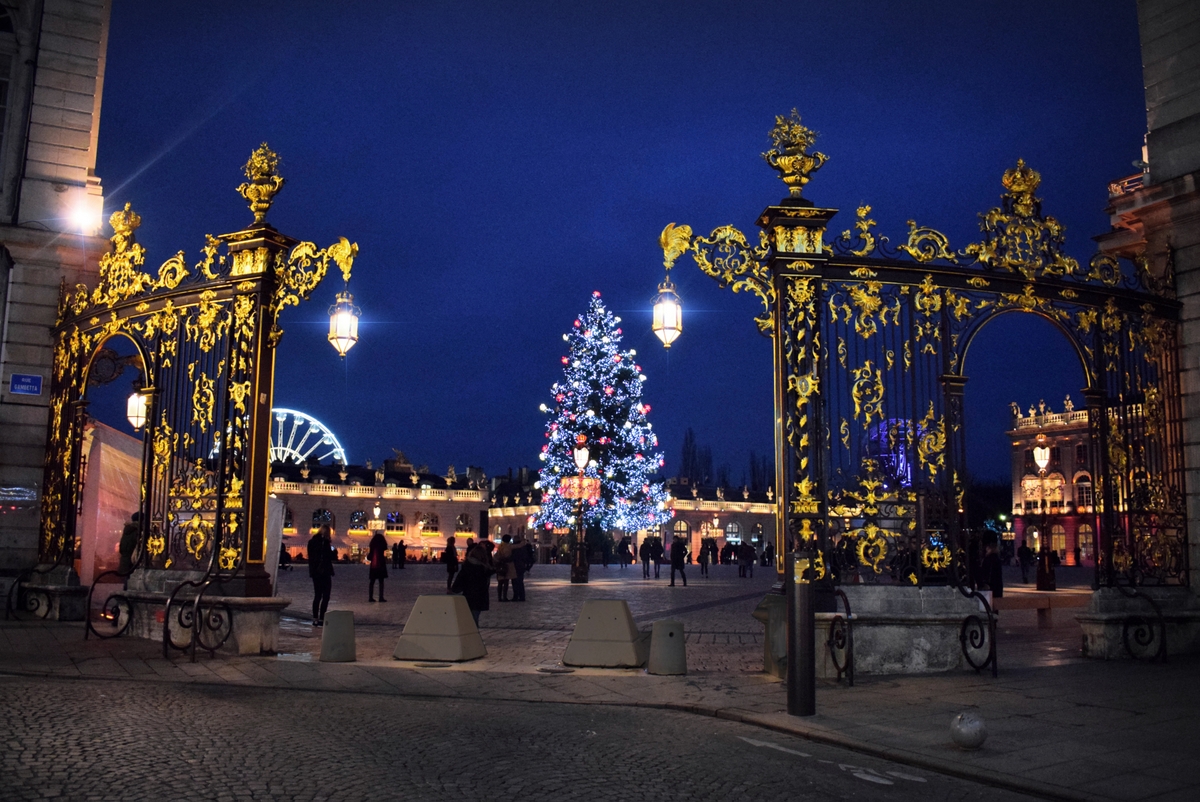 Paris:
Other places:
Christmas in other blogs and websites!
Here is a selection of websites to learn more about the festive season:
Mon Grand-Est
Our blog Mon Grand-Est contains a great number of Christmas articles in French, from traditions, markets, gastronomy and more!
Why?Christmas
At whychristmas?com we answer your Christmas questions!
My Merry Christmas
The Internet's Longest Ongoing Celebration of Christmas
Christmas in Alsace
The official page of Christmas in Alsace:
https://noel.tourisme-alsace.com/
Noël à Strasbourg
The official page of Christmas in Strasbourg:
https://www.noel.strasbourg.eu
French Christmas on Facebook and Instagram
Join French Moments on Facebook and Instagram for photos of Christmas in France:
https://www.facebook.com/AFrenchChristmas