Ready for the most wonderful time of the year in France? Christmas is an enchanting time when the best attractions of Paris and France transform into the most festive winter wonderlands. During the holiday season, you'll spot Christmas lights and trees in every cities and towns in the country. You'll also find enchanting Christmas markets taking centre-stage in historic districts. The purpose of this article is to explain what makes Christmas in France the merriest time of year leading up to New Year's Eve. This page includes a wide array of information about how Christmas is celebrated in true French style! Follow the links on this page to enter into a French winter wonderland… ??
---
What is Christmas in France like?
Christmas in France is made special with the multitude of Christmas illuminations and traditions found throughout the country.
From the end of November, the cities of France transform into a magical wonderland with all the Christmas lights.
In Paris or in Alsace, this is time for "ooh" and "ahh" at the Christmas light displays and festive markets.
People travel near and far to see the Eiffel Tower sparkling at night. They make sure not to miss the dazzling Christmas lights in the prestigious avenue des Champs-Elysées.
Some of the festive attractions we can't wait to see in Paris are the animated window displays of department stores Printemps and Galeries Lafayette.
---
NEW eBook: Christmas in Alsace – a Photographic Journey
I've just released my new eBook: Christmas in Alsace – a Photographic Journey.
It contains 340+ photos, 256 pages and covers 16 destinations.
Illuminations, decorations, fir trees and delicious treats: this is a compilation of things I loved and experienced while visiting Alsace in December.
These are photos shot during freezing nights in December… but also in the warm atmosphere of an authentic Christmas market.
It is a book specially dedicated to the discovery of the Christmas traditions that make Alsace such a unique holiday destination.
I hope it will transport you somewhere special – to a magical land far from all the bad news in the media.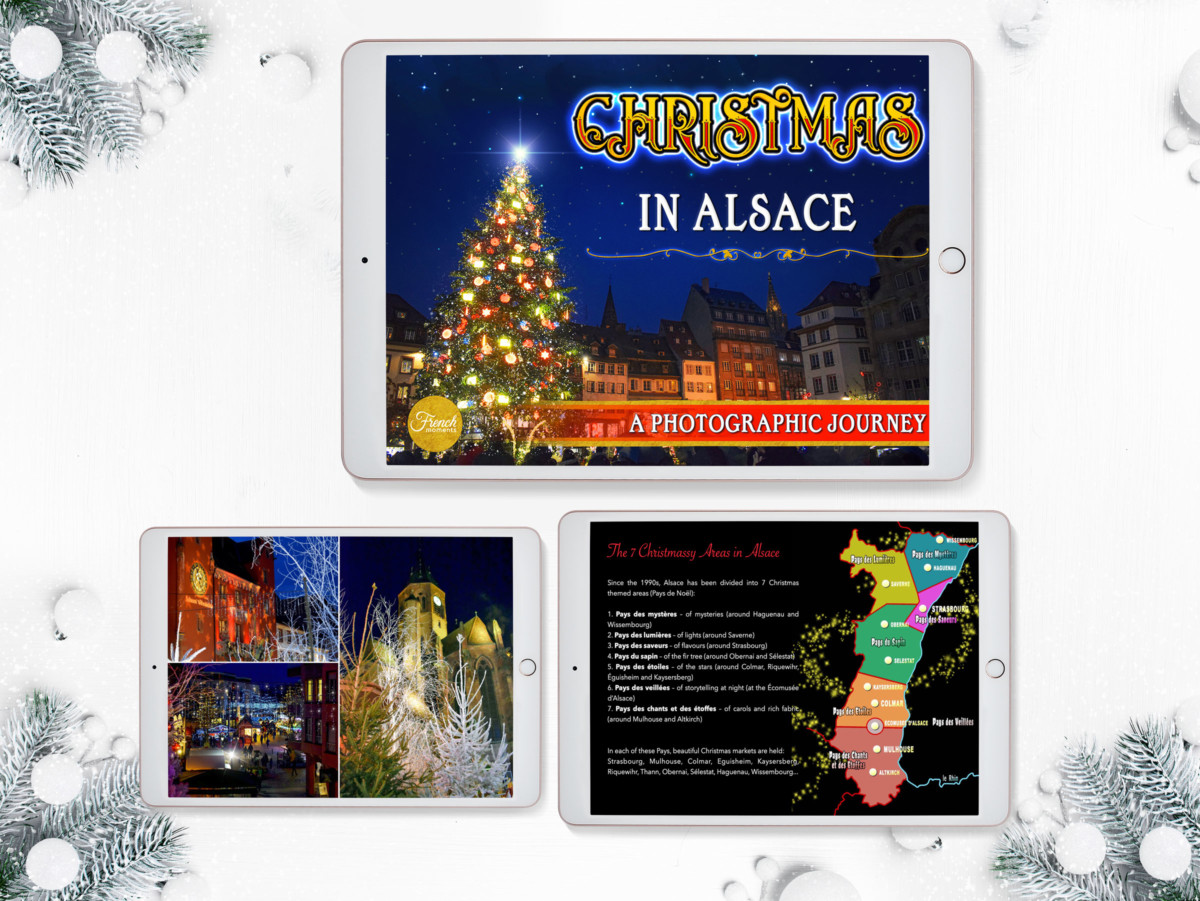 ---
Why is Christmas important in France?
Christmas is a big event for the nation which is diversely celebrated whether you are in Paris, in Normandy or in Provence.
People in the Alsace region festoon their homes with elaborate Christmas decorations.
In Provence, it is tradition to serve 13 desserts on Christmas' Eve.
In the Alps of Savoie, you may taste a delicious cheese-based dish such as fondue or raclette.
First of all, Christmas is a religious celebration that remembers the birth of Jesus-Christ in Bethlehem.
Then a great number of traditions have emerged such as the Advent wreaths and calendars, a great dinner on Christmas' Eve, presents and gifts, without forgetting Christmas trees!
There are many stunning Christmas trees throughout France, but the ones of Strasbourg and Nancy are among the prettiest I've ever seen. Adorned in glowing lights, the twinkling Christmas trees are highlights that stand out during the festive season.
I may be a bit biased, but nothing quite compares to Christmas time in Alsace. This is why you'll find a lot of information and photos on this blog dedicated to this region in north-east France.
If you enjoy Christmas and everything that comes with it, Alsace is the place to be. There are Christmas decorations all over the cities and villages, and countless Christmas markets which attracts masses of visitors daily.
---
The characters of Christmas
Finally a number of characters have been created in the imagination of our forefathers…
The list is rather long if you take account of the regional characters: Saint-Nicolas, Père Fouettard, Christkindle, Hans Trapp, Tante Airie, Père Chalande… The recent addition to the list is Santa Claus, known as Père Noël in France.
---
How do you say 'Christmas in France' in French?
► CHRISTMAS is NOËL in French [pronounced no-well]
► CHRISTMAS IN FRANCE is NOËL EN FRANCE in French
Download our English-French and French-English glossary about Christmas.
---
Our pages on CHRISTMAS MARKETS
---
Our pages on CHRISTMAS IN ALSACE
---
Our pages on CHRISTMAS IN LORRAINE
---
Our pages on CHRISTMAS TREES
---
Christmas in other blogs and websites!
Why?Christmas
At whychristmas?com we answer your Christmas questions!

My Merry Christmas
The Internet's Longest Ongoing Celebration of Christmas
Christmas in Alsace
The official page of Christmas in Alsace:
https://noel.tourisme-alsace.com/
Noël à Strasbourg
The official page of Christmas in Strasbourg:
https://www.noel.strasbourg.eu
Lyon Festival of Lights
The official page to the Festival of Lights in Lyon
http://www.fetedeslumieres.lyon.fr
French Christmas on Instagram
Join French Moments on Instagram for photos of Christmas in France:
https://www.instagram.com/frenchchristmas/
---