As little Christmas delicacies, chocolate mendiants are part of the Provençal tradition and the thirteen desserts.
---
The Provençal tradition of the mendicant order
The colours of their ingredients are reminiscent of the original robes of the mendicant order of friars in the Church during the Middle-Ages:
the Franciscans (the Grey Friars) founded 1209 = grey (sultanas)
the Carmelites (the Brown Friars), founded 1206–1214 = brown (the hazelnut / walnut),
the Dominicans (the White Friars), founded 1215 = white (the almond cut in half), and
the Augustinians (the Austin Friars), founded 1244-1256 = deep purple (figs / cranberries)
The colours of the fruit and nuts on top of the chocolate were used as symbols of the four mendicant orders in the Church.
---
Ingredients

200g good quality dark chocolate
25g almonds
25g hazelnuts
25g peeled pistachio kernals (not salted)
50g raisins soaked in a small amount of rum
50g candied orange peel / candied clementine thinly sliced
Optional: you can use cranberries too if you want the traditional purple colour in the mendiants, but these days any mixture of dried fruits and nuts is fine!
---
Method
The method will vary depending on if you are making the traditional little mendiants (disks) which are often found in cellophane bags by weight in the French chocolaterie, or if you are making a more contemporary slab version instead.
We did a bit of both with these quantities …
Start by soaking the raisins in the rum, then drain and dry on paper towel. Set aside.
In a frying pan dry fry the almonds and hazelnuts to roast them slightly. Move them constantly and remove from the heat when lightly toasted.
If using the candied clementine, cut into thin slices.
Melt the chocolate in a bain marie.
If making disks, pour small amounts of the melted chocolate onto non-stick baking parchment to form little round circles of about 5 cm wide. Space out so that they don't touch each other. Add a small piece of candied orange, a pistachio, half an almond and a raisin to each disk and leave to set. You can add a hazelnut too if you like, unless you want to just have the traditional 4 fruit/nuts with their different colours on the little disks.
We made a few small mendiants and then mixed the rest of the fruit and chocolate together to set in a deeper dish lined with non-stick baking paper to make the slab. Leave both to set in the fridge/ cool place and then pack the little disks into pretty bags as gifts or slice the slab and serve after dinner in a tea-cup or wrap for a gift. You may need to double or triple the recipe if you are making for lots of gifts!
This recipe never fails to please and looks great as a finishing end to a meal served in a beautiful cup or piled up on a plate or cake stand.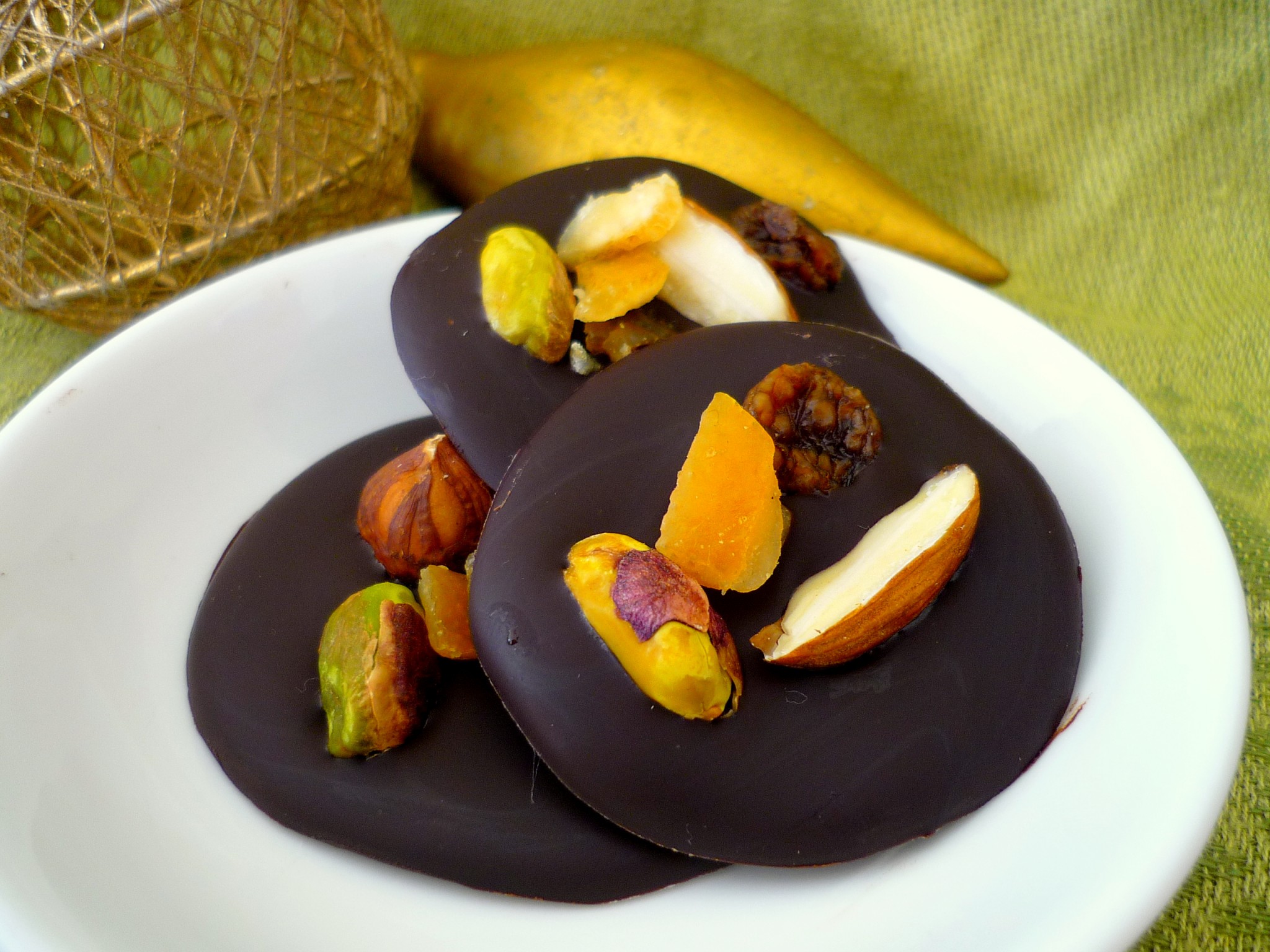 ---