Soft in the centre, caramelised on the outside; the canelé, cooked in a specially designed fluted copper-tin, is a speciality of the Bordeaux region. Quite difficult to make, the canelé challenge is all about finding the perfect contrast between the crust and the inside (that has to remain wet).
What are canelés?
The canelé is about two inches high and is made from sugar, milk, flour, rum and vanilla. Delicious at any time of the day, it is appreciated during wine tastings and can be consumed for breakfast, a snack or as a dessert.
Although the production of the canelé began during the 17th century, the little cake became famous only in 1985, when canelé became a brand, deposited by the Brotherhood of the canelé of Bordeaux; and it is now the most eaten of all pastries in Bordeaux.
You can find some of the most "bordelais" canelés at Baillardran's, Bordeaux; but famous names in Paris like Hermé, Fauchon or La Durée have found the canelé's secret as well.
Ingredients for making canelés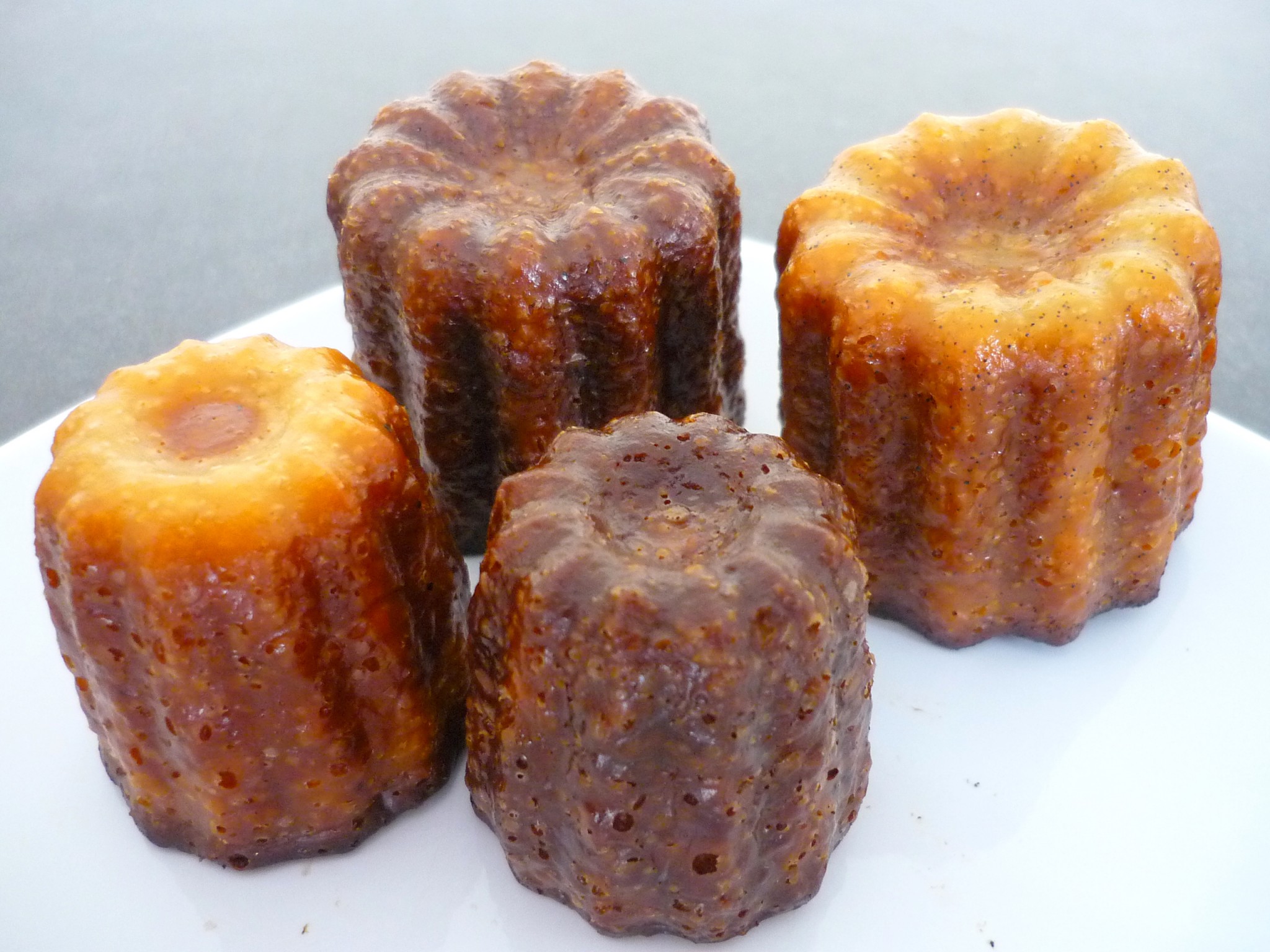 serves 12
A dozen of canelé copper tins
500ml milk
2 eggs
2 egg yolks
½ vanilla pod
3 to 4 tablespoons of rum
100g plain flour
200g sugar
50g butter (+ extra for greasing the tins)
The Method
STEP 1
Heat the milk, butter and vanilla. Bring to the boil. Then stop and infuse for 12 minutes.
STEP 2
Beat together the flour, sugar, and then add the eggs and egg yolks.
Pour in the milk and mix gently so that you get a fluid batter (similar to the crêpes batter).
STEP 3
Let the batter cool down, and then add the rum. Put it in the fridge, from one night to two days (24 hours is perfect)
STEP 4 (the following day!)
The oven is an important step. The temperature advised here may vary according to your oven. Preheat the oven to 260˚C, for 5 minutes.
STEP 5
Butter the canelé tins and then douse with sugar (so that the surface can caramelise).
Mix the batter and pour it into the tins (leave 5mm to 1cm empty from the top of the tin).
STEP 6
Put the tins in the oven for 5 minutes (still at 260˚C).
Then, reduce the temperature down to 190˚C.
Bake for a further 30 – 60 minutes, depending on your oven. Check regularly with a knife or a skewer: it should have a brown-caramelised colour, and the inside should remain wet and smooth.