Produced in the region around the city of Bordeaux, Bordeaux Wines contribute to the high reputation of France internationally. Over 700 million bottles of Bordeaux wine are sold each year, from table wine to the most prestigious (and expensive) wines.
---
Bordeaux Wines
Bordeaux Wines are mainly red (89% of the production) but some very nice white wines, dry whites, rosé and sparkling wines have also been recognised for their exceptional quality. More than 8,500 producers (also called locally châteaux) make Bordeaux Wines under 60 appellations.
The geography of the region of Bordeaux is very important in understanding the popularity of the wines.
Organised around the Garonne River, the Dordogne River and the Gironde estuary, the vineyards are set on limestone grounds, on which have been built magnificent châteaux and beautiful estates in the last two hundred years.
---
Bordeaux Wines: 5 major classifications (classements)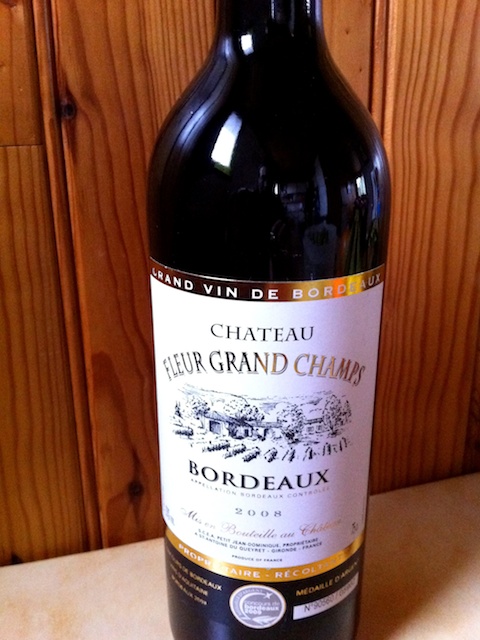 Classement de 1855. This classification of 61 red wines and 27 sweet wines was established during the Universal Exhibition of Paris. Reflecting the market value of wines, this classification remained almost the same since 1855, as the only revision was made in 1973, to promote the "Château Mouton-Rothschild".
Classement des Graves was created in 1953, and then completed in 1959. It classifies 16 vintages without hierarchy. All the wines classified represent the best of the Graves land (to the South of Bordeaux), and belong to the Pessac-Léognan appellation. The Syndicat de Défense de l'Appellation Graves does the classification based on the price of wines on the stock list.
Classement de Saint-Emilion (created in 1955 and revised every 10 years), published by the Institut National des Appellations d'Origine (INAO). It was created in 1930 to give a reference point for consumers, and to promote a great kind of appellation (the Saint-Emilion) as well. Price is not considered to make the classification.
Classement des Crus Bourgeois du Médoc classifies 94 vintages. It is probably one of the most important and famous classification. Its origins date back to the 12th century, when the first "bourgeois" under the English occupation acquired some privileges in Bordeaux, and particularly a tax exemption on the wine! They kept it in the 15th century; and became very wealthy thanks to the excellent quality of the wine that they sold.
These rich owners gave their title to the today's classification "Crus Bourgeois".
Classement des Crus artisans classifies 44 little properties, where the wine is often made and sold by the family itself. It recognizes and underlines the artisan's work since 1989, thanks to the struggle for recognition made by the Syndicat des Crus Artisans du Médoc.
NB: The only wine listed twice is the Haut-Brion (Graves classification and the Classified Crus of 1855).
---
Bordeaux Wines: 8 grape varieties
Cabernet Sauvignon: a great grape variety of Bordeaux, which creates wines of exceptional quality, with a big ageing potential. Alone or associated with the Merlot, the Cabernet Sauvignon gives wines a spicy touch with an incredible complexity and a powerful flavouring, where it is also possible to notice a touch of roasted coffee or cedar. It is mostly planted in the famous area of Médoc and Graves (see: appellations).
Merlot: came in the Bordeaux area at the end of the 18th century. The Merlot is the global reference for velvety young red wines. It is fruity, and may contain red fruits flavour and a touch of flower or prune. Often associated (to a lesser extent) with the Cabernet Sauvignon, they constitute together a big part of Bordeaux' great wines (Pomerol or Saint-Emilion for example), (see: appellations).
Cabernet Franc: Ancestor of the Cabernet Sauvignon, this wine is known for the refinement of its flavours and its vivacity. Thanks to its ageing potential, it is often blended with Merlot or Cabernet Sauvignon. Lively, the grape was less known, but became famous with the year 2000 vintage, especially in Saint-Emilion, where it excelled.
Petit Verdot: grape variety with a strong personality (flavouring, tannin, intense) the "Little" Verdot is often used to complete great wines like in some of the Médoc and Graves (for ex the Château-Margaux), to give the wines more complexity. Even a little part of Verdot is enough to modify a red wine; that is the reason why it is sometimes a little part of most of the "Grand Crus classes" from year 1855 (see: classification).
Malbec: a grape variety that helps to produce Red Wines. Often blended, it brings a mellow touch to some Saint-Emilion or Haut-Médoc.
It has a rich colour and good potential for ageing (only 6,000 hectares in France today).
Sémillon: used to give most of the white wines, dry and syrupy, this wine of the Sauternes area is powerful, with a very subtle flavouring while young. The Sémillon can give a great wine quality when grown, and thus constitutes some of the finest Bordeaux white wines. However, if the conditions aren't warm and good enough, the potential can be lost.
Sauvignon: mostly used for the dry wines, the Sauvignon is a lively kind of grape, with citrus fruits or white flowers flavouring, that can produce delicious, complex dry wines. Often blended with Sémillon, it can bring to some of the Sauternes a lively touch.
Muscadelle: difficult to cultivate, the Muscadelle may however seduce the winemakers for its floral flavouring. Not much planted, it is still used to strengthen the quality of some of the wines of the family appellation "Vins Blancs d'Or" (see "appellations").
---
Bordeaux Wines: 60 appellations divided in 6 families
Bordeaux et Bordeaux supérieur (blanc, red or rosé)
5 appellations : Bordeaux, Bordeaux Supérieur, Bordeaux Clairet, Bordeaux Rosé, and Crémant de Bordeaux.
Fruity and elegant the wines of these appellations are about the half of the planted surface in Bordeaux. They are mostly wines to be consumed while young. They are a good value for money (one of the best price/quality ratio). All the winemaking districts in the area of Bordeaux (the Gironde département) can produce these AOC.
Médoc (red) and Graves (red or white)
10 appellations : Médoc, Haut-Médoc, Listrac-Médoc, Margaux, Moulis, Pauillac, Saint-Estèphe, Saint-Julien, Graves, and Pessac-Léognan.
This family (15% of Bordeaux wine production) groups most of the Great classified Wines together, with 95% of them in the Crus Bourgeois, the Crus Artisans or the 1855 classification.
Red wines are rich, with a great aptitude for ageing. White ones, dry or medium sweet, are exceptionally tasty and fine.
---
Les côtes de Bordeaux (mostly red wines)
8 appellations : Blaye, Blaye Côtes de Bordeaux, Bourg & Côtes de Bourg, Cadillac Côtes de Bordeaux, Castillon Côtes de Bordeaux, Francs Côtes de Bordeaux, Graves de Vayres, and Sainte-Foy-Bordeaux.
This family represents 14% of Bordeaux Wines. Strong in character, with a powerful aroma, these wines are mostly made with Merlot. Some of them are particularly mellow and syrupy.
---
Saint-Emilion, Pomerol et Fronsac (red wines only)
10 appellations : Saint-Emilion, Saint-Emilion Grand Cru, Lussac-Saint-Emilion, Montagne-Saint-Emilion, Puisseguin-Saint-Emilion, Saint-Georges Saint-Emilion, Lalande-de-Pomerol, Pomerol, Fronsac, and Canon Fronsac.
This family represents 10% of Bordeaux Wines. Aromatic, those wines are among the most elegant and subtle of Bordeaux wines, with very velvety tannin.
---
Vins blancs secs de Bordeaux (dry white wines)
12 appellations : Blaye Côtes de Bordeaux, Bordeaux & Bordeaux Sec, Bourg & Côtes de Bourg, Côtes de Blaye, Crémant de Bordeaux, Entre-Deux-Mers, Entre-Deux-Mers Haut-Benauge, Francs Côtes de Bordeaux, Graves, Graves de Vayres, Pessac-Léognan, and Sainte-Foy-Bordeaux.
With only 8% of Bordeaux wines, this family however groups together all the Bordeaux Dry White Wines, mostly made with Sauvignon and Sémillon.
Although most of them are consumed young, a few others are preferred for their complexity and capacity for ageing (some of them are even in the Graves classification).
---
Vins blancs d'or (sweet white wines)
14 appellations : Barsac, Bordeaux Haut-Benauge, Bordeaux Supérieur, Cadillac, Cérons, Côtes de Bordeaux-Saint-Macaire, Francs Côtes de Bordeaux, Graves de Vayres, Graves Supérieures, Loupiac, Premières Côtes de Bordeaux, Sainte-Croix-du-Mont, Sainte-Foy-Bordeaux, and Sauternes.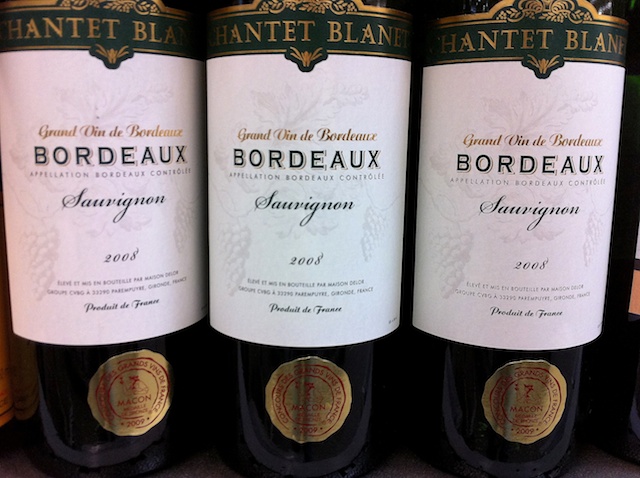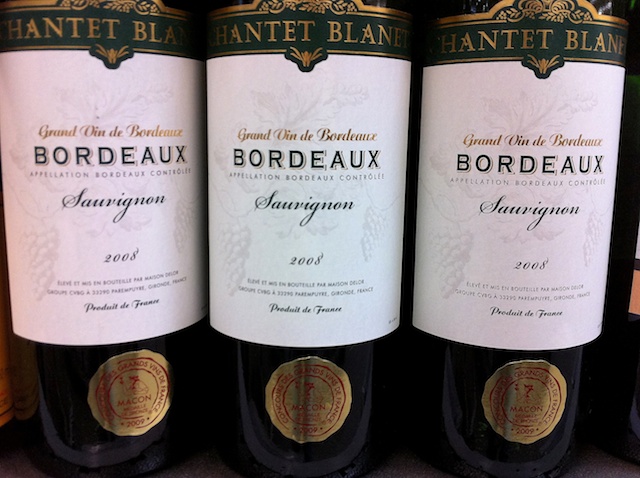 Those 12 AOC represents only 3% of Bordeaux Wines, but they however strongly contributed to build the reputation of Bordeaux Wines' greatness.
Medium sweet or sweet, these wines are made from Sauvignon, Sémillon, and sometimes Muscadelle.
Remarkably fine and smooth, they are the perfect balance between sugars and acidity.
---
Bordeaux Wines: understanding wine labels
---
Many thanks to Bordeaux's Tourist Office who let us use their resources for the writing of this article. © CIVB2011
Website of the Bordeaux Tourist Board.
Enjoy wine with moderation! – L'abus d'alcool est dangereux pour la santé : à consommer avec modération.
---