Bienvenue to our brand-new website! This Sunday 3 March 2013 our American friends will be the first around the world to see French Moments' new website designed by Resound Web Media.
---
So what's new? Aside from the new layout and our new logo (which we like a lot!), we have made it easier for you to read our cultural articles about France with more photos and the possibility of sharing them with social networks like facebook and twitter. Changing from the old website to the new gave us the opportunity to update some information on our articles, as well as adding new ones. It's still a work in progress and we're constantly adding to it so that it becomes a fantastic resource for everything French.
The powerful search engine makes it easy to find the article you want to read or just explore from the comfort of your favourite armchair…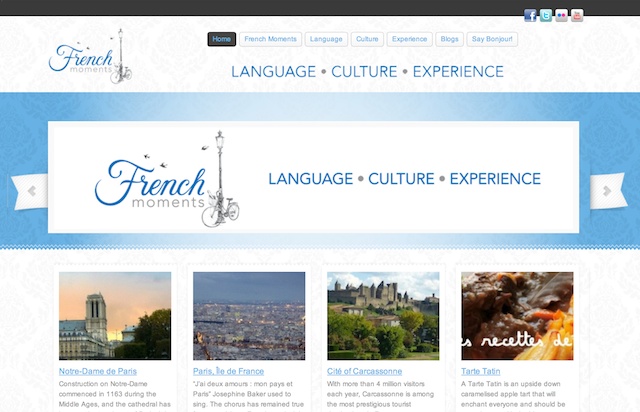 The structure of the site has been thoroughly thought out by our French Moments team. It is built around the three keywords that best define French Moments: Language, Culture and Experience.
In the Language section, you will find information about our French courses in Australia (Sydney + Noosa) and our Intensive Courses in France.
The Culture section contains hundreds of cultural articles about France: from beautiful little villages to French-inspired recipes, it is an invitation to discover the best that France has to offer! The articles have been written by a team of 14 people, all with academic backgrounds. This is just the beginning: we intend to post more and more articles on France regularly in the near future such as a guided tour of Lyon, the Pyrenees, recipes and more…
In the Experience section, you will find information about our upcoming (and previous) French Intensive Courses in France as well as cultural events. Our Intensive courses are open to everyone from around the world and we'd love to have you with us! In 2014 we have 5 different courses in France.
We also have two blogs… one in French (Le Blog) designed to give our students something to read in French regularly, and one in English (French Savvy) which is designed to share and showcase everything we love about France.
We are thrilled to share our new website with you and we'd love to hear what you think! Send us your comments and feedback!
A bientôt !
---