In the North of France, not far from the Belgian border, the town of Béthune hosts one of the most wonderful Christmas markets in the region.
Béthune Christmas Market
Cité de Noël
Location: Grand Place.
The Christmas market of Béthune takes central stage in the Grand Place which has been beautifully enhanced with Christmas lights. The Grand-Place is the historic square of Béthune and is bordered by the belfry (built in 1346), the Town-Hall, and houses of Flemish-style façades. Rue du Carillon links the square to the St. Vaast church.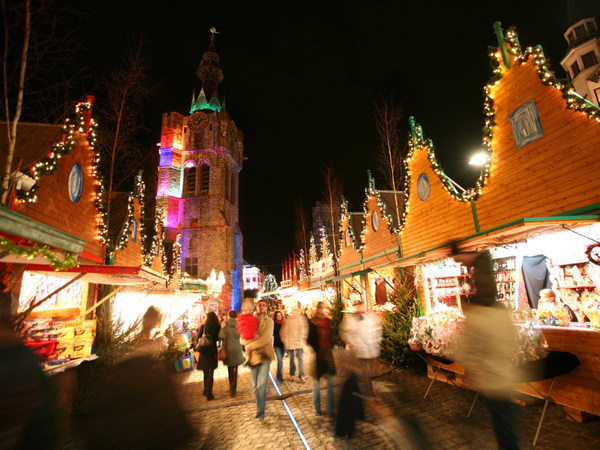 More than 45 wooden chalets offer original gifts, traditional objects and local produce.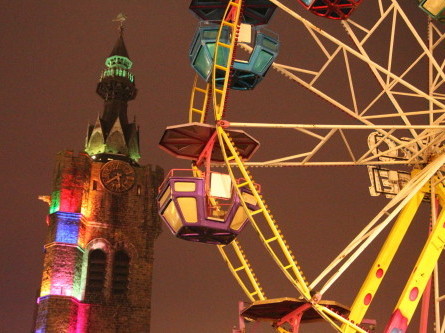 The Christmas village features a living Nativity scene, an ice-skating rink, a merry-go-round and a Ferris Wheel. in 2014, a new feature will be inaugurated: a 6 metre-high and 22 metre-long sledge course.
English-French Vocabulary
(f) for féminin, (m) for masculin, (adj) for adjective and (v) for verbs
Advent = Avent (m)
belfry = beffroi (m)
Christmas = Noël
Christmas Eve = veille de Noël (f) / réveillon (m)
Christmas lighting = illuminations de Noël (f,p)
Christmas market = marché de Noël (m)
Christmas Tree = sapin de Noël (m), arbre de Noël (m)
church = église (f)
Father Christmas = Père Noël (m)
Ferris Wheel = grande roue (f)
holiday season = période de Noël (f), temps des fêtes (m)
ice-skating rink = patinoire (f)
merry-go-round = carrousel (m)
mulled wine = vin chaud (m)
Nativity scene = crèche (f)
Santa = Père Noël (m)
sledge course = piste de luge (f)
square = place (f)
street = rue (f)
French Moments would like to thank the Tourist Office of the region of Béthune-Bruay for giving us the opportunity to share their photos on this page, including the featured image.
Visit the Tourist Office website of Béthune.