"Asterix and the Picts": the iconic French (or should we say "Gallic") hero, is coming back later this month with a new and long-awaited comic-book!
---
The release of a new Asterix comic book is set to be a major cultural event in France. A great number of Asterix fans have been waiting for a new album as it has been 8 years since the release of "Asterix and the Falling Sky". Needless to say that the fans generally disliked the last album whose storyline was thought to be odd with its aliens from outer space! "BD" as they are know in France (short for Bandes Dessinées in French) are extremely popular amongst both adults and children. In other countries Asterix is seen as mainly for children but this is not the case in France, where you will find many adults hanging out in this section of the bookshop!
Fans hopefully won't be disappointed on the 24th October this year when the 35th book in the Asterix series will finally be released. "Asterix and the Picts" will take Asterix, Obelix and Dogmatix across the Channel into 'Pictland' known today as Scotland. This will mark the Gauls' second journey to Great-Britain since "Asterix in Britain" in 1965.
Why the Picts? We will have to read the book to have a better idea. There were not many choices left to the authors as to where in the Ancient World they could send our heroes as they have been almost everywhere in Europe, as well as to Scandinavia, Northern America, the Middle-East, Northern Africa and India. The Gauls could have been sent to places they've never set foot on: Africa, Southern America, China, Japan or even Australia… but we'll leave that to future editions.
No, this time Asterix and friends are heading to Scotland. The Picts are a group of people who lived in eastern and northern Scotland during the Dark Ages. We don't really know what they called themselves but interestingly the word "Pict" derives from the Latin word "Picti" meaning "painted or tattooed people". It gave the word "picture" in English and "pittoresque" (picturesque) in French.
The originality of "Asterix and the Picts" is that it was written and illustrated by someone other than Albert Uderzo: Jean-Yves Ferri (writer) and Didier Conrad (illustrator). This means that the adventures of Asterix will continue unlike what happened to Tintin when Hergé passed away.
Surely this new Asterix comic book will entertain us with new caricatures, regional stereotypes and play on words, and maybe an encounter with the Loch Ness monster! We have only 12 days to wait for the rendezvous with Asterix and we will be queuing up to buy it when it comes out!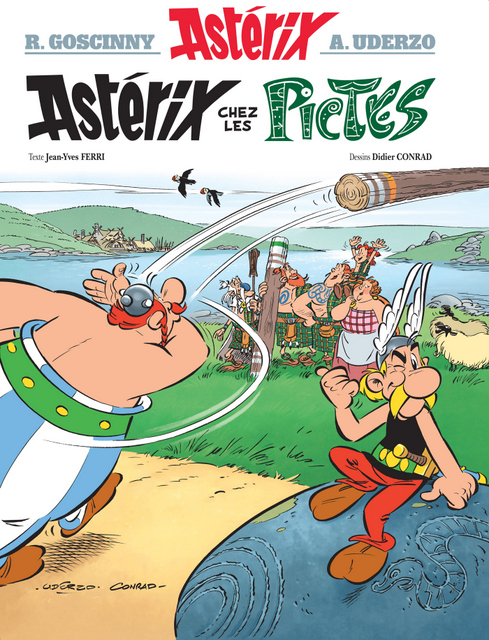 For more info about the upcoming Asterix comic-book, go to the official website: www.asterix35.com.
---
English-French Vocabulary
(f) for féminin, (m) for masculin, (adj) for adjective and (v) for verbs
Antique World = monde antique (m)
Asterix = Astérix
book = livre (m)
Channel = Manche (f)
comic book = bande dessinée (f)
Dark Ages = âge sombre (m)
Dogmatix = Idéfix
Gaul = Gaulois (m)
Great-Britain = Grande-Bretagne (f)
Obelix = Obélix
Pict = Picte (m/f)
play on word = jeu de mot (m)
to read = lire (v)
reader = lecteur (m)
reading = lecture (f)
Scotland = Écosse (f)
storyline = histoire (f)
---
Buy 'Asterix and the Picts' in Australia!
If you reside in Australia, did you know that you can buy your copy in French or in English online from French bookshop Le Forum?
---