The Galeries Lafayette is the name for an upmarket Paris department store originally founded in 1896 by two cousins from Alsace. Today there are many Galeries Lafayette stores across France and in Berlin, Casablanca, Dubai, Jakarta and Beijing. The most stunning location is without doubt the Paris flagship store on Boulevard Haussmann (9th arrondissement). The symbol of the store is found in one of its three buildings. Let me tell you why you should see the Art Nouveau cupola of the Galeries Lafayette when visiting Paris!
---
The impressive Art Nouveau cupola of the Galeries Lafayette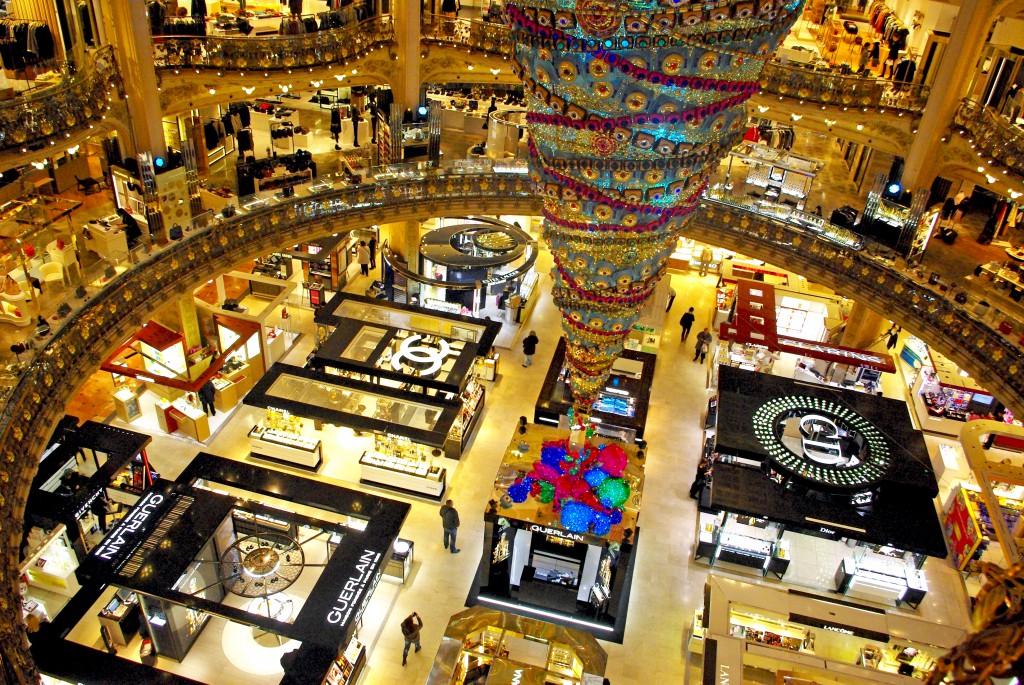 The Great Hall of the Galeries Lafayette was inaugurated on 8 October 1912. It is topped by a magnificent steel-framed glass cupola.
The top of the Art Nouveau cupola of the Galeries Lafayette reaches a height of 43 metres above the ground. It is supported by 10 concrete pillars linked by arches that open onto the surrounding stories.
The decoration was designed by famous Art Nouveau artists from the School of Nancy: Édouard Schenck (metal frame with richly carved floral motifs), Jacques Grüber (neo-Byzantine stained-glass windows) and Louis Majorelle (wrought-iron balconies).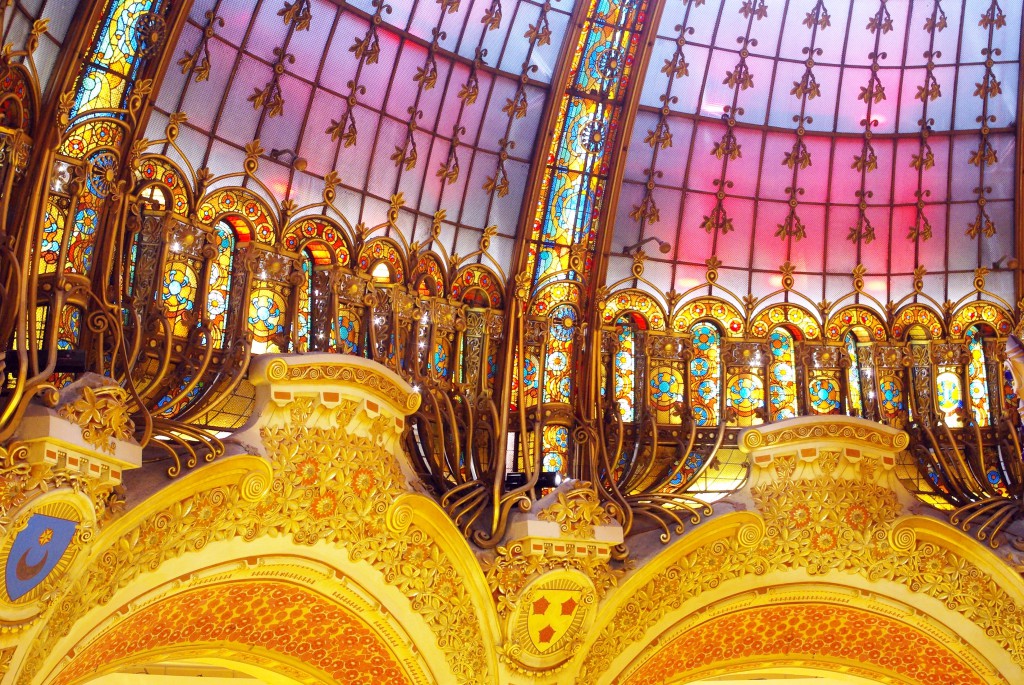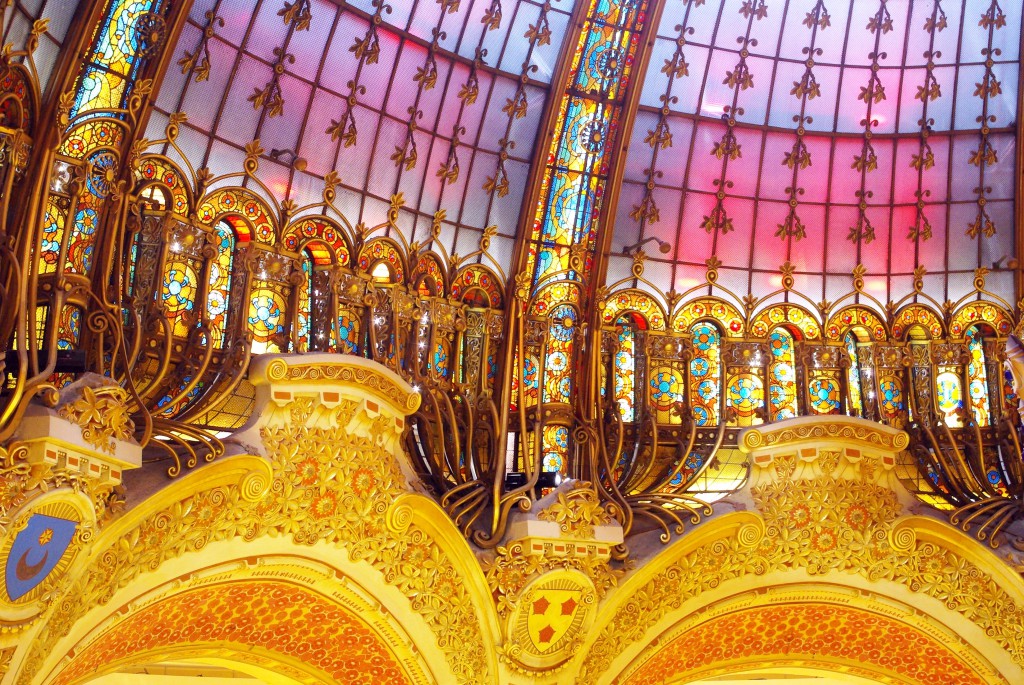 One of the best time of the year to admire the glass cupola is at Christmas. In 2012, for the 100th anniversary of the Art Nouveau cupola of the Galeries Lafayette, the jewellers Swarovski set up a 21 metres high Christmas tree with 600 fairy lights.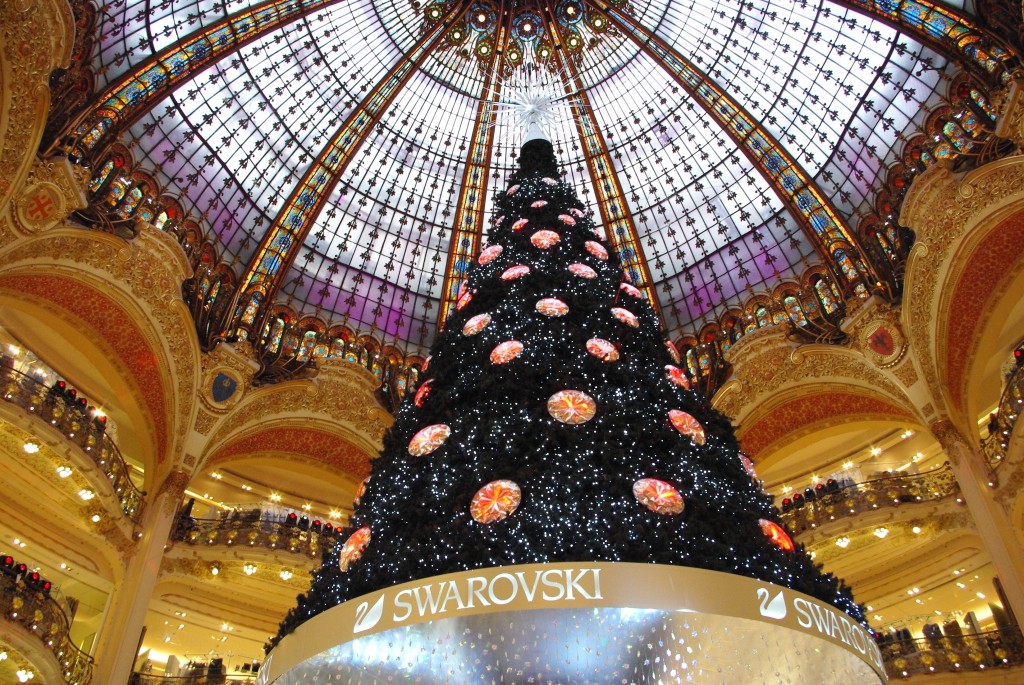 ---
More photos
---
Practical info
Location of the Art Nouveau cupola of the Galeries Lafayette (link opens a google map): http://goo.gl/maps/QajVTBA2MNT2
Closest métro station: Chaussée d'Antin La Fayette (lines 7 and 9).
There are three buildings part of the Galeries Lafayette Haussmann: 'Coupole', 'L'Homme', 'La Maison & le Gourmet'. To admire the cupola, enter the 'Coupole' building which is situated on 40 Boulevard Haussmann between rue Mogador and rue de la Chaussée d'Antin.
You can observe the cupola and the Great Hall from ground level to level 3. The panoramic terrace on level 7 reveals the external metal structure of the cupola.
Check out the website of the Galeries Lafayette Haussmann to plan your visit.
Have you been to the Galeries Lafayette in Paris? Share with us your Paris discoveries by commenting below! We'd love to hear from you!
---