There is no particular story to tell about the origin of an apple tart from Normandy as there are several different recipes depending on local and family traditions.
---
An apple tart is a cultural element of Normandy that cannot be ignored, such as the Normand cow, cream and cheese. The apple trees are indeed part of the cultural identity of the region of Normandy. There are a multitude of apple varieties which constitute the principal ingredients for tarts, pies, cider, calvados and other by-products. This apple tart (tarte aux pommes) is prepared with a little hint of calvados and no cream.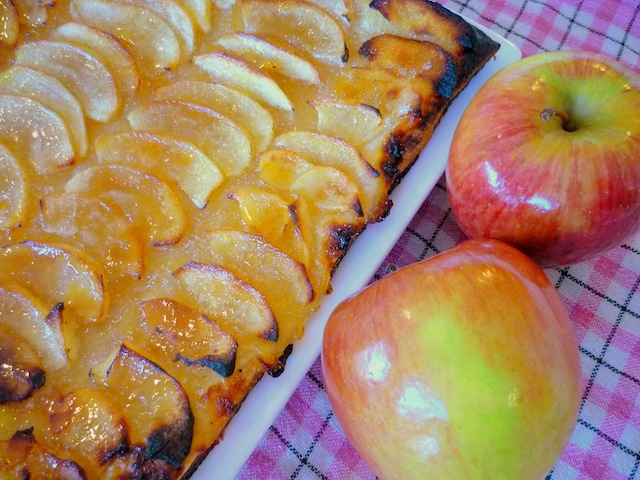 ---
Ingredients
1 sheet of puff pastry
1/2 cup calvados
1/2 cup sugar + extra for dusting
6 medium apples
---
Method
Heat the oven to 180℃ .
Peel, core and dice two of the apples and place in a saucepan with the calvados and 1/2 cup sugar.
Cook over a low-medium heat until apples are soft and smooth.
Prepare a baking sheet / tart tin with non-stick baking paper.
Place the puff pastry on the baking sheet and spread the puree over the base.
Peel, core and cut into quarters the remaining apples. Thinly slice and arrange on the tart base in rows, slightly over-lapping each other until all the apples are used.
Bake in the oven for abut 20 minutes until lightly golden and the base is crispy.
Leave to cool slightly and serve warm.
Just before serving you can shower the top with extra sugar and caramalise with a crème brulée gas torch if you have one, or otherwise simply serve with a scattering of the sugar.
This tart is great on its own but some people like a dollop of double cream or some vanilla ice cream.
---