The entrance to the Abbesses métro station is a masterpiece of Art Nouveau architecture. Designed by Hector Guimard, it is one of the two surviving métro entrances of the kind in Paris. It is situated on the busy square of Place des Abbesses in the 18th arrondissement at the foot of the Montmartre hill.
The Abbesses métro station
On the busy little square of Place des Abbesses stands the stunning entrance to the Abbesses métro station. Have a closer look and you'll discover a stunning structure in Art Nouveau style. Designed by Hector Guimard (1867-1942), it is very similar to the other surviving metro entrances built by the artist at Porte Dauphine (line 2). The Abbesses entrance has a glass roof with green wrought-iron arches and amber lights. Unlike the Porte Dauphine, it does not have panelling.
This Art Nouveau structure was actually that of the Hôtel de Ville station. It was moved to the Place des Abbesses in 1974.
The name of the station comes from the royal abbey of Montmartre that was directed by nuns. The religious convent was destroyed during the French Revolution.
The Abbesses métro station was opened on 30th January 1913. The platform is located 36 metres below ground. It is Paris' deepest métro station. Two spiral staircases and two lifts link the ticket hall to the platform. In 2007, the station was renovated. The walls of the stairs are painted with sights of Paris by the artist association "Paris-Montmartre".
In 2013, the Abbesses métro station ranked 212th out of the 302 métro stations in Paris for the number of travellers.
The métro station of Abbesses was one of the many sights of Montmartre to be featured in the movie Amélie. However, the film was actually shot on a disused platform in Porte des Lilas.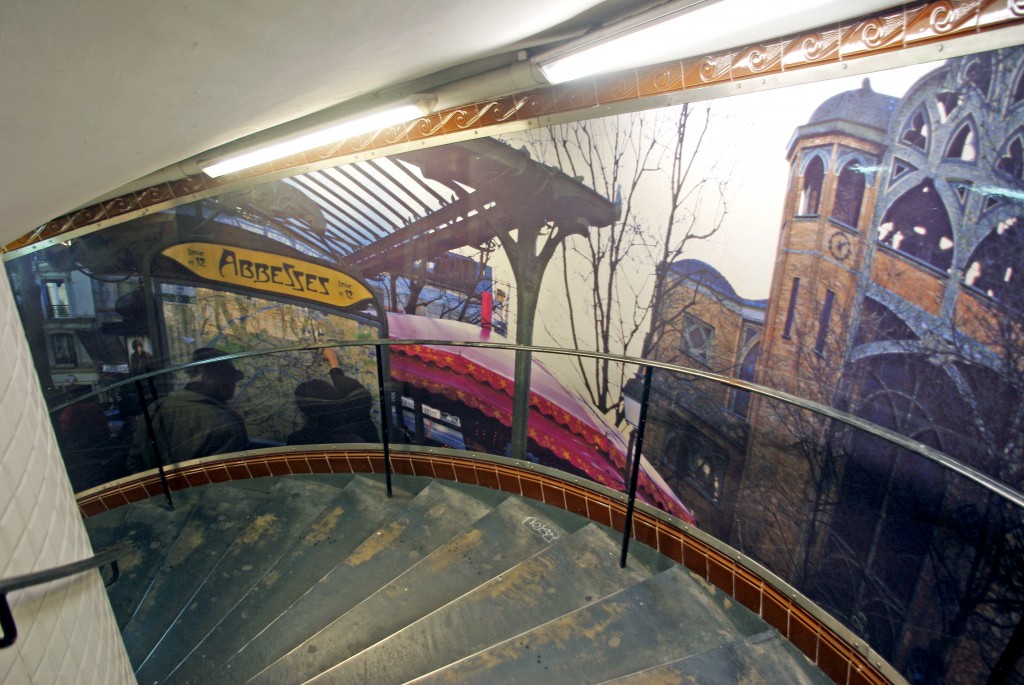 Find out more
Find out more about Hector Guimard's building: Castel Béranger in the 16th arrondissement.
Read our discovery article on the Hill of Montmartre.