Bonjour! - French Moments is all about bringing a little bit of France to wherever you are in the world. I'm Pierre and as a French/Australian I spent my childhood in France and Germany before moving to Australia which is where I began French Moments. Now back in Europe I am thoroughly enjoying being so close to everything in France again. My English isn't perfect, the photos aren't professional but a lot of passion goes into this site and I love this crazy adventure where I am learning and growing all the time. I'm cheered on my wife Rachel and our beautiful daughter Aimée who occasionally feature on the blog too and together we make up the French Moments family.
It's time to book your stay in France!
Discover Paris, the City of Light!
Secret and Offbeat Paris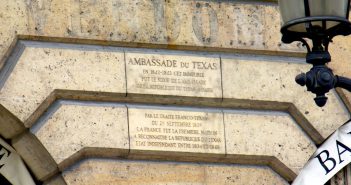 Did you know that a carving on a façade indicates where the Texas Embassy in Paris used to be? Let…
Arrondissements of Paris
Do you remember Amelie skipping stones at the locks of a canal in Jean-Pierre Jeunet's 2001 film? This scene was…
Paris Food
In many European countries children decorate nests just before Easter. In Paris a traditional cake representing an Easter egg nest is…
Suburbs of Paris
The castle of Saint-Germain-en-Laye is bordered by beautiful gardens. The domain extends to the forest and the Terrace of Le Nôtre which overlooks the…
Discover the cities of France!
Here is the Top 10 list of the most visited museums in Paris (2014), attracting several million visitors each year. According…
Pays de Savoie
The Annecy Christmas market is the most important event in town during Advent. Each year the festive event "Christmas in the Alps"…
Mountains of France
One of the main features of the Pyrenees mountains is that they form a natural border between France and Spain.…
The Palais des Tuileries (Tuileries Palace) is the former residence of the Kings and Queens of France. One of the most beautiful…
On 9 November, Germany and Europe commemorate the fall of the Berlin Wall. The generation of our young people were…
The French National Anthem is known as La Marseillaise and was composed during the events of the French Revolution in…
Movies and Music
Still a popular song today, "Sous le Ciel de Paris" (Under the sky of Paris) has stood the test of time,…
Quizzes on France
Welcome to the Squares of Paris Quiz! Are you up for the challenge? Take the Squares of Paris Quiz. 10…