Bonjour! - French Moments is all about bringing a little bit of France to wherever you are in the world. I'm Pierre and as a French/Australian I spent my childhood in France and Germany before moving to Australia which is where I began French Moments. Now back in Europe I am thoroughly enjoying being so close to everything in France again. My English isn't perfect, the photos aren't professional but a lot of passion goes into this site and I love this crazy adventure where I am learning and growing all the time. I'm cheered on my wife Rachel and our beautiful daughter Aimée who occasionally feature on the blog too and together we make up the French Moments family.
It's time to book your stay in France!
Discover Paris, the City of Light!
Secret and Offbeat Paris
Out of the hundreds of churches in Paris, which ones are the tallest? Maybe against all expectations, Paris' tallest church…
Arrondissements of Paris
It is either visible from the top of the Eiffel Tower, from the Front-de-Seine or the Maison de la Radio,…
Paris Food
For delicious French moments in Paris, you can simply enter a pâtisserie and enjoy choosing your favourite pastry. Facing so…
Suburbs of Paris
Situated in the north of Paris, the Saint-Denis Basilica has been closely associated with French history. The church became a royal…
Discover the cities of France!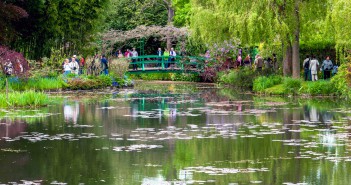 "I need flowers, always flowers, even flowers to pick… so that I can paint them on rainy days" – Claude…
Pays de Savoie
Are you looking for a Summer destination for all the family in the French Alps? The resort of Les Arcs…
Mountains of France
On Monday 31st March we went on a 'tour du lac' by car. We departed from Annecy and drove on…
France is the country of Sleeping Beauty, Cinderella and Beauty and the Beast. It is therefore not surprising that this…
From Monday 16 to Wednesday 25 November days the Eiffel Tower is lit up in Blue, White and Red to honour…
Before the French Revolution the symbol of the Kingdom of France was the fleur-de-lis. In the 20th century the French…
Movies and Music
"An Italian in Paris" is a song that describes Paris by an Italian! In his album Amore Eterno (2007), Davide Esposito sings Un italien à Paris by…
Quizzes on France
Welcome to the French Cheese Quiz! Are you up for the challenge? Take the French Cheese Quiz. 10 questions to…